English Courses in Ottawa for Adults
Ottawa, in the province of Ontario, is Canada's capital city. The buildings of Parliament Hill, with their European style, are popular amongst tourists and the area is often used for light shows, festivals, tours and the Royal Canadian Mounted Police parades.
Just outside the city there are wonderful rural areas to explore with small villages and bountiful farms. The landscape surrounding Ottawa is like no other; You'll be captivated by the colorful scenery, spectacular views and friendly locals.
Discover Ottawa, one of Canada's gems
Our modern language school right in the city centre
Sports, shopping, culture: it's impossible to get bored in Ottawa!
During your English language course you'll have plenty of time to discover more of Ottawa. This breathtaking city has something for everyone. Are you a nature lover? Then go ice skating in winter or take a relaxing dip in the Rideau Canal in summer. And if you're interested in art and culture, you can take your pick from the large selection of galleries and museums in the city.
Book one of our English courses in Ottawa and discover Canada's vibrant capital. As in most countries, the capital has attracted a diverse mix of nationalities, creating a multicultural melting pot ideal for English study abroad programs.
At our school in Ottawa our students improve their language skills quickly during our effective and enjoyable English courses. Courses available include Standard, Intensive, Part-time, Private and many more English courses. More information about our English courses in Ottawa can be found here.
---
Course Details for your language trip in Ottawa
In our Sprachcaffe language school in Ottawa we have a course for everyone. We can meet the needs of students of all levels, from absolute beginners to advanced linguists. After one of our accurate assessment tests we can determine the best course level for you and you can then decide the duration and intensity of your chosen course. You could take a private course in Ottawa for a few weeks or come and take a standard English course for the whole summer!
Overview of all the Courses we offer:
20 lessons of 45 minutes each
Minimum duration 1 week
Group size max. 14
30 lessons of 45 minutes each
Recognised as educational leave
Minimum duration 1 week
Group size max. 14
40 lessons of 45 minutes each
Recognised as educational leave
Minimum duration 1 week
Group size max. 14
10 lessons of 45 minutes each
Minimum duration 1 week
Group size max. 14
10 additional lessons
Choose from different focal points
Minimum duration 1 week
Group size max. 14
IELTS/ TOEFL Exam Preparation
TOEFL or IELTS
20 lessons of 45 minutes each
Minimum duration 12 weeks
Group size ø 4 max. 14
10 or 20 lessons of 45 minutes each
You can choose the topics with the teacher
Minimum duration 1 week
Optional 1 or 2 persons, the choice is yours
2 lessons per week of 45 minutes each
Minimum duration 1 week
Group size max. 10
free participation
24 lessons of 45 minutes each per week
20 lessons Standard Course + 4 lessons Workshop
Minimum duration 1 week
Group size max. 14
The examination fee is not yet included in the price. Courses start every week on Monday (except beginners). The minimum age for the English course in Ottawa is 18 years. For students aged 16-17 we will check the possibility of participation on request. For your language course in Canada you can enter up to 6 months as an EU citizen! You can buy the teaching material at the language school or rent it for a fee.
---
Our language school in Ottawa
Welcome to our language school in Ottawa! Here in the center of Ottawa you will find numerous pubs and restaurants. Parliament Hill, the government district of Canada, is also only a few steps away from the language school.
Located in the heart of downtown Ottawa
A computer lab with free internet and Wi-Fi access
10 classrooms with computers
Wide-screen televisions
Kitchen facilities
A comfortable student lounge
Location of the English School in Ottawa
Our language school is located in the heart of downtown Ottawa. In a matter of minutes, students can be inside nearby art galleries, museums, and the world-famous ByWard Market, known for its outdoor shops and a diverse range of local and international restaurants, bars and nightclubs.
---
In order to ensure that your English course is as successful as possible, you need somewhere to relax and recharge after each eventful day. You get to choose between living with a local host family or living in our very own residence, where you'll meet other Sprachcaffe students.
Staying in a homestay will give you an unparallelled opportunity to get to know local people, practice your English as much as possible and engage with the Canadian culture. This doesn't mean that you won't get opportunities to practice English outside the classroom if you choose the residence accommodation option. Our students in the residence regularly practise English together, and it is often the easiest way to communicate between two students from completely different countries.
Single or double room
half or full board
max. 40-50 min by public transport
Typical equipment
---
Canada's bilingual capital, located in the province of Ontario, offers many different ways to enjoy the city. You can visit exciting sights such as the 92-metre-high Peace Tower or take a look at the imposing Parliament building. Ottawa is also a great city for people who love culture, art and history. You can choose between different art galleries or visit one of the many museums Ottawa has to offer.
Sample schedule for your trip to Ottawa
In the morning:
Placement test / First language lesson

In the afternoon:
Getting to know the group / Orientations Tour

In the evening:
Welcome party
In the morning:
Learn English in a language course

In the afternoon:
Excursion to the Rideau Canal

In the evening:
Free time
In the morning:
Learn English in a language course

In the afternoon:
Free time

In the evening:
Games Evening
In the morning:
Learn English in a language course

In the afternoon:
Excursion to Parliament Hill

In the evening:
Free time
In the morning:
language course

In the afternoon:
Free time

In the evening:
Night Out in NYC
Excursion: Montréal (all day)
Excursion: Lake Ontario (all day)
Take note:
The activities in the sample week are only a recommendation for planning your language travel to Ottawa. On-site excursions, times and activities may vary and cost 10-50 €.
There is plenty to do while in Ottawa, including winter sports, shopping, visiting markets and museums, exploring the city and surrounding countryside or just simply relaxing.
Since Ottawa is the nation's capital, it is overflowing with Canadian culture. The city is home to many famous landmarks, museums, institutions, government buildings, memorials and heritage sites. In order to preserve its beauty and historical relevance, Ottawa has restrictions on building heights. This prevents the skyline from rising above the Parliament buildings.
Besides being the home of the government, Ottawa has many cultural events and festivals scheduled throughout the year. In fact, the city's festival industry received the IFEA World Festival and Event City Award In 2010.
The most exiting sights in Ottawa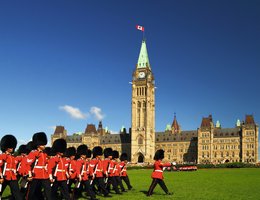 One of the most important sights in Ottawa is Parliment Hill. This is a hill on which the Parliament building is located. During your visit, you can book a guided tour to see the building. There are also beautiful gardens in front of the building and statues depicting personalities from Canadian history.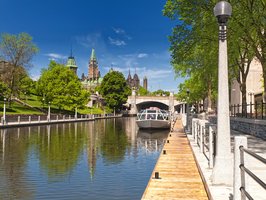 This canal is special because it is the oldest continuously used waterway in North America. To really explore the canal, you have the option of taking a tour. But the best time to go is in winter, when you can skate on the Rideau Canal.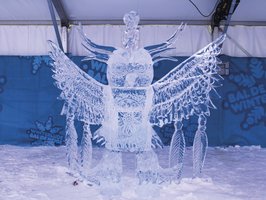 The Winterlude is a winter festival that has been held annually in Ottawa since 1979. The biggest attraction is the Rideau Canal Skateway, the largest skating rink in the world at 7.8 km. You can also admire beautiful ice sculptures and play in a snow playground. Other Winterlude activities showcase Canada's cultural, artistic and culinary diversity.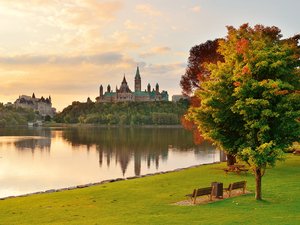 Below you will find an overview of events and festivals that take place regularly, mostly annually, and which are definitely worth a visit. None of these happening at the time of your trip? No problem, this is only a small selection, Ottawa has much more to offer. If you have any questions or suggestions, please feel free to contact our staff at Sprachcaffe Ottawa!

Winterlude: (January - February) An annual festival that celebrates winter and is also a real crowd-puller with almost 600,000 visitors. The Winterlude is free of charge.

Tim Hortons Ottawa Dragon Boat Festival: (June) The largest dragon boat festival in North America with over 200 teams, 5000 paddlers and 75,000 spectators. In addition, there are concerts and other cultural performances. Best of all, it's completely free.

Canada Day: (July) Canada Day is a Canadian national holiday celebrating Canadian independence from the British Empire. It is celebrated on July 1st and is of course a gigantic spectacle in the capital with many concerts and gigantic fireworks.

Wine and Food Festival: (October - November) You are a real gourmet and like to discover a variety of culinary specialties? Then the Wine and Food Festival is the right place for you! Here you will find pure culinary delights!
---
Visit the Canadian capital and enjoy one of the best priced language courses around. Our low cost package includes your choice of English course, your accommodation in Ottawa, along with a range of guaranteed services.
Choose the best course type for you, your preferred accommodation option along with your desired length of stay, then use our quick and easy booking system to check availability and book your course!
Language course and placement test
Flight to Ottawa
Accommodation and meals (if applicable)
Sprachcaffe Certificate
Book your flights with us too!
We look for the cheapest flights with the best connection for you. Simply choose your language travel with flight in our shop and you will receive a complete package consisting of flight, accommodation and possibly catering, language course, placement test and certificate.
Your English Course in Ottawa is Just a Few Clicks Away!
From Sprachcaffe you get an all-round carefree package. Everything you need for a successful language stay is included in the price. Whether it is arrival as well as excursions, accommodation, language course, teaching materials, language certificate and of course a priceless memory.
Do you have a question or need some advice?
We are always ready to solve any doubts you might have!