Chinese Courses in Beijing for Adults
Our Chinese school in Beijing offers courses in a natural, laid-back environment, providing you with the perfect base to experience the fascinating culture and traditions of China for yourself. The inhabitants of Beijing speak Putonghua (Mandarin) and they are traditionally very warm and communicative.
Our Chinese courses are diverse and we offer something suitable for everyone; whether you are interested in a 2-week language course during the summer holidays or a long-term course, you will find the right course in Beijing and, after just a short while, you'll be able to use your new language skills to talk to your fellow language students as well as locals.
In addition to our Chinese language classes, we also offer courses in which you can learn the Chinese martial art of Tai Chi or Chinese painting. These courses are a perfect way to learn more about Chinese culture and practices so why not take one of these alongside your language course to get an even deeper understanding of Chinese traditions? There are also a multitude of other activities and places of interest in the city which you can enjoy during your time in Beijing!
Study the language in the Imperial Ancestral Temple
Exciting activities program
Learn the Chinese martial art of Tai Chi or Chinese painting
Standard, Intensive, and One-to-One courses
Why take one of our Chinese courses in Beijing?
Our study abroad programs in Beijing are great cultural experiences: you have the chance to learn Chinese from qualified, native speakers whilst discovering one of the most exciting, contrasting cities in the world. The courses take place very close to the fascinating Forbidden City, which you can explore in your spare time, as well as the many other fascinating sites that Beijing is famous for. A Chinese course in Beijing is an investment in your future, too, and taking one gives you the opportunity to visit unique places, discover new cultures, and make new friends. Find out for yourself the many benefits of taking one of Sprachcaffe's Chinese courses in Beijing!
---
Inside the Chinese School in Beijing
The nicely-furnished classrooms at our school offer a space in which to learn Chinese effectively. The number of students per course is limited to a maximum of 8 participants, and we offer a variety of different Chinese courses there.
As the Beijing Chinese school is located in a large park, you can study outside, or perhaps go and read in one of the pavilions. A stylishly-furnished café and restaurant can be found in the school building Wen Hua Gongan, where you can relax during your lunch break. Free tea and coffee is available for students in the school's lobby.
An overview of the Chinese school's facilities:
12 modern classrooms
Computer corner with Internet access (for a fee)
Common room to study and relax in
School canteen (meals between 12:00 and 13:30)
Experience high-quality Chinese lessons at our school in Beijing where the pleasant, relaxed atmosphere in the school is ideal for learning; immerse yourself in the fascinating Chinese culture and language, and enjoy a unique and unforgettable language course in Beijing.
Location of the Chinese School in Beijing
Our school is furnished in a mixture of Chinese and European styles, and is housed in a charming red building in the Imperial Ancestral Temple. The section of the temple is the Working People's Culture Palace, in the building Wen Hua Gong (Mandarin Palace). This area - part of the Emperor's Palace - is part of the Forbidden City, now part of the Palace Museum, the most visited museum in the world, with its centuries-old trees, beautiful gardens and largest collection of preserved ancient wooden structures in the world.
The Forbidden City, the heart of Beijing, is without doubt the most beautiful and most peaceful place in the capital. In former times it served as the residence of the Ming and Qing emperors. It is one of the largest and best preserved examples of ancient architecture in the world. The Forbidden City, with its beautiful structures and picturesque paths, is a popular place for the city's inhabitants to relax in.
Tiananmen Square is just a few minutes walk away from our Chinese school in Beijing, where you can find the subway stations you can use to get to the hotel. The most famous shopping area in Beijing – the Wangfujing – can be reached in less than 10 minutes.
---
Where better to learn Chinese than in the capital of the People's Republic of China and the country's second largest city? Beijing, as one of the most heavily populated cities in the world, is a bustling hive of energy and production. This is the country's main economic, educational, political and cultural hub and offers plenty for the language traveler to experience while on their Chinese course in Beijing. Whether exploring the Forbidden City, admiring the many temples and pagodas, visiting the imperial tombs of the Ming and Qing Dynasties or wandering through the many museums; the opportunity to expand your knowledge of Chinese culture as well as the Chinese language will be at every turn.
The Sprachcaffe Chinese language courses in Beijing are designed to create an encouraging and motivating environment in which students feel confident to speak aloud. Through creative and fun teaching methods such as games, role play and discussions students learn to communicate effectively in the language right from the outset. The qualified, experienced and native teachers are always on hand to tailor the course to meet individual students needs and abilities. They are also there to help outside of the classroom with local sightseeing recommendations and help with your day-to-day experience of the Chinese language.
Our Chinese language courses in Beijing
At the Sprachcaffe language school in Beijing we offer Chinese courses for all levels from absolute beginners to advanced. We use a language assessment test prior to your course to determine the best level for you. You can then choose the duration and intensity of your course based on your goals. You could choose to take one of our intensive Chinese language courses in Beijing over a week or make the most of the experience and enjoy a combined holiday with a Chinese language course over a couple of months.
We offer the following Chinese courses in Beijing:
20 lessons per week
Minimum duration: one week
Maximum 8 students

More info »
Mini Group Standard Course
20 lessons per week
Minimum duration: one week
Maximum 4 students

More info »
30 lessons per week
Minimum duration: one week
Maximum 8 students

More info »
20 lessons per week
Duration: 8 weeks
Maximum 8 students
Exam fee not included


* 1 lesson = 45 minutes
The minimum age of participation in this course is 18 years old. For 16-17 year olds interested in this course we will examine the possibility of participation upon request.
Additional Info: A tourist visa is required to study in China. This can be applied for from the Chinese Embassy or a visa agency.
Pawel traveled from Poland to Beijing to learn Chinese with Sprachcaffe and just loved the city and its people. He made enormous progress in his language skills!
Hitoshi was studying in our school in Beijing because, for him, the Chinese language is very important. He had the opportunity to learn and travel extensively in China.
Kim had an experience that exceeded her expectations of both the city and the people. Sprachcaffe and the team in Beijing were very helpful and she saw some incredible attractions.
---
We offer different types of accommodation in Beijing so that you can enjoy your language course in China as much as possible – including the time before and after your Chinese lessons. We're sure we have something to suit you which will help you feel completely comfortable and help make your stay in Beijing an unforgettable experience.
By clicking on the picture, you can get more details on accommodation in Beijing:
Please note, a double room in the residence can only be booked together with a fellow traveller (e.g. a booking for "half a double room" is not possible).

The rooms in the residence are cleaned daily. The residence also has a bar, a restaurant, a TV room, a washing machine and an Internet corner.
---
The Chinese metropolis of Beijing will inspire you with its contrasts between tradition and modernity, its impressive sights and its diverse cuisine. Our language courses offer a unique opportunity to get to know all of this! You will also be impressed by our language school in the Forbidden City.
Leisure programme in Beijing
Morning:
Placement test / First language lessons
Afternoon:
Guided tour of the Forbidden City
Evening:
Free time
Morning:
Chinese language course
Afternoon:
Free time
Evening:
Dinner at Peking Roast Duck Restaurant
Morning:
Chinese language course
Afternoon:
Excursion to Summer Palace
Evening:
Free time
Morning:
Chinese language course
Afternoon:
Free time
Evening:
Excursion to Lashe Tea House
Morning:
Chinese language course
Afternoon:
Gongwangfu Garden / Hutong Tour
Evening:
Free time
Excursion: Biyun Temple, Xiang Shan (full day)
Excursion: Catacombs, Great Wall of China (full day)
Please note that the activities in our sample week are only recommendations for a language study trip. The excursions, times and additional programmes may differ from your language study trip and may incur costs of €10-50 locally.
The most exiting sights in Beijing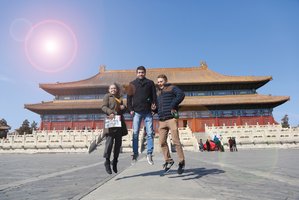 Not far from the Forbidden City is located the Tian'anmen Square, also known as Tiananmen Square. At 400,000 square kilometres, this is one of the largest public squares in the world and there are, among other things, a national museum, monuments and the Great Hall of the People. The highlight of this square is the flag-raising ceremonies that are held here.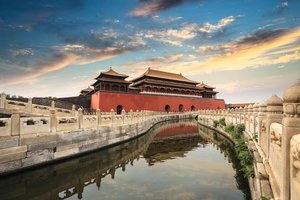 In the centre of Beijing is the Forbidden City. This palace complex is huge, with 890 palaces and over 8000 rooms. Since only emperors and their families lived in the Forbidden City, outsiders were not allowed to enter. Nowadays, both locals and tourists can visit the Forbidden City and learn about the imperial family.
The Great Wall of China is one of the most famous sights of China and is also called the "Great Wall". It has a length of 21,000 km and was already built in the 7th century for the protection of hostile tribes. From Beijing, you can easily reach the wall by public transport.
Beijing is home to over 13 million people and is a popular tourist destination with everything from traditional culture and unparalleled ancient charm to its recent Olympic heritage. The city has maintained its splendid majestic appeal with a wide array of temples, imperial residences and other incredible palaces.
As host city to the 2008 Summer Olympic Games, a new element of wonder was created in Beijing's impressive landscape - the iconic "Bird's Nest" Olympic stadium. Modern shopping malls, sports villages and recreational parks were also constructed. Beijing has become a prime tourist destination following the success of the Olympic Games which adds a new attraction to the city's long and prosperous cultural heritage.
Tourist Attractions in Beijing
The Forbidden City – Located in the centre of Beijing, the Forbidden City was the imperial palace during the Ming and Qing dynasties and holds the secrets of the 24 Chinese emperors.
The Great Wall of China – One of the Seven Wonders of the World, the Great Wall was completed in the 2nd century BC and was initially built for defence purposes.
Tiananmen Square – Tiananmen Square is the fourth largest city square in the world. It is an iconic part of the old city centre and houses the Museum of Chinese History.
Temple of Heaven - The Temple of Heaven or Altar of Heaven is a magnificent complex in central Beijing. It is the largest and most traditional of China's ancient sacrificial buildings.
Ming Tombs – A collection of mausoleums built by the Chinese Ming Dynasty emperors.
Dig deeper into Chinese culture and history with our organized activities, which you can take part in for an additional price. We've picked some of the most iconic of Chinese pastimes and monuments to give you the chance to fully experience the incredible diversity and mystique of the Red Dragon of Asia.
Excursion to the Great Wall - $55 USD
"He who has not climbed the Great Wall is not a true man."
Mao Zedong
With remnants stretching all the way from Liaoning to Xinjiang, it is no surprise that the Great Wall of China is considered one of the seven existing wonders of the world. Although it is no longer fully intact, there are still a great many marvelous stretches dotted across much of northern China, some of the best of which are close to Beijing!
For 55 US dollars you can join an excursion to the famous Mutianyu section of the wall. The price includes a tour guide, lunch in a restaurant and transportation.
T'ai-Chi-Ch'uan, commonly known as Tai Chi or Chinese shadow boxing, is one of the martial arts developed in Imperial China. Despite being a martial art and means of self-defense, Tai Chi is often regarded as a type of motion or as gymnastics. It has significant health benefits, gives an increased sense of well-being and encourages meditation.
Tai Chi is a variation of the traditional martial art "Taijiquan", and it enjoys great popularity in China. Relaxing movement is an important component of traditional Chinese medicine, and Tai Chi could help you feel energized and balanced.
Elegant, relaxed movements and a feeling of well-being have enabled Tai Chi to also gain popularity in the Western world. Learn about Chinese relaxation and meditation techniques during one of our 1 week Tai Chi courses (10 lessons) in Beijing. On request, you could also book a morning class or take individual lessons.
Price per person/week: 250 USD
Chinese painting has a unique style directed by its culture, and is little influenced by the technique of individual artists. It forms a significant part of Chinese history, and you could experience it during your stay in Beijing.
We offer courses in Chinese painting, during which you could learn about this ancient tradition and special painting techniques, using typical materials such as ink, brushes and rice paper. All the necessary materials are provided, and you will be guided by experienced teachers.
This course is also a good way to relax during your free time while studying Chinese in Beijing. Be inspired by the Chinese culture while painting!
Price per person/10 lessons: 250 USD (includes materials)
Chinese Culture in Beijing
Chinese culture has a rich tapestry of longstanding customs and traditions that are as important today as they were in the past. In fact, China has the longest history of any civilisation with their heritage being traced back over 5000 years. The Chinese are the first to proudly share their customs and traditions with prides.
You are able to learn about the history of this city and its culture at many museums and temples and experience the contemporary culture in the variety of theatres and art galleries. century BC and was initially built for defence purposes.
Beijing was the proud host of the 2008 Summer Olympics, and the city is still full of sporting fever years on. Sport has become an extremely popular pastime with locals playing and watching a huge range of sports including football, tennis and basketball.
A more traditional pastime is the Chinese martial art of Tai Chi, which is traditionally seen as a healing therapy which revitalises and relaxes students. Tai Chi also combines aspects of self-defence and meditation with elegant movements using skill and strength.
Beijing is one of the best shopping destinations in the world as you can find anything and everything in the many markets and shops. Wangfujing Street is one of the city's busiest markets and is a firm favourite among both locals and tourists. The China World Centre and the Xidan shopping arcade have both many bargain stores and high-end boutiques, alongside some delightful Chinese restaurants. For a more authentic shopping experience, visit the Liulichang market created during the Qing Dynasty roots which has recently been restored and sells authentic Chinese paintings, artefacts and literature.
Beijing has a wide variety of things to do in the evening and nighttimes including many nightclubs and cocktail bars. The nightclub scene in the city is up-to-date with the latest music trends and also offers a taste of the local pop culture.
Beijing's cuisine draws together traditional cuisines from a number of Chinese regions, with a unique Beijing style and modern tastes. Some of the local delicacies are Peking duck and Zha Jhiang noodles, which are prepared by specialist noodle chefs. Tourists with a braver palate can try an "Imperial Banquet" which has everything from stewed camel's hump to sesame buns stuffed with minced pork and served with dried peas and sugar.
---
You won't find a better all-inclusive price anywhere else to study Chinese in China. Learn Chinese in Beijing, the deeply rich and vibrant capital city and benefit from our native, highly experienced teachers, local guides and fantastic central accommodation.
Please note that depending on the time of year you come to China to study, a seasonal surcharge might apply. All other additional services however are included in the price.
From Sprachcaffe you get an all-round carefree package. Everything you need for a successful language stay is included in the price. Whether it's: arrival as well as excursions, accommodation, language course, teaching materials, language certificate and of course a priceless memory.
Residence booking: double rooms are only available for two people travelling together.
Do you have a question or need some advice?
We are always ready to solve any doubts you might have!