Start planning your holiday now and save up to 400 euros!
Get your Espresso early bird discount now and travel whenever you want ☕
Spanish Courses in Madrid for Adults
For your language study trip in Madrid, we offer Spanish language courses for every level. Our teachers ensure a smooth learning process so that we can bring you maximum success. A language study trip in Madrid is particularly effective, as our students remain in constant contact with the Spanish language after the course.
This means that you will quickly lose your shyness about speaking Spanish during your language study trip. Madrid offers a wide range of options for your free time. In addition to beautiful sights and Spanish street cafés, Madrid also offers language travellers the opportunity to experience the Spanish way of life at first hand.
Meet international language students from all over the world
Connect Madrid, Málaga and Barcelona as a City Combo
Learn Spanish in the capital with unique flair
Our language school is located in the centre of Madrid! Perfect for going straight out.
What makes a language study trip to Madrid so special?
Learn Spanish from native speakers on a language study trip to Madrid and discover one of the most exciting cities Europe has to offer. The proud capital of Spain conveys a unique attitude to life between cosmopolitan modernity and Spanish serenity and joie de vivre. Language study trips to Madrid provide you with many incomparable experiences, new friendships and experiences that you will benefit from in the future. You will quickly make contact with the friendly locals and they will be happy to tell you about their city and culture. As the Spanish spoken in Madrid is very clear, you will be able to understand them well.
Language courses in Madrid for adults
Experience the Spanish language together with other like-minded people from all over the world.
Language courses for juniors
Language trips to Spain for juniors aged between 14 and 21 with age-appropriate supervision.
---
Learn Spanish in Madrid Language Course
To maximise the success of your language course in Madrid, we design the learning process to be imaginative and creative. So get ready for an exciting learning experience! You will make great progress with us in the shortest possible time. It is important to us to offer a high standard and quality in all our language courses - including our Spanish course in Madrid, of course. Therefore, only highly qualified, competent and committed native Spanish speakers teach at Sprachcaffe.
DELE Language Certificate
We prepare you for the DELE certificate
Varied teaching programme
Learning Spanish is fun with Sprachcaffe
Highly qualified teachers teach the language course
Certificate of attendance and placement test
Receive our Sprachcaffe certificate at the end of the course
Emily Lau got a strong recommendation to go to Sprachcaffe. She loved the location and the staff!
Sawako Matsuoka really liked the school location and the teachers. Read about her experience here.
Anna particularly enjoyed the activities and the staff. Read about her experience here.
Overview of our courses in Madrid
With individual lessons, you can choose the topics relevant to you in 10 or 20 lessons of 45 minutes together with your teacher. The minimum duration is 1 week. Optionally, another person can take part.
---
Our modern and friendly language school in Madrid is located in the heart of the lively Spanish capital. Here we offer various language courses for all levels. The maximum number of participants is 10. In addition, you can also experience a language course in Barcelona with the help of the City Combo.
Classrooms with audiovisual equipment
Many restaurants and bars are nearby
Common room, study room, computer corner
Views over the rooftops of Madrid
---
Accommodation during your language study trip in Madrid
We offer our language students who take part in a language course in Madrid with Sprachcaffe a variety of accommodation options from which they can choose the one that suits them best. After all, we at Sprachcaffe want you to feel completely at ease during your language study trip in Madrid! All types of accommodation offer you the opportunity to talk to people from all over the world in Spanish and to put into practice what you have learned in your language lessons. Only through direct use can you consolidate your Spanish skills in the long term.
Choose your accommodation
Decide between host family and flat
Arrival is always on Sundays and departure is on Saturdays.
Talk casually with locals and people from all over the world
We want you to feel completely at ease during your language study trip in Madrid!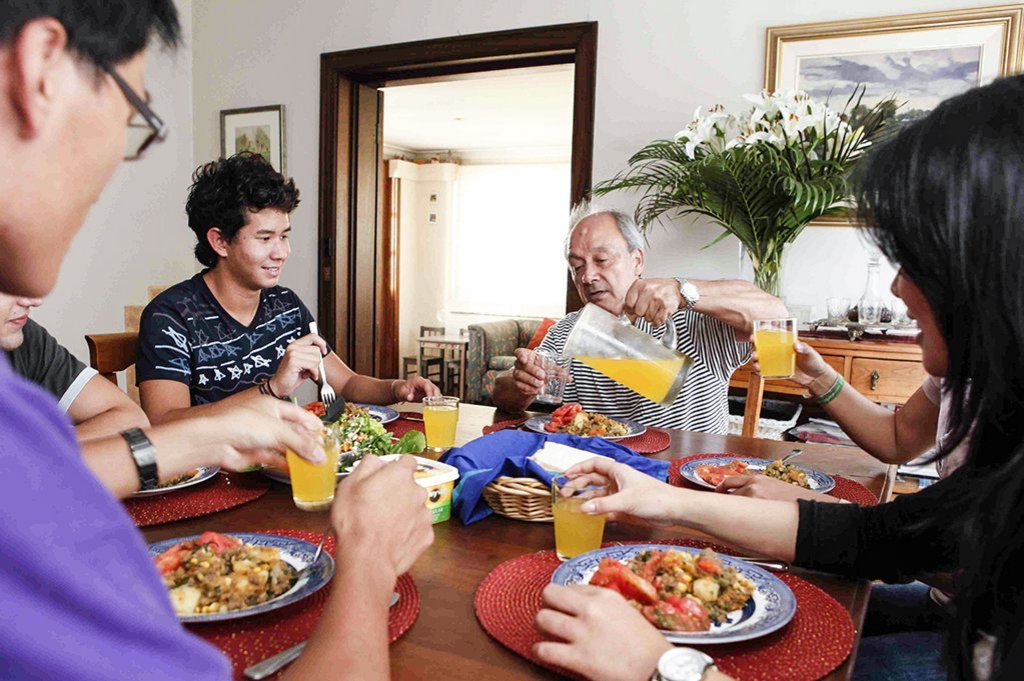 Shared room
Half board (full board also available)
Shared bathroom/kitchen
Free WiFi
Max. 30 minutes from the school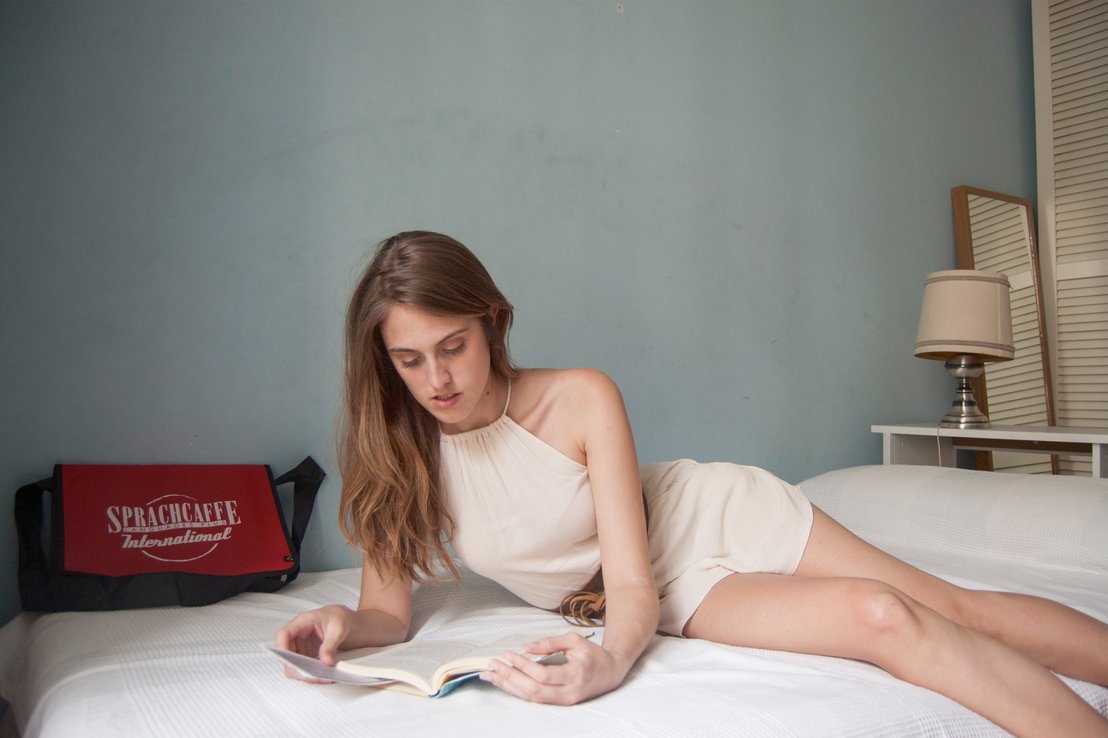 Shared bathroom, kitchen, lounge room and laundry room
Free WiFi
City center
Weekly cleaning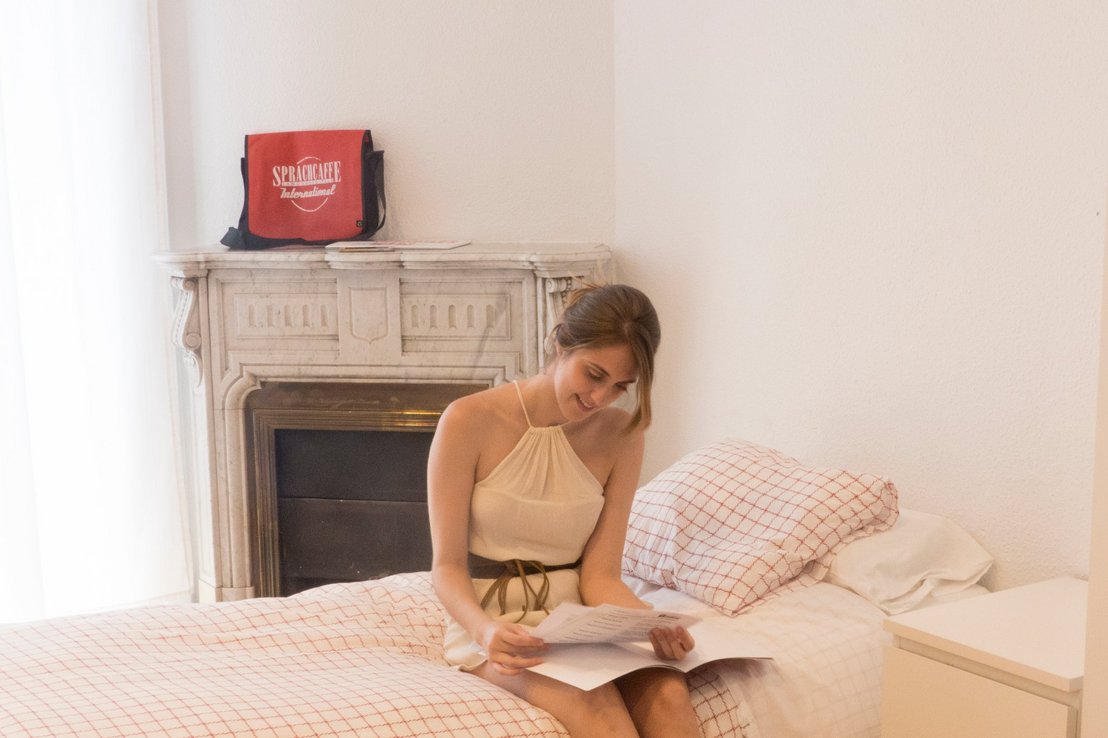 Full board
International flatmates share kitchen/bathrooms
Free WiFi
---
Activities during your language course in Madrid
Madrid, the capital of Spain and also the third largest city in the EU, is truly unique. It is the political and cultural centre of Spain and, with the surrounding mountain ranges and valleys, also very scenic. Madrid offers numerous impressive and world-famous sights, cultural activities and a lively nightlife.
Palacio Real, Almudena-Kathedrale, Puerta del Sol, Tempel von Debod
Shopping on Calle Gran Via, Real Madrid football match, walking along Río Park, El Rasto
Segovia, Sierra de Guadarrama, Salamanca, Toledo, Alcobendas
Overview of activities in Madrid
Morning:
Placement test / First language lessons
Afternoon:
Getting to know the group
Evening:
Free time
Morning:
Spanish language course
Afternoon:
Madrid city tour
Evening:
Free time
Morning:
Spanish language course
Afternoon:
Free time
Evening:
Tapas tour
Morning:
Spanish language course
Afternoon:
Excursion to the Palacio Real
Evening:
Free time
Morning:
Spanish language course
Afternoon:
Free time
Evening:
Night out in Madrid
Excursion: Toledo (full day)
Excursion: Salamanca (full day)
We would like to point out that the activities in our sample week are only recommendations for the course of a language study trip in Madrid. The excursions, times and activities may vary and incur costs of €10-50.
The most exciting sights in Madrid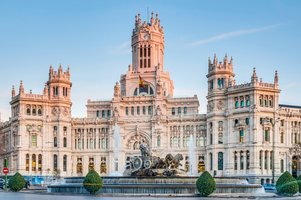 This beautiful fountain is located in Plaza de Cibles and is the symbol of the city. By this fountain is a sculpture, namely two lions and a goddess. This artistic monument is worth a visit!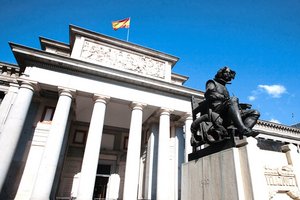 This museum is the most important national art museum in Spain. Here you will find the world's best collections of European art from the 12th to the 20th century. You can visit it in the centre of Madrid.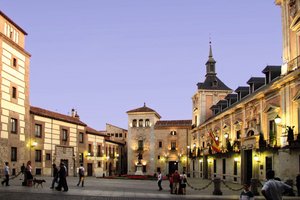 The Plaza de la Villa is an urban square in the centre of Madrid and is one of the most important medieval centres in Madrid. One of the most striking buildings here is definitely the Town Hall, which dates back to 1644.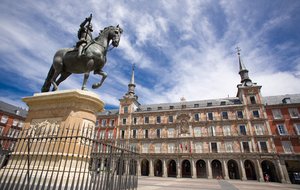 We would like to present you with a small selection of annual events in Madrid. These activities, as well as many other events that take place in Madrid, are well worth a visit! If you have any questions or suggestions, please do not hesitate to contact our staff at Sprachcaffe Madrid.
International Art Fair: (February) ARCOmadrid is the second largest contemporary art fair in Spain. Every year, art lovers can marvel at modern art by national and international artists on 4,000 square metres over one weekend.
Festimad: (May) In the last week of May, the alternative rock festival Festimad has been held since 1995, including several parallel festivals. Bands like Radiohead, Amaral, Dover, Rage Against the Machine, Beck, Cypress Hill and Molotov have performed here.
Pride Week: (July) As Madrid is one of the leading LGTBIQA+ destinations, you can take part in Pride Week there for a week in July. A wide range of political activism, cultural and fun activities take place there. More than 2 million visitors are welcomed there every year.
Virgen de la Paloma Festival: (August) If you want to experience a traditional festival in Madrid, don't miss this ceremony: For one week, Madrid celebrates in honour of the Madonna. The liturgical part of the festival is the procession in which the painting of the Madonna is carried through the crowd. Residents will wear traditional garments and dance traditional dances for the occasion.
International Jazz Festival: (November) Under the motto "Jazz of Diversity", a large annual jazz festival is held in the Spanish capital. Various musicians play multi-faceted jazz concerts throughout November.
---
Prices and services for your language trip to Madrid
With Sprachcaffe, everything you need for a successful language trip is included in the price. Accommodation, language course, placement test, language certificate and of course an unforgettable experience.
You can buy teaching materials at the school or rent them for a fee of EUR 4.00 per week and a deposit of EUR 15.00. The materials are not included in the price.
Do you have a question or need some advice?
We are always ready to solve any doubts you might have!