English Course in New York for Adults
New York is often called "The city that never sleeps" - and for good reason. This exhilarating city has over eight million inhabitants and hundreds of famous landmarks for tourists to visit and explore. Students will find something to do all day and night in this buzzing city full of culture. From breathtaking skyscrapers to world-leading art galleries - New York has it all!
'The Big Apple' is home to some of the world's most famous landmarks, from the Empire State Building, the Statue of Liberty and the renowned Rockefeller Center, to Staten Island and of course Times Square. Students can discover the famous districts of Soho, Little Italy and Chinatown or simply explore the high-end boutiques Manhattan is famous for. New York's trendy ambience is set against a culturally rich backdrop of famous art galleries and theaters.
Surrounded by native English-speaking locals and tourists, students will find themselves picking up the English language effortlessly. The learning process extends far beyond the classrooms and students can thrive in this buzzing city by experimenting with their new language skills in a relaxed and spontaneous fashion.
Our first-class school in New York brings together the exhilarating tourist vibe with talented and friendly English teachers, and a relaxed school setting in the center of one of the world's most popular cities. Students can choose from a variety of courses to suit their individual needs, from standard to intensive language programs, basic courses and many many more.
Why Choose One of Our English Language Courses In New York?
Experience New York at its finest, from Central Park to Broadway. Enjoy the diverse culture and breathtaking architecture while perfecting your newly acquired language skills. Our study abroad language program in New York encompasses an unforgettable travel opportunity, a first class learning environment with exceptional English teachers and, above all, a lifelong skill developed in the company of lifelong friends. Allow yourself to be mesmerized by this fantastic city while learning a new language and creating unforgettable memories!
---

Inside the English School in New York
A welcoming reception area
12 comfortable classrooms
Computer room with high-speed internet access
A kitchenette
A relaxing students' lounge
Location of the English School in New York
Our Sprachcaffe Languages Plus School is located in the illustrious Manhattan and is a convenient 5 minute walk from various major Subway stations. The central locationis unbeatable - located on Broadway, with distinguished nearby neighbors including the Empire State Building and the renowned Fifth Avenue which are just a few blocks away - there are enough sightseeing opportunities to keep students busy day and night.
Madison Square Garden and Times Square are just a few of the attractions to visit and are within walking distance of the school. Students love being in the thick of it, right in the core of The Big Apple!
---
We offer English courses for all types of learners at every proficiency level. The Sprachcaffe School in New York has courses for beginners all the way through to advanced English. Students can choose the duration of their course, its intensity and the accommodation type best suited for them.
The Sprachcaffe team in New York are passionate about sharing their knowledge of the English language and New York's culture with every student, and aim to create a memorable and effective language and travel experience.
Discover our different English courses below and choose the one that suits you best!
Jessica was very glad about her English learning experiences. She was impressed by the level of professionalism of the teachers.
Antonio found the experience excellent. He enjoyed the teachers good humour and liked the teaching methods.
Shione also had an excellent experience. She found the staff to be kind and was grateful for the support she got.
* 1 lesson = 45 minutes
** For TOEFL exam preparation course, the exam fee is not included in our price. Starting dates are every 4 weeks on average.
*** University Pathways processing fee = $300
The minimum age for participating in our courses is 18. For students aged 16-17 we will consider course participation upon request.
All students taking a course for 12 weeks or more will require a USA student visa.
For all visa related enquiries, please consult your relevant embassies.
---
In order for you to reach your potential and learn as much as possible in New York, you will need the perfect accommodation where you'll be able to relax and recharge your batteries after each eventful day. We want you to feel completely comfortable during your stay and to have as many opportunities to practise your new English skills beyond the classroom as possible.
In our residence you will be able to mix with other language students who will be equally keen to practice their new English skills and meet new people.
---
In the land of unlimited opportunity, New York is the superstar and one of the most popular destinations for language trips to New York. The legendary "city that never sleeps" is simply too good to sleep in and seduces every visitor into non-stop amazement. Whether it's classics like the Empire State Building, Times Square, Rockefeller Center, the Statue of Liberty and Staten Island or the countless famous districts from Chinatown to Little Italy to Soho - every highlight wants to be discovered here in the "Big Apple" on a language study trip to New York.
The leisure programme in New York at a glance
Morning:
Placement test / First language lessons
Afternoon:
Getting to know the group / Orientation tour
Evening:
Welcome party
Morning:
Language course
Afternoon:
Excursion to Central Park
Evening:
Free time
Morning:
Language course
Afternoon:
Free time
Evening:
Film evening
Morning:
Language course
Afternoon:
Excursion to Chinatown
Evening:
Free time
Morning:
Language course
Afternoon:
Free time
Evening:
Night Out in NYC
Excursion: Washington D.C. (full day)
Excursion: Boston (full day)
Please note that the activities in the sample week are only a recommendation for your language study trip in New York. The excursions, times and activities of your language study trip may vary on site. Additional costs of €10-50 may also be incurred.
The most exiting sights in New York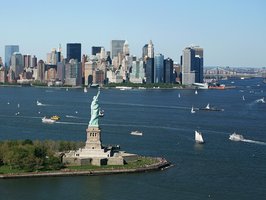 This statue is definitely one of the most famous in the world. If you are in New York for the first time, you should not miss it under any circumstances. It symbolizes the freedom of Americans because the Statue of Liberty holds a Declaration of Independence in his left hand and a torch in his right hand.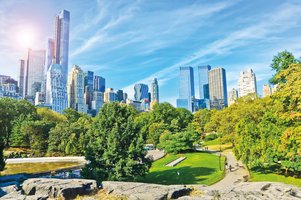 This city park is also worth seeing, as it occupies 6% of Manhattan's total area. Not only are there scenic paths in the park, but there are also a number of attractions and activities you can try. It doesn't matter if you visit the park in winter or summer, there is always something to discover!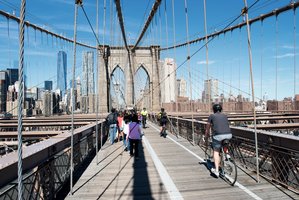 You shouldn't miss the legendary Brooklyn Bridge on your trip to New York. You've probably seen it in films or series. The special thing about it is that it was the only steel wire suspension bridge at the time and connects the boroughs of Lower Manhattan and Brooklyn Heights.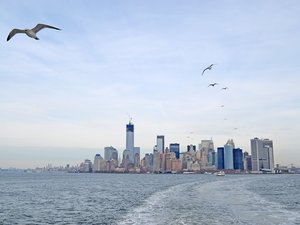 The Big Apple is the city where it all happens. Over 47 million tourists visit New York each year and with good reason. This unique city offers everything from museums and art exhibitions to breathtaking skyscrapers and a liberating nightclub scene. The idolized city of New York is quite simply larger than life, mesmerizing, astonishing and inspiring every tourist.
New York is made up of 5 different boroughs which are separated by major waterways, with each borough offering tourists a unique and distinctly American experience.
Manhattan, Brooklyn, Queens, the Bronx and Staten Island each have their own reputation and characteristics which exemplify the diverse nature of New York City. Tourists love to explore the different neighbourhoods and experience the popular attractions as well as the variety of cultures.
Manhattan – The exclusive neighborhood of Manhattan is the hub for most of the major entertainment events and shows that New York is famous for. Lower Manhattan is home to popular areas, such as Little Italy and the renowned Wall Street. New York's lavish and trend-setting culture can be found in every corner of Manhattan.
Brooklyn – Widely recognized as New York's trendiest area, Brooklyn has the largest population of all the boroughs and displays wonderful cultural diversity. Tourists will be awed by the famous Coney Island, and can enjoy many fun filled hours exploring this incredible tourist attraction. Fashionistas can also enjoy the greatest deals on the latest trends straight off the catwalk in Brooklyn.
Queens – New York's largest neighborhood is home to many diverse cultures, culinary delicacies and festivals. Queens hosts some of the finest up-and-coming art, culture and music events in New York. Many say Queens is fast becoming NYC's most stylish borough.
Bronx – The Bronx is the perfect destination for sports enthusiasts as it is home to the famous Yankee Stadium. This laid back neighborhood boasts relaxed, old fashioned delis and is a great place to see the esteemed jazz and street performers of NYC.
Staten Island – Tourists enjoy a typically American ferry trip to Staten Island and experience the many parks and reserves of this famous borough. The New York Ferris Wheel is impossible to miss and is one of Staten Island's major attractions.
The Statue of Liberty – Lady Liberty was offered as a gift from France in the 19th century and stands as a welcoming gesture to returning Americans, visitors and immigrants. The Statue was designed by Frederic-Auguste Bartholdi and is one of the most well known attractions in the USA.
Brooklyn Bridge - Spanning the East River and connecting Brooklyn and Manhattan, The Brooklyn Bridge is one of the oldest suspension bridges in the United States.
Central Park - This massive park contains several artificial lakes, 2 ice skating rinks, numerous ponds and dozens of winding pathways. Central Park is the perfect spot for a relaxing walk, still with the grand architecture of the city in sight.
The Empire State Building - This world famous 103 storey skyscraper dates back to 1931 and offers the most awe-inspiring views of New York from its observation deck.
Times Square - The spectacular billboard-covered buildings are a tourist magnet and contribute to the ambience that has made Times Square one of the most visited attractions in America. Famous for its theaters, cinemas and electronic billboards, Times Square is one of the places in the city that proves New York is "the city that never sleeps".
New Yorkers share a unique culture. A trend-setting and ever changing city, no visitor can experiecne everything New York has to offer. Artistically, New York is a world-beater, boasting dozens of extensive museums full of treasured works of art from all around the world. Some of the best are The Guggenheim, The Metropolitan Museum of Art and The Museum of Modern Art.
Nightlife is also central to New York's culture, and many will argue that when the sun sets, the city truly comes alive. Have a cocktail in one of Manhattan's finest cocktail bars or spend an evening discovering some of the many stylish nightclubs.
New York is home to the world famous Fifth Avenue, Greenwich Village, Union Square and the East Village, not to mention the annual New York Fashion Week. These magnificent fashion destinations are true to the Big Apple's high society culture, while the many local markets and souvenir gift shops will ensure every tourist has a piece of NYC to take home.
Dancing or singing classes in New York
In New York, you have the unique opportunity not only to attend an English language course, but you can also combine it with a dancing or singing class at the Broadway Dance Center - one of the most popular dance schools in New York. Perfect your English skills as well as your dance and / or singing skills!
Dance lessons at Broadway
Learn to Dance at Broadway! Along with your standard English course, you can take an exclusive dance short at the Broadway Dance Center. The English Standard Course takes place every day from Monday to Friday, the dance class is 2 or 5 days a week, depending on the type of course.
| Course | Price |
| --- | --- |
| Standard course + Dance lessons (2 days) | 130€ |
| Standard course + Dance lessons (2 days) + singing lessons (2 days) | 230€ |
| Standard course + Dance or singing lessons (5 days) | 330€ |
Singing lessons at Broadway
Learn to sing at Broadway! Along with your standard English course, you can take an exclusive vocal short at the Broadway Dance Center. The English Standard Course takes place every day from Monday to Friday, the vocal course is 2 or 5 days a week, depending on the type of course.
| | |
| --- | --- |
| Course | Price |
| Standard course + singing lessons (2 days) | 130€ |
| Standard course + dancing lessons (2 days) + singing lessons (2 days) | 230€ |
| Standard course + dancing or singing lessons (5 days) | 330€ |
---
Sprachcaffe Languages Plus offers students cost-effective English courses in The Big Apple. Our school in New York prides itself on high standards without extortionate prices. We have a variety of courses, accommodation types and duration options ensuring every student can choose a package specially suited to their individual needs.
From Sprachcaffe you get an all-round carefree package. Everything you need for a successful language stay is included in the price. Whether it's: arrival as well as excursions, accommodation, language course, teaching materials, language certificate and of course a priceless memory.
Your English Course in New York is Just a Few Clicks Away!
Textbooks and course materials can be bought or borrowed from the school for a small price.
Do you have a question or need some advice?
We are always ready to solve any doubts you might have!