Limited spots available. Book your language study trip for the autumn holidays now!
Learn French in Paris for Adults
Bienvenue à Paris, la ville de la romance !
An immense amount has already been written about Paris, but no word or sentence can even begin to accurately reflect the beauty and charm of the French capital. It's a place that needs to be experienced in the flesh to appreciate not only its famous landmarks like the Eiffel Tower, the Louvre, and the Champs Élysées, but also the lesser known aspects like the impressive architecture and laidback café culture.
The Sprachcaffe school in Paris offers French courses in a natural, laidback environment and a diverse range of courses to suit all levels; whether you are looking for a 2-week language course during the summer holidays or an exam preparation course, you will find something in Paris.
Paris is one of the most famous cities in the world, renowned for its spectacular array of sights and landmarks ranging from world-class art galleries and theatre shows to impressive gothic architecture and winding alleyways lined with cosy coffee shops. In your spare time you can practice the skills you've learned in class when talking to other students or locals in Paris, while on a tour of the capital, walking along the banks of the Seine, or if you stop for a break in one of the many charming cafés.
French courses in Paris are the ideal way to quickly improve your French skills while having a lot of fun. Why not explore this beautiful city and its surroundings while developing your language skills during one of Sprachcaffe's unforgettable French courses in Paris?
Why take one of our French courses in Paris?
Our study abroad programs in Paris are fantastic experiences: you have the chance to learn French from native speakers whilst exploring one of the most famous cities in the world. In your spare time, you can learn vocabulary on the banks of the Seine, take a boat tour, during which you can learn about the beautiful architecture of the nearby buildings and the fascinating decorations on the bridge, and visit the landmarks that Paris is so famous for. A French language program in Paris is an investment in your future, too, and taking one gives you the opportunity to visit unique places, gain rewarding experiences and create new friendships. Discover for yourself the many benefits of taking one of Sprachcaffe's French courses in Paris!
---
Language School in Paris for Adults
Inside the French School in Paris
Enjoy high-quality French lessons at our school in Paris. There, you can learn French in a pleasant and relaxed atmosphere: a perfect environment for learning.
In addition to spacious and well-equipped classrooms, students have access to the following facilities in our Paris school:
Reception
Hall
Library
Cafeteria
Internet access
We offer many types of French courses at our school in Paris, and the maximum number of students in each French class is 12, ensuring a more familiar and personal learning experience.
Location of the Language School in Paris
The school is located in a quiet street in the southeastern part of the 9th Arrondissement, the "Arrondissement de l'Opera". The Boulevard Hausmann is situated nearby, with its many restaurants, cafés, shops and boutiques.
The Paris Opera, the Stock Exchange and many other culturally, historically and architecturally interesting buildings are located near our French school. The Metro station nearest the school is Grands Boulevards. Other attractions such as the Louvre, the Arc de Triomphe and Notre Dame can be reached quickly with public transport.
There are many different things to do in Paris. Firstly, make sure you go on a tour of the city. You could visit the Arc de Triomphe, stroll down the Champs-Elysée and visit its various shops, or enjoy the sun outside a cozy café.
---
Where better to master the French language than in the capital city of France? Paris, the city of fashion, art, history, culture and love, is an exciting place to learn French. While not in the classroom, there will be plenty of extracurricular activities for you to enjoy while taking your language course in Paris. Go and see the Mona Lisa in the Louvre Museum, take a stroll down the famous Champs-Élysées or marvel at the city from the top of the Eiffel Tower; all the while practicing your French language skills at every turn!
Our qualified, experienced and dedicated teachers at the Sprachcaffe language school in Paris create a relaxed learning environment within which students feel comfortable to speak and interact. Through the use of games, role play, Q&A sessions and comprehension exercises we aim to bring you to your desired level of French with ease and confidence.
Akyol came to Paris to learn French, and from the moment he arrived he was part of the Sprachcaffe family. Meet Akyol ...
Gabriela was with us for four weeks learning French and experiencing a beautiful city and culture. She hopes to return again soon !
Rodrigo came to Paris as a complete beginner and made huge progress. The strength of our school: the teachers.
Our French language courses in Paris
There is something for everyone at the Sprachcaffe Language School in Paris! Whether you want to prepare for the DELF or you are a complete beginner looking to kick-start your French, we have the course for you.
We use a level assessment test prior to you choosing one of our French language courses in Paris. This will help us place you in the right class with the right students. You can choose the level of intensity for your course and the length of time you would like to stay for.
You could learn French in Paris intensively over a week of classes or combine a French holiday with a language course over a couple of months. Our dedicated teaching staff will help you inside and outside of the classroom, with sightseeing and local tips as well as day-to-day practical language advice.
We offer the following French courses in Paris:
20 lessons per week
Minimum duration: one week
Maximum 12 students

More info »
30 lessons per week
Minimum duration: one week
Maximum 12 students

More info »
* 1 lesson = 45 minutes
The minimum age of participation in this course is 18 years old. For 16-17 year olds interested in this course we will examine the possibility of participation upon request.
** Exam fee not included
---
During your time in Paris we want our students to feel completely comfortable, both before and after their French lessons. Where you stay is an incredibly important factor which can help make your French course in France an unforgettable experience.
Our Paris residence is a comfortable and modern environment which is perfect to relax and socialise with fellow international students after class or one of the many activities we have organised for you.
---
Paris, the so-called "City of Lights" is really one of the most beautiful cities in the world. This city is composed of 20 districts or "arrondissements". Each "arrondissement" has its own identity and meaning for Parisians and offers a long series of cathedrals, palaces, parks and gardens. Come discover them all while learning French.
Do not hesitate to buy the "Pariscope, a newspaper - which is more of a guide to discovering what is happening each day. In it you will find information about culture, events, bars and nightclubs ... The streets of Paris are filled with legacies of the past turned into historical landmarks: the Eiffel Tower, Notre Dame, the Louvre museum, the Arc de Triomphe, Ste-Chapelle, the Conciergerie and the Hotel des Invalides, to name a few. The art, music, theater, fashion, literature and architecture of Paris make this city a mecca for travelers from around the world.
Cathedral of Notre Dame:
The Cathedral of Notre Dame is one of the oldest cathedrals in France (early twelfth century) built in Gothic style, located on the plaza Parvis. It is the work of architect Maurice de Sully and Pierre de Montreuil. It is well known by the great diversity of important events that occurred here including: Napoleon's coronation as emperor.
Louvre Museum:
This museum was built in 1981. The building is an example of the evolution of architecture and French style. The Louvre has a great reputation both for its interior as well as its architecture.
The Eiffel Tower:
The Eiffel Tower was built by the engineer Gustave Eiffel for the occasion of the Universal Exhibition of 1889. It has a height of 324 meters and weighs 7300 tons. Inside the tower one can find shops and restaurants, and this magnificent structure is a spectacular part of the Parisian skyline.
The Champs Elysees:
This famous boulevard is known as one of the most beautiful avenues in the world.
The leisure programme at a glance
Morning:
Placement test and language lessons
Afternoon:
City tour & Notre Dame
Evening:
Free time
Morning:
French language course
Afternoon:
Free time
Evening:
Boat trip across the Seine
Morning:
French language course
Afternoon:
Excursion to the Louvre
Evening:
Free time
Morning:
French language course
Afternoon:
Excursion to Sainte Chapelle
Evening:
Free time
Morning:
French language course
Afternoon:
Free time
Evening:
Free time
Excursion: Parque de la Science (full day)
Excursion: Versailles (full day)
Please note that all activities and excursions in our sample week are only suggestions for your language study trip. Excursions, activities and times may vary from the week example and may incur costs of €10-50 locally.
Paris is known as the city of artists. If you're an art lover, this city will provide endless opportunities for recreation. Paris offers all its visitors a countless number of museums, exhibitions like the Louvre, the Orsay Museum or the Rodin museum.
Paris is a city known worldwide for its passion for fashion. Moreover, this city offers various possibilities for every budget, from designer shops with a reputation to stores accessible to all. Enjoy shopping and strolling by the different streets and do not forget to visit the famous Galeries Lafayettes or the Boulevard Haussmann.
The French attach great importance to food. Meals are typically eaten three times a day. Breakfast is from seven to nine o'clock, is when you can take the famous croissants with butter and jam. Mealtime is between twelve and two in the afternoon. Usually a copious meal with two dishes, coffee and dessert. Dinner is about seven in the evening.
Due to Paris' status as a cosmopolitan city, you can sample food from around the world in this city. Some of the typical foods that you shouldn't forget to try is the always popular croissant, coffee and of course, the baguettes and crêpes.
The neighborhoods with a more lively nightlife are: Montmartre, Pigalle, the Champs Elysees, les Halles and Bastille et Saint-Germain de Prés, among others. All neighborhoods will offer various activities: cafes, chic bars and restaurants. You will have infinite possibilities, come to discover all of them and be dazzled by Paris, "the city of love."
Most exciting sites in Paris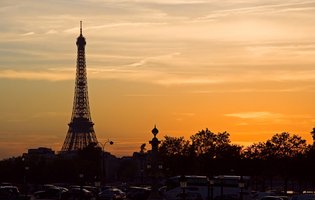 The Eiffel Tower is 300 meter high and one of the most beautiful attractions in the world! This landmark in Paris was inaugurated in 1889. In the evening, you can watch the Eiffel Tower shine in a warm glow of lights. From the top you have a beautiful view over Paris.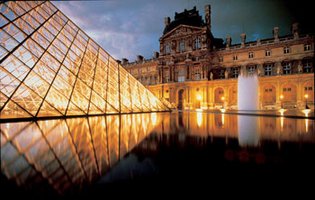 You can see great paintings like the Mona Lisa in the Louvre. In total, there are more than 300,000 paintings waiting for you! It is the most visited museum in Paris and a landmark of the city. The building itself is also a highlight, as it used to be a royal palace.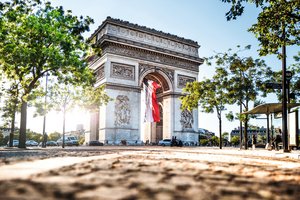 This famous monument stands in the middle of Charles de Gaulle Square. It is an iconic symbol of French national identity. The military parade of the French National Day and Bastille Day always start at the Arc de Triomphe.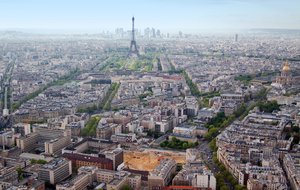 ---
Learn French in Paris, the city of art. romance, food and fashion. These great language course prices offer unbeatable value!
Choose the best French course for you, your preferred accommodation in Paris and how long you would like to come to study with us for. Then use the table below to find your total price. Please note that, depending on the course starting date, a seasonal surcharge might apply.
From Sprachcaffe you get an all-round carefree package. Everything you need for a successful language stay is included in the price. Whether it's: arrival as well as excursions, accommodation, language course, teaching materials, language certificate and of course a priceless memory.
Prices of your Language Trip to Paris
For hotel bookings: double rooms are only available for two people travelling together.
Do you have a question or need some advice?
We are always ready to solve any doubts you might have!