Arabic and French Courses in Rabat for Adults
The world of Arabian Nights awaits as you embark on a once-in-a-lifetime language and travel experience in Rabat, the Washington of North Africa.
Explore the wonders of this true African paradise while learning everything you need to know about the Arabic and French languages. Embrace this incredible city with its dynamic African culture and Arabic roots as you gain fluency in two of the world's most widely spoken languages. As Morocco's capital city, Rabat boasts a relaxed and laid-back atmosphere coupled with lively Cosmopolitan charm. The city is made up of exquisitely rugged colonial architecture that stems from Rabat's rich history, while the delightfully colourful African culture keeps up the exotic allure of the region.
Experience Rabat's oriental history and modern sights up close.
Effective language courses
Our trained teachers use modern and tested teaching methods
Central and close to the city, you can reach all of Rabat's sights from the language school.
---
Our Sprachcaffe school is ideally located in the heart of Rabat and is fully equipped to offer effective and relaxed Arabic and French classes. Situated in a newly renovated building, the school offers students a modern learning environment while still maintaining a unique Moroccan charm and décor. Our talented language teachers and small class sizes ensure every student receives an effective and personalised learning experience.
Our school is fully-equipped with:
A welcoming reception area
Spacious and modern classrooms
A balcony to enjoy views of the city
A coffee and refreshment area
A reading and recreational area
Location of our language school in Rabat
Our school in Rabat is located in a quaint residential area in a newly refurbished building. The school is ideally located in the heart of the city with attractions, markets and cafés within walking distance. The building is a mere stone's throw away from the Royal Palace, and even boasts a balcony which offers spectacular views of the city and the palace itself.
The nearest major station is only 400m away from the school and there are two tram stops nearby, making the school the perfect starting point for all of your excursions. The surrounding area is known for its magnificent architecture that exhibits Morocco's roots, while the many museums proudly showcase the history of the region.
---
Learn French or Arabic in enchanting Rabat
The UNESCO World Heritage City of Rabat is the ideal blend of tradition and a modern cosmopolitan city. Morocco's capital city offers everything one could expect from an African paradise while still boasting elements of Arab, French and Spanish culture. Rabat is one of the few African cities that display its European roots while proudly showcasing the Moroccan heritage.
Our school in Rabat offers a wide variety of Arabic and French courses. Students can choose from a standard course, intensive course or one-on-one lessons while enjoying a relaxing break in the ever-tranquil Morocco. Our specialised teaching methods and enjoyable, up-to-date curriculum will ensure that every student reaches their goals in their desired time frame. Through our creative and communicative approach to language learning, students will gain the confidence to express themselves in the language as they experiment freely with their new skills. We aim to get every student to absorb the natural elements of the language and to guarantee that the language learning process extends to the hours outside of the classroom as well. With the language surrounding them as they embrace the city of Rabat, students will gain fluency in Arabic or French almost effortlessly.
20 lessons per week
Minimum duration: one week
Maximum 12 students

More info »
Mini Group Standard Course
20 lessons per week
Minimum duration: one week
Maximum 4 students

More info »
30 lessons per week
Minimum duration: one week
Maximum 12 students

More info »
Lesson recap
Homework assistance
No extra cost
Twice a week
Also available online
5 days per week / 2 lessons daily

More info »
Combi Course Arabic + French
20 lessons Arabic + 10 French lessons per week
Max. 12 students
Combi Course French + Arabic
20 lessons French + 10 Arabic lessons per week
Max. 12 students
Please note:
Courses begin every Monday (except for beginners)
1 lesson = 45 min
Minimum age: 18
For those aged 16 or 17, we consider the possibility of participation on request
The teaching method used in our Arabic and French courses in Morocco is based on the concept of open communication and two-way discussion rather than one-way lecturing. We use encouraging, confidence building techniques and our course curriculum is largely student led and tailored to individual group needs.
Through creative and fun teaching methods, using a variety of textbooks, topical handouts, games, and audio-visual material, teachers encourage students to use your language skills with confidence from day one. Through using Arabic or French in this way from the start of your course we believe tricky pronunciation, grammar and vocabulary is better committed to memory, making for easier recall. By focusing on building your confidence from the beginning you will be able to go out and use the language on a day-to-day basis in the streets of Rabat.
What our students have to say
Fatima learned Arabic, but also learned a lot about the culture of Morocco and the people who live there, all thanks to the teachers.
Sam enjoyed his stay in Rabat, especially for the chance to meet students like him from all over the world.
Elisabeth comes from Germany and went to Morocco to learn Arabic at Sprachcaffe Rabat. Her experience was excellent.
---
At Sprachcaffe we guarantee a truly authentic Moroccan experience for the duration of your language course in Rabat.
We offer a variety of accommodation options that allow students the opportunity to embrace the Moroccan culture in a place that suits their needs and gives them ample opportunity to enjoy the company of the locals as well as their fellow students. Our selection of accommodation options ranges from traditional riads to the more modern hotel, as well as a unique homestay option. With every element of the city's diverse culture and hospitable nature on display students are guaranteed an enjoyable and truly unforgettable stay in Rabat.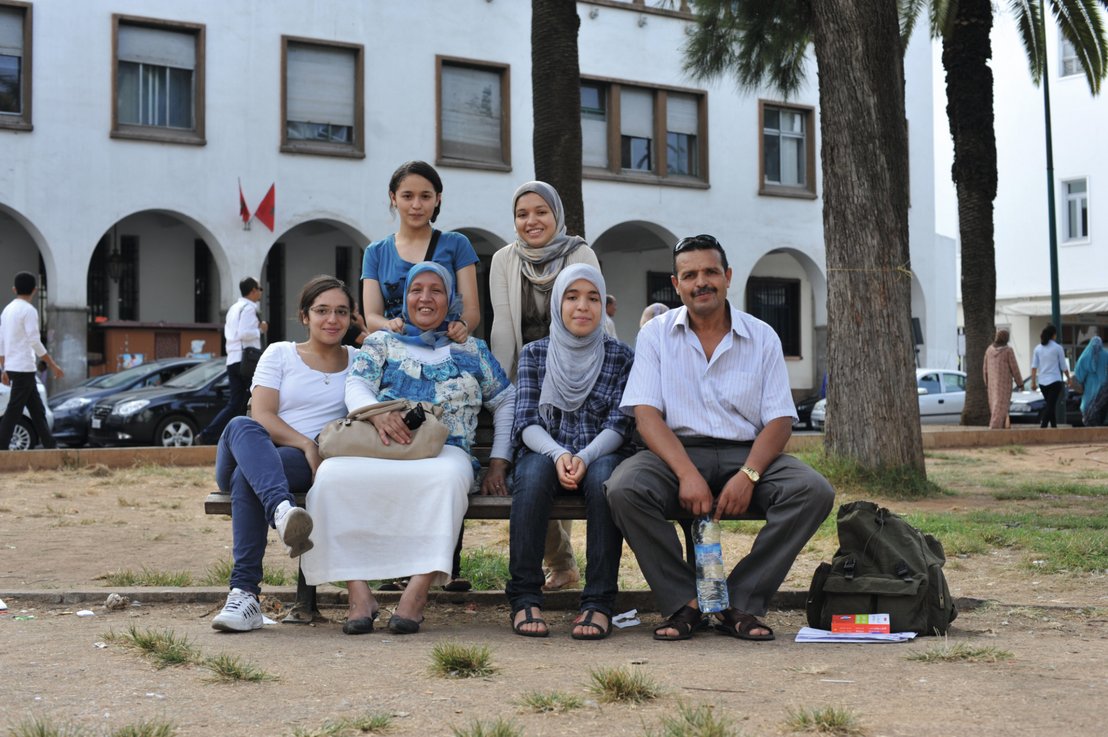 Single room
Half board
Shared bathroom/kitchen
Max 50 minutes from the school
Free WiFi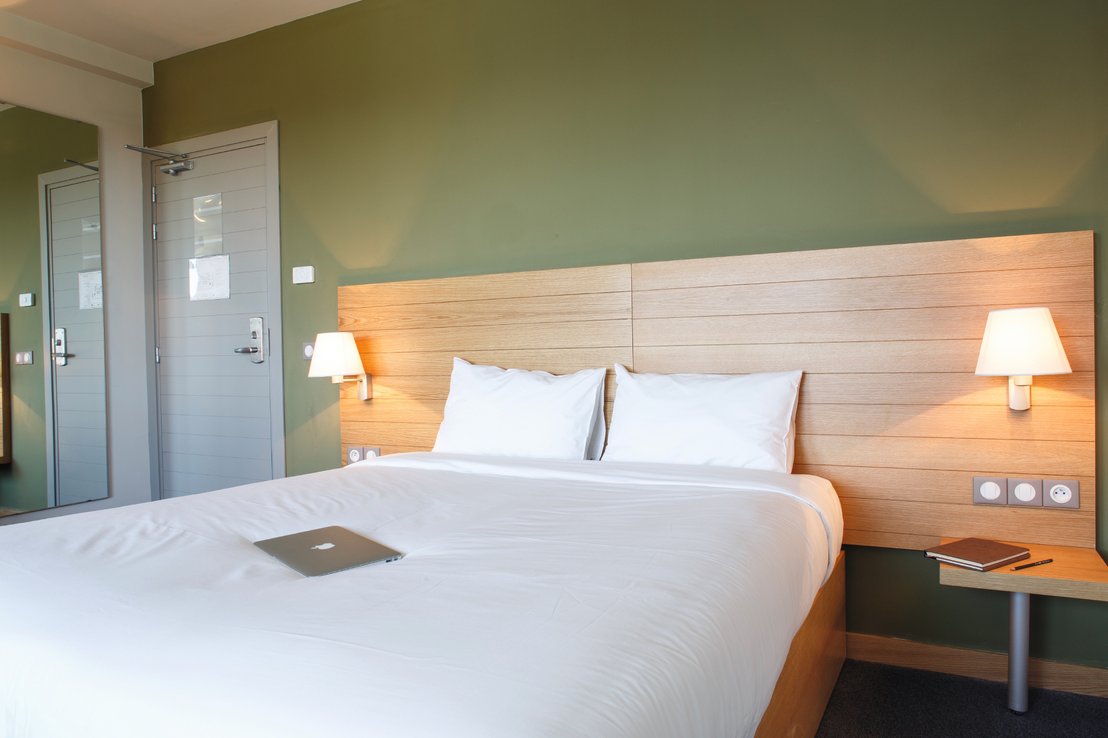 Single or double room (joint bookings only)
Breakfast
En-suite bathroom, TV, fridge, kitchenette, safe, air conditioner
Daily cleaning
Free WiFi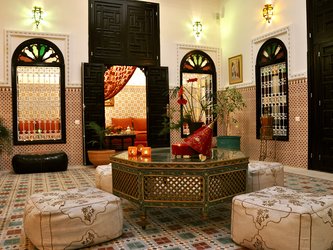 Single or double room (join bookings only)
Cosy courtyard house with en-suite bathroom, air conditioner, TV, common area
Free WiFi
Homestay – Our unique homestay option welcomes students into the homes of specially chosen host families who are eager to share their language, traditions and customs with students from all over the world. Students will be exposed to every nuance of the language in a natural and unrehearsed environment while experiencing a dynamic culture first hand.
Traditional Riad Guesthouse – Built in the 16th century, the riad boasts authentic and traditional décor while offering comfort and the opportunity to embrace the Moroccan heritage. The riad has a charming courtyard that offers students the chance to enjoy the many books from the library while soaking up the Moroccan sun.


Hotel – The hotel is a mere 10 minute walk from the school and offers world-class comfort and modern décor. Students who choose to stay in the hotel will benefit from all of the convenient amenities while still enjoying the warm ambience of Rabat, and absorbing the language and the culture of the city.
---
The relaxed ambience of Rabat guarantees a tranquil and truly captivating travel experience with a variety of awe-inspiring sights, breathtaking natural wonder and a history that will be sure to amaze and intrigue every visitor. As one of the hidden jewels of Morocco's tourism world, Rabat is a quieter and somewhat quainter version of the bigger cities while still boasting a trendy cosmopolitan vibe that keeps every tourist energised for the duration of their stay.
Morning:
Placement test / First language lessons
Afternoon:
Free time

Evening:
Free time
Morning:
Language course
Afternoon:
Trip ti Medina
Evening:
Free time
Morning:
Language course
Afternoon:
Free time
Evening:
Free time
Morning:
Language course
Afternoon:
Tour of the city
Evening:
Free time
Morning:
Language course
Afternoon:
Free time
Evening:
Free time
Excursion: Chefchaouen (full day)
Free time (all day)
Please note: All leisure activities and activities in the sample week are suggestions for your language study trip. Therefore, the leisure activities and excursions offered on site may vary and incur costs of €10-50.
The most exciting sights in Rabat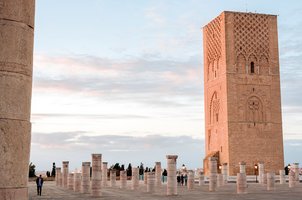 The landmark of Rabat is the 44 m high Hassan Tower. This is a minaret of an unfinished mosque. Since the landmark was half-destroyed by an earthquake, there are now countless columns here. From here you have a great view of the Salé marina and the sea.
Right next to Medina is the Kasbah des Oudaias, one of the most important buildings from the Almohad period. It is a beautiful fortress with small alleys. It also offers a fascinating view of the city of Rabat.
Medina is the old town and the heart of Rabat. The colourful bazaars are the highlight of Medina. During your stay in Rabat, you should definitely visit Medina, because here you can get beautiful and cheap souvenirs such as spices or handicrafts.
Sightseeing and Activities
Mausoleum of Mohammed – This historical building is one of the must-sees of Rabat and gives an unrivalled look at the city's rich history.
Kasbah of the Udayas – This Kasbah was built on the mouth of the Bou Regreg river during Almohad's reign and is a beautiful piece of Rabat's culture.
Chellah – This necropolis of ancient Roman Mauretania Tingitana and medieval ruins will leave every tourist mesmerised by the wonders of Morocco.
Beaches of Essaouira – Rabat's breathtaking beaches are a firm favourite among tourists and locals alike.
Rabat Archaeological Museum – The museum dates back to 1932 and has the largest collection of archaeological artefacts in Morocco.
Andalusian Gardens of Rabat – These exquisite gardens will captivate every tourist with the array of colours, scents and glorious sights.
Sprachcaffe's exclusive activities
Marrakech is a spellbinding concoction of a thousand sights, sounds and smells that hit you as soon as you set foot in the city, sweeping you off your feet into the mystical and irresistible world of the Orient. This is a city of craftsmen, and whether they are producing traditional products or modern, artistic works of art, the craft tradition is central to Marrakech's prestige. Get lost among the souqs and narrow streets of the Medina, where it's best not to plan your route as you'll stumble upon fascinating stalls, architecture and people around every corner.
You have the chance to join a 2-day trip to this wonderful city with a tour guide, shared hotel room, packed lunch, and transport all included for €200.
Excursion to Oulja and Pottery Workshop
Oulja is an artisan village in Sale, filled with handmade arts and crafts, especially products made with clay. Here you can roam around for hours admiring the different sculptures and earthenware created by the local potters and artists.
Morocco has a wonderful and respected tradition of creating some of the finest pottery in the world, and for just €20 you can join an excursion to Oulja and a pottery workshop to learn to make anything from a flower pot to an ashtray.
Rabat is a shopper's paradise with a variety of exclusive boutiques and authentic Moroccan flea markets. The city is known for its exquisite arts and crafts, and a selection of unique handicrafts can be found in the many colourful stalls. With everything from destination-inspired crafts, topographical maps and exquisitely intricate jewellery the many markets of Rabat will leave every tourist spoilt for choice. While the larger markets on Fes and Marrakesh are known for their somewhat daunting bartering techniques, the markets in Rabat sell their goods at a fixed price.
If tourists are searching for something for their palates, the food markets offer the finest fruits and vegetables as well as a variety of nuts and freshly made traditional dishes.
Nightlife and Cuisine in Rabat
Rabat has an abundance of trendy bars, nightclubs and cocktail bars, and while the city is somewhat quieter than Casablanca, tourists will never be short of a place to enjoy a splendid sunset. The local favourites will offer tourists a chance to socialise with the locals while experiencing the charms of Moroccan nightlife.
This 'foodie's paradise' offers a range of delectable treats and meals that will leave every visitor wanting more. The city has a number of world-class restaurants offering international cuisine and sumptuous traditional meals. The traditional meals in Rabat have been inspired by a number of different cultures. Tourists are encouraged to try the local delicacies, from Moroccan pastillas to couscous and succulent lamb dishes.
---
Our world-class Arabic and French courses in Rabat are ideal for students who want to learn the language quickly and effectively, while enjoying a unique country and experiencing diverse cultures. In Rabat, every element of the Arabic language and the Moroccan culture will be foregrounded as students learn the language from professional and talented teachers in a relaxed and enjoyable manner.
Students will thrive in this magnificent city as they absorb the language naturally and enjoy the many opportunities they have to socialise with intriguing individuals from all over the world. We offer a variety of language courses in Rabat that will ensure every student has access to a course that will help them reach their language goals in their desired time-frame.
With Sprachcaffe, we encourage total cultural immersion to guarantee an effective and unique language experience in the incredible city of Rabat. Students can choose the duration of their stay, the intensity of their course, the accommodation option that meets their needs and the way in which they embrace the country of Morocco while we tailor-make a package that suits their needs and their budget resulting in a stress-free language and travel experience.
Every course in Rabat includes:
A placement test ensuring students are placed into the appropriate class with students at a similar language proficiency level.
The chosen language course taught by qualified, talented and friendly teachers.
The chosen accommodation type for the duration of the course.
Course materials on loan from the school for the duration of the course.
Course certificate upon completion of the language course.
From Sprachcaffe you get an all-round carefree package. Everything you need for a successful language stay is included in the price. Whether it's: arrival as well as excursions, accommodation, language course, teaching materials, language certificate and of course a priceless memory.
Your Arabic and French Course in Rabat is Just a Few Clicks Away
During Ramadan the school continues classes as normal, however there may be limited access to food.
We advise students to research the customs of the city prior to their language course, so as to better understand and enjoy the various cultures and traditions of the locals.
Do you have a question or need some advice?
We are always ready to solve any doubts you might have!