English Courses in Vancouver for Adults
Learn English in Vancouver on Canada's west coast! Our school in Vancouver lies just minutes from the city's renowned shopping area, Robson Street. Being downtown gives our students the advantage of having the Skytrain, bus stops, local shops and Stanley Park all within walking distance and locals will tell you that the best way to get around the city is by foot, bike and even boat.
In the area where our school is located there are numerous restaurants, cafés, pubs, bars, banks, and shopping malls. What more could a student ask for? But, if the hustle and bustle of the city is too much for you after your classes, there are many tranquil spots where you can unwind too; Stanly Park is a nice escape that can easily be reached in under 15 minutes. There you'll find stunning scenery and great views across the city .
During your course you should take time to discover more of Vancouver, because this magnificent city offers something for everyone. Love nature? Then take an exciting walk across the Capilano Suspension Bridge or visit the famous Vancouver Aquarium. If you are interested in art and culture, you can visit the large selection of galleries and museums which Vancouver proudly presents.
Book one of our English courses in Vancouver and discover the host city of the 2010 Olympic and Paralympic Winter Games. Vancouver is the third largest city in Canada and the most populous in Western Canada, where the mix of different nationalities provide an ideal welcoming and diverse environment for a study abroad program.
At our school in Vancouver our students improve their language skills quickly during our enjoyable and effective English courses. Courses available include Standard English, Intensive English, Exam Preparation and many more. Find more information about our English language courses in Vancouver here.
Language travel for adults from all over the world
Variety of leisure activities
A great influence from different cultures
Language course for every level
Wide range of courses for your individual language level
Your contacts in Vancouver for the best tips
---
Course Details for your language trip in Vancouver
Sprachcaffe Languages Plus schools boast a unique and effective approach to teaching which combines tried and tested English teaching methods with constant cultural and linguistic immersion in and outside the classroom. The courses offered at the school in Vancouver promote a relaxed learning environment with qualified teachers who aim to create classes specifically suited to the needs of the students. Our language assessment test ensures students are placed in classes with learners at a similar language proficiency level for the duration and intensity of each student's choice.
Overview of all the Courses we offer:
* 1 lesson = 45 minutes
** Exam fee not included. Starting dates: On average every 4 weeks
*** Processing fee: $300
---
Our language school in Vancouver
The school is situated in the center of downtown Vancouver, with a bus stop just outside and a SkyTrain station a mere 5 minutes away. It is also only a short bus ride from Stanley Park, Vancouver's most famous viewpoint, and Robson street, the city's most popular destination for shopping and entertainment. Students can even see the beauty of the ocean and mountains from the classroom windows.
All of Vancouver's places of interest can be reached on foot or by public transport from our downtown location.
10 comfortable air-conditioned classrooms
Lounge, a lunch area with kitchen, Starbucks and Tim Hortons nearby
A computer room with free internet and school-wide wireless (WIFI) internet access
Study and resource materials available for students
---
At Sprachcaffe we know that having comfortable and relaxing accommodation plays a fundamental role in the language learning process and each student's ultimate enjoyment of their language course in Vancouver. For this reason we offer homestay accommodation and our very own residence. Students can enjoy home away from home comfort with our homestay families or get to know each other and practise English together in our residence!
Choose your accommondation
A local host family or a cozy residence?
Arrival: Sunday
Departure: Saturday
Experience the city anew and meet people from Vancouver.
Live with other participants
Share a shelter and sleep in your own room.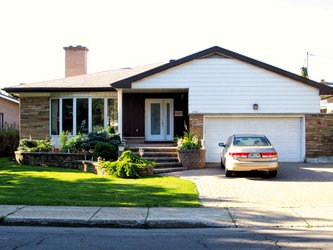 Single room
Half or full board
Max. 70 min by public transport
Typical equipment of the country
---
Vancouver, the beautiful city in British Columbia, is one of the largest metropolises on the west coast of Canada. Due to the breathtaking nature in Vancouver's hinterland and the charming city life, Vancouver is one of the cities with the highest quality of life. Vancouver is also famous for its delicious cuisine. Especially seafood like sushi or salmon is popular in Vancouver.
The most exiting sights in Vancouver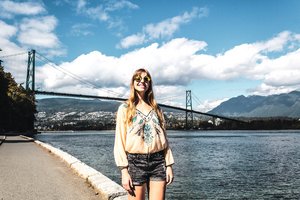 The Lion Gate Bridge is a suspension bridge that connects North Vancouver to Vancouver. This bridge is also the city's landmark, as it has the longest span of any suspension bridge outside the USA. An absolute plus: from the bridge you have a fabulous view of the city!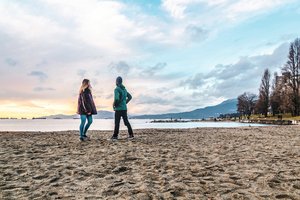 If you feel like hitting the beach after your classes, you should go to Bay Beach. This is one of the busiest stretches of beach in Vancouver. You can swim, soak up the sun, play volleyball, paddleboard and kayak.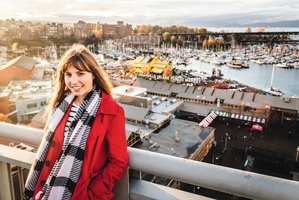 This Vancouver island is a shopping and cultural district. You can easily reach Granville Island by mini-ferry. The biggest attraction is the Public Market, where there are many stalls with delicious food. There are also theatres and art galleries. Definitely worth a visit!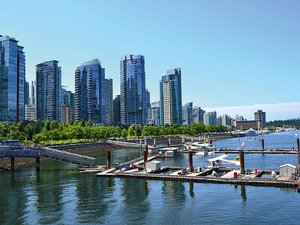 The leisure programme at a glance
Morning:
First language lessons
Afternoon:
Getting to know each other and orientation tour
Evening:
Welcome party
Morning:
Language course
Afternoon:
Trip to Vancouver Lookout
Evening:
Free time
Morning:
Language course
Afternoon:
Free time
Evening:
Games evening
Morning:
Language course
Afternoon:
Excursion to Stanley Park
Evening:
Free time
Morning:
Language course
Afternoon:
Free time
Evening:
Night Out in Vancouver
Trip to Seattle (full day)
Trip to North Shore Mountains (full day)
Please note that the activities listed above are only a recommendation for your language study trip in Calgary. On-site excursions, times and activities may vary and cost €10-50.
The city of Vancouver lies in the magnificent province of British Columbia and is famous for its abundance of natural, cultural and sporting attractions enjoyed by its young and lively locals. Vancouver welcomes hordes of visitors throughout the year and with so much to see and do it's easy to see why. Vancouver is the ideal city, providing big city life on the doorstep of exquisite natural landscapes. Popularly known as Hollywood North, the city is home to the third biggest film production center in the world, a number of famous theaters and some of the best known dance companies. From sports and nature to a rich cultural scene, the city will steal every tourist's heart.
Stanley Park – This public park spans over 1000 acres and is surrounded mostly by the Pacific Ocean. The park is also historically significant and was one of the first areas to be explored in what is now Vancouver.
Canada Place – An architectural masterpiece not to be missed - home of the Vancouver Convention Centre and Vancouver's World Trade Centre as well as FlyOver Canada.
Lynn Canyon Park – This municipal park is arguably where you'll find the most breathtaking natural beauty anywhere around Vancouver and the more adventurous tourists are offered the chance to walk across the Lynn Canyon Suspension Bridge, 50 metres above the bottom of the canyon.
Queen Elizabeth Theatre – One of Vancouver's famous performing arts centers. A must-see for every theater lover.
Dr. Sun Yat-Sen Classical Chinese Garden – Vancouver has one of the world's largest Chinese populations outside of China and boasts a beautiful, atmospheric Chinatown near the city center. The Dr. Sun Yat-Sen Classical Chinese Garden was the first Chinese garden to be built outside China.
Vancouver is famous for its huge film and theater industries and the city hosts one of North America's largest film festivals - Vancouver International Film Festival - every September.
Not only does Vancouver play a huge role in film and theater production, but the city also impresses with its large number of museums and art galleries. The most famous is undoubtedly the Museum of Vancouver, offering a vast collection ranging from Egyptian mummy artifacts through to wildlife taxidermy and historic travel journals.
When in Canada, it is encouraged to do as the Canadians do and actively embrace the great outdoors. The nearby North Shore Mountains are famous for their ski slopes and the masses of water surrounding Vancouver often provides perfect conditions for water sports.
Canada's greatest love is undoubtedly ice hockey and Vancouver is no different. Don't miss an opportunity to catch a Vancouver Canucks home game at Rogers Arena!
---
Our cost effective English courses in Vancouver offer students from all over the world the opportunity to learn a lifelong language skill while experiencing the unique Canadian culture. Vancouver is synonymous with awe-inspiring scenery, a rich culture and world class attractions. Our school in Vancouver is one of our most popular schools in Canada and offers a range of exclusive packages to suit every budget.
Choose a standard course, intensive course, private course or any of our other courses and then select the accommodation option best suited to you.
From Sprachcaffe you get an all-round carefree package. Everything you need for a successful language stay is included in the price. Whether it's: arrival as well as excursions, accommodation, language course, teaching materials, language certificate and of course a priceless memory.
Textbooks and other course materials can be bought or borrowed from the school for a small fee.
Do you have a question or need some advice?
We are always ready to solve any doubts you might have!