Arabic and French Courses in Rabat for Juniors
The royal city of Rabat - the impressive capital of Morocco delights its visitors with a mixture of oriental flair and modern elements. A great feature is the location by the sea, which creates a unique image with the white houses of the city. Historic buildings, typical markets in the old town medina and colorfully decorated alleys - you will encounter all this on a language study trip to Rabat!

Pleasantly warm temperatures all year round and only a few rainy days in Rabat
From the Hassan Tower to the Kasbah of the Oudaias to the beautiful Medina - there is a lot to discover
History and modernity meet here - that's what makes the city really interesting
Location of the language school
Our tutors will be happy to accompany you on your flight so that you can fully concentrate on your language study trip.
On a language study trip to Rabat, language students can immerse themselves in the oriental culture! Our highly qualified teachers teach Arabic and French at the language school in Rabat. Because Moroccans in Rabat speak both languages, you can internalize what you have learned in your free time after class and make friends with locals and other international language students.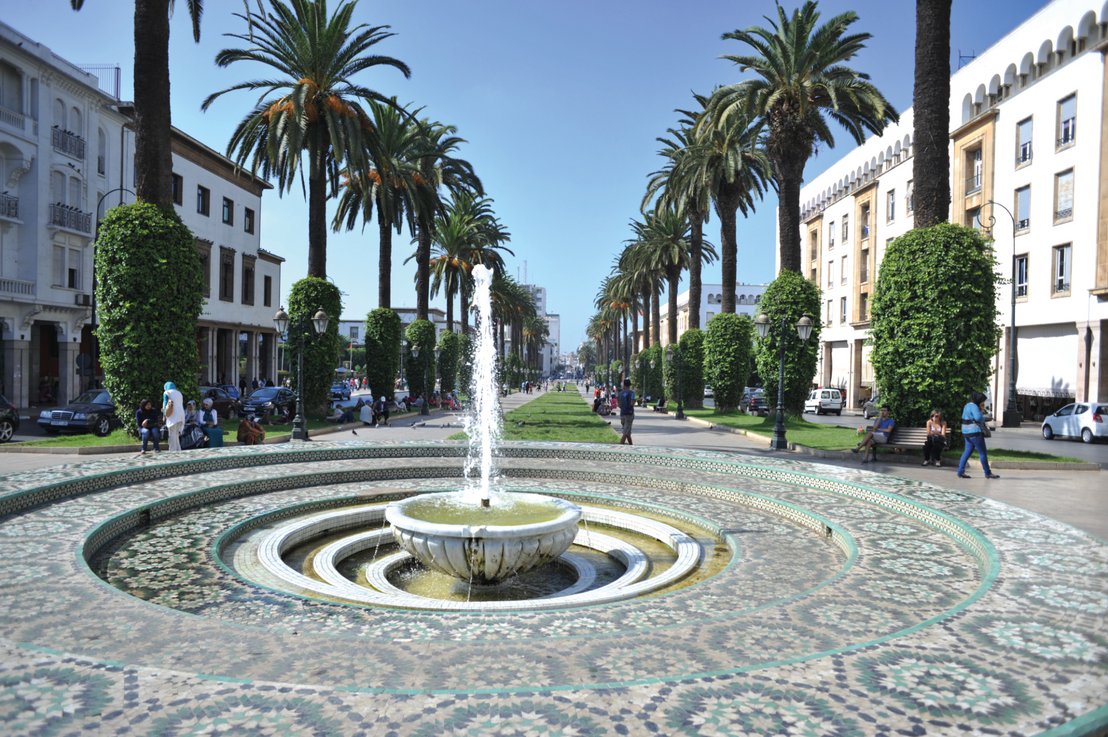 Advantages of attending a Sprachcaffe language course:
Rabat will enchant you in many ways: In the city with the oriental flair there is so much to discover! Because you will be able to use the language you have learned even after the language lessons, you will benefit from a lasting learning result! Whether Arabic or French - when you speak with the locals, you internalize the language even more intensively, get to know the culture better and maybe even make new friends! You will also have a lot of fun with the many international students who attend the language course in Rabat with you. They all have the same goal: to learn a new language and have a great vacation!
---
Our language school in Rabat is located in the heart of the city, in a modern building and in a safe area. From there you have a fantastic view of the Royal Palace. You will also be amazed by the view from the panoramic balcony. The language school has numerous classrooms and a reception. You will immediately feel at home thanks to the familiar, yet international atmosphere of the language school in Rabat. In our coffee corner in the language school or in the café next door you can sit comfortably with your new friends and also exchange ideas with them after class. Due to the good location of the language school, you can reach many sights on foot. The public transport connections are also very easy to reach, as there are two streetcar stops nearby and the main train station is only 400 meters away.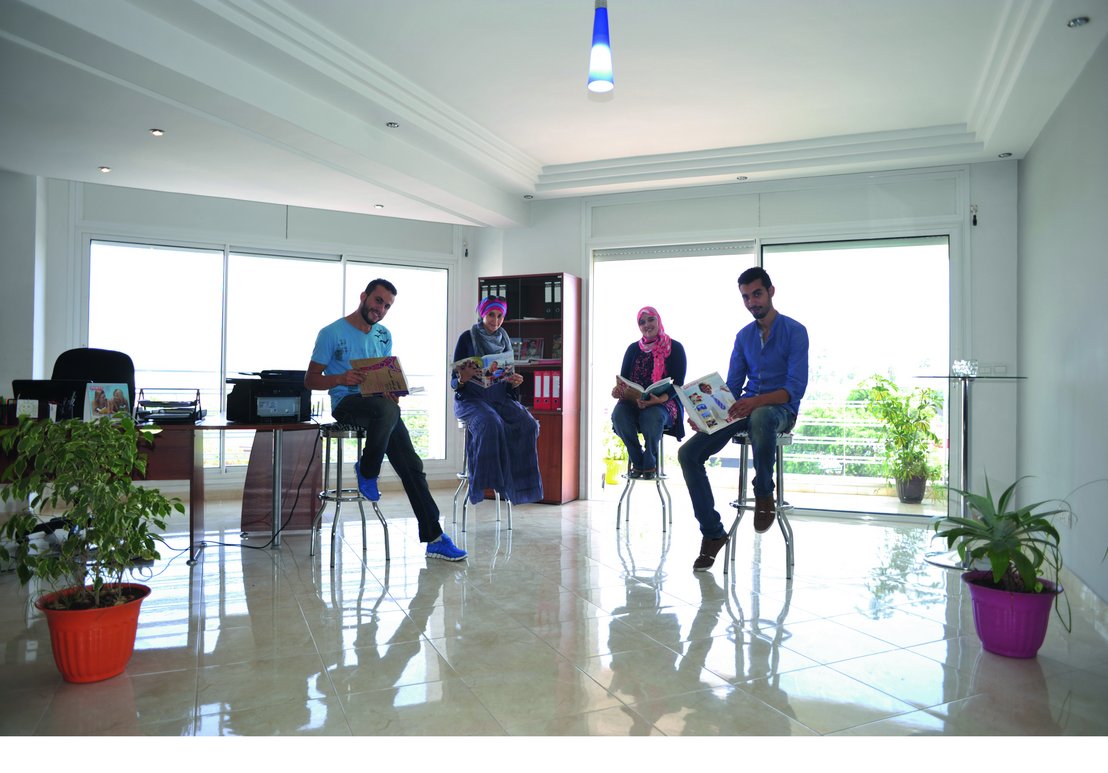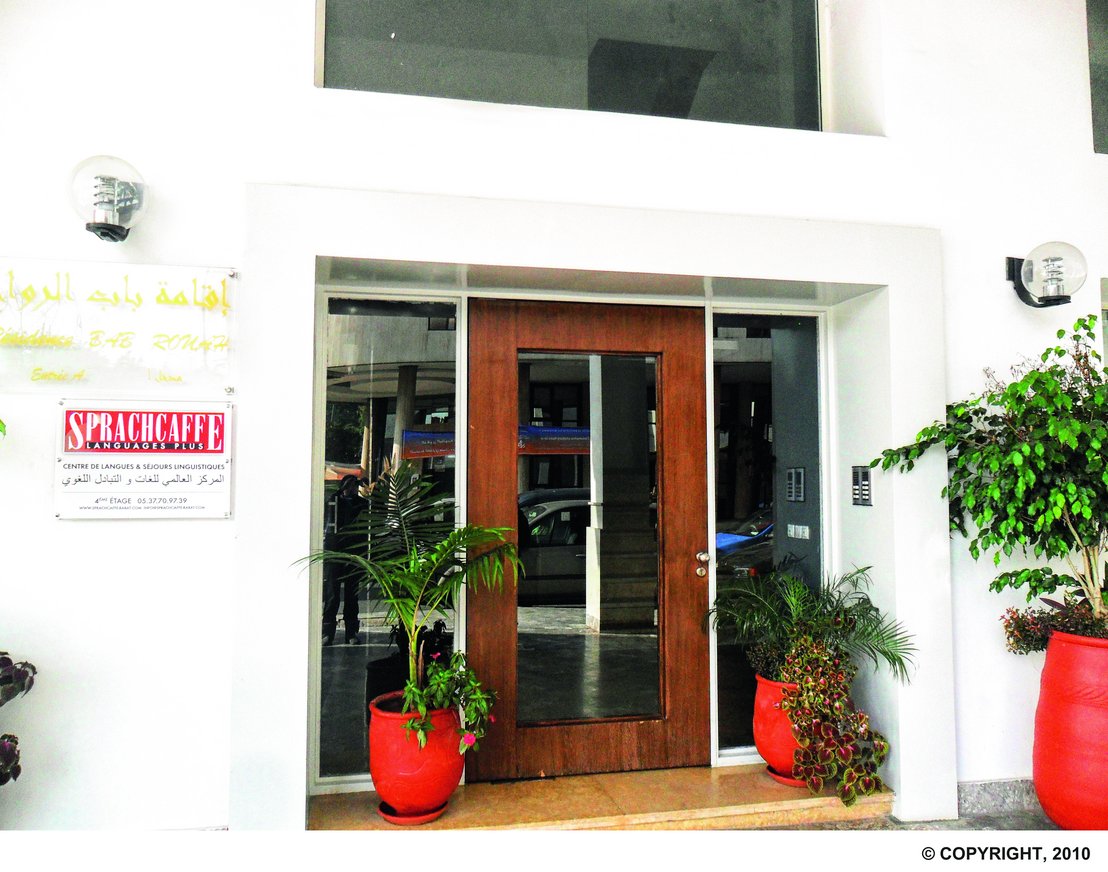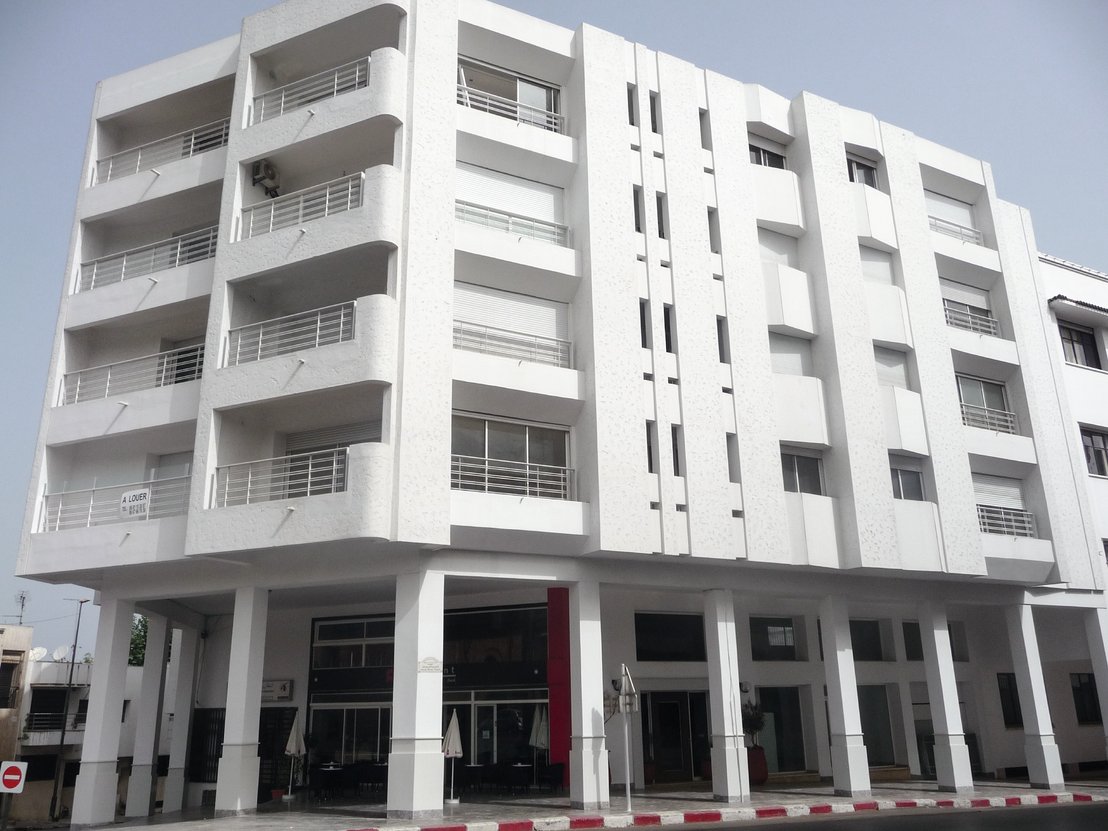 ---
Depending on which language you prefer to learn, you have the option of taking an Arabic or a French course in Rabat. Due to the bilingualism of the country, you can also use your newly learned language skills outside of the language course! Our qualified teachers offer you a varied teaching program, so that you don't lose the fun of learning! During your language study trip to Rabat, you have the choice between a standard and an intensive course.
Standard or Intensive Course
Placement test and certificate of attendance
In small learning groups, various topics are covered in the courses, such as speaking freely, expanding vocabulary and grammar exercises. For an effective learning success, you will immediately practice what you have learned during your language study trip to Rabat by talking to other course participants and getting in touch with locals.
Our language course in Rabat
20 lessons (15 hours per week)
Minimum duration 1 week
Maximum 15 students
30 lessons (22,5 hours per week)
Minimum duration 1 week
Maximum 15 Students
You can borrow the teaching material from our language school in Rabat for a small fee.

At the beginning of your course you will take a language test so that we can evaluate your level. This way you will attend the language course that is best for you to achieve your learning goals. When you have completed your course, you will receive a language certificate of successful participation!
---
We do everything to ensure that you feel completely comfortable in your accommodation in Rabat. This is the only way we can guarantee you a successful language study trip! In Rabat you can choose from two types of accommodation: A host family or a hotel.
You can find more information about the accommodations here »
Single or double room
Full board
Typical country equipment
Single or double room
Full board
Private bathroom
7 minutes per foot
If you want to experience the real Moroccan life of the locals, we will find a suitable host family for you. You will sleep either in a single room or together with another student in a double room. Arrival at your host family is possible from 8:00 a.m. to midnight.

You can also enjoy the benefits of a hotel if you want a little more privacy. You can check in after 2:00 p.m. The reception is open around the clock.

In both accommodations you will receive full board, whereby you will receive your lunch as a packed lunch.
---
Step fully into the Arabian world! Idyllic beaches, a Mediterranean climate and a beautiful landscape offer you plenty of opportunities to diversify your language study trip to Rabat. Due to the multiculturalism of the city and the wealth of history and culture, Rabat has become a popular tourist destination in recent years!

The city center was declared a UNESCO World Heritage Site and offers a special atmosphere with its high walls and many small stores and cafes. Worth seeing is definitely the view of the Kasbah of the Oudaias, the Royal Palace or the Hassan Tower.
★★★★☆

Popular activities in Rabat
You won't be bored in Rabat! We offer you a range of activities that you can do in Rabat. At our language school, we will give you valuable tips and suggestions for your free time. Together with your new friends you can explore the royal city! A guided city tour is the ideal option to get an overview of the city. Beach activities, such as surfing, will be a lot of fun! Other sports activities are also available. We also offer a cooking or pottery class to get to know Moroccan traditions even better.

Be prepared for limited food during the Islamic fasting month of Ramadan. Please also familiarize yourself with the customs and traditions during the fasting period!
Sprachcaffe's activities at a glance
To get a glimpse of what an average week with Sprachcaffe in Rabat consists of, take a look at our sample itinerary below. Participation in many of the activities is voluntary, and you are free to pick the activities that interest you the most!
Morning:
Placement test & lessons
Afternoon:
Guided city tour
Abends:
Free time
Morning:
Lessons

Afternoon:
Trip to Chellah

Evening:
Free time
Morning:
Lessons

Afternoon:
Soccer

Evening:
Free time
Morning:
Lessons
Afternoon:
Free time
Evening:
Free time
Morning:
Lessons
Afternoon:
Potter Workshop
Evening:
Free time
Departure

or

Full day excursion to Casablanca (Additional fees)
Please note: All leisure activities and activities in the sample week are suggestions for the organization of your language study trip. Therefore, the leisure and excursion offer may vary locally and cause costs in the amount of 10-50 €.
The annual events are not neglected either! The events in Rabat are always worth a visit, because you will not only have a lot of fun, but also meet many locals. We give you an overview below. If there are no events at the time of your trip, don't worry - this is only a small selection. You can inform yourself about other events on the internet or ask at our language school - we will always help you.
Mawazine Festival: (June) You want to visit one of the world's biggest festivals? Then the Mawazine Festival is just the right thing! 2.5 million visitors, 7 stages and 90 acts are counted here. Many world stars have performed here, such as Mariah Carey, Kanye West or Shakira. Here is the official Facebook page of the festival.
Jazz au Chellah: (September) Jazz fans take note - Jazz au Chellah has been held on the Chellah grounds since 1996. Here you can attend various jazz concerts at the festival, as well as off-site, and enjoy 5 days of music.
Oudayas Surf Club: (daily) A legendary surf school! Since 1998, at Oudayas Surf Club, enthusiastic students have been taking surf lessons and sharing their passion! From Tuesday to Sunday, surf lessons can be taken here every day for 150 DH (about 14 €).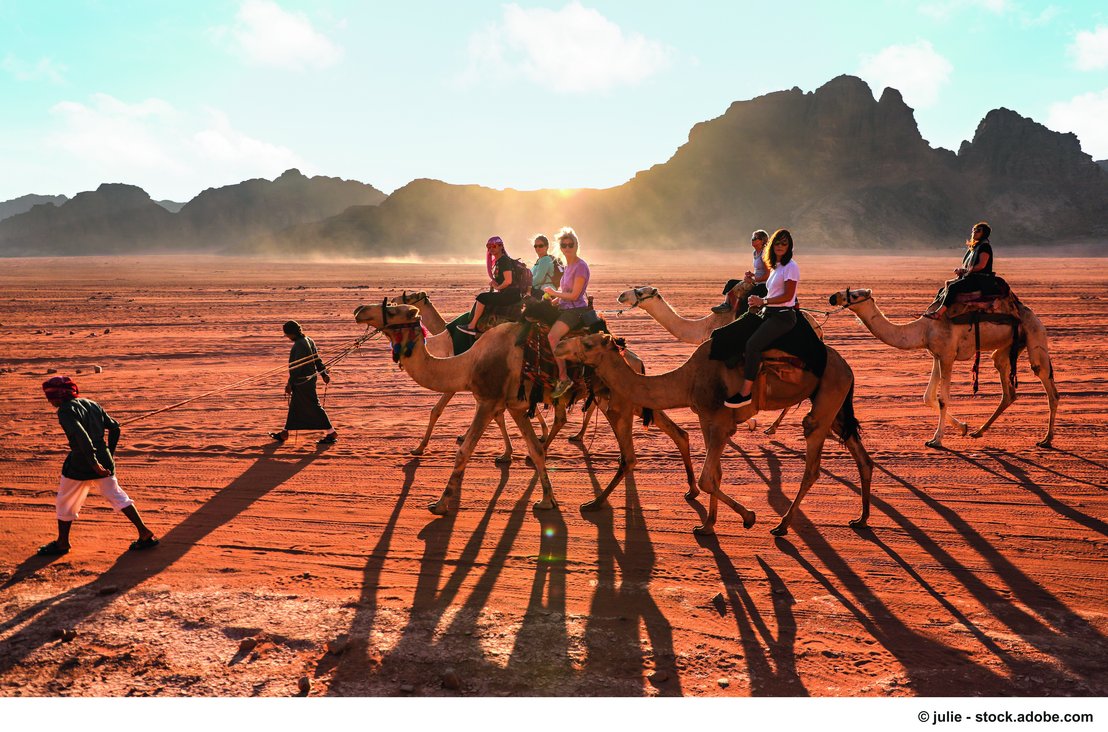 ---
If you enjoy learning languages, want to have a great vacation and meet new people, book a language travel to Rabat with Sprachcaffe! With our great offers you will spend an effective language course in the capital of Morocco and learn Arabic or French effectively. Sprachcaffe offers you many advantages: Besides learning a new language, you will get to know Rabat in a whole new way. Our leisure program allows you to make many great memories in Rabat!

From Sprachcaffe you get an all-round carefree package. Everything you need for a successful language stay is included in the price. Whether it's: arrival as well as excursions, accommodation, language course, teaching materials, language certificate and of course a priceless memory.
Put together the language trip of your dreams: