Our 2024 Catalogues are out!
Get your free Sprachcaffe 2024 catalogues now and discover what the new travel season has in store for you!
English Courses in Toronto for Adults
You will be in good hands at our language school during your language study trip to Toronto. It is centrally located in Toronto's Old Town and is surrounded by quaint pubs, cosy cafés and numerous small parks. After your language course, you can go out with the new international friends you made during your language study trip in Toronto.
You will learn a lot during your English course. But even outside of the language course, the learning doesn't stop on your language study trip. You will use English in many everyday situations and become more confident in speaking English. Find out more about all the components of your language study trip to Toronto on this page!
Participants aged 18 and over from all over the world learn English here
Discover Canada's largest city with great nature.
Multicultural Canadian city with diverse influences.
Numerous leisure opportunities
Discover Toronto with your new friends.
Why take an English course in Toronto?
Study abroad programs in Toronto are particularly special experiences: you have the opportunity to learn English from native teachers whilst discovering one of the most exciting cities in the world. Need a break from all the sightseeing and busy sidewalks? How about a coffee to take away and enjoy on the shores of Lake Ontario? Within just a few minutes you can be back in the trendy shopping streets or in Chinatown where you can marvel at the combination of beautiful historic architecture and imposing modern skyscrapers. An English language course in Toronto is an investment in your future, and taking one will give you the opportunity to visit a unique place, gain rewarding experiences and create lasting friendships.
---
Course Details for your language trip in Toronto
With a language course in Toronto, you will learn English in a unique, authentic and international atmosphere. To make learning particularly effective, we help you find the right English course for your learning goals. To do this, you first take an English test in Toronto. Classes are always held from Monday to Friday. We attach great importance to ensuring that learning in our English courses is relaxed and varied, because this is the only way you can actually achieve learning success.
Many course types to choose from
Beginners and advanced learners find the right language course
Effective teaching programme
Teachers cater to the language level of the students
In English lessons with native speakers, you will learn quickly and easily
Certificate of attendance
Receive our Sprachcaffe certificate at the end of the course
In the Standard Course you will learn English in 20 lessons of 45 minutes each and a maximum group size of 14 people. The minimum duration of the Standard Course is 1 week.
To the Standard course»
The Part-time course consists of 10 lessons of 45 minutes each. The minimum duration is 1 week and the group size is limited to 14 people.
The intensive course consists of 30 lessons of 45 minutes each and can be recognised as educational leave. The maximum group size for the intensive course is 14 people and the minimum duration is 1 week.
Erika Maria Gonzalez had a very positive learning experience. Her relationships with teachers and her host family were excellent. Read about her experience here!
Risa Tsukahara studied at our school in Toronto for two weeks and has many fond memories of her experience and the people she met. Read about her experience here!
Swann De Wilde learned a lot and greatly improved his English during his stay in Toronto. His relationship with Sprachcaffe staff was very good. Read about his experience here!
---
Our language school in Toronto
Our friendly language school in Toronto is centrally located in Toronto's Old Town, surrounded by quaint pubs, cosy cafés and numerous small parks. Many of Toronto's sights and attractions, such as the harbour and the CN Tower, are within walking distance.
Spacious classrooms with full equipment
Kitchenette, restaurants nearby
Study room, bookcase, terrace
14 students per language course
A total of between 60 and 180 students in the language school
---
In Toronto, you can choose to stay with a host family and experience everyday life in Canada. This accommodation option gives you the chance to use your language skills directly in conversation with locals. You will also learn a lot about Canadian traditions and culture.
Alternatively, you can use our language caffe residence in Toronto. There, you can stay with other language students in a single or double room, depending on your preference. More information about accommodation for language courses »
Select your accommodation
Choose between a host family or our residence.
Apply what you have learned
Practice English with the host family or other participants.
The day of arrival is Sunday, the day of departure is Saturday.
We carefully select the accommodation for you.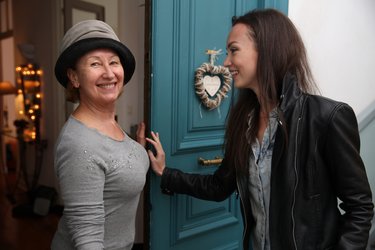 Single or double room
half board
max. 70 min.
Typical local furnishings
Living like locals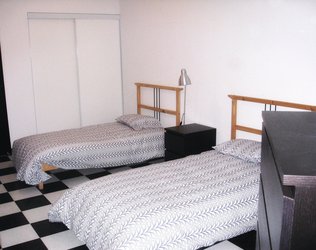 Single room
Self-catering
max. 70 min
Shared kitchen and bathrooms
TV, Laundry room, Wi-Fi
---
Activities during your language study trip in Toronto
Toronto attracts with many activities for young and old! Whether shopping, nightlife, sightseeing or sports: Toronto offers the right leisure activities for everyone. Thanks to its unique location directly on beautiful Lake Ontario, there are also many excursions and activities in the great outdoors.
CN Tower, Royal Ontario Museum, High Park, Casa Loma, Art Gallery of Ontario
Visit national parks and beaches, sports activities, shopping, zoo visit
Scarborough Bluffs, Rouge National Urban Park, Niagara Falls, USA border
Sample schedule for your trip to Toronto
Morning:
Placement test / First language lessons
Afternoon:
Getting to know the group / Orientation tour
Evening:
Welcome party
Morning:
Learn English in the language course
Afternoon:
Excursion to the CN Tower
Evening:
Free time
Morning:
Learn English in the language course
Afternoon:
Free time
Evening:
Games evening
Morning:
Learn English in the language course
Afternoon:
Excursion to the ROM Museum
Evening:
Free time
Morning:
Learn English in the language course
Afternoon:
Free time
Evening:
Night Out in Toronto
Trip to Ontario Place (full day)
Trip to Niagara Falls (full day)
Please note that the activities in the sample week are only a recommendation for designing your language study trip. On site, the excursions, times and activities of your Canada language study trip may vary and incur costs of €10-50.
The most exciting sights in Toronto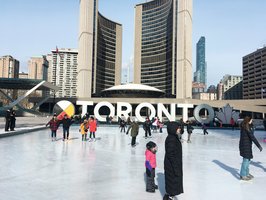 City Hall is Toronto's city hall. It consists of two curved towers and Nathan Phillips Square. From this square you can skate in winter or take great photos of City Hall.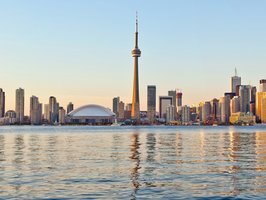 The CN Tower is a 553 m high television tower and the city's landmark. It is a viewing platform and from here you have a fabulous view! You also have the opportunity to eat in a restaurant that rotates on its own axis.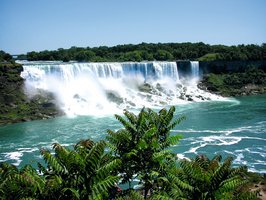 Niagara Falls is just a stone's throw from Toronto. They are one of the largest, most famous and most impressive waterfalls in all of North America. These falls also separate Canada from the USA.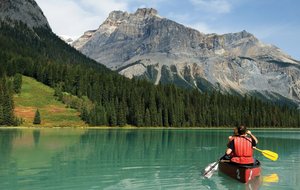 Below you can get an overview of the annual events in Toronto that are definitely worth a visit. If there is nothing on at the time of your trip, don't worry: this is only a small selection, because Toronto has a wide range of events to offer. If you have any questions or suggestions, please feel free to contact our staff at Sprachcaffe Toronto!
Canadian Music Week: (March) One of Canada's largest and most influential music festivals and conferences takes place in Toronto for 10 days. Over 1000 live bands play on 60 stages in downtown Toronto, whether in pubs, bars, cafés or clothing shops. In addition to the music festival, conferences discuss the music business and award shows honour the best musicians.
Doors Open Toronto: (May) Every year, 130 architecturally, historically and culturally significant skyscrapers and other buildings open their doors free of charge. Whether on your own or with a guided tour, the buildings can be explored. In addition to the guided tours, there are also other events where visitors can learn about the background and stories of the buildings.
Beaches International Jazz Festival: (July) For one month, Beaches Jazz Festival presents various concerts and events such as the Streetfest or Sounds of Riverside. Besides jazz, visitors can enjoy salsa, swing, Afro-Cuban, fusion, ska, soul and much more. Standing still is definitely made impossible!
International Film Festival: (September) The Toronto Film Festival (TIFF) is one of the largest and most vibrant film festivals in the world. This festival lasts for 10 days and during this time about 450,000 film fans await you in Toronto. There you can see stars and films. The films screened range from documentaries to foreign films and Hollywood hits.
Comedy Festival: (September) Do you love to laugh? Then this is the festival for you! Here you can see various live performances over 10 days. To participate, you can buy a festival pass, which gives you the opportunity to see several performers at once. Comedians like John Mulaney and Ali Wong have already performed there.
---
Prices and services for your language travel Toronto
With Sprachcaffe, everything you need for a successful language trip is included in the price. Accommodation, language course, placement test, language certificate and of course an unforgettable experience.
Prices for Toronto language trip
Textbooks and teaching materials can be purchased at the language school or borrowed for a small fee.
The English language course always starts on Mondays.
You can also book various travel insurances with us.
Do you have a question or need some advice?
We are always ready to solve any doubts you might have!