Studying in Germany - Language Holidays for Young People
Sprachcaffe Germany gives you the opportunity to study one of the most important languages for your future. If you are finding the English courses in your school are not interesting or are just not effective enough, we invite you to come to Germany to learn English. Sprachcaffe Frankfurt provides you with the ideal opportunity to progress in the language, with the best solution for your level of English.
Challenge yourself by taking advantage of one of our most popular languages. English is one of the most important languages in our school!
Language trips for youth Sprachcaffe are the most effective way to improve the mastery of a language while you seize your spare time to learn about other cultures.
Sprachcaffe language trips for young people are the most effective way to improve your mastery of a language, and you also maximise your spare time to learn about other cultures. With English intensive courses for young people in Frankfurt you will have a multicultural city to explore and experience life in a global financial capital.
Make a trip and learn English language in Germany, is an effective way to learn the language and at the same time enjoy a memorable vacation. Sprachcaffe Frankfurt will offer English classes and fun!
Our language school in Frankfurt gives you a unique opportunity will help you improve your English, while meeting wonderful people. During your English course in Germany you will have memorable experiences, fun parties, tours of different types, and more. Come to our languages courses in Germany and experience the adventure of a lifetime with Sprachcaffe!
We offer convenient and comfortable accommodation so that you are as relaxed as possible during your stay, allowing you to focus on your course. To ensure you have fun while you learn, a range of activities are available to enjoy in your free time. Organised trips, welcome parties as well as sports and cultural activities are included in the program.
If you prefer nature to the hustle and bustle of the city then choose our amazing Summer Camp in Berlin Liepnitzsee! Here you will be taught by experienced teachers and and spend your afternoons doing water sports and your evenings telling stories by the fire.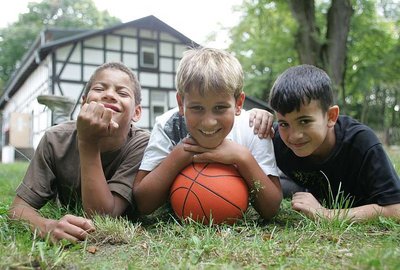 Learn English in Berlin Liepnitzsee
Learn English immersed in nature in Berlin Liepnitzsee
Do you have a question or need some advice?
We are always ready to solve any doubts you might have!