Language school Viareggio
What makes a language study trip to Viareggio so special?
The popular Italian holiday resort in Tuscany is located directly on the beach and embodies all that Italy has to offer! Viareggio is truly the perfect place to enjoy the Italian gioia di vivere as well as learning Dante's language from native language teachers. A special feature of your language study trip to Viareggio is definitely the campsite where you will live, a gorgeous accommodation surrounded by nature with a pool to relax after your classes.
Students from around the world
International students between 14 and 18 years old
Wide range of leisure activities
Join our Teamers and enjoy all that Tuscany has to offer
Language courses for all levels
Learn Italian at the level you need (A1-C1)
Friendly and helpful Teamer as your contact person in Viareggio
Learn Italian in the morning and enjoy an unforgettable holiday in the afternoon - this is what Sprachcaffe's Italian language trip to Viareggio is all about! You'll learn with other international students from native-speaking teachers who will not only introduce you to the language, but also all that Italian culture has to offer.

Afternoons are dedicated to our extensive leisure programme. Run by our trained team members, the activities we have organised will always keep you entertained, help you make new friends, and allow you to practice what you learned in class! An Italian language study trip is an amazing experience that you will always carry with you and that will enrich your future.
---
Learn Italian in Viareggio with Sprachcaffe's language course
We assess your language level online or at the Viareggio language school
Study in small groups and work together as a team
All our teachers are certified native speakers
Certificate of attendance
Receive your Sprachcaffe certificate at the end of the course
20 lessons/ week of 45 minutes
Monday to Friday
Minimum duration: 1 week

Topics of the language course
Grammar
Reading and listening comprehension
Vocabulary
Emphasis on communicative learning methods
Cultural and social topics
---
The language school in Viareggio
20-30 students in total, divided into small groups
The school has everything you need to study
Our friendly staff is there to cater to your individual needs
You're never too far from taking a dip in the sea!
---
Your accommodation during a language school trip Viareggio
The campsite is located in the middle of the beautiful Migliarino San Rossore Nature Park
Arrivals are always on Sundays and departures on Saturdays
Finished with classes? Then go and relax by the campsite's gorgeous pool
An accommodation that has it all
Shuttle service to the beach, restaurant, supermarket, as well as leisure and sport activities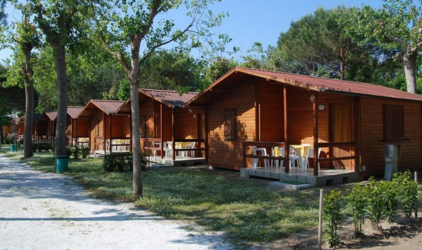 Wooden bungalow
Bedroom with one bunk bed and one single bed
Shared bathroom and kitchen
TV and WLAN
Veranda
---
To get a glimpse of what an average week with Sprachcaffe consists of, take a look at our sample itinerary below. Participation in many of the activities is voluntary, and you are free to pick the activities that interest you the most!
Viareggio promenade, Bagno Maurizio beach, Cittadella de Carnevale, Maritime Museum, weekly market
Relaxing on the beach, shopping tours, visiting restaurants and cafés, sports
Surrounding areas not to miss
Apuan Alps, Pisa, Florence, Lucca
The leisure programme at a glance
Morning:
Placement test and lesson
Afternoon:
Orientation tour
Evening:
Welcome party
Morning:
Lesson
Afternoon:
Basketball
Evening:
Italian karaoke*
Wednesdays:
Lesson
Afternoon:
Viareggio city tour*
Evening:
Free evening
Morning:
Lesson
Afternoon:
Volleyball on the beach
Evening:
Pizza Night*
Morning:
Lesson
Afternoon:
Volleyball on the beach
Evening:
Farewell party
Full-day trip to Pisa
or departure
* Even more fun with our Intensive Leisure Fun Pack!
With the ultimate Intensive Leisure Fun Pack you have the opportunity to take part in more excursions and activities. This package is offered at an additional cost of only 90 EUR per week!
---
Prices and services for your language school trip to Viareggio
Italian language course

Teamer as contact person on-site

Sightseeing and excursions
Certificate of attendance
Accommodation
Course material available to borrow

Placement test

Full board

From Sprachcaffe you get an all-round carefree package. Everything you need for a successful language stay is included in the price. Whether it's: arrival as well as excursions, accommodation, language course, teaching materials, language certificate and of course a priceless memory.
Put together the language trip of your dreams:
Do you have a question or need some advice?
We are always ready to solve any doubts you might have!