Hyo's experience in Sprachcaffe Frankfurt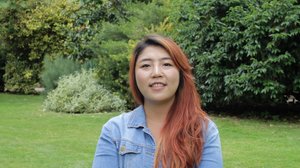 I decided to come to Sprachcaffe because the groups are smaller than in others schools so I can speak more and I have more opportunities to learn. And it was a good reason for choosing Sprachcaffe.
The teachers work very well and the students are also good and they have an appetite for learning new languages. I like it!
The best thing about Sprachcaffe is the education system because the group is small and so I have a lot of chance to speak, to learn or ask something if I don't know…. Our teachers have a lot of patience for teaching. They have been teaching languages for a long time so they have a lot of skills for the beginners like me. Yes... I love the education system!
Hyo Jung Lee, Korea