Start planning your holiday now and save up to 400 euros!
Get your Espresso early bird discount now ☕ or give away your Christmas voucher 🎅!
Arabic is a language that is growing in popularity as it spreads across the globe. With the language being spoken in a large number of countries and with over 290 million native speakers, Arabic is one of the richest languages from a cultural sense. As Arabic's economic importance increases more and more, people are investing in the language and embracing the wealth of culture that accompanies it.
During your Arabic language trip you can stay in a hotel, with a host family or in a traditional riad.
Sprachcaffe takes care of everything so you can relax and truly enjoy your language trip!
No matter what level you are or how intensively you want to learn: we have the course for you.
All Arabic classes take place in our easy to use online classrooms. Sign up now for an online language course at Sprachcaffe and benefit from the accustomed Sprachcaffe quality, experienced teachers and the group experience. Learn together with other like-minded people.
We Offer Arabic Courses in Marocco for Adults and Juniors: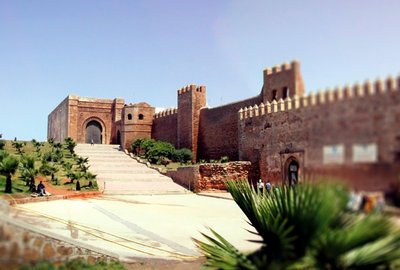 Through learning Arabic, students will be able to gain fluency in a language that can be heard throughout Africa while experiencing the delightfully vibrant Arab culture. The language has official status in 27 countries which is only marginally less than French and English, displaying clearly the importance of this magnificent language.
Our Arabic Language Courses
With Sprachcaffe, the language acquisition process is not restricted to the classroom but continues as you explore the home of this incredible language. Our school offers a variety of Arabic courses; from standard courses to intensive and one-on-one courses, all structured to support the learning process of each and every one of our students.
Our Arabic courses in Morocco offer students the opportunity to learn the basics of the language in class while gaining the necessary confidence they need to practice with their fellow students and experiment with the locals. By absorbing the natural elements of Arabic in a relaxed day-to-day environment, students are able to embrace the more laid-back language while experiencing the wonderful Arabic culture first-hand.
Why Take an Arabic Course?
The Kingdom of Morocco has an abundance of culture and charm that will mesmerise every student as they invest in an Arabic language course. Learning Arabic in Morocco will give every student the chance to acquire a valuable linguistic skill while enjoying a relaxing vacation in this spectacular country. Experience the diversity of the cultures and mouthwatering cuisine as you learn an all-important language that will undoubtedly prove advantageous. Learn all about the language and its history while investing in a lifelong language skill and creating unforgettable memories.
All the most important information in the palm of your hand
Order or browse our free catalogue for information on our language courses, the destinations we offer, types of accommodation, and more!