Limited spots available. Book your language study trip for the autumn holidays now!
Italian Courses in Florence for Adults
Florence combines a rustic beauty with a rich Italian charm and passionate character that embraces visitors from the moment they arrive. With the Italian lifestyle on display and the expressive Italian language surrounding visitors, Firenze is the ideal destination to take an Italian language course. Explore the endless number of attractions, from museums to boutiques, or simply admire the breathtaking architecture while experiencing every element of Florence and learning Italian at the same time.

The Scuola Sprachcaffe in Firenze offers a variety of Italian courses that will suit every student, no matter what their current language proficiency is. Choose from a standard Italian course or a more challenging intensive course, all the while enjoying the wonders of Florence, Italy.
With every element of your language course guaranteed to be effective and enjoyable thanks to our talented and friendly Italian teachers, you will be able to explore this tourists' paradise, experiment with your newly acquired Italian skills and continue the learning process outside of the classroom.
Why take an Italian course in Florence?
As one of the most popular travel destinations in Italy, Florence is a city that has it all. From a rich culture to breathtaking beauty, Florence is an undeniable wonder that must be experienced.

Discover the treasures of Tuscany as you explore the picturesque streets or visit the beautiful ocean nearby, all the while learning a lifelong language skill and creating unforgettable memories. Allow the Italian surroundings and friendly community of Florence to provide the perfect backdrop for a life-changing Italian language course and a truly memorable holiday.


---
The idyllic region of Tuscany exudes a passionate charm, along with a true historic wonder that captivates visitors from the moment they arrive. Experience Florence's cultural and artistic ambience that will enthrall every student while surrounding them with exquisite natural beauty and a famously friendly community.
Whether students want to visit the birthplace of The Renaissance to experience the history of the region or simply want to bask in the wonder of Tuscany, Firenze is the perfect destination. Admire the famous Statue of David or indulge in wine tasting, all the while absorbing the Italian culture and picking up the language almost effortlessly.
We offer the following Italian language courses in Florence:
Our Italian language Courses in Florence
Sprachcaffe offers a variety of courses to suit every student. Whether students wish to participate in an intensive language experience or simply want to enjoy a laid-back standard Italian course, we have a course that will help them meet their language goals in their desired time frame.
Our language proficiency tests ensure students are placed into a class with students at a similar level, while our friendly and talented Italian teachers create a fun-filled learning environment. Our teachers embrace Sprachcaffe's unique teaching methods and aim to alter every class to suit each student's individual needs. With Sprachcaffe's creative and comfortable approach to the Italian language, students are guaranteed an effective and enjoyable learning experience in Firenze, Italy.
---
To have a thoroughly successful Italian course in Florence, students need comfortable accommodation. We offer different types of accommodation in Florence so that you can feel comfortable in the time before and after your lessons. We're sure we have something to suit you!
Use your accommodation as an opportunity to communicate with other students, flatmates or local people, and thus practice the Italian you learned in class.
We offer the following accommodation in Florence:
Single room
Shared apartment
Use of kitchen or half board
Apartment located in the centre
School at walking distance or short bus ride
Functional, clean, and well organised spaces
Double room
Shared apartment
Use of kitchen or half board
Apartment located in the centre
School at walking distance or short bus ride
Functional, clean, and well organised spaces
Hotel:
From € 50 per day
Single room
Homestay:
Double or single
Shared bathroom
WiFi
Weekly cleaning
Around 40 minutes from campus
Please note: arrival is set for Sunday from 6:00pm to 08:00pm, departure is on Sunday by 12:00pm. Transfer from/to Florence Airport for € 70.

---
Local Activities in Florence
Famed as the city of art, culture and high-end fashion, as well as being the capital of magical Tuscany, Firenze is a city that will captivate and enthral every visitor. With its wealth of exquisite beauty, ancient history and romantic ambience students will find themselves intrigued by Florence's exhilarating culture.

Explore the wonders of the region or visit the neighbouring cities of Pisa, San Gimignano and Siena. With so much to see and do, in and around Florence, students will find themselves absorbing the culture naturally.
Exploring Firenze - Students will have ample opportunity to explore the many famous tourist attractions, such as the Uffizi Gallery, the Botantical Gardens, Giotto's Bell Tower and the Doors of Paradise. Our school offers a variety of guided tours to the countless number of attractions in and around Florence.
Italian Culture – Experience La Dolce Vita in Florence by embracing the Italian culture. From its expressive gestures to the truly authentic Italian bistros, our culture course will guarantee total immersion into the rich Italian culture.
Italian Cuisine – Our culinary courses combine what you have learnt about the Italian culture with traditional Italian secrets that will turn every meal into an occasion.
Activities provided by the Scuola Sprachcaffe
Seminars on historic and artistic topics and visits to places of interest in and around the city
Introduction to the city: the organisation, services and cultural events
Walking in the historic centre
Visits to the main museums and churches
Excursions to villas and gardens in the immediate vicinity of the city
Visits during temporary exhibitions or events of great interest
Visits to Siena, Lucca, Volterra and San Gimignano
Seminars and visits to understand the social economic fabric of the city and its surrounding areas
Lessons and seminars are held at school with the use of textbooks, slides and videos
History of the city
Economy of the Florentine belt
Urban development
Visits to artisan workshops and to historic shops
Visits to companies working in the fashion industry
Visits to wineries and farms producing oil and wine
Recreational activities (in greater numbers during the summer)
Walks in the countryside
Bike tours
Dinners and concerts
The most exiting sights in Florence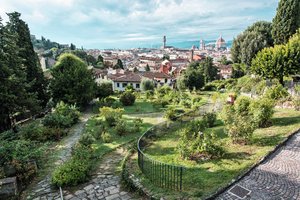 This park is located in the Oltrarno district of Florence. In this garden there are many different beautiful roses and other plants. From here you also have a perfect view over Florence.
Cattedrale Metropolitana di Santa Maria del Fiore
This cathedral is the third largest church in the world and is located in the beautiful Piazza del Duomo. Many people around the world travel to Florence especially to visit this majestic church.
The Ponte Vecchio is one of the oldest arch bridges in the world. It crosses the Arno River and connects the outer parts of Florence with the centre. Another highlight of this bridge is that there are shops to the left and right.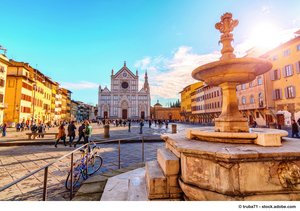 Morning:
Placement test / First language lesson

Afternoon:
Guided city tour

Evening:
Welcome Party
Morning:
Classes

Afternoon:
Trip to Uffizi Gallery

Evening:
Free time
Morning:
Classes

Afternoon:
Free time

Evening:
Open air cinema
Morning:
Classes

Afternoon:
Wine tasting in the Chianti region

Evening:
Cooking course
Morning:
Classes

Afternoon:
Free time

Evening:
Pizza class
Day trip to the mountains around Florence

or Free time
Day trip to the cities of San Gimignano and Siena

or Free time
Please note that the activities of our sample week are only recommendations for the course of a language trip. Excursions, times and activities may differ from your language trip and may incur additional costs.
Florence boasts a proud history of art and architecture, unsurpassed elsewhere in Europe. An absolutely breathtaking city, Florence has so much to offer to the international visitor that new cultural experiences are being introduced daily. The streets of Florence radiate the charm of Italian culture. Students from all around the world are discovering the 'Flower' (Florence or Florentia in Italian / Latin) and the birthplace of the Renaissance.
You will not only find the flair of this city in the numerous museums and palaces, but in private galleries, bars, cafes and even in the clubs and discos. Anyone who comes here and studies in such an inspiring environment and conditions cannot fail to obtain a reasonable grasp of the language and culture, whether it is something modern, classical, ancient or rustic, we know that if it comes from Florence it's "IN" and has its own unique style.
The city is a must for trend-setters, furniture designers, craftsmen, artists, architects and fashion designers. It all came as a result of the interaction between tradesmen from many countries who not only brought their goods, but introduced new cultures in the past.
Home of Dante, Machiavelli, Michelangelo and the Medici, Florence is overwhelming with its wealth of art, culture and history, and is one of the most enticing cities in Italy. Find art of Giotto, Sandro Botticelli, Michelangelo, Raffaello, Tiziano, Leonardo da Vinci.
Also make sure to visit the following highlights:
Palazzo Strozzi, the Dome by Brunelleschi, splendid mosaics and frescos.
Ognissantichurch's frescos by Ghirlandaio and Sandro Botticelli.
Galleria dell´ Ospedale degli Innocenti built by Brunelleschi.
Museo Nazionale: Michelangelo´s "Bacco", "Bruto", Donatello's "David".
The colorful street market "San Lorenzo" (daily) and "Cascine" (on Tuesday morning) offer you women´s fashion and leather ware at reasonable prices. Shop for shoes in the "Via Nazionale" and the "Borgo San Lorenzo" in Florence. Versace´s boutiques, Ferré, Max Mara, Armani and Krizia are located in "Via Vigna Vecchia", "Via Brunelleschi" and "Via Tornabuoni".
Buy beautiful presents like Florentine writing paper, art calendars, and straw wares at the market "Mercato del Porcellino".
During the summer, do not forget to go to the famous disco "Central Park" or the bar "Sull'Acqua Theater," or the "Lido", along the Arno River. In winter, do not forget to stop by the bar on the right bank of the river, "La Dolce Vita", the "Cabiria," both always overflowing.
---
Our competitive prices include a range of great services including accommodation options and highly effective Italian lessons. All of which is set among the stunning surrounding of art and culture in Florence.
Choose you course, accommodation and length of stay and use the table below to find your all-inclusive great value price. Please note that, depending on the starting date of your Italian study abroad course, a seasonal surcharge might apply.
Our online booking form is easy to use, click the 'Book Online' tab located above to book your Italian course in Florence now!
From Sprachcaffe you get an all-round carefree package. Everything you need for a successful language stay is included in the price. Whether it's: arrival as well as excursions, accommodation, language course, teaching materials, language certificate and of course a priceless memory.
For the studio apartment: double rooms are only available for two people travelling together.
Do you have a question or need some advice?
We are always ready to solve any doubts you might have!