Spanish Courses in Spain for Juniors
Allow the vibrant colours of Spain to captivate you as you embark on the adventure of a lifetime. Get ready to have your mind blown in this breathtaking country where culture, history and European charm combine to create the perfect Mediterranean destination. From the beaches to the constant sunshine, and mouth-watering cuisine you are guaranteed to experience a once in a lifetime summer vacation.
Imagine learning Spanish in the country where the language originated while embracing a laid-back vibe, a diverse culture and a whole new world of fun and excitement. With the beautiful language surrounding you as you explore Spain's hidden gems you are guaranteed to learn almost effortlessly, while you make lifelong friends with young students from all over the world.
Enjoy this liberating language and travel experience while you learn every nuance of the Spanish language and create wonderful memories. Experience a true sense of freedom and gain confidence in yourself and your new language skills while enjoying the comfort and safety of having a team of fully qualified and friendly course co-ordinators and teamers available at all times.
Sunshine, beaches, great food, and laid-back vibes
Practice your Spanish skills with other students and the locals
Choose between our amazing language schools in Malaga and Barcelona
Our Spanish Language Courses in Spain
We offer world-class Spanish courses in two of Spain's stunning cities. Choose between a Spanish course in one of Spain's dynamic larger cities or choose a more relaxed summer vacation vibe in Malaga. Whether a truly exhilarating modern city experience is what you are after or if the idea of wide sandy beaches and exquisite natural beauty appeals to you, in Spain you will find everything you are looking for.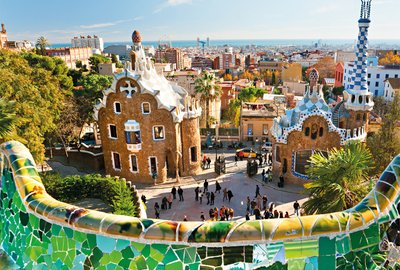 Safety, comfort and excitement are the most important aspects of an unforgettable language and travel experience, and with Sprachcaffe we aim to make sure that every moment of your time in Spain is exceptional and truly memorable.
Why Choose a Spanish Course in Spain?
The opportunities are endless for young adults in Spain! Learn Spanish in a laid-back and enjoyable environment, while the learning takes on a whole new element of fun. Embrace the culture, gain confidence and experience your own sense of independence in Spain with every aspect of this remarkable country contributing to a learning experience that holds the key to endless possibilities. So what are you waiting for? Let's get together and talk!
Online language courses for Juniors
All language courses can also be held online! Learn languages with the guaranteed Sprachcaffe quality with experienced language teachers in small groups or in individual lessons without leaving your home.
Do you have a question or need some advice?
We are always ready to solve any doubts you might have!