Save up to €400 with the Sprachcaffe Espresso Discount!
Save big on your next language trip! Unwrap our incredible discounts and make your dreams a reality. Don't wait; start saving today!
Language trips abroad to your destination of choice
For every level and every demand
Would you like to improve your language skills and get to know the country better? Then you've come to the right place! We combine language learning with an exciting leisure programme! During your language study trip, you will receive interesting lessons and can immerse yourself in the country of your destination. Whether you are under 18 or already over, we offer the right language course for all age groups! Your language level will also be determined in advance so that you can take part in the appropriate lessons. With Sprachcaffe, you have the option of learning English, French, German, Spanish, Arabic, Italian or Chinese. You can choose a language school from a total of 31 destinations.
When you book with Sprachcaffe, you can be sure that you are optimally covered during your trip! Sprachcaffe has been organising a wide range of language holidays for adults and students for 40 years. These years of experience and the careful selection and supervision of the Sprachcaffe language schools are what make your language holidays such a special experience.
With Sprachcaffe, you book directly with the language school, without an intermediary.
but enjoy the benefits of German travel law and certified quality.

Our most popular language courses
Here are our suggestions, the choice of language to learn is up to you!
A language study trip is not only an opportunity to have an exciting experience and improve your language skills. It is also a moment of personal growth and an opportunity to get to know the traditions and culture of other countries. With Sprachcaffe, your language study trip will be a successful experience! Because with us, you don't just register for a language course abroad. We organise an all-round carefree package for you and accompany you every step of the way from the beginning to the end of your language holiday. Take a look at the following overview to see where your next language study trip could take you.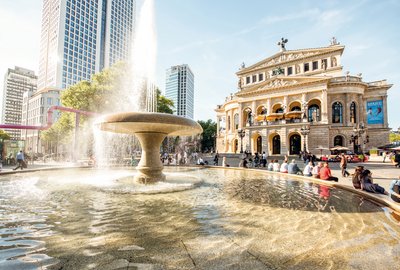 Your German language study trip takes you either to cosmopolitan Frankfurt am Main or to the Bavarian capital of Munich. You can work on your German skills at both language schools. We also offer English language courses in Frankfurt am Main for German students. So you can come to Frankfurt during your summer holidays, explore Frankfurt and work on your English grade.
Learn German »
Language trips to China to learn the Chinese language, which is spoken by around 1.2 billion people in China, Taiwan and Singapore today, are becoming increasingly popular. Your Chinese language study trip will take place in China's capital Beijing. There you can experience a range of very interesting leisure activities and in this way get to know the incredibly exciting Chinese culture. Your language study trip to China will be truly unique.
Learn Chinese »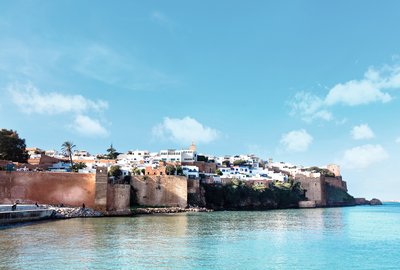 Arabic is one of the most widely spoken languages and in order to learn it effectively, it is important to stay in countries where the language is alive. For this reason, we at Sprachcaffe have decided to organise language trips to Morocco. During your language study trip to the Moroccan capital Rabat, immerse yourself in the fascinating, colourful and hospitable Arab culture and enjoy the mild North African climate all year round.
Learn Arabic »
All languages offered by Sprachcaffe can also be learned online. You learn languages in the usual Sprachcaffe quality with qualified language trainers in small groups or individually.
Language courses for all requirements
During your language study trip abroad, you are guaranteed to make rapid progress. Because you will not only be confronted with the language in class, but also during your free time, you will quickly lose your shyness when speaking. It doesn't matter if you're still a student and want to prepare for your A-levels, or if you want to learn a new language while working. We offer language courses for all age groups, learning goals and language levels.
Experience in Malta from Emre
In the video, our language student Emre talks about his language study trip to Malta. Other language students also share their experiences with you and report on their language holidays in their testimonials
English courses in Malta
We have our own Sprachcaffe campus in Malta, where you can learn English with international language students during your language study trip. Malta is particularly popular for language courses for students, as it is perfect for summer holidays. Every year, countless students come to Malta for an English language study trip and an unforgettable holiday.
Our services for your language study trip
1 Organisation. 7 Languages. 20 Top destinations. Countless memories.
To make your language study trip a complete success, we have put together a package that leaves nothing to be desired. Starting with your effective language course, your language holiday will also include cosy accommodation, permanent support and contact persons on site as well as our varied leisure programme. We make sure that your language holiday is both relaxing and effective.

An elementary component of a language study trip is, of course, the language course. It will provide you with the theoretical basis for using your foreign language in your free time. The combination of indirect learning and an efficient language course is what makes a language study trip so promising. You will quickly notice how easy it will be for you to use the language with native speakers.

Our activity programme during your language study trip is designed to help you continue learning after your language course and to have an unforgettable time with your new international friends during your language study trip. Find out more about the individual components of our all-inclusive package for your next language study trip.


Business Language Courses
As an adult, you have the opportunity to do a Business Language Course. With our offer, you benefit from a professional language course that will pay off in your professional success. There is no better way to learn a language than in the country where it is spoken. Our intensive courses at home and abroad are also officially recognised by the state as educational leave. At the end of the course, you will also receive a certificate from us to prove your current language level.
Would you like to improve your language skills, but don't have time to travel? No problem, because with Spachcaffe you also have the opportunity to take part in one of our Online Language Courses.
Advantages of booking with Sprachcaffe
For an all-round carefree language trip, we take care of all the important services.
We have selected accommodation for every taste with a high feel-good factor!
Whatever your language level and whatever your goal - we have a wide range to choose from.
All the important information at your fingertips.
Completely free, but all the more informative for it: all languages, destinations, language courses, accommodation and much more in the current catalogue.
Questions and answers about our language courses