Limited spots available. Book your language study trip for the autumn holidays now!
English Courses in Malta for Adults
Embrace a Mediterranean outlook in an informal English environment with sun, sand and glorious beaches framing the background. Embark on this unique once-in-a-lifetime Maltese learning experience and leave with an essential life skill. With English as one of Malta's official languages you can immerse yourself in the language and culture of this magnificent and inspirational island setting. Not only through excelling in a new language or improving an existing skill but through engaging in a community and experiencing the Maltese lifestyle.
A Sprachcaffe language trip to Malta in times of Corona
Language trips to Malta are possible with our comprehensive safety concept! Sprachcaffe takes special measures to ensure you have a safe and unforgettable vacation in Malta. In addition, we frequently update you about the Corona situation so that you can travel without worries. Find out how you can secure up to €300 for your language trip! More information »
Sprachcaffe's English Language Schools in Malta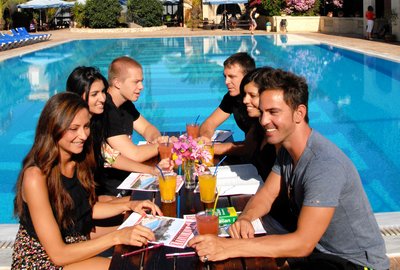 Language School in St. Julian's
Learn English on a sprawling campus with a private pool
More information »
Cambridge Preparation Centre
Sprachcaffe Malta is a Cambridge Preparation Centre. With us, you can prepare for a specific English certificate and then take the Cambridge exam of your choice. You can find more information about language courses to prepare for English certificates in the section about language courses in Malta.
The quality of the language school is regularly checked and confirmed by FELTOM (Federation of English Language Teaching Organisations Malta) according to strict criteria. The accreditation system ensures that academic excellence is achieved and maintained. We strive, together with FELTOM, to set quality standards in all aspects related to the student's stay in Malta, including safety, welfare, accommodation, and leisure requirements.
Why is Malta one of Sprachcaffe's most popular destinations?
Both schools, operated by Sprachcaffe Co. Ltd., have hosted thousands of students over their decades of service, many of whom have returned and are happy to call themselves part of the Sprachcaffe family. Malta will not only become a memory and an experience but also a stepping stone for cultural immersion. By embracing all facets of the language acquisition process and experimenting with skills outside of the classroom you are engaging in a charming culture and building a foundation, not only for fluency in the English language, but for lifelong friendships formed with fellow students who were on that incredible journey with you.
A Student's Review of our English Course in Malta
"I consider Sprachcaffe in Malta my home! For the two times I studied there, I experienced magical moments, made friends for all my life and I'm sure I learned a lot, not only English, but also about life! The cultural diversity is amazing, and the infrastructure of the school is excellent! I highly recommend this school and I'll come back for sure whenever I can, after all, as I said before, Sprachcaffe Malta is my home:-)
Dymitri Leão, Brazil
Do you have a question or need some advice?
We are always ready to solve any doubts you might have!