Save up to €400 with the Sprachcaffe Espresso Discount!
Save big on your next language trip! Unwrap our incredible discounts and make your dreams a reality. Don't wait; start saving today!
Your language study trip to Malta
Beach, sun, sea and learning English - your language study trip to Malta offers all this. Due to the fact that the beautiful island of Malta was a British colony until 1964, the official language on Malta is still English and is spoken by almost every Maltese in addition to the national language Maltese. Maltese people use English from an early age, they read English newspapers and books and watch television and films in English. So if you want to improve your English in a Mediterranean atmosphere, a language study trip to Malta is just the thing for you.
With an English course in Malta, you can learn in a relaxed atmosphere with a holiday feeling. Learning English in Malta therefore combines holidays, good weather, further education and of course lots of fun! In addition to your Malta English course, you can explore the island on excursions, relax on paradisiacal sandy beaches on the Mediterranean Sea or visit the capital Valletta.
Our language courses in Malta are recognised as educational leave.
Mediterranean lifestyle with British flair.
You can expect an endless summer from April to October.
Beautiful sandy beaches and the blue lagoon.
There is a lot to discover on the Maltese islands, so use your English language study trip to Malta to get in touch with the country and its people. We not only organise your English course in Malta, but also your accommodation, excursions and lots of events. We also make sure that you quickly connect with the Sprachcaffe community with our unique welcome parties.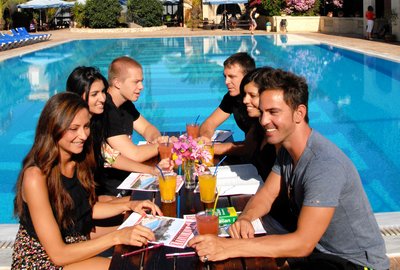 Learn English on a campus with a large pool, bar & restaurant and much more.
Malta St. Julians »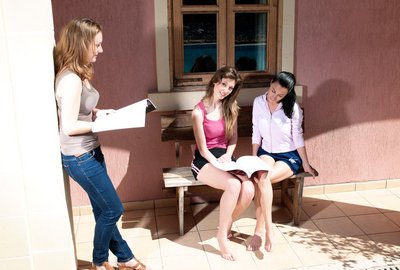 Preparation for important language certificates such as the Cambridge Certificate, TOEFL or IELTS
English certificates »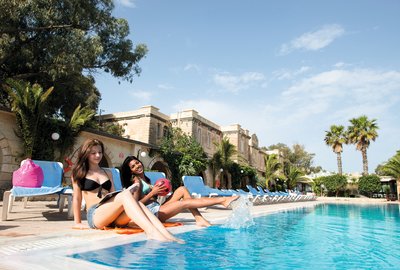 Language courses for juniors in Malta
For students aged 13 and over with age-appropriate supervision
Malta für Schüler »
Relaxation included at Sprachcaffe Malta
"Once you've been under this sun, you'll want to go again". It's quite possible that this quote also applies to you and that another Malta holiday with a language course will follow. We, for one, would not be surprised: There is so much to discover here that a longer stay is almost mandatory. Who wants to miss out on the great leisure programme on such an exciting island?
Would you like to visit one of the small villages that tell the varied history of the islands in such a wonderful way? Or perhaps a more sporting activity? How about after an exciting dive or with a good portion of "relaxing"? The beaches of Malta are perfect for this. Take a sunbath, let your soul dangle and enjoy the unique atmosphere of the island. With the subsequent excursion into the nightlife, things get more action-packed again: St. Julian's is known for its party mile, best atmosphere and sociability. Then it's party time, dancing and the odd small talk in English. Learning English in Malta can be so much fun!
The English Language in Malta
Malta has two official languages - Maltese and English - and both are spoken fluently by the vast majority of the population.
For hundreds of years, the Maltese language was left to its own devices, spoken by ordinary people. The elite in the capital Valletta mostly spoke French. With the arrival of the British in 1800, English was introduced as an official language in Malta and was quickly absorbed by the majority in Malta, this was the key to the outside world. Today, a significant proportion of the population prefer to speak English or were brought up as primarily English speakers. Both English and Maltese are compulsory subjects in Maltese schools.
Become part of the international Sprachcaffe community
Experience the Sprachcaffe community. The unique internationality makes it easy for you to get into conversation and make new friends. You will enjoy living in the cosmopolitan atmosphere. Perhaps you'll already arrange a date for the next casual evening, share experiences or decide to visit a spectacular sight together (e.g. Medina). On your language study trip to Malta, you'll have plenty of opportunities to combine your leisure programme with your new language. This is what the name Sprachcaffe stands for.
Are you looking for the perfect combination of an efficient English course at a language school in Malta and an exciting holiday? With our language holiday in Malta - also available as a language study trip for juniors- you will quickly experience what we mean by "learn languages, meet friends". You learn and live with ease and fun!
Discover all the highlights, insights into the lifestyle and culture and the most important preparations in our travel guide.
Do you have a question or need some advice?
We are always ready to solve any doubts you might have!