Lauren's experience with Sprachcaffe Orange County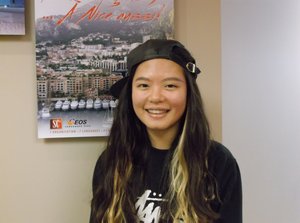 Hi, I'm Lauren, I'm from Taiwan. I have been studying in Sprachcaffe for two months, and the TOEFL class is very helpful if you want to get a high score on the test.
Teacher Debbie is really kind and patient, and she always answers student's questions very clearly and with many details. I like the class size because the teacher can take care of all the students easily and can get to know what is the student's level and answer any questions.
I also joined the class in the afternoon, Mr. Robert's academic writing is really challenging for the student who is going to college or university. He uses different kinds of material in the class, for example; the textbook, TED speech video, even the news in the world. At the front desk, Karl always smiles and will help you a lot if you have any questions. In the office, K is very sweet and professional to resolve your student visa issues and helpful in the way to apply to college and university.
I would strongly recommend the student who wants to come to learn English in California; I believe Sprachcaffe Orange County is the best choice for you!
Lauren