Save up to €400 with the Sprachcaffe Espresso Discount!
Save big on your next language trip! Unwrap our incredible discounts and make your dreams a reality. Don't wait; start saving today!
Our Chinese language school in China
Taking a Chinese language course in China is the most effective way to learn Chinese. The so-called "Middle Kingdom" is absolutely entrenched in rich history and culture and a knowledge of this will aid you in your ability in Chinese to no end. In addition to being surrounded by this ancient language on a daily basis, Chinese courses in China offer students the chance to witness some truly enchanting scenery, ancient landmarks, a unique cultural heritage and legendary hospitality.
When you choose to learn Chinese in China, you are ensuring a once-in-a-lifetime experience as you become immersed in one of the world's oldest and most fascinating cultures. Chinese is an unquestionably difficult language to learn, but if you combine this challenge with an exciting holiday then it becomes instantly more enjoyable. Our Chinese language school trip brings you right to the stunning Beijing, the country's capital, where you can study Mandarin and take advantage of the city's countless opportunities.
Here you will meet like-minded people from all over the world who all have a common goal: Learning Chinese.
Location of the language school
Directly in a charming red building near the Royal Palace
In Beijing, the so-called Mandarin Chinese (High Chinese) is spoken.
Between tradition and modernity
Beijing represents China perfectly: deeply rooted in history and yet so modern.
Our Language Courses in China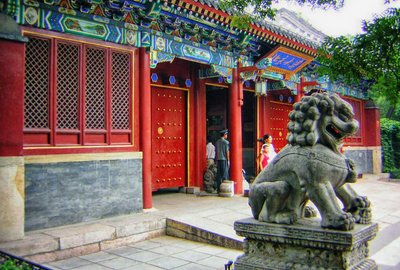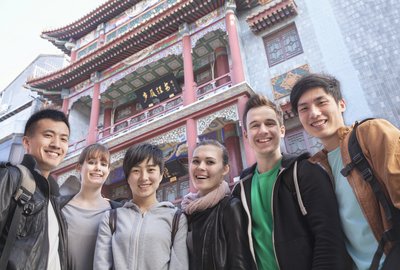 China
Beijing language trip for juniors aged between 15-21.
More information »
Anyone who has studied the Sino-Tibetan languages knows that there are different dialect groups within the Chinese language. On our language tours for students, only High Chinese, which is also known as Mandarin, is taught. The lessons are held in the form of group courses and, of course, exclusively by native Chinese-speaking teachers. By learning Mandarin, you can easily communicate in cities like Hong Kong, Shanghai or Beijing. This is a language that can provide great advantages in today's world, especially in business.
Our newly equipped language school in Beijing is located in a charming red building within the Imperial Ancestral Temple - in the Working People's Culture Palace, in the Wen Hua Gong (Mandarin Palace) building. This area - part of the Imperial Palace - is surrounded by the impressive beauty of the Forbidden City, with centuries-old trees and lovingly landscaped gardens.
Why study Chinese in China?
By taking one of our Chinese courses in China you are ensuring that your abilities in the language improve on a daily basis. As you explore the fascinating city of Beijing and all this country has to offer you will be learning something new at every turn. There is plenty to see and do inside and outside of Beijing. Go on plenty of adventures each day and come back to your classes full of exciting stories to discuss with your classmates in Chinese. We will equip you with all the language skills you need to navigate your way around your new, exciting environment as well as teaching you about the traditions and customs of the Chinese people, from their colourful festivals and belief systems to the unique cuisine, music and art. You will learn all of this and so much more during your time on our Chinese courses in China.
Discover all the highlights, insights into the lifestyle and culture and the most important preparations in our travel guide.
Do you have a question or need some advice?
We are always ready to solve any doubts you might have!