Last minute summer offers - Celebrate the 40th anniversary of Sprachcaffe 🥳
Take advantage of our last minute offers and celebrate with us our 40th anniversary in our language schools in England, Germany and Spain and save 40 € per week!
Arabic and French courses in Morocco
Affectionately known as Europe's gateway to Africa, Morocco holds the balance between European charm and African energy. With the country's spectacular scenery and its unique and lively culture, students will be able to learn Arabic and French in this remarkably unforgettable destination. Experience the exotic sights and sounds of Morocco as you embark on a life-changing language and travel experience.
Between the Mediterranean Sea and the Atlantic Ocean, Morocco is the home of its own distinctive heritage and rich culture with Arabic and French being the two main languages of this multilingual country. Students will have the ideal opportunity to experience the laid-back culture of Morocco while taking French and Arabic lessons and exploring the many enthralling attractions that the region has to offer.
During your Arabic language study trip, you can stay in a hotel, with a host family or in a traditional riad.

To make you feel at home in a foreign country, we prepare everything perfectly for you - you don't have to worry about a thing!

No matter what level you are at or how intensively you want to learn: We offer the right Arabic classes for you.
The Arab countries are becoming increasingly important economically. Use your language skills to gain an advantage.

Our Arabic and French Language Courses in Morocco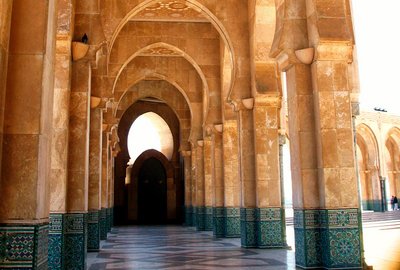 Learn to speak Arabic and French in the enchanting Rabat
More information »
Why are language courses in Morocco worthwhile?
Through language study trips to Morocco, you will not only learn the Arabic and French languages, but also get to know a great country better. The North African country exerts an incredible fascination and is a very special destination. Language study trips to Morocco therefore pay off twice over! Here, you can experience the balancing act between oriental lifestyles and European influence. Discover the traditions and peculiarities of the Moroccans, their colourful festivals and the unique Arabic cuisine - all this is possible thanks to language courses in Morocco!
Discover all the highlights, insights into the lifestyle and culture and the most important preparations in our travel guide.
Do you have a question or need some advice?
We are always ready to solve any doubts you might have!