Quynh's Experience in Sprachcaffe Los Angeles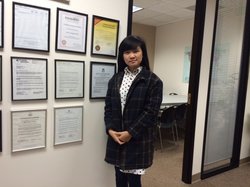 Hello, I'm Quynh. I'm from Vietnam. I came to GEOS Costa Mesa to improve my Engish, I need English to go to college or university.
During the time I am here I made a lot of new friends from Japan, Brazil, China and South Arabia. They are good friends.
My teachers are friendly, teach very carefully and are helpful. Sometimes my teachers are a little crazy and I like it. It made me feel excited and comfortable. =)
I really enjoyed my time here. I think Sprachcaffe GEOS is the best choice for me.
Thank you!
Quynh