Limited spots available. Book your language study trip for the autumn holidays now!
English Courses in St. Julian's for Adults
Escape the unpleasant weather at home and book one of our English courses in Malta, where you'll find sparkling waters and year-round sun, as well as a Mediterranean atmosphere and English as an official language.
Malta is one of the most popular destinations in the world for people learning English - and for good reason. Nowhere else in Europe can you learn English in such a pleasant climate with a rich Mediterranean culture. There is a lot to do in St. Julian's, especially when it comes to water sports, and even more to discover if you venture further afield - so see what the rest of Malta has in store for you! Below you can read the testimonials of some of our students, see pictures of our language school and its surroundings, watch a video about the school and orientate yourself by looking at a map showing our school's location.
A Sprachcaffe language trip to Malta in times of Corona
Language trips to Malta are possible with our comprehensive safety concept! Sprachcaffe takes special measures to ensure you have a safe and unforgettable vacation in Malta. In addition, we frequently update you about the Corona situation so that you can travel without worries. Find out how you can secure up to €300 for your language trip! More information »
Campus with language school, accommodation, pool, bar and restaurant and much more in one location
English courses perfectly tailored to your learning level.
Meet people on your language trip with one common goal, learning English.
Take advantage of our amazing pool to relax.
The picturesque town of St. Julian's is on Malta's east coast. Once a fishing village, today it's a bustling town full of restaurants, pubs and entertainment venues. Pembroke, where our school is located, is just a 10 minute walk away and offers a peaceful atmosphere more suited to learning.
At our St. Julian's school we offer a variety of English language courses: whether you'd prefer an intensive course in order to make rapid progress or a special exam course to prepare for the Cambridge Language Certificate, or one of our other courses, we'll get you to the level you want.
In addition to learning English, you'll become familiar with the daily lives of the Maltese people, enjoy their traditional cuisine, discover the local history and art and immediately apply your new skills after every lesson.
If you are under 18 and are considering taking a language course abroad, you might also be interested in our exciting language courses for young people in Malta.
Meals, soft drinks and snacks directly on campus.
Our leisure coordinators offer new exciting activities and excursions every day.
Challenge your friends!
Don't surf the internet too much :-)
---
Course Details for your language trip in Malta
With native and proficient English-speaking teachers and a communicative and friendly learning environment in the classroom, you'll find your time studying at Sprachcaffe just as worthwhile as your downtime spent relaxing in the Maltese sun.
Through our pre-course placement tests, you will be placed in a class with learners who have a similar English level to you. With lively class discussions, question and answer sessions, role-plays and topical listening and reading exercises, you and your classmates will cover all the fundamental elements of the English language.
Our language courses in our St. Julian's school are held from Monday to Friday, generally in the mornings, at our modern and fully-equipped school. There are a variety of course options available here, including standard, exam prep, private tuition and much more.
In St. Julian's we offer English courses for all language levels. You decide how long you would like to attend our language course in Malta. But let me tell you something: you won't want to leave again! You can also choose the intensity of your course at the language school in Malta. Whether you want relaxed 2 lessons per day or intensive 6 hours for quick learning success - we have the right English course in Malta for you!
20 lessons of 45 minutes each
Minimum duration 1 week
Group size ø 6 max. 10
30 lessons of 45 minutes each
Recognised as educational leave
Minimum duration 1 week
Group size ø 6 max. 10
IELTS, FCE or CAE
20 lessons of 45 minutes each
Minimum duration 9 or 12 weeks
Group size ø 4 max. 10
10 or 20 lessons of 45 minutes each
You can choose the topics with the teacher
Minimum duration 1 week
Optional 2 persons, you have the choice
10 additional lessons
Choose from different focal points
Minimum duration 1 week
Group size ø 3 max. 10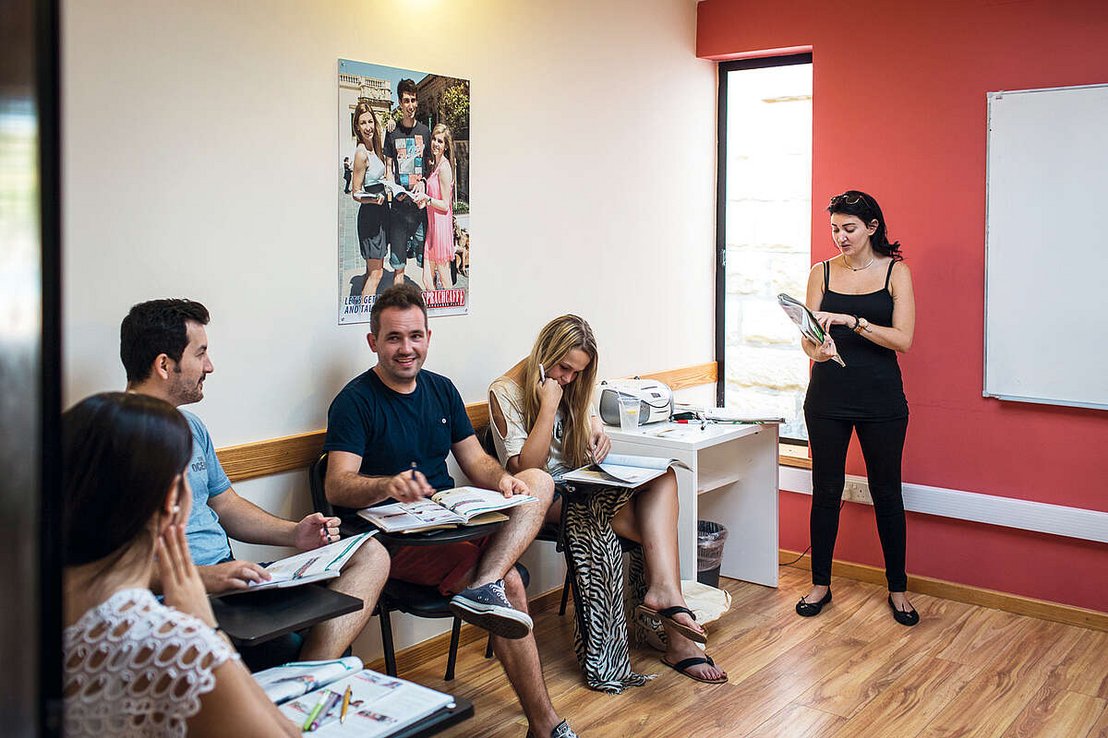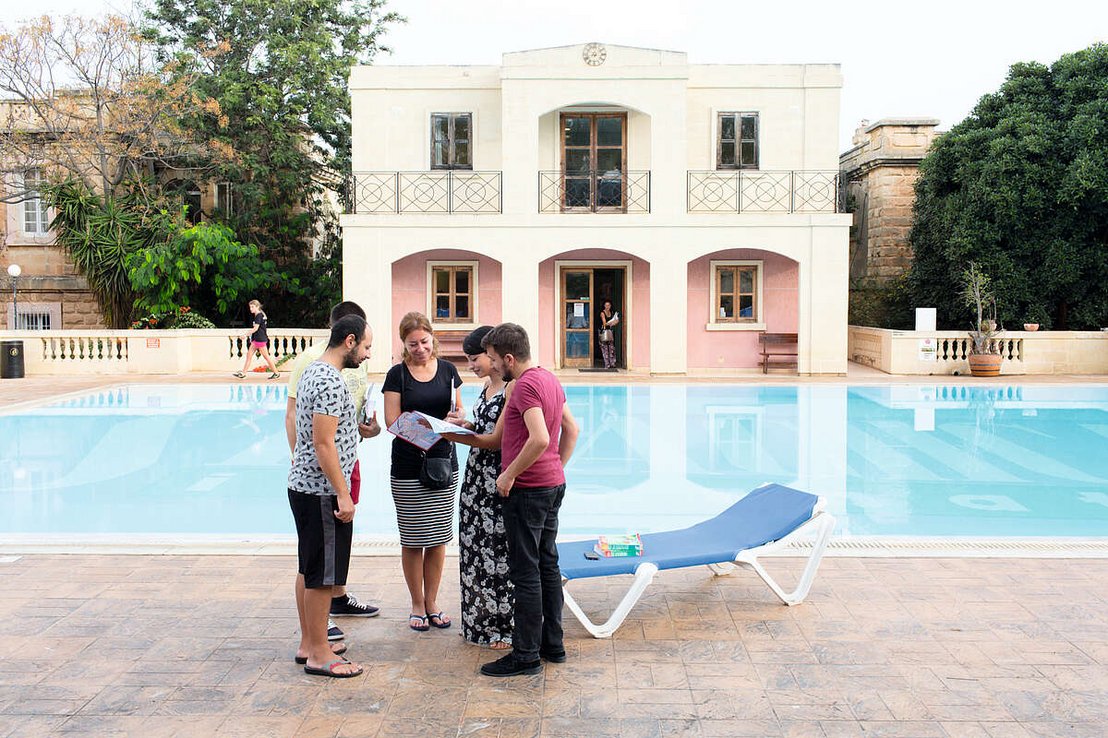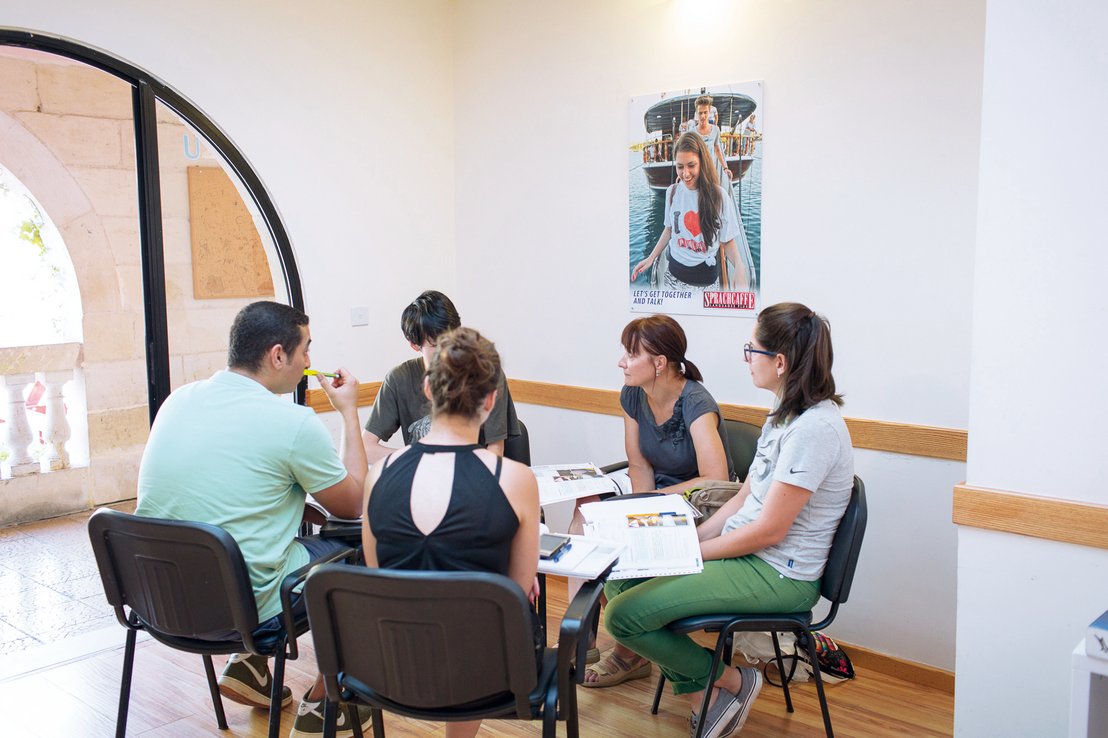 ---
Our language school in Malta
The well-known and popular location of St. Julian´s offers a large pool, a delicious, inexpensive bistro, a bar and beach volleyball. The teaching is also of extraordinary quality, because Sprachcaffe only uses native-speaking teachers. The perfect equipment of our language school Malta fits to this: All classrooms are air-conditioned and handicapped accessible.
Optimal locations for studying and relaxing
Our Langugage School in Malta offers ideal locations for studying on our campus or near the coast.
The perks of our Language School
The campus includes residence, restaurant, bar, pool, beach volleyball court & garden and much more.
We provide you with free Wi-Fi on the whole campus of our language school in Malta.
All of pur langauge teachers are native english speakers and have a passion to teach languages. In all of our English language Courses are the teaching materials included.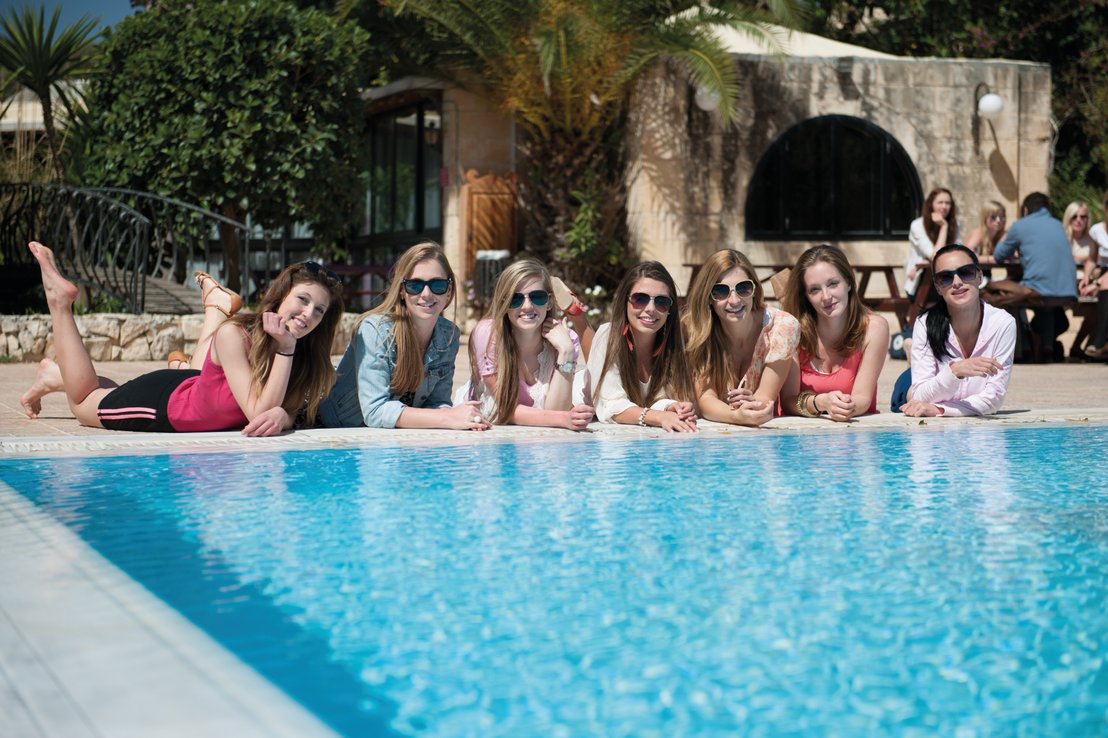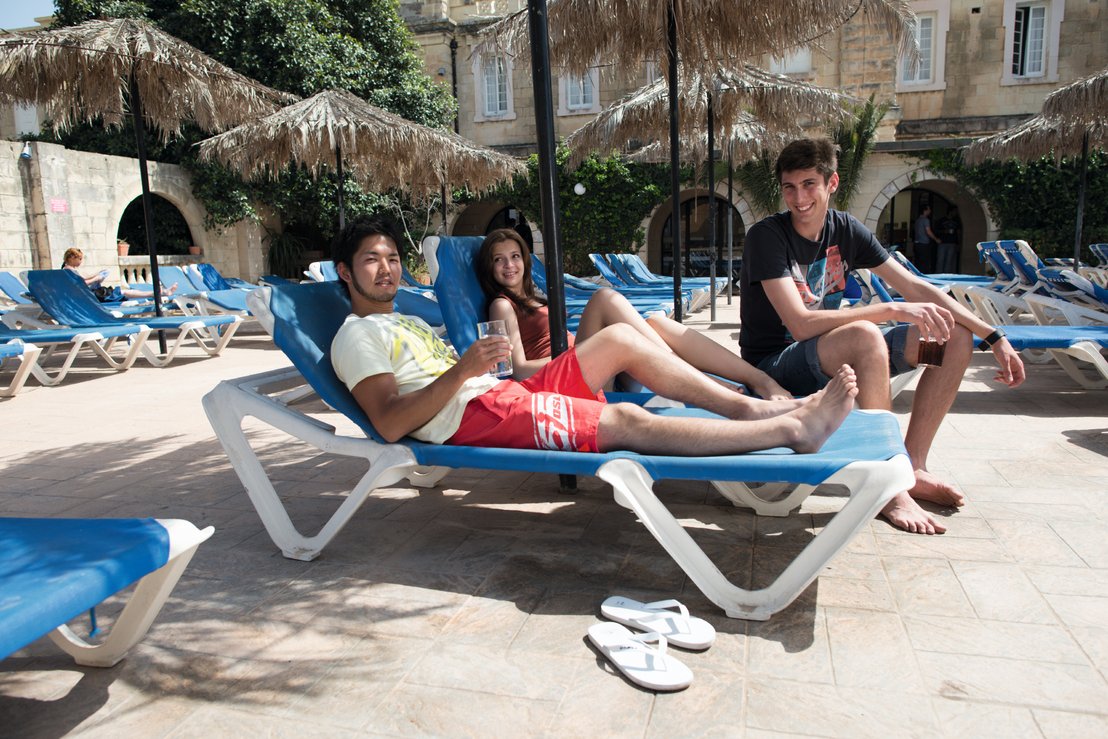 The quality of the language school is regularly checked and confirmed by FELTOM (Federation of English Language Teaching Organisations Malta) according to strict criteria. The accreditation system ensures that academic excellence is achieved and maintained. We strive, together with FELTOM, to set quality standards in all aspects related to the student's stay in Malta, including safety, welfare, accommodation, and leisure requirements.
Cambridge Preparation Centre
Sprachcaffe Malta is a Cambridge Preparation Centre. With us, you can prepare for a specific English certificate and then take the Cambridge exam of your choice. You can find more information about language courses to prepare for English certificates in the section about language courses in Malta.
---
At Sprachcaffe, your comfort is our priority. We know that in order to reach your potential in our lessons, you need to be well-rested and comfortable throughout your time here. That's why we have a range of pleasant accommodation options for you to choose from in St. Julian's. Choose one of our on-site Sprachcaffe apartments, a studio with en suite bathroom and kitchenette, a hotel room or one of our nearby, carefully-selected host families.
Single or double room
Breakfast, half board or full board possible
Shared kitchen and bathroom
Directly on campus or max. 10 min on foot
Single or double room
Breakfast, half board or full board possible
Directly on campus
Higher standard, more welcoming rooms
Air conditioning
Kitchen and bathroom are shared
Single or double room
Breakfast, half board or full board possible
Directly on campus
Air conditioning
Own bathroom and cooking facilities
Single or double room
Half board
15 min on foot or by bus
Typical amenities
Special Characteristics of our Accommodations
While staying in one of our apartments or studios at the Club Village, you will have access to the following facilities:
Room cleaning service
Washing machine and dryer (for a small fee)
Communal TV and room with pool table
The Lounge Bar and Restaurant on the Sprachcaffe Campus
In our lounge, bar and restaurant on the Sprachcaffe campus, you can enjoy Mediterranean dishes and drinks in a relaxed atmosphere. The restaurant can be visited throughout the day. From breakfast in the morning, to a tasty lunch, to a delicious dinner, our restaurant is the perfect place to enjoy a great meal. In addition to the indoor area, our restaurant also offers the possibility to spend some lovely hours outdoors under the palm trees. The outdoor area is right next to our large pool.
Whether you want to enjoy an aperitif at the bar or a delicious dinner in the restaurant, this is the place for you. The campus and bar are only about a 10-minute walk from Paceville, Malta's famous party district. So if you're planning a night out, this is the ideal starting point.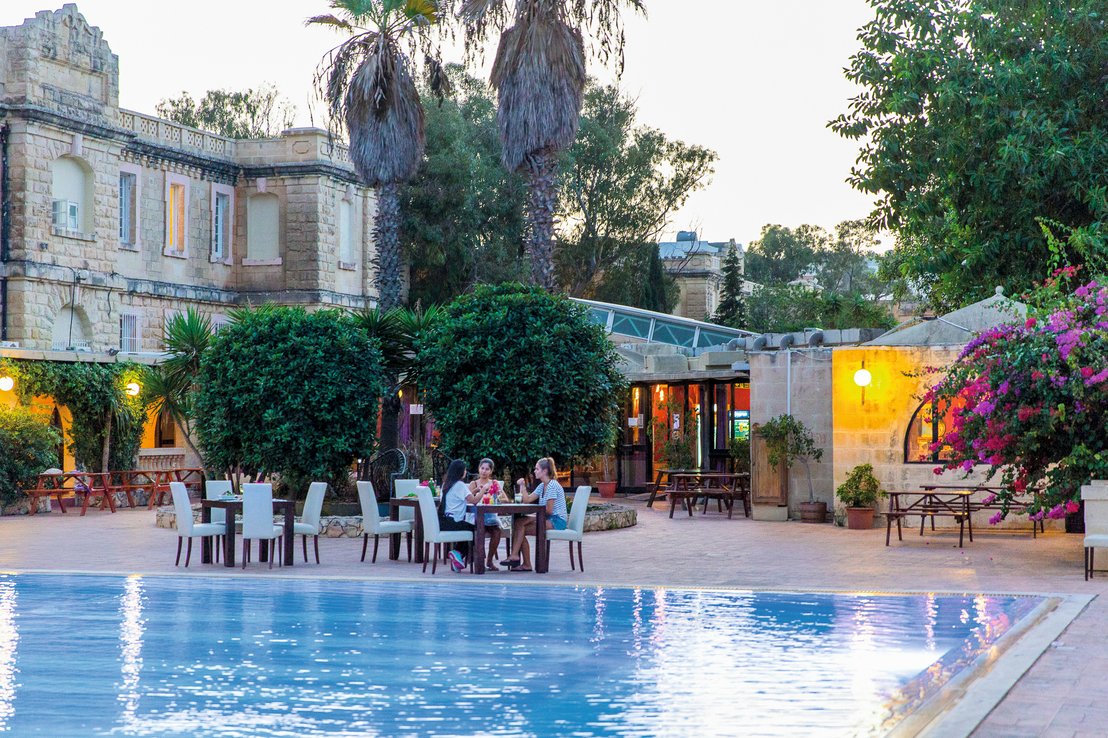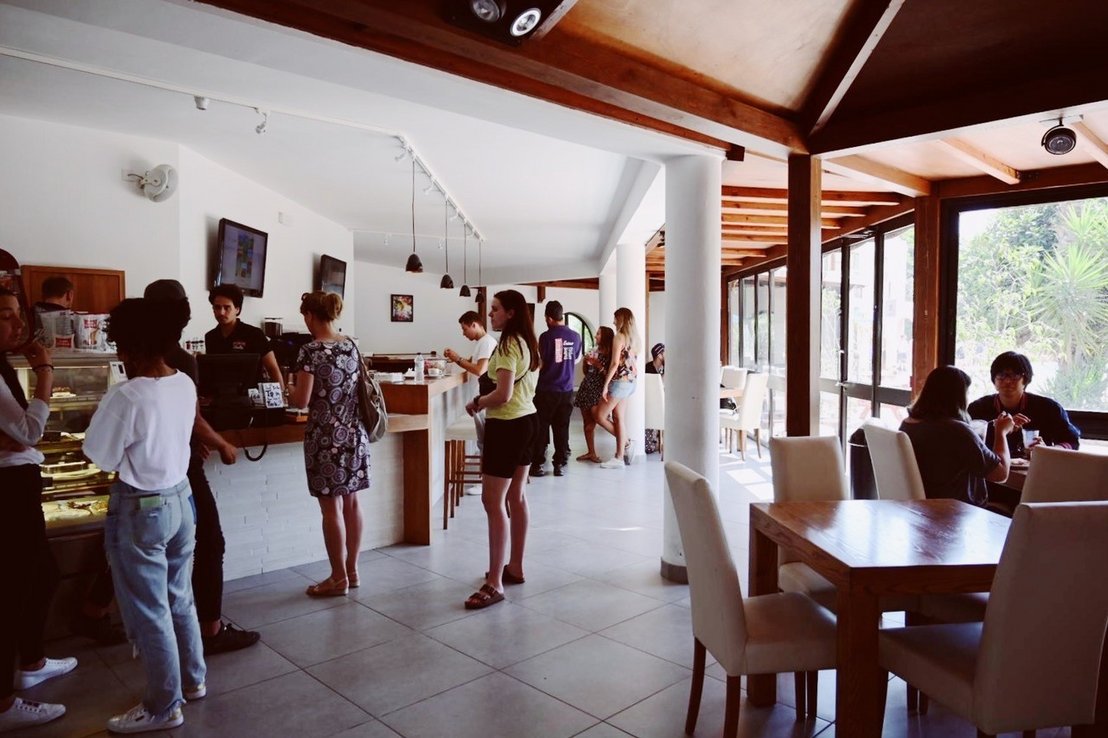 ---
Activities in St. Julian's
St. Julian's is a popular seaside resort with exquisite architecture, great scuba diving opportunities and vibrant nightlife. Popular attractions include the beautiful and ancient Spinola Palace (built in 1688) and the Old Parish Church, with their charming Latin architecture.
For the more intrepid out there, there is the opportunity to explore shipwrecks just off the Maltese coast while scuba diving. If that all sounds a bit much, you can always take a boat tour exploring the Maltese coastline with stops to explore different caves and take a dip in the sea. If you still have energy left at night, the modern and vibrant Paceville district is teaming with life until the early hours of the morning and has a multitude of great restaurants, bars and clubs.
Sample schedule for your trip to Malta
Morning:
Placement test & language tuition

Afternoon:
Getting to know the group / Volleyball tournament

Evening:
Welcome party
Morning:
language course

Afternoon:
Excursion to Valetta

Evening:
Leisure time
Morning:
language course

Afternoon:
Leisure time

Evening:
Comedy Evening
Morning:
Language course

Afternoon:
Grand Harbour Cruise

Evening:
Barbecue
Morning:
Language course

Afternoon:
Volleyball tournament

Evening:
Wine tasting
Highlights of Malta Tour
Evening:
International party on campus
Gozo Scenic Tour
Evening:
Recreation
The activities of our sample week are only recommendations for the course of a language trip.
Excursions, times and activities may differ from your language trip and cost 10-50 € on site.
The most exicting sights in St. Julians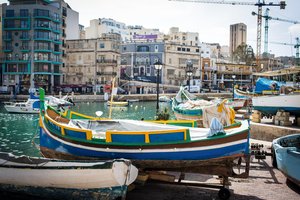 Spinola Bay is a small sea bay with a small harbour and traditional colourful fishing boats. There are also many nice restaurants and bars here. You can also go swimming here for a small fee.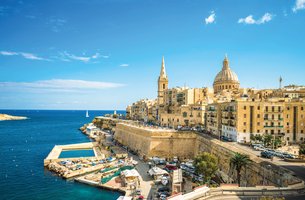 Visit the beautiful city of Valletta, which is also the capital of Malta. Here you will find some beautiful sights such as St. John's Co-Cathedral. The old town is also worth seeing, as you can feel the charm of the old town here.
Explore the natural highlight in Malta: the unique Blue Grotto. It is a cave and the water has a beautiful blue colour. The colour comes from the blue-green algae that live in the water. You can explore the cave by boat.
Optional Activities: Diving Courses in Malta
On your trip to Malta you can experience a wide variety of exiting activities. On your trip to Malta you can, for example, take Diving Courses. Discover the coral and fish richness of the Mediterranean Sea and dive with us. Malta's fantastic underwater world offers diving pleasure for everyone: grottos, rocky landscapes, small bays, colourful reefs with lively schools of fish and clear, deep blue water.
Six dives in the sea with transfers from land, diving in small groups.
Three hours theory, Three dives in a pool, Two dives in the sea, min. 1,5 days, transfers.
5 hours of theory, 5 dives in a pool, 4 dives in the sea, min. 3 days, transfers
Malta has a lot of events to offer that are worth a visit. Below you can find an overview of the annual activities. If you have any questions or suggestions, please feel free to contact our staff at Sprachcaffe St. Julian's!
Carnival: (February) Carnival in Malta is something very special. It has over 450 years of tradition and is one of Malta's biggest festivals. The carnival week traditionally takes place in the last week of February.
International Fireworks Festival: (April - May) As the name suggests, there is plenty of fireworks here. There is a competition of local and international pyrotechnics, which you should not miss.
Malta Jazz Festival: (July) For over 25 years, world-famous (jazz) artists have been meeting here in a unique setting, always on the third weekend of July. An absolute must for every jazz lover!
International Arts Festival: (July-August) Local and regional festival of artists that takes place in summer. Due to the summer dates, most performances take place outside.
---
Our competitive price packages include the cost of your language course in Malta, along with your chosen accommodation in St. Julians. Choose between standard, intensive, business and private lessons in English. Then choose whether you would prefer to stay with a family or in your own apartment or studio and how long you would like to come to study in Malta. Follow the table to find your combined course, duration and accommodation price. These automatically include a number of additional services.
Please note that, depending on the course starting date, a seasonal surcharge might apply. Also note that 1 lesson is equal to 45 minutes of class time.
From Sprachcaffe you get an all-round carefree package. Everything you need for a successful language stay is included in the price. Whether it's: arrival as well as excursions, accommodation, language course, teaching materials, language certificate and of course a priceless memory.
Do you have a question or need some advice?
We are always ready to solve any doubts you might have!