Last minute summer offers - Celebrate the 40th anniversary of Sprachcaffe 🥳
Take advantage of our last minute offers and celebrate with us our 40th anniversary in our language schools in England, Germany and Spain and save 40 € per week!
English Courses in St. Julian's for Adults
Learn English language on the Mediterranean? It's possible on your language study trip to Malta! With us, you can combine a sunny beach holiday with an effective English course. Our popular language school in Malta combines course rooms, flats, a large pool, a delicious restaurant, a bar and a beach volleyball court on a unique campus. Every Monday, international students start their English courses and begin their unforgettable time on a language study trip in Malta.
During your language study trip in Malta, you are sure to quickly meet people who also want to improve their English. This means you can put your newly acquired knowledge to use straight away. You can flexibly organise your leisure programme with other course participants. You can find more information about your language study trip in Malta below.
Campus with language school, accommodation, pool, bar and restaurant and much more in one location
English courses perfectly tailored to your learning level.
Meet people on your language trip with one common goal, learning English.
Take advantage of our amazing pool to relax.
What makes a language study trip to Malta so special?
Language trips in Malta with Sprachcaffe are more than just an English course! Close to the lively city of St. Julian's, our Maltese language school is located on a historic campus. This not only houses the language school, but also the accommodation, a large pool, a restaurant and much more, creating a unique atmosphere. One thing is certain: there is hardly a more beautiful place to learn English. Culture, climate, sun, sea - everything is just right here. That's why language study trips to Malta are so popular. The perfect holiday with a language course awaits you in Malta.
---
Course Details for your language trip in Malta
Learning English easily with our language courses in Malta is no problem here! Together with like-minded people from all over the world, you will communicate in class through discussions, question and answer sessions and role plays, and then apply and consolidate what you have learned during cultural and sporting events. This is how you learn English with ease.
Whether standard or intensive course. You determine the intensity of your language course.
The English courses have between 6 and 15 participants. Perfect for effective teaching.
Our language teachers are well trained and speak English at a native level.
Certificate of attendance
Upon successful completion of your English course, you will receive your Sprachcaffe certificate.
On the first day of your language study trip, you will take a placement test. This enables us to determine your language level and find the perfect English language course for you. The language course takes place from Monday to Friday on the legendary Sprachcaffe campus. Choose your language course from our wide range of courses.
In the Standard Course you will learn English in 20 lessons of 45 minutes each and a maximum group size of 10 people. The minimum duration of the Standard Course is 1 week.
The intensive course consists of 30 lessons of 45 minutes each and can be recognised as educational leave. The group size for the intensive course is a maximum of 10 people and the minimum duration is 1 week.
The Super Intensive Course consists of 40 lessons of 45 minutes each. The minimum duration is 1 week and it can be recognised as educational leave. The group size is limited to 10 people.
With individual lessons, you can choose the topics relevant to you in 10 or 20 lessons of 45 minutes together with your teacher. The minimum duration is 1 week. Optionally, another person can take part.
With our courses for English certificates you can ideally prepare for the TOEFL or IELTS. The course length is 20 to 30 lessons of 45 minutes each. The minimum duration of the course is 12 weeks and the group size is limited to a maximum of 10 students. Additional exam fees apply.
The electives consist of 10 lessons. Choose from a variety of focus areas for your English course. The minimum duration is 1 week and the maximum group size is 14 students.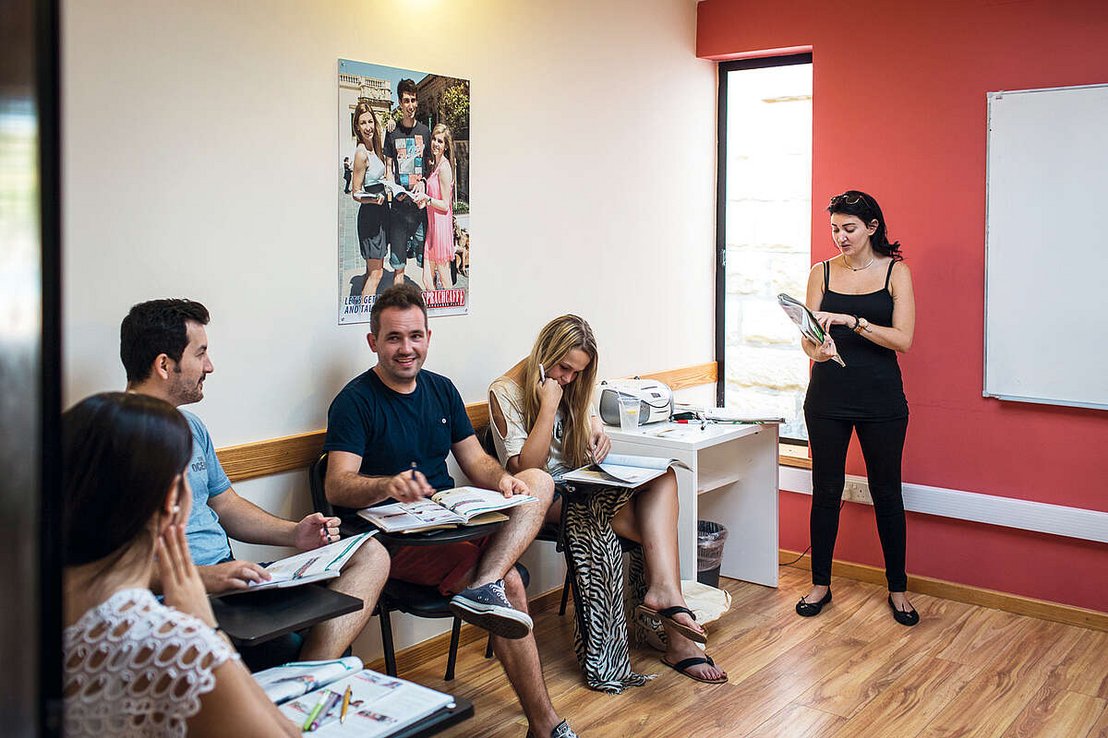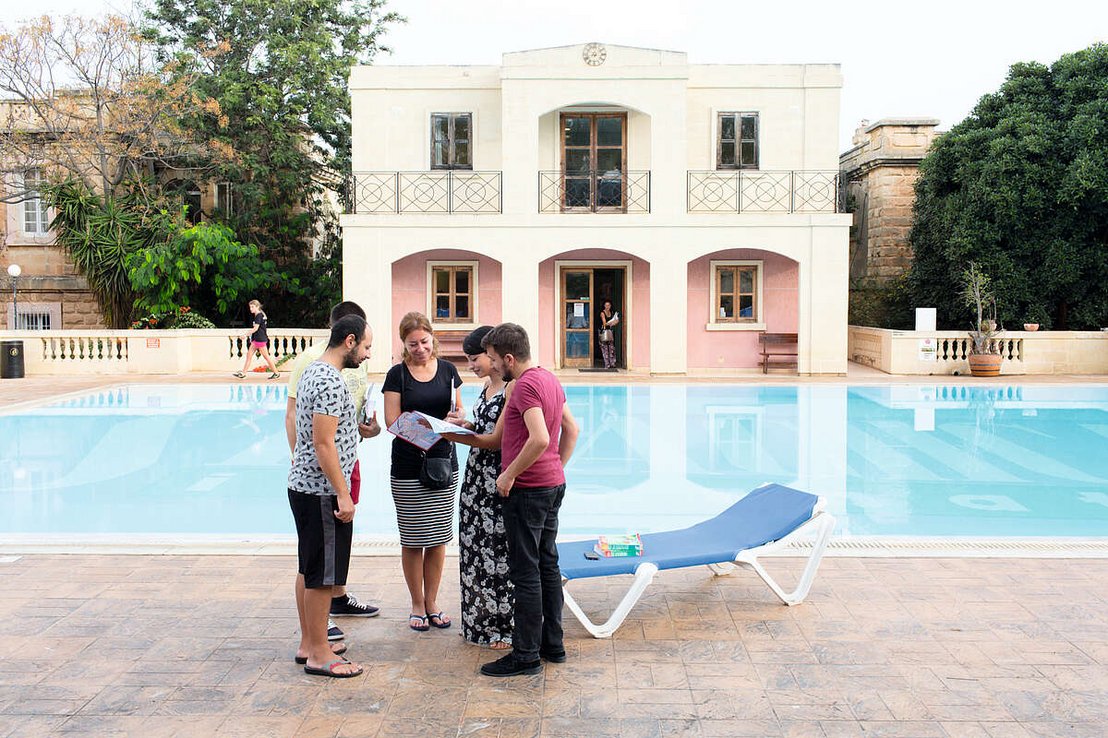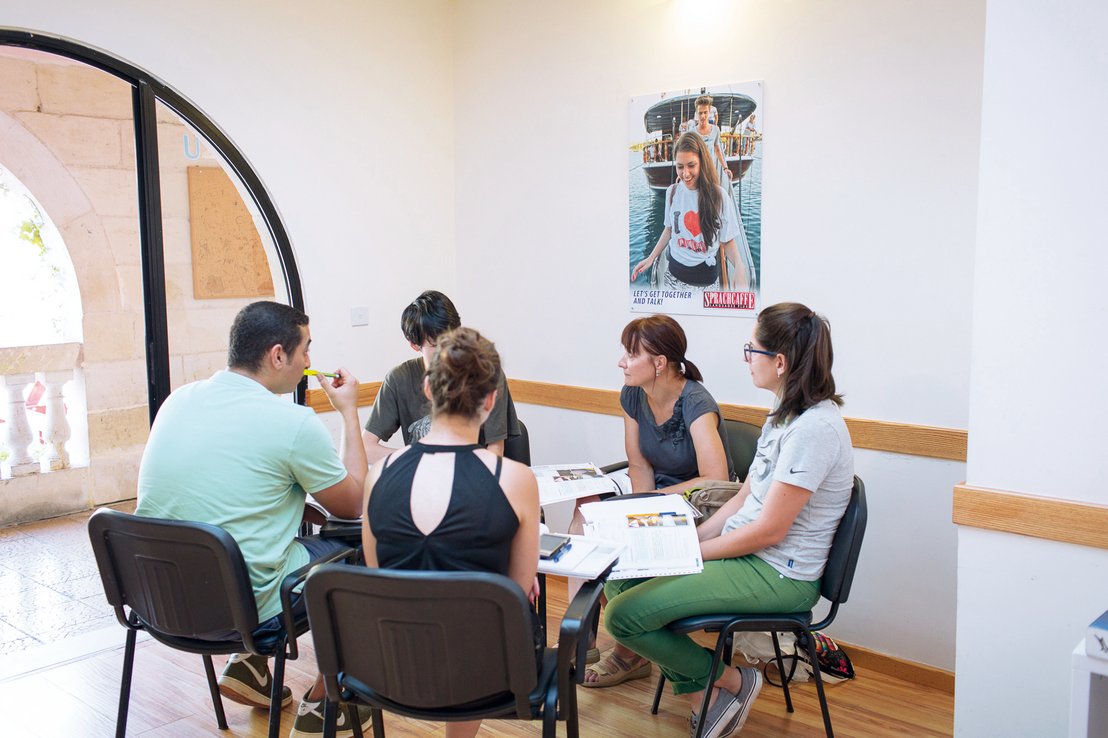 ---
Our language school in Malta
At our language school in Malta, you will find numerous locations for relaxed lessons on our large campus. In addition to the air-conditioned classrooms, you will also find plenty of outdoor teaching opportunities. You can hone your language skills in a paradisiacal learning atmosphere under shady trees at our Malta language school. The language school is run by an experienced academic director and only experienced, native-speaking language teachers teach. The language school is FELTOM accredited.
The reception is open 24 hours a day and you will always find someone to talk to. Learn for the future and spend a wonderful, varied holiday in the present. That is our language school in Malta!
Classrooms, residence, pool, restaurant, bar and beach volleyball courts
Classes in air-conditioned classrooms or under shady trees in the garden
Library, common room, reception, free wifi, teaching materials
The language school is located directly on our own Sprachcaffe campus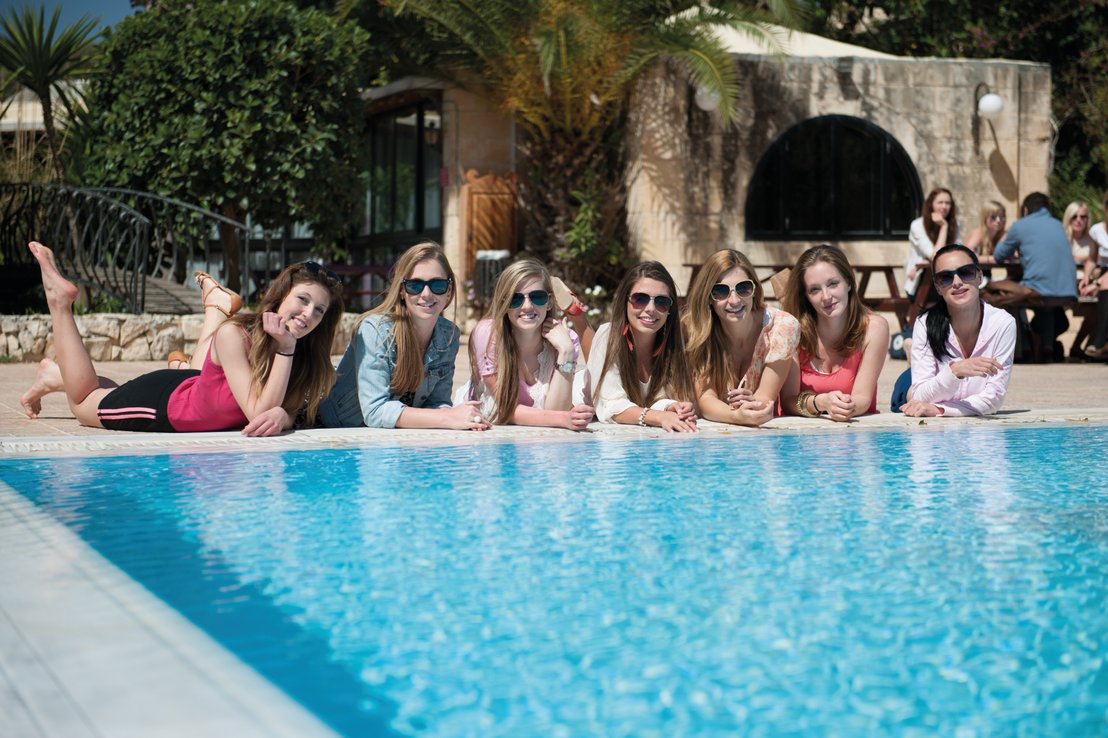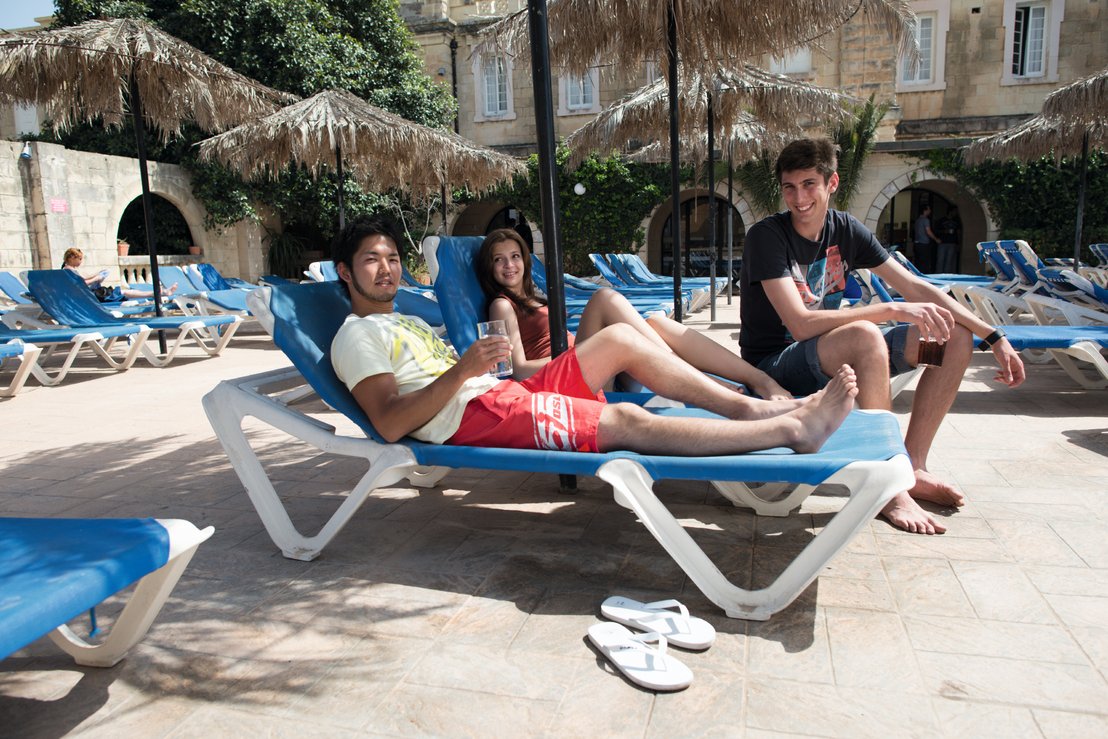 The quality of the language school is regularly checked and confirmed by FELTOM (Federation of English Language Teaching Organisations Malta) according to strict criteria. The accreditation system ensures that academic excellence is achieved and maintained. We strive, together with FELTOM, to set quality standards in all aspects related to the student's stay in Malta, including safety, welfare, accommodation, and leisure requirements.
---
Your accommodation during a language study trip to Malta
At Sprachcaffe, your comfort is our priority. We know that in order to reach your potential in our lessons, you need to be well-rested and comfortable throughout your time here. That's why we have a range of pleasant accommodation options for you to choose from in St. Julian's. Choose one of our on-site Sprachcaffe apartments, a studio with en suite bathroom and kitchenette, a hotel room or one of our nearby, carefully-selected host families.
Choose your accommodation
Choose between flats, studio, homestay or hotel.
Arrival is always on Sundays and departure is on Saturdays.
All accommodation is carefully selected for you.
You can live directly on our Sprachcaffe campus!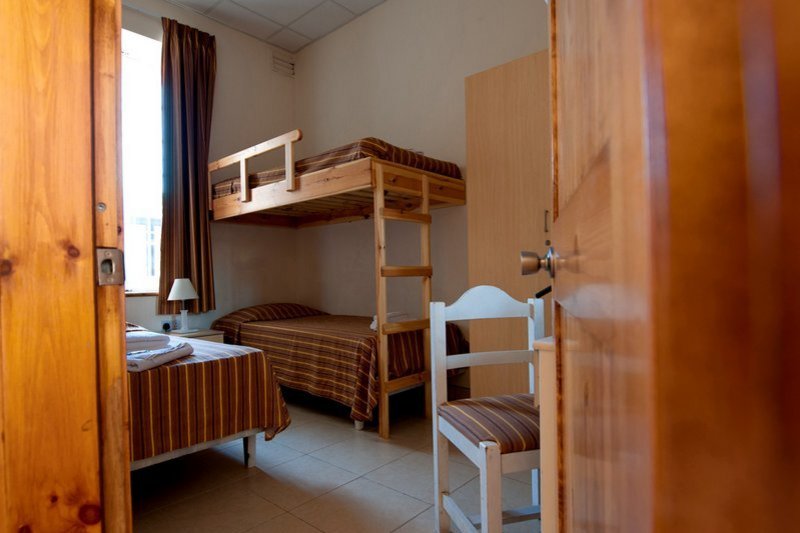 Single or double room
Breakfast, half board or full board possible
Shared kitchen and bathroom
Directly on campus or max. 10 min on foot
Optional breakfast, half board or full board
Single or double room
Daily cleaning
Directly on campus
Private bathroom and cooking facilities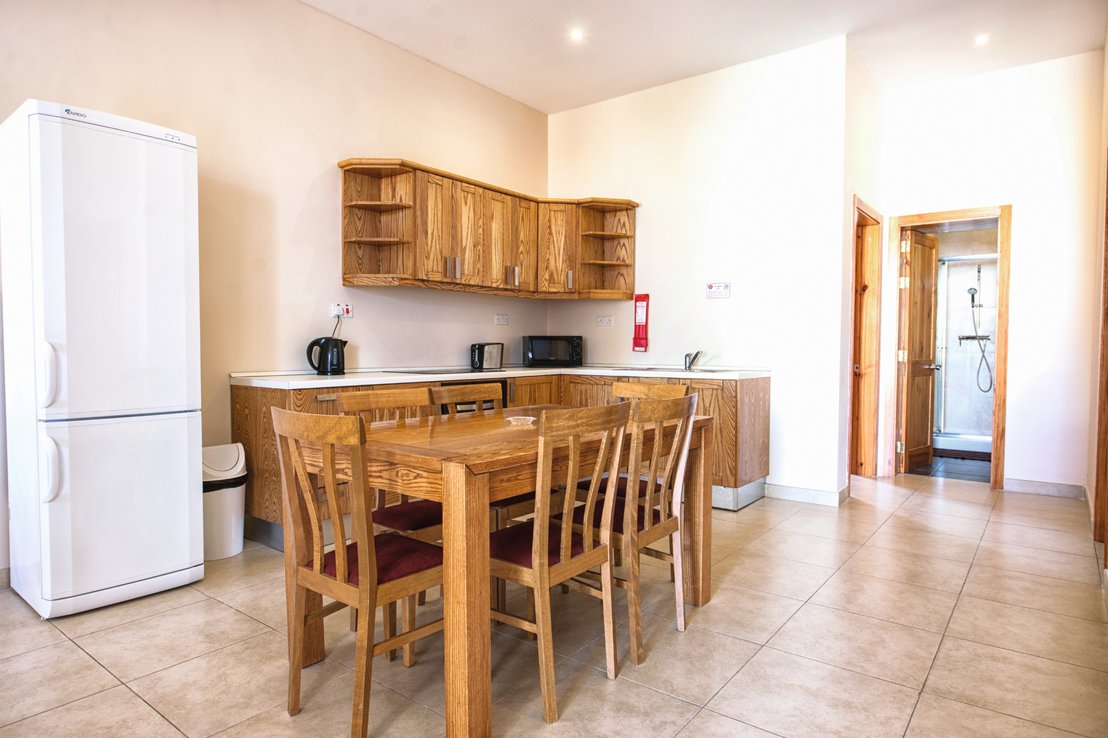 Optional breakfast, half board or full board
Single or double room
International flatmates
Cleaning every 2nd day
Higher standard, larger rooms
Kitchen and bathroom shared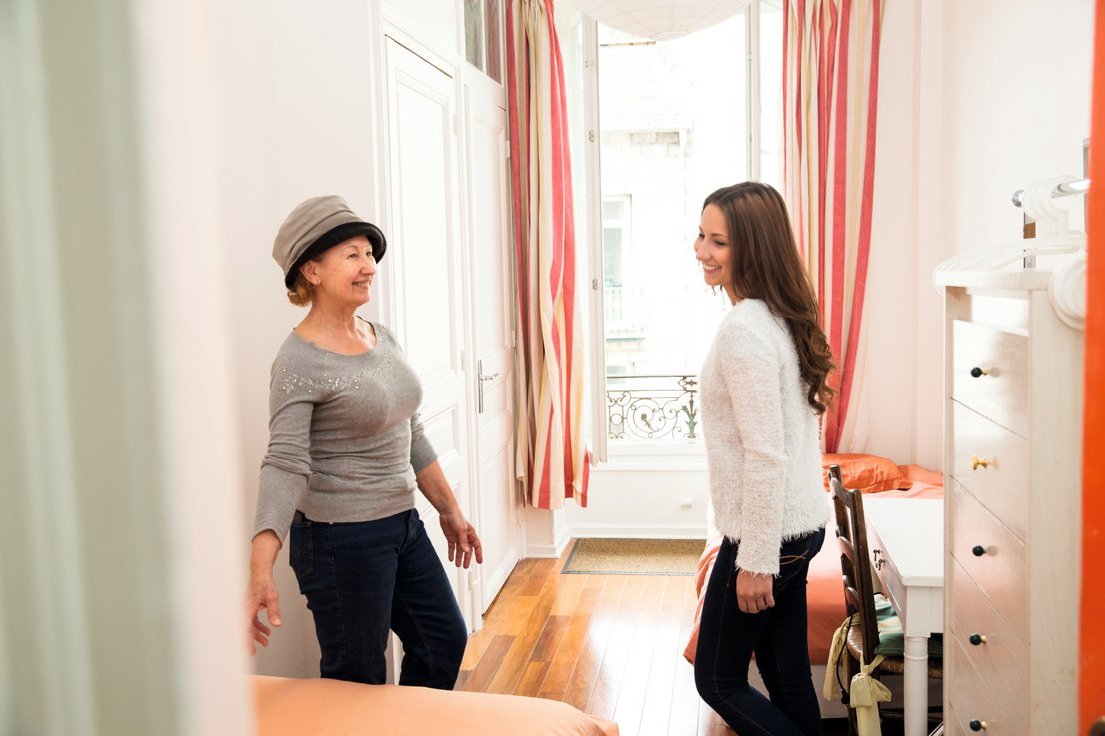 Single or double room
Half board
Max. 30 min by foot or bus
Typical country furnishings
Bathroom and kitchen are shared
Free Wi-Fi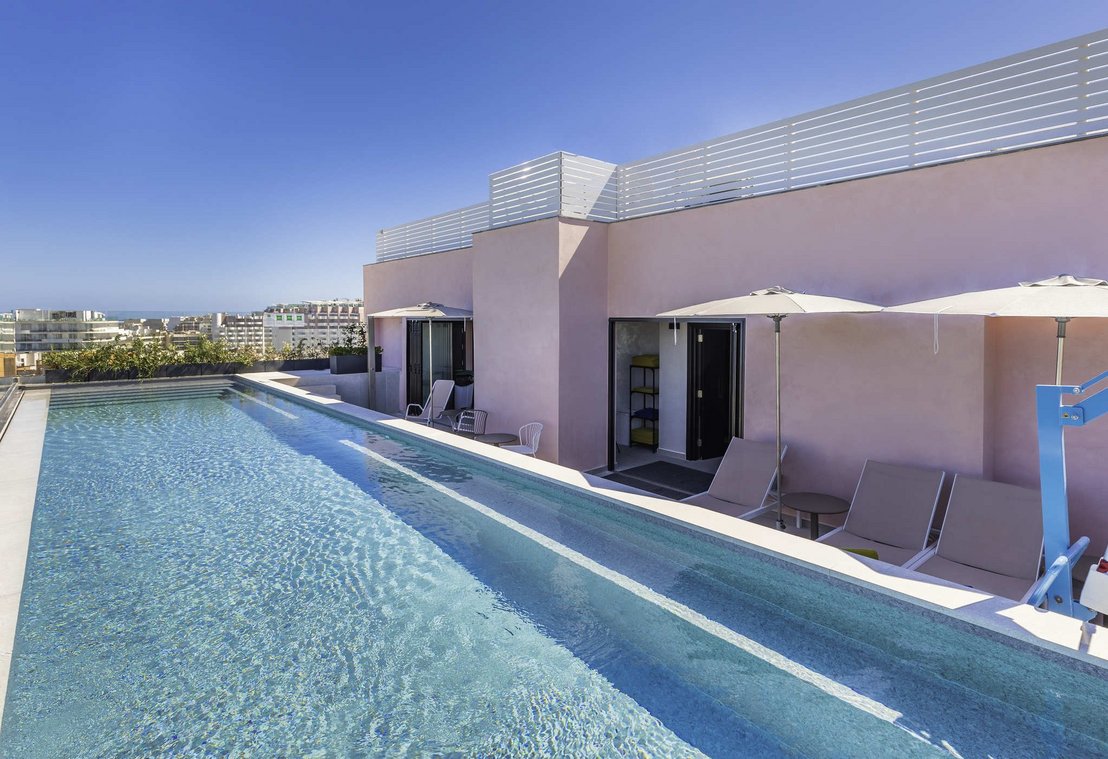 Triple Room, Double Room
In-room air conditioning
Garden area, Outdoor pool, Leisure room, Tennis court
24-hour reception and security
Wi-Fi free throughout
Beach front and Sun terrace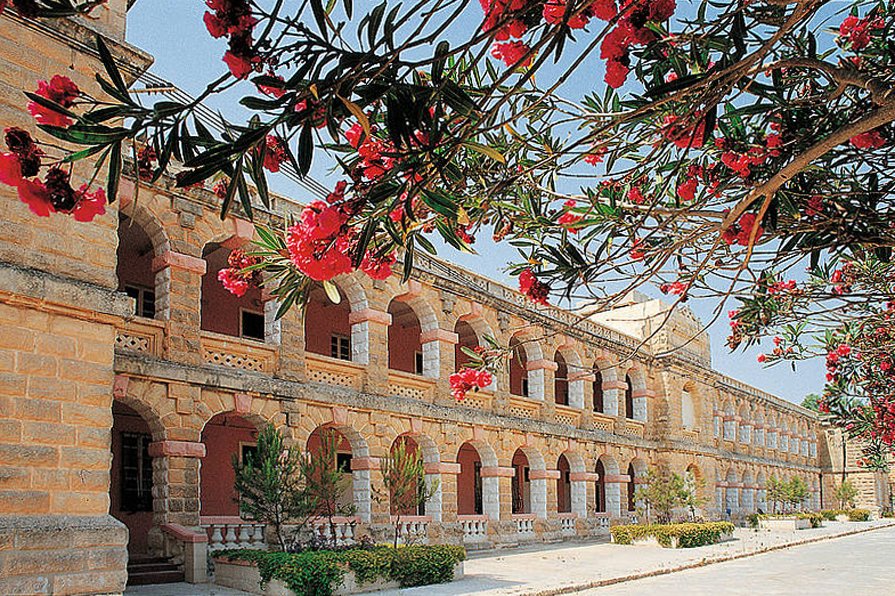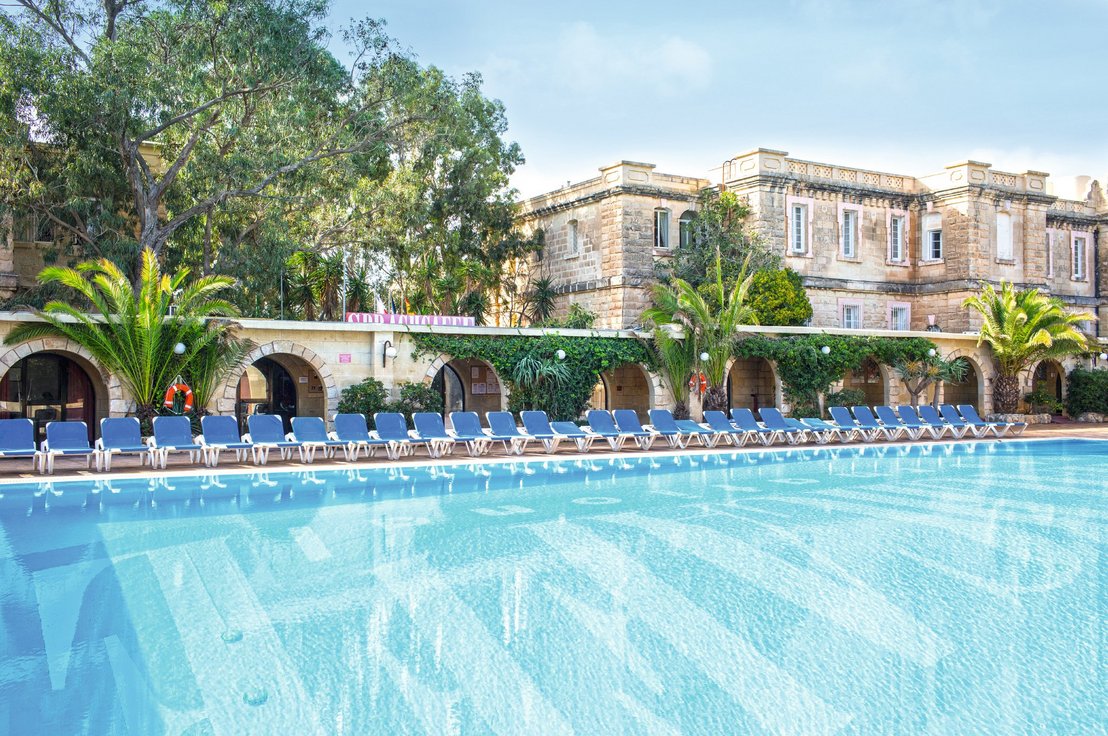 Choose the accommodation that suits you best! Of course, you can take advantage of all the benefits of the Sprachcaffe campus during your language study trip in Malta, regardless of your type of accommodation - the large pool, washing machines, dryers, public showers, TV rooms and the community experience of a language study trip await you!
The Lounge Bar and Restaurant on the Sprachcaffe Campus
In our lounge, bar and restaurant on the Sprachcaffe campus, you can enjoy Mediterranean dishes and drinks in a relaxed atmosphere. The restaurant can be visited throughout the day. From breakfast in the morning, to a tasty lunch, to a delicious dinner, our restaurant is the perfect place to enjoy a great meal. In addition to the indoor area, our restaurant also offers the possibility to spend some lovely hours outdoors under the palm trees. The outdoor area is right next to our large pool.
Whether you want to enjoy an aperitif at the bar or a delicious dinner in the restaurant, this is the place for you. The campus and bar are only about a 10-minute walk from Paceville, Malta's famous party district. So if you're planning a night out, this is the ideal starting point.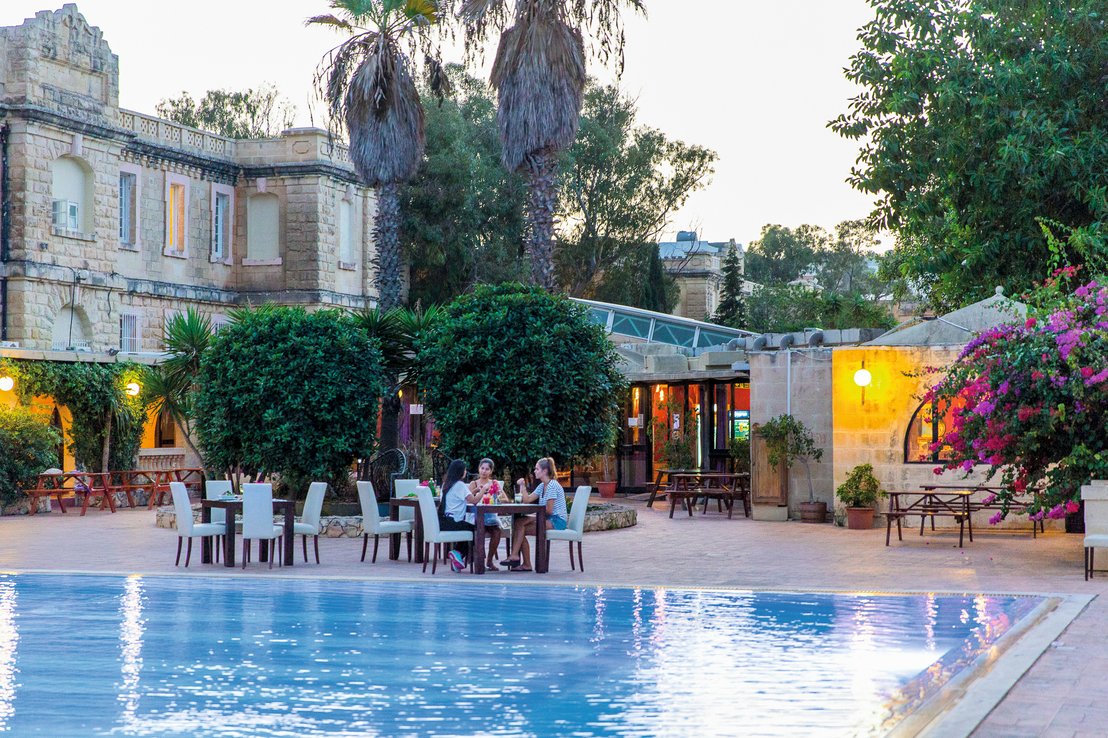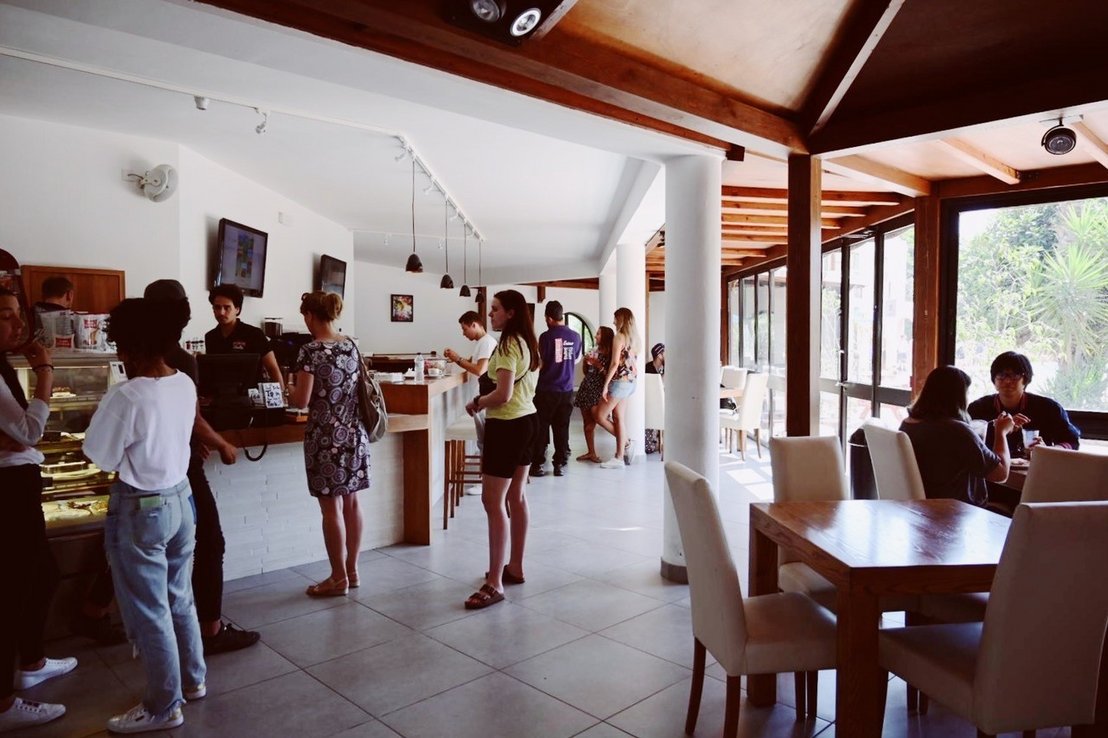 ---
Activities during your language trip Malta
Beach volleyball, pool, bar, restaurant, organised leisure programme
Beach, diving, markets, exhibitions, theatre, old towns, sports, bars
St. Julians Bay, Spinola Bay, Sun & Fun Wassersport, The Point Shopping Mall, Dragonara Casino, Paceville
Sample schedule for your trip to Malta
Morning:
Placement test & language tuition

Afternoon:
Getting to know the group / Volleyball tournament

Evening:
Welcome party
Morning:
language course

Afternoon:
Excursion to Valetta

Evening:
Leisure time
Morning:
language course

Afternoon:
Leisure time

Evening:
Comedy Evening
Morning:
Language course

Afternoon:
Grand Harbour Cruise

Evening:
Barbecue
Morning:
Language course

Afternoon:
Volleyball tournament

Evening:
Wine tasting
Highlights of Malta Tour
Evening:
International party on campus
Gozo Scenic Tour
Evening:
Recreation
The activities of our sample week are only recommendations for the course of a language trip.
Excursions, times and activities may differ from your language trip and cost 10-50 € on site.
The most exciting sights in St. Julians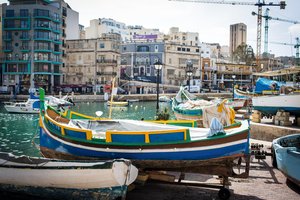 Spinola Bay is a small sea bay with a small harbour and traditional colourful fishing boats. There are also many nice restaurants and bars here. You can also go swimming here for a small fee.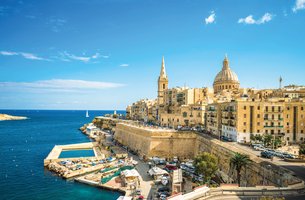 Visit the beautiful city of Valletta, which is also the capital of Malta. Here you will find some beautiful sights such as St. John's Co-Cathedral. The old town is also worth seeing, as you can feel the charm of the old town here.
Explore the natural highlight in Malta: the unique Blue Grotto. It is a cave and the water has a beautiful blue colour. The colour comes from the blue-green algae that live in the water. You can explore the cave by boat.
Optional Activities: Diving Courses in Malta
On your trip to Malta you can experience a wide variety of exiting activities. On your trip to Malta you can, for example, take Diving Courses. Discover the coral and fish richness of the Mediterranean Sea and dive with us. Malta's fantastic underwater world offers diving pleasure for everyone: grottos, rocky landscapes, small bays, colourful reefs with lively schools of fish and clear, deep blue water.
Malta has a number of events that are worth a visit. Below you can get an overview of the activities that take place every year. If there is nothing on at the time of your trip, don't worry: this is only a small selection, as Malta has a wide range of events to offer. If you have any questions or suggestions, please do not hesitate to contact our staff at Sprachcaffe Malta!
Carnival: (February) Carnival in Malta is something very special. It has a tradition of over 450 years and is one of Malta's biggest festivals. Carnival week traditionally takes place on the island in the last week of February.
International Fireworks Festival: (April - May) As the name suggests, there are plenty of fireworks. Among other things, there is a competition of local and international pyrotechnicians, which you should not miss.
Malta Jazz Festival: (July) For over 25 years, world-renowned (jazz) artists have met here in a unique setting, always on the third weekend of July. An absolute must for every jazz lover!
International Arts Festival: (July -August) Local and national artists' festival held in the summer. Due to the date in summer, most performances take place outside.
Glitch Festival: (August) For fans of electronic music, the Glitch Festival is an important event. If you are a house and techno enthusiast, you should not miss this event, which is one of the biggest festivals on the island of Malta. It takes place on the Gianpula fields near Mdina. Well-known artists such as Maceo Plex, Ben Klock, Jon Hopkins, Dax J, Carl Craig and many more perform there. The festival ends with a huge boat party.
---
Prices and services for language trip to St. Julian's
With Sprachcaffe, everything you need for a successful language trip is included in the price. Accommodation, language course, placement test, language certificate and of course an unforgettable experience.
Tips for your language study trip to Malta
You can buy teaching materials at the school or rent them for a fee of EUR 6.00 per week and a deposit of EUR 24.00. You can also book various travel insurances with us.
You can also book various travel insurances with us.
Do you have a question or need some advice?
We are always ready to solve any doubts you might have!