Ester and Rachele's experience with Sprachcaffe Brighton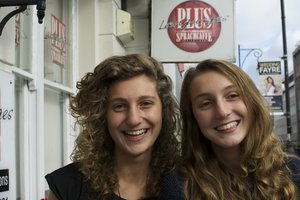 With Sprachcaffe Languages Plus, we had the opportunity to experience a study trip in England.
The school offers various ways to learn English, such as through the courses and extra activities like visits to museums, kayaking, laser games etc….
Competent teachers make you feel comfortable during the language courses.
The school is located in the heart of Brighton with very good public transport facilities and it is near the West Beach Hotel.
The hotel is in front of the sea and this allows students to choose between several free-time activities: Brighton Pier, cinema, shopping center, clubs and pubs.
The school staff ensure further entertainment, organizing themed nights, games and open air and indoor parties.

The team is always available for students who need support.
Thanks to this experience, we now know people with different cultures, traditions and languages and we have built many friendships.
Ester and Rachele