Your Last Minute Summer Holiday in London North or Brighton 💂🏼🎡
Small number of places still available! Save up to £400 in Brighton or London North! Start your unforgettable summer holiday in England now!
Spanish Courses in Barcelona for Adults
During your language study trip in Barcelona, you can expect a creative and relaxed learning experience. Our dedicated teachers at our language school in Barcelona will be happy to help you with any questions you may have and will certainly have a tip or two for your free time after your Spanish courses.
Barcelona is not only characterised by its countless bars, Spanish delicacies and friendly people from all over the world. The Mediterranean climate with long sandy beaches also make your language study trip to Barcelona something very special. One of the must-see places on your language study trip to Barcelona is Park Güell, the Segrada Famiília and Las Ramblas. The shopping street Passeig de Grácia is also worth a visit.
Meet international language students from all over the world
Barcelona perfectly combines city and beach holidays
Cultural, historical and archtiectonic attractions
Whether for gourmets, culture enthusiasts or night-life fans
The architect Antoni Gaudí has left his mark on the city on the Iberian peninsula like no other. From the Parc Güell to the fascinating Sagrada Familia Cathedral to the many large and small Gaudí wonders, which you can best discover for yourself on a city tour during your language study trip. The surrounding area also offers many sights worth seeing. You can find an overview of the most important sights in Spain in our travel guide.
For participants aged 13 to 17, we offer a supervised programme with many activities. Participants aged 18 to 21 can also take part in various activities, but can also explore the city on their own. If you are over 18 years old, take a look at our language courses in Barcelona for adults - there is something for everyone!
Why take one of our Spanish courses in Barcelona?
Study abroad programs in Barcelona are a fantastic experience: you have the opportunity to learn Spanish from native speakers whilst exploring one of the trendiest and most unique cities in Europe. Those who need a rest after shopping on Las Ramblas will find a wealth of options, whether it's enjoying a coffee in one of the street cafés or wandering through the impressive and surreal Parque Güell which offers a wonderful view of the city. A Spanish course in Barcelona is an investment in your future, too, and taking one gives you the chance to visit unique places, try new experiences, and create new friendships. Who knows, maybe they're waiting for you on the longest - and perhaps most colorful - park bench in the world! Discover for yourself the many benefits of taking one of Sprachcaffe's Spanish courses in Barcelona!
---
Learn Spanish in Barcelona Language Course
You can anticipate a creative and laid-back learning environment at Sprachcaffe while taking a language course in Barcelona. You will quickly make significant progress thanks to the cutting-edge teaching tools we employ. Our Spanish classes in Barcelona impress with constant interaction, Spanish-language conversations, and engaging teaching strategies. In this way, we encourage your language learning and help you quickly overcome your shyness when speaking Spanish. Additionally, there will be plenty of free time during our language program in Barcelona to explore the city's diversity.
Online from home or at the beginning of your language study trip
There are several courses available in Barcelona to suit you
Highly qualified teachers
Spanish native speakers teach the language course in Barcelona
Gergo came from Russia to study Spanish in Sprachcaffe Barcelona. He was delighted with our academy teachers and their teaching.
Monica studied at our academy in Barcelona and decided to stay with a Spanish family for total immersion. She recommends our school 100%!
Gala loved that our school was so close to the beach to go swimming and sunbathing after classes. Her experience was great!
Our language course types for Barcelona
The intensive course consists of 30 lessons of 45 minutes each and can be recognised as educational leave. The maximum group size for the intensive course is 14 people and the minimum duration is 1 week.
In the Standard Course you will study Spanish in 20 lessons of 45 minutes each and a maximum group size of 14 students. The minimum duration of the Standard Course is 1 week.
---
Learn Spanish in Barcelona Language Course
At Sprachcaffe, you can expect a creative and relaxed learning experience during your language course in Barcelona. We use modern teaching materials that will help you make great progress quickly. Our Spanish courses in Barcelona convince with continuous communication, conversations in Spanish and lively teaching methods. In this way, we support your progress in the language course and enable you to get over your shyness about speaking Spanish very quickly. In addition, our language course in Barcelona offers plenty of free time to get to know the diversity of Barcelona.
Online from home or at the beginning of your language study trip
There are several courses available in Barcelona to suit you
Highly qualified teachers
Spanish native speakers teach the language course in Barcelona
---
Accommodation in Barcelona
We offer our language students who take part in a language course in Barcelona with Sprachcaffe Languages PLUS a variety of accommodation options from which you can choose the one that suits you best. All types of accommodation offer you the opportunity to talk to Spaniards or other course participants from all over the world and to put what you have learned into practice straight away. In this way, you can also exchange your first experiences and practical tips on leisure activities in Barcelona.
More information about accommodation for language travel »
Choose your accommodation
Choose between homestay or residence
Arrival is always on Sundays and departure is on Saturdays.
Deepen your language skills
Learn what you learn in conversations right away
Get to know the Catalan culture of your host family or that of other participants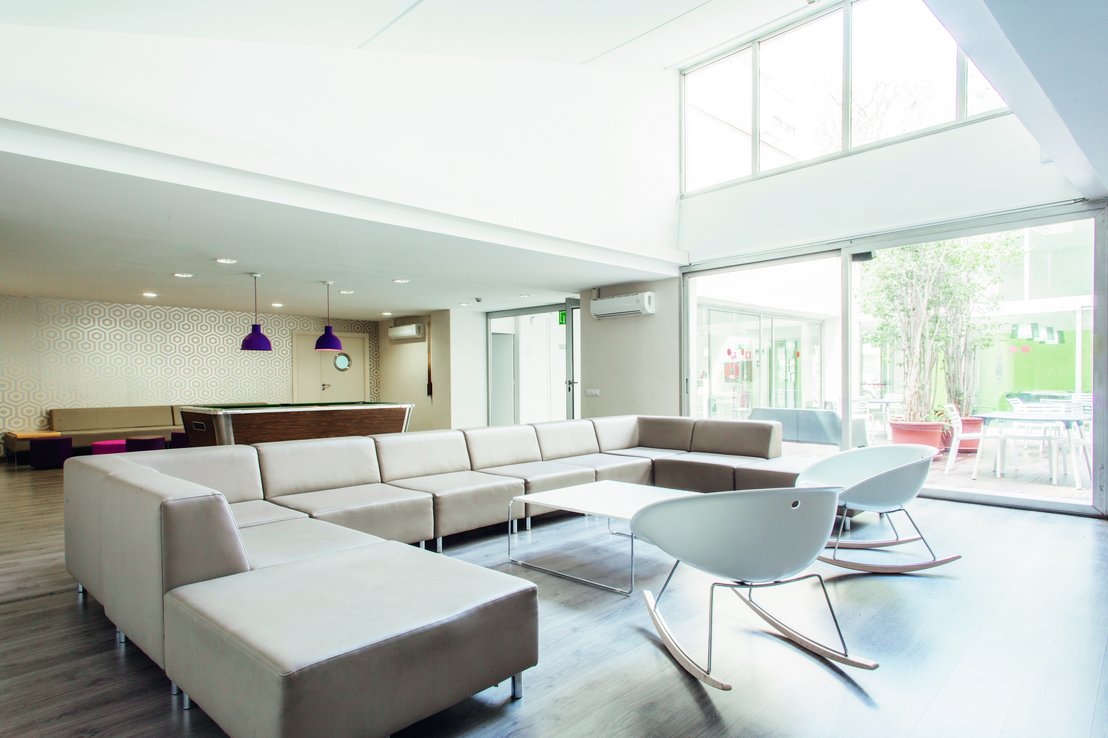 Shared kitchen/lounge, bathroom
Full board
Terrace, laundry
WiFi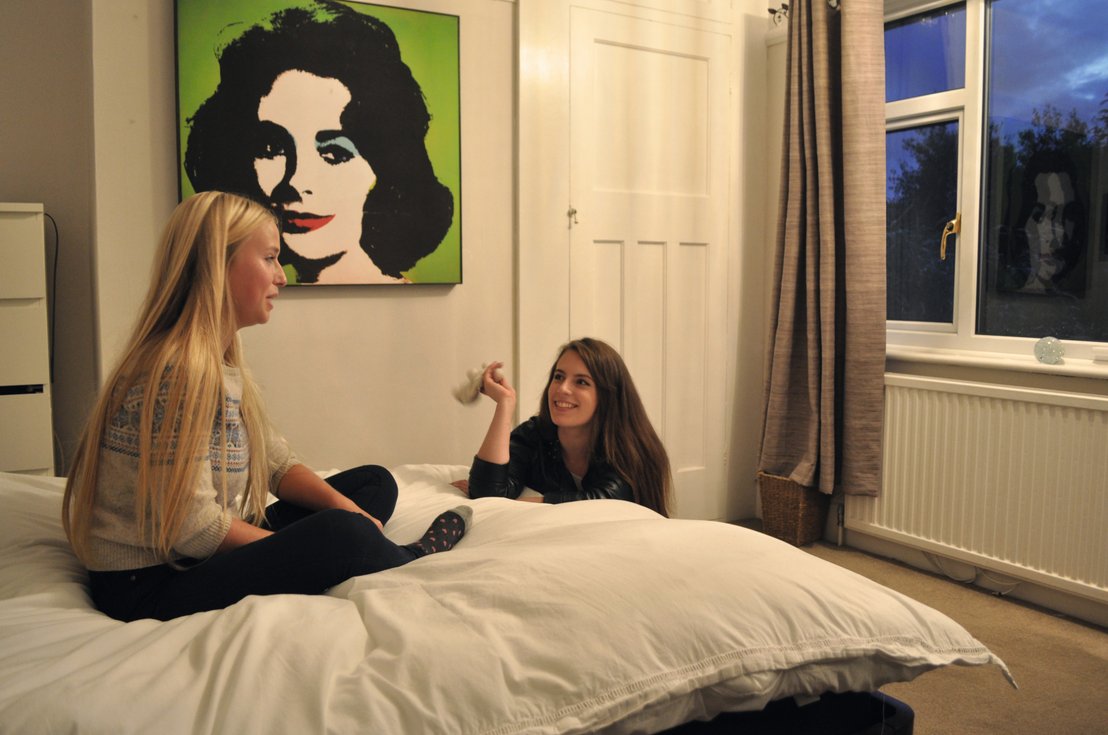 Single or double room
Half/Full board
Bathroom and kitchen are shared
Weekly cleaning
WLAN
---
Activities during your language study trip Barcelona
The vibrant city of Barcelona is one of Spain's trendiest tourist destinations with its unique blend of history, culture and contemporary nightclub scene. Barcelona is Catalonia's capital city and has long been nicknamed the Great Enchantress, "La Gran Encisera". The dynamic area offers exquisite scenery and is one of the most captivating cities on the west Mediterranean seaboard.
La Sagrada Familla, Parc Güell, Picasso Museum, Casa Milà, Kathedrale, Parc de la Ciutadella, Magic Fountain
Barceloneta Beach, shopping on La Rambla, football match at Camp Nou, Mercado de La Boqueria, viewpoint Bunkers del Carmel
Montserrat, Costa Brava (e.g. Tossa de Mar, Lloret de Mar), Girona, Terrassa, Sitges, Tarragona, Mataró
The most exciting sights in Barcelona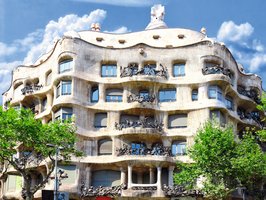 Casa Milá is also the work of Antoni Gaudí and was one of the first buildings of the industrial age. The building is also known as "La Pedrera" because the exterior of the building is made of stone. During your visit, you should also visit the roof terrace, where you have a fabulous view of the cathedral.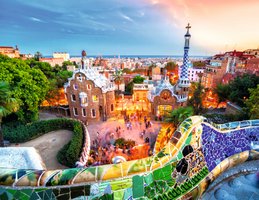 Enter this park, which is reminiscent of a fairytale forest, and let yourself be enchanted. At the entrance, the city's emblem awaits you: a dragon. Then you come to a room that was originally intended as a market hall. Another highlight is, of course, that you will have a great view over the city of Barcelona. There is a lot to discover here!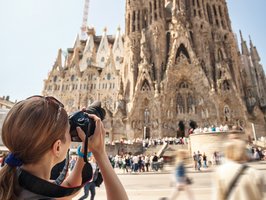 The Sagrada Família is a Roman Catholic basilica. This famous building was built in 1882 and is the work of Antoni Gaudí. As the building is still being constructed, you can observe this more closely during your visit. This can be very interesting. There is also a small museum in the building.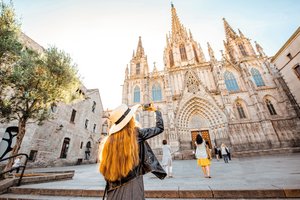 Below you can get an overview of the annual events in Barcelona that are worth a visit. If there is nothing on at the time of your trip, don't worry: this is only a small selection, as Barcelona has a wide range of events to offer. If you have any questions or suggestions, please do not hesitate to contact our staff at Sprachcaffe Barcelona!
Barcelona Carnival: (February-March) Carnival is celebrated in Barcelona for one week. There you can experience all the parades, dances and costumes, orange coloured balloons and a fireworks show!
Feria de Abril: (April) If you've always wanted to see traditional flamenco dancing, don't miss the Flamenco Festival. It takes place for two days in the Parc del Forum in the Fiagonal Mar area.
Primavera Sound Festival: (May - June) Want to kick off the spring in Barcelona with a raucous music festival? Then the Primavera Sound Festival is the place to be: a wide range of rock, pop, electronic and dance music is played for all generations. Over 190,000 visitors come to the festival every year.
Sónar Festival: (June) Every summer, the three-day music festival makes Barcelona the centre of electronic music and is considered one of the main attractions of festival tourism. The programme is divided into Sónar de Noche and Sónar de Día and is a magnet for over 100,000 visitors.
Festa Major de Gracia: (August) Every year this festival transforms the bohemian neighbourhood of Gracia into a week-long street party. If you're in Barcelona in August, don't miss this spectacle! The festival consists mainly of a competition between the neighbourhoods to see who can decorate their streets the best.
---
Prices and services for your language trip to Barcelona
With Sprachcaffe, everything you need for a successful language trip is included in the price. Accommodation, language course, placement test, language certificate and of course an unforgettable experience.
You can buy teaching materials at the school or rent them for a fee of EUR 4.00 per week and a deposit of EUR 15.00. The materials are not included in the price.
Do you have a question or need some advice?
We are always ready to solve any doubts you might have!