Limited spots available. Book your language study trip for the autumn holidays now!
Spanish Courses in Barcelona for Adults
Barcelona conjures up images of people sipping café con leche in lively cafés in Plaça de Catalunya, enjoying a refreshing and fruity sangria on the beach and, of course, being mesmerized by Gaudi's quirky architectural masterpieces. Barcelona combines a Mediterranean climate, fine sandy beaches, tons of bars, Catalan delicacies, and a vibrant, young population. It is a fascinating city with a very special charm - the ideal location for a Spanish language course.
The lively city by the sea caters to everyone; in addition to a mix of varied nightlife and fascinating sights and museums, Barcelona is known around the world for its extraordinary architecture. Architect Antoni Gaudi significantly influenced the Catalan capital; from Parc Güell and the fascinating La Sagrada Familia cathedral, to the many large and small structures that can be found throughout Barcelona, it is an art lovers dream.
At the Sprachcaffe school in Barcelona, Spanish language courses are offered in a natural, laid-back environment where you can get to grips with the language and in your free time explore the famous (and hidden) treasures of the city aided by your new Spanish skills. Our courses in Barcelona are diverse and we offer something for everyone; whether you want to take a 2-week Spanish course during the summer holidays, an exam preparation course or intensive lessons.
Why take one of our Spanish courses in Barcelona?
Study abroad programs in Barcelona are a fantastic experience: you have the opportunity to learn Spanish from native speakers whilst exploring one of the trendiest and most unique cities in Europe. Those who need a rest after shopping on Las Ramblas will find a wealth of options, whether it's enjoying a coffee in one of the street cafés or wandering through the impressive and surreal Parque Güell which offers a wonderful view of the city. A Spanish course in Barcelona is an investment in your future, too, and taking one gives you the chance to visit unique places, try new experiences, and create new friendships. Who knows, maybe they're waiting for you on the longest – and perhaps most colorful – park bench in the world! Discover for yourself the many benefits of taking one of Sprachcaffe's Spanish courses in Barcelona!
---
Inside the Spanish School in Barcelona
Overview of the facilities in our Barcelona school:
7 bright, modern classrooms with air conditioning
Lounge with drinks machine
Common room for studying and relaxing
Computer room with internet access
Free rental of Spanish books
Location of the Spanish School in Barcelona
Our school is located in the heart of this vibrant and exciting city. This is a perfect place for those interested in Spain's culture who want to experience the Spanish way of life first-hand.
A lot of Barcelona's major places of interest are within walking distance of our school. Las Ramblas and Barcelona's bustling shopping area are both nearby. Hundreds of tapas bars, shops, boutiques, record stores and much more can be found near the school.
No matter how busy it gets in the streets of Barcelona, you can find the tranquility required for learning in our Spanish school. The modern furnishings are designed to create a relaxed and effective learning atmosphere.
---
Through the use of current and topical material as well as fun and creative teaching methods, our Spanish courses in Barcelona are designed to encourage discussion and participation from day one. This eradicates fear and breeds confidence within a nourishing and motivating environment.
We accommodate all levels of learners from absolute beginners to advanced linguists. Through an initial language assessment test we determine your Spanish level so that we can place you in the appropriate class.
We offer courses of various intensities and durations - so you can spend a week in Barcelona learning intensively or a couple of months combining sightseeing with a more relaxed Spanish course.
Our native Spanish-speaking teachers are highly motivated, passionate and qualified. They will do their best to assist you outside as well as inside the classroom, providing sightseeing tips as well as language advice to use in day-to-day situations.
Gergo came from Russia to study Spanish in Sprachcaffe Barcelona. He was delighted with our academy teachers and their teaching.
Monica studied at our academy in Barcelona and decided to stay with a Spanish family for total immersion. She recommends our school 100%!
Gala loved that our school was so close to the beach to go swimming and sunbathing after classes. Her experience was great!
10 lessons per week
Minimum duration: one week
Maximum 10 students

More info »
20 lessons per week
Minimum duration: one week
Maximum 10 students

More info »
20 lessons per week
Minimum duration: one week
Maximum 10 students


Also available online
5 days per week / 2 lessons daily

More info »
DELE exam preparation
20 lessons per week
Maximum 10 students
Duration: 8 weeks
Exam fee not included

More info »
Lesson recap
Homework assistance
No extra cost
Twice a week
Standard Course for Academic Purposes
20 lessons per week
Maximum 10 students

More info »
* 1 lesson = 45 minutes
**Students on part-time, standard and intensive courses can attend our 2 weekly Study Club sessions for no extra cost. In Study Club we provide extra help on difficult tasks, revise the week's lessons, assist with homework, prepare for the next lesson and more.
*** Exam fee not included
The minimum age of participation in this course is 18 years old. For 16-17 year olds interested in this course we will examine the possibility of participation upon request.
* Estimated examination dates. The exam fee is not included. The courses are offered on request and availability.
---
Our residence, available to stay in during the high season, offers spacious and bright single and double rooms with modern furniture. In the common rooms and kitchen you'll be able to relax with other Sprachcaffe students. Bathrooms are also shared. For a small additional charge we also offer a washing service.
---
The vibrant city of Barcelona is one of Spain's trendiest tourist destinations with its unique blend of history, culture and contemporary nightclub scene. Barcelona is Catalonia's capital city and has long been nicknamed the Great Enchantress, "La Gran Encisera". The dynamic area offers exquisite scenery and is one of the most captivating cities on the west Mediterranean seaboard.
Activities in Barcelona at a glance
Morning:
Placement test / First language lessons
Afternoon:
Getting to know the group / Excursion to the Barrio Gótico
Evening:
Welcome party
Morning:
Spanish language course
Afternoons:
Excursion to Parc Guell
Evening:
Free time
Morning:
Spanish language course
Afternoons:
Beach volleyball
Evening:
Evening at the Maremagnum
Morning:
Spanish language course
Afternoon:
Excursion to the Sagrada Familia
Evening:
Free time
Morning:
Spanish language course
Afternoon:
Free time
Evening:
Fuentes Magicas de Montjuic
Excursion: Montserrat (full day)
Excursion: Figueres (full day)
Please note: The activities listed in the sample week are recommendations for the itinerary of your Barcelona language study trip. On-site excursions, activities and times may vary and cost around €10-50.
The most exiting sights in Barcelona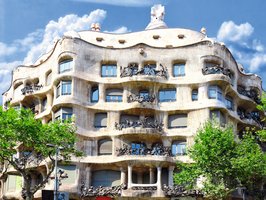 Casa Milá is also the work of Antoni Gaudí and was one of the first buildings of the industrial age. The building is also known as "La Pedrera" because the exterior of the building is made of stone. During your visit, you should also visit the roof terrace, where you have a fabulous view of the cathedral.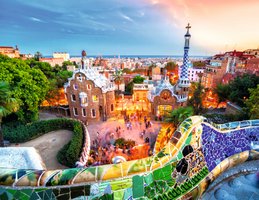 Enter this park, which is reminiscent of a fairytale forest, and let yourself be enchanted. At the entrance, the city's emblem awaits you: a dragon. Then you come to a room that was originally intended as a market hall. Another highlight is, of course, that you will have a great view over the city of Barcelona. There is a lot to discover here!
The Sagrada Família is a Roman Catholic basilica. This famous building was built in 1882 and is the work of Antoni Gaudí. As the building is still being constructed, you can observe this more closely during your visit. This can be very interesting. There is also a small museum in the building.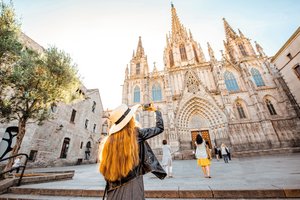 Barcelona's distinctive style has been influenced by Africa, France, Italy, Spain and even Arabic regions. The city's eclectic fusion adds to its charm and continues to attract millions of tourists each year.
While in Barcelona, don't miss these must-see attractions:
Sagrada Família - One of Antoni Gaudí's architectural masterpieces, still being built after 134 years.
The Museu Picasso - The Picasso Museum houses one of the largest collections of Pablo Picasso's artworks.
Torre Agbar - This beautiful 38 storey skyscraper marks the gateway to the more modern district of Barcelona.
The Barcelona Aquarium - The aquarium is home to over 11 000 animals and has a spectacular 80m underwater tunnel in the Port Vell harbour.
Magic Fountain of Montjuíc - The breathtaking fountain designed by Carles Buiga is a remarkable display of colour, light, motion and music.
Parc de la Ciutadella - A popular attraction for tourists and locals alike, offering some of the city's most breath taking and tranquil scenery.
Barcelona is an multicultural and vibrant city. The area has a rich heritage, displayed proudly in a variety of museums, galleries and theaters. Nightlife is nothing new in Barcelona and the people who live there are known for their love of festivities and their friendliness. There are tons of festivals throughout the year, both old and new. One that you should definitely try to attend is the Festa Major de Gràcia, when the streets are alive well into the night with decorations, concerts, theaters and food and drink stands! Other festivals to look out for include the Festival of the Three Wise Men, the Sonar Festival and the International Jazz Festival.
Avid shoppers are encouraged to visit the area's main shopping hot spots along Passeig de Gracia.
---
Come and learn Spanish in Barcelona, the lively coastal city known for its art, architecture and pristine beaches.
Enjoy one of the best priced, most reputable Spanish courses around. Our competitive price package includes your choice of Spanish course, comfortable accommodation and a range of other guaranteed services.
From Sprachcaffe you get an all-round carefree package. Everything you need for a successful language stay is included in the price. Whether it's: arrival as well as excursions, accommodation, language course, teaching materials, language certificate and of course a priceless memory.
Your Spanish Course in Barcelona is Just a Few Clicks Away:
Do you have a question or need some advice?
We are always ready to solve any doubts you might have!