Great resources to help you learn French
Everyone has a different style of learning, so we've compiled a very diverse list of resources for you to take advantage of. Try out the different websites, blogs, podcasts, videos and much more. Whether you learn best by seeing, hearing, reading, writing or doing, you'll find enough activities in this list to keep you entertained and to stoke your interest in the French language.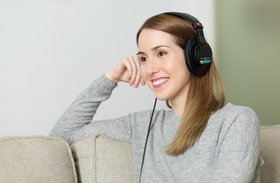 Listen to French
Listening to podcasts, radio, songs and poetry recordings is a great way of getting accustomed to the rhythm, pronunciation and intonation of spoken French:
Podcast Français Facile: A website with a wide range of activities to improve your French, including recordings of everyday conversations and poetry.
The French Podcast: Podcast recordings for beginner, intermediate and advanced learners with a focus on natural sounding situations.
News in Slow French: Does what it says on the tin. Current news topics presented at a slower pace than normal, with separate sections for beginner, intermediate and advanced learners.
TuneIn Radio: This is a great app which enables you to listen to radio stations from all around the world.
French Songs to Help You Learn French Faster: Polyglot and blogger Benny Lewis lists what he believes to be the best French language songs for learning French
French Poem Readings: Recordings of classic French poems, with the written version and translation underneath and additional information on the backgrounds of the poems and the poets.
There are also a lot of apps out there dedicated to helping you reach a high level of language proficiency step by step. Here are our two favorites:
Duolingo: Duolingo is extremely popular because it's so effective! This free app improves your language skills every day with games, questions and complete lessons, through which you'll strengthen your reading, writing, listening and speaking skills.
Memrise: Memrise is another free app. Developed with the expertise of memory scientists, memrise ensures that every new word sticks in your mind and is never forgotten. You'll be amazed how quickly you pick up new vocab with this incredible app!
Comme une française - Géraldine's tremendous knowledge of the French and English languages means anyone who finds her blog will find it hard to leave!
Français Immersion - Thomas' blog and French classes are perfect for beginner and intermediate learners looking for clearly structured and fun grammatical lessons taught 100% in French.
French Crazy - This blog not only has great tips for improving your French, but also a number of guides to help you orientate yourself with different aspects of everyday life and culture in France.
Love Learning Languages - Articles and French language videos to help you learn French in a simple way.
Talk in French - Fun and easy lessons on French language and culture.
I Learn French - Tons of interesting and useful content to keep you fascinated in the French language and culture. Regular features include 'Wordsmith Wednesday' and 'French Food Fight Friday'.
Oui, c'est ça - Eclectic posts on culture, vocabulary, songs, news and grammar for French learners of all levels
French Today - A broad array of posts covering everything to do with the French language and life in France.
Speak French Fluently - As the title suggests, this blog is not only about being good at French, but learning to speak fluently. Great tips andunique content.
French Together - Fun and funny posts to keep you entertained while focussing on essential lessons in the French language.
Nathalie FLE - A great blog for learning French. But be careful, everything is in French so you'll only benefit from this if you have at least lower intermediate level French.
Réseaux FLE Éducation Langues - Another blog written in French. This one suggests entertaining ways to improve your French.
Another way to improve your level is by using useful YouTube channels. There are hundreds of people you can follow but we are especially impressed by these five great vloggers. They find fun ways to help you learn French. Pretty good, right?


Read Online Magazines and Newspapers
A classic way to learn a language due to the high quality of journalists' writing. Reading news written in a formal and sophisticated register is a very good way of improving your level, learning some new idioms and discovering some amazing vocabulary. Usual topics like society and sports are simpler than politics, but it generally depends on your level.
Le journal des enfants: French weekly newspaper aimed at French-speaking children aged 8-14, so the content is perfect for beginner and lower intermediate French learners.
1jour1actu: Great news website which publishes one news story every work day. Uses basic French, so perfect for beginner and lower intermediate learners.
Le Monde: One of the most respected newspapers in the world, Le Monde is essential reading to get in-depth analysis of current events in French.
Libération: French daily newspaper founded by philosopher Jean-Paul Sartre.
L'Équipe: French daily newspaper dedicated to sports, especially football, rugby, motorsport and cycling.
Free Online French Courses
BBC French: Lots of different free exercises to get stuck into for beginners and intermediate learners.
Duolingo: An app which is used by people all over the world to learn many languages. The app is designed to regularly test you on the new vocabulary and grammar you learn, while you decide how quickly you want to progress.
The French Experiment: A comprehensive website to help you master the basics of the French language, with audio recordings on each lesson page, ensuring you know how to pronounce as well as write all that you learn.
Alison: Alison is a website with dozens of free courses in many different fields. There are multiple French courses to choose from, depending on your goal and your current level.
French in Action: An online French course created by Yale University that takes you through the essential French lessons while telling the story of an American students and frenchwoman's adventures in France. (Only available in USA and Canada)
Get Your Head Around French Grammar
These websites place much of their focus on French grammar, and making it as easy to understand as possible through creative exercises and explanations.
Digital Dialects: Great site with fun exercises to help the grammar rules stick in your head.
Tex's French Grammar: Legendary French grammar website used by French teachers around the world because of the creative characters whose stories contribute to the lessons.
The French Tutorial: Entire French course with a strong focus on grammar.
YouLearnFrench: Youtube channel dedicated to teaching French grammar
Bonjour de France: Lots of different grammar exercises for all French learners, from beginners to advanced French speakers.
french.about.com: Website with so much information on the French language. There is not only a great grammar section, but much more too!
Français Facile: An easy way to learn the french language with exercises and language tests on one website!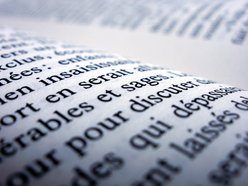 Here are two lists of books which are perfect for learning and improving your French. Reading literature is one of the most effective ways of improving language skills as you become immersed in stories that you want to read to the end and discover the language at its most thrilling.
5 easy-to-read French books (beginner & lower intermediate learners)
10 Unbelievably Good Books for French Learners (intermediate & advanced learners)
Converse with a Tandem Partner
Last but not least, the value of meeting up regularly with a native French speaker cannot be overemphasized. This is the reason we learn a new language, to be able to communicate with more people and have a more complete understanding of different parts of the world and their cultures. There is no better way to improve in a language than conversing in that language. In most cities, you can find potential tandem partners by searching 'language tandem + the name of the city you want to meet up in' in Facebook and joining a group dedicated to helping people find tandem partners.