The most famous dishes around the world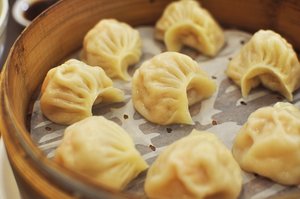 China's most traditional and well known food are dumplings, a dish that has been prepared since the 1800s. Nowadays, it is a tradition in China to eat dumplings on the New Year to say goodbye to the old one. Eating this dish is also considered as bringing good luck and family reunions. Dumplings are made of dough that contain a filling. The dough is either potatoes, bread or flour, while the filling is either cheese, fish, meat, vegetables or something sweet like red bean paste.
If you are more about sweets, then why don´t you try the delicious Chinese Moon Cakes? Traditionally, people eat this desert for the the Mid-Autumn Festival and serve it with tea. Moon Cakes, like dumplings, also symbolize family reunions. These cakes can be either sweet or salty, as the fillings can be quite different, for example nuts, ham, black sesame, red bean paste, roses, rock candy, lotus seed paste, osmanthus, egg yolk, dried plums or ginkgo.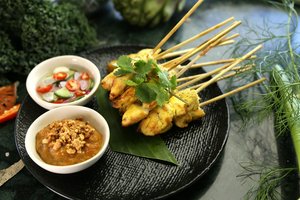 Indonesian cuisine is incredibly diverse. One of the most famous dishes is satay, meat skewers grilled over cabbage. They are served with a rice cake, which is called ketupat, doused with peanut sauce. This dish is so beloved in Indonesia that it can be found almost everywhere in the country.
Another specialty in Indonesia is Nasi Rawon. This is a beef stew from East Java with a nutty flavor and black color because of the combination of keluak nuts. The locals like to serve this dish with rice.
Moroccan cuisine is one of the most popular ones in the world. No wonder, Moroccans know how to create a creative combination of flavors by combining different spices and exotic ingredients. Ingredients such as cinnamon, ginger and pimento are often used in cooking. One famous dish is B'stilla, which originated in Fez. This dish is a puff pastry cake with a pigeon meat, almonds and eggs filling, and spices such as cinnamon, coriander and saffron.
Haria is especially popular with Moroccans during the fasting month of Ramadan. The reason is that as soon as Moroccans break their fast at sunset, they start by eating a bowl of Harira soup. This soup consists of lamb broth, chickpeas, tomatoes, red lentils and other legumes as well as a squeeze of lemon juice and chopped cilantro. This soup is thickened with a mixture of flour, tomato paste and water. The soup is traditionally served with sweet dates and chebakia, which is a baked pretzel topped with sesame seeds and honey.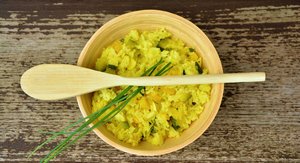 A lesser known but delicious dish is the Osso Buco. Osso Buco is originally from Milan and is made from veal shank. This meat is braised with red wine and vegetables. The dish is typically refined with gremolata, a spice mixture of garlic, lemon peel and parsley. The locals especially like to serve it with risotto alla Milanese.
Polenta is another delicacy from Italy. Polenta is made from corn semolina as a solid porridge. In the classic polenta, butter, black pepper and Parmesan cheese are added. This dish is especially popular in the north, since it can get rather cold in the autumn and winter seasons.
Malta's cuisineis an incredible mix of Sicilian, British, Spanish and French dishes. In Malta, people often cook with rabbit meat, such as for Stuffat tal-fenek, and incredibly popular meat stew. The meat is cooked slowly and mixed with a tomatoes, red wine and garlic sauce.
Although Maltese winters are not too cold, the locals still like to cook a soup called Minestra, a thick vegetable soup eaten with bread and oil. This soup is made of vegetables such as pumpkin, cabbage, carrots, tomatoes and cauliflower. To this are added small noodles and parmesan cheese.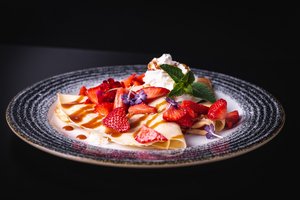 French people especially like to cook with simple combinations of natural flavors. A delicious dish from France is the soupe à l'origen, a soup made of onions and beef broth. It is served with melted cheese and croutons.
A delicious dessert is the world-famous crêpe. Crepes are usually eaten with jam, Nutella, whipped cream, or cinnamon and sugar. Some people prefer their crepes to be salty, and eat it with ham, cheese or vegetables.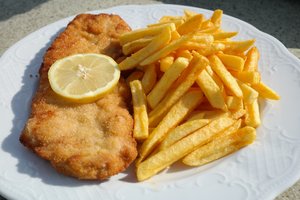 All German regions have their own peculiar dishes and delicacies. But often most recipes use pork, bread, cabbage and potatoes as the base ingredients to create delicious foods from. A popular food eaten at every time of the day is the currywurst. It consists of chopped sausages, fries and a spicy ketchup sauce, a fast meal especially popular in Berlin.
Käsespätzle comes from the southwestern regions. It is a dish of small spaetzle with cheese and topped with fried onions. It is often served with salad and apple sauce.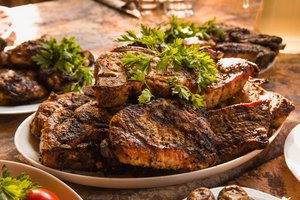 When you think of the USA, you often have burgers, fries and hot dogs in mind. But that's not all the country has to offer. One traditional meal, for example, is the lobster roll, a dish made of lobster and served with mayo and celery in a bun. This is not a typical fast food dish because you have to pay at least $15 for it, but we promise it is absolutely worth it!
Barbecue rib is also very popular dish in the USA. A barbecue rib is made of a pork rib, because it's soft on the bone and it comes off immediately after grilling. But before the grilling, a marinade is prepared, which consists of soy or Worcester sauce, spices, ketchup and whiskey or honey.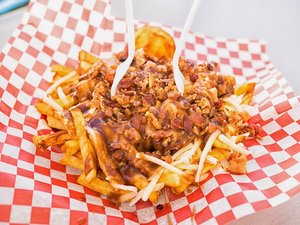 If you travel to Canada, you absolutely must buy maple syrup. This is not a dish, but definitely a product worth mentioning in our article. After all, maple syrup is the most popular symbols of Canada, as shown by the fact that the leaf of this tree has even made it onto the country's national flag! Maple syrup is an amber-colored syrup obtained from maple trees and is especially used to sweeten pancakes, waffles or crepes.
A dish that Canadians love to eat is poutine. This is freshly cut fries topped with cheese and gravy, also available as a vegan option.
Canadians also like to eat meat. A famous steak is the Alberta steak, which takes its name from the Canadian province of Alberta. This meat is ethically farmed and thus is also antibiotic-free beef. Especially due to factors such as the environment, the diet of the cattle as well as the climatic conditions, the steak tastes absolutely delicious!



Cuban cuisine is very diverse, as it consists of a mix of Spanish, African and Caribbean dishes. A traditional dish from Cuban cuisine is "ropa vieja", which means old clothes. The dish was named this way because it consists of torn beef, which reminds of old clothes. Ropa vieja started getting popular in the 16th century, since back then people were very poor and had to make do with leftovers such as small pieces of meat and vegetables, cumin, pepper and a spiced tomato sauce. Over time, the locals became richer and were able to use better meat and add more vegetables such as peas and peppers. To this day it is one of the most popular dishes for Cubans.
The Cuban national dish is Congris. An interesting fact about Congris is that it is often cooked at the end of the month, when money is getting short. For this reason the dish doesn't require many ingredients. The typical Congris consists of rice, onion, green peppers, garlic, lard, red beans and tomatoes. The spices used are pepper, cumin and salt. The dish is often served with a piece of pork.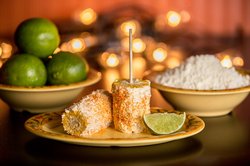 If you travel to Mexic, you must try chilaquiles for breakfast! It consists of warm quartered corn tortillas topped with either green or red salsa. It also comes with scrambled or fried eggs as well as chicken, cheese and cream. On the side comes a serving of frijoles, which are refried beans.
Another highlight in Mexico is Elote, corn on the cob. The corn is traditionally cooked before serving and is then sold either on a stick or in a cup. The corn on the cob is often topped with mayonnaise, sour cream, cheese, butter, lime, salt and chili powder.
Bobotie is South Africa's most popular national dish. It is mainly found in Cape Town, where it is truly a dish that gets consumed daily. Bobotie is a casserole that consists of minced lamb, dried fruits and many spices. The meat is marinated beforehand with raisins and apricots and spices such as coriander, turmeric, ginger, apricot jam and cumin.
The most popular street food in South Africa is Bunny Chow. This dish originated in Durban in the 19th century. It is a hot curry that consists of vegetables and minced meat served in a bread bowl. A vegetarian option is also available.
We hope you enjoyed this run down of delicious dishes from around the world! If you ever decide to try and cook these dishes at home we would love to see that. Please share your story with us on Instagram and we will feature you on our profile. Bon appetit!