Top 10 French podcasts by language level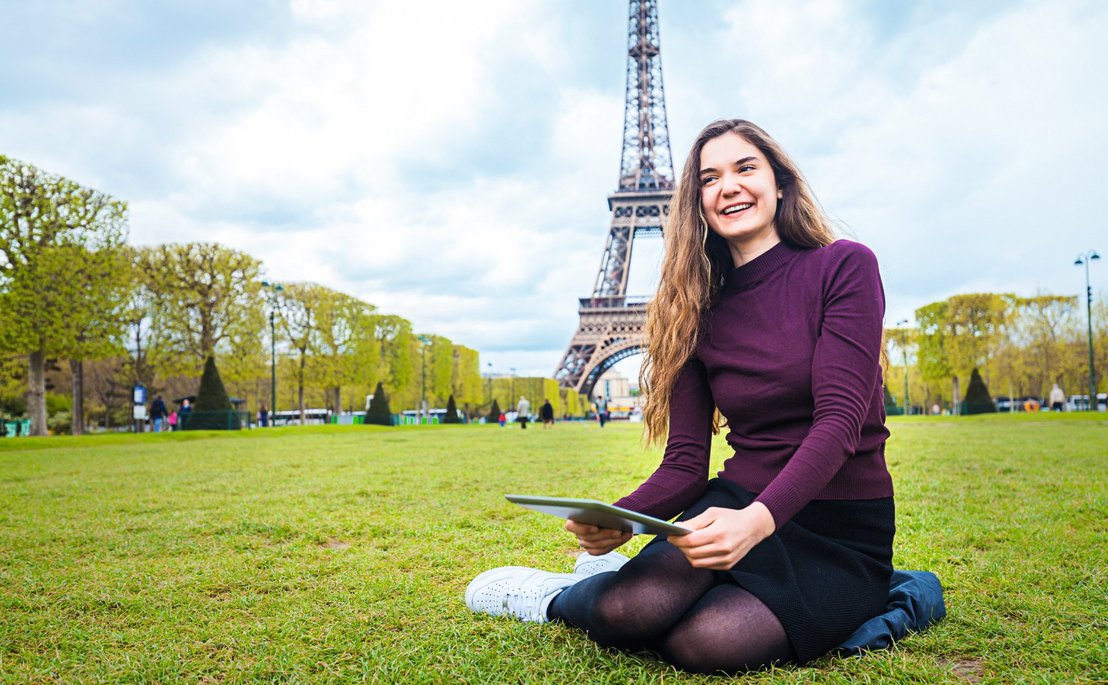 Podcasts in French - Basic level (A1, A2)
1. Learn French for beginners
This podcast is primarily aimed at people whose native language is English. However, you can also use this French podcast to learn French with a good knowledge of English from your school days. The goal of the podcast is to learn the first basic words and phrases.
You will quickly notice how you can repeat your first dialogues in French. A perfect introduction for those who have never learned French before.
Genre: French language course
Language level: No previous knowledge required
2. Apprendre le Francais avec des histoires
This podcast contains 17 episodes of about one minute each. Simple French vocabulary is used in the podcast. This allows beginners to follow along well. This is especially important for beginners, because a French podcast that is too difficult to understand can quickly be demotivating. But not with Apprende le francais avec histories, because it is precisely designed for the learning progress of beginners.
Genre: French language course
Language level: beginners even with some previous knowledge
This is the French podcast in our list, where you can expand your knowledge on exciting topics every day. Among the topics covered are science, health, history, business, technology and gastronomy. Don't be afraid if your French is not that good yet. The explanations in this French podcast are kept simple and short, so they are easy to understand.
Genre: General knowledge
Language level: Basic previous knowledge
Podcast in French - Intermediate (B1, B2)
4. France in the XIX century
If you are interested in history, this podcast is for you. Emmanuel Fureix is a historian who tells the story of France in the 19th century. In detail, this French podcast is about the period from 1814 to 1914. For those of you who have, for example, French and history as a performance subject, the podcast is just perfect. However, a first knowledge of French is required for a better understanding!
Genre: History
Language level: Advanced knowledge from B2 level onwards
In this French podcast, listen to people who have a very interesting background. For example, Alain Prost, Formula 1 champion or Mathias Malzieu, singer of the group Dionysos and many more. In this French podcast they talk, about a failure in their life, how they experienced it and what conclusions they drew from it. This podcast is full of good advice for moments when we question ourselves, when we have doubts or difficulties.
Genre: Society and Culture
Language level: Advanced
This podcast answers questions like "Trivial Pursuit" in a short format of 3 to 5 minutes. The answers mix humor with knowledge. Have fun building your general knowledge while learning French. This is exactly why learning French podcasts are so popular. With your newly acquired general knowledge, you're sure to shine at your next family dinner.
Genre: Humor
Language level: Advanced (B2 level)
French podcasts at expert level (C1, C2)
Hugo decripte is a well-known journalist in France. He knows the success especially among young people: His Instagram account now has 2.3 million subscribers. He launched this podcast a year ago and summarizes the most important news in ten minutes every day.
By addressing economic, environmental and political issues, he allows you to acquire new vocabulary. At the same time, it allows you to keep up to date with what's happening in France and around the world on a regular basis.
Genre: Society and Culture
Language level: Expert
9. Le billet, Paul Mirabel
Paul Mirabel is a young French comedian who does sketches. His podcasts last about 5 minutes and are about different topics that reflect his personal experiences in a very funny way. To understand his humor well, you should already have a very advanced knowledge of French.
Genre: Comedy
Language level: Expert
Guerres de Business is an advanced French podcast about the rivalry between big companies. The podcast features McDonald's versus Burger King, Coca-Cola versus Pepsi Cola, Facebook versus Snapchat, and Adidas versus Nike.
In a very romantic format, each episode explains the elements of discord and rampant duels that these great companies have fought. I really like the historical and timeless side of this podcast business. The episodes will still be relevant 10 years from now.
Genre: Business
Language level: Expert
Finally, here are some useful tips for listening to French podcasts
With podcasts you can easily improve your French listening comprehension and get in touch with new vocabulary. But what's the best way to learn French with podcasts? First of all, you should definitely look for a podcast whose topic actually interests you. It's motivating and more fun.
Also, when listening, try to repeat out loud what is said in the podcast. However, this tip only applies to beginner podcasts that teach you new vocabulary directly. This way, even with your French podcast, you'll improve your pronunciation. Native French speakers can sometimes speak very fast, which makes it difficult to understand. But don't worry, you can often set your podcasts to a slower speed for better understanding.