Traditional Christmas dishes around the globe
In Sweden, Christmas is celebrated in the Smörgåsbord way. This traditional Christmas meal takes place after the Julbord, where the Christmas dishes and alcoholic beverages are served in the form of a buffet. The buffet consist of cold dishes such as pickled herring, ham, salmon and meatballs. Bread, liver paste, cheese, beet salad, and rice pudding are also traditionally served. When it comes to drinks, Swedish liquor and the famous Christmas beer Julöl are commonly consumed along with the food. And we cannot forget about dessert! A Christmas Swedish table cannot be complete without a serving (or two) of chocolate icecream, marzipan and gingerbread.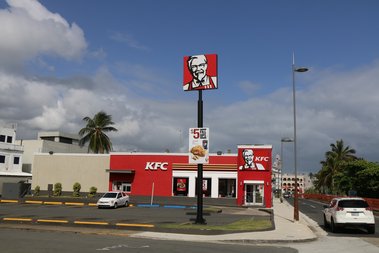 Japan never really had a strong Christmas tradition, but this changed in 1970 and it is now iconic! When the first KFC fried chicken store opened in Japan in 1970, the owner came up with the idea of selling a Christmas party bucket reminiscent of the classic American turkey dinner to drive up costumers. This became so popular that it is now normal for Japanese people to spend Christmas at KFC. And they even have to book a table months in advance to beat the competition! Now in addition to the classic fried chicken the bucket also features a Christmas cake to consume with your loved ones.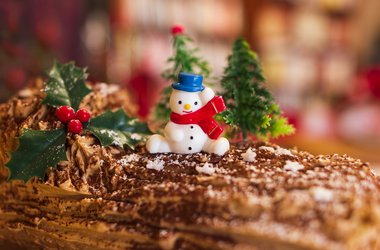 In France, Christmas dinner is a true feast made up of multiple courses, each accompanied by a different wine. To kick the celebrations off in style, French people start by drinking an aperitif like the Dubonnet. Then it's time for the first course, which can sometimes consist of delicious oysters served on a bed of ice and and lemon wedges. The main course consists of roasted beef or turkey and vegetables. What cannot be forgotten on a French Christmas table is nicely-arranged cheese and bread. A typical dessert is the Bûche de Noël, a chestnut or chocolate tree trunk cake often decorated with tiny mushrooms made of meringue and other goodies.
The traditional Christmas dinner seen in all American TV shows first originated in England. The main dish is a large stuffed turkey or ham accompanied by side dishes such as roasted root vegetables, mashed potatoes, cranberry sauce and gravy. While beer and wine are of course served, eggnog is the real star when it comes to drinks. A rich, dairy-based beverage seasoned with whiskey, sherry, or brandy, eggnog is boozy and delicious.But dessert is also a very important part of the Christmas meal, with cookies being the n.1 choice across all American households.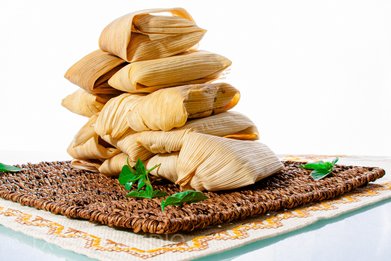 People in Colombia celebrate Christmas dinner on December 24. The beginning of the meal consists of various hearty dishes. Especially common is lechona, a pork, ham or turkey stuffed with peas and rice. Dishes like tamales, buñuelos, empanadas or ajiaco are also a must on the Christmas table. Tamales are stuffed and steamed corn on the cob, ajiaco is a potato and chicken stew, empanadas are corn pockets with a cheese or meat filling, and buñuelos are deep-fried cheese dough balls. When it comes to desserts, Colombians have a rich selection to choose from, such as natilla, a pudding cooked with cinnamon and milk, to manjar blanco (sweet rice cream) and hojuelas (sweet pastry). Colombians also have their own version of mulled wine called Canelazo, the perfect drink to accompany such a rich feast.
In Poland, a total of 12 different dishes are served on Christmas Day, a number based on the twelve months and twelve apostles. To get all 12 dishes ready, the preparations usually start 2 days in advance, and people tend not to eat anything before this rich meal to be able to eat all 12 dishes, a real marathon! However, beverages are allowed. Part of the dishes are for example breaded doughnuts, bread, bean soup, salads, deviled eggs and beet soup. Interestingly enough, Polish people don't eat meat on Christmas Eve since it is mainly consumed in the following days, a tradition coming from the Lent. Alcohol is also not the star of the dinner, with people mainly focusing on the delicious food.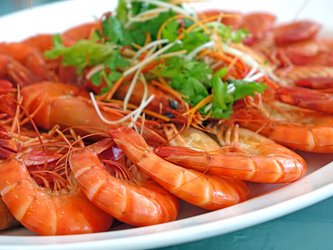 Australians tend to celebrate Christmas a little bit different than anyone else since they have sun and heat rather than snow and cold. For this reason, different types of beer as well as seafood and fish dishes are the norm in Australian households. That doesn't mean that the traditional turkey and ham are not served. On the contrary, these are very popular, but are served cold instead of warm because of the temperatures. For dessert especially popular is the pavola, a meringue-based cake filled with whipped cream and garnished with fruits. The perfect way to finish a light yet still festive dinner.
We would love to hear (and see!) what you and your loved ones eat for Christmas, so please message us on Instagram and tell us all about your festive meals!