Last minute summer offers - Celebrate the 40th anniversary of Sprachcaffe 🥳
Take advantage of our last minute offers and celebrate with us our 40th anniversary in our language schools in England, Germany and Spain and save 40 € per week!
Your language trip to Rabat
The world of Arabian Nights awaits as you embark on a once-in-a-lifetime language and travel experience in Rabat, the Washington of North Africa.
Explore the wonders of this true African paradise while learning everything you need to know about the Arabic and French languages. Embrace this incredible city with its dynamic African culture and Arabic roots as you gain fluency in two of the world's most widely spoken languages. As Morocco's capital city, Rabat boasts a relaxed and laid-back atmosphere coupled with lively Cosmopolitan charm. The city is made up of exquisitely rugged colonial architecture that stems from Rabat's rich history, while the delightfully colourful African culture keeps up the exotic allure of the region.
Meet international language students from all over the world
Take advantage of the city's bilingualism and learn Arabic or French
Oriental history and the increasing modernisation
Attractions and beach nearby
What makes a language study trip to Rabat so special?
At our language school in Rabat, you can choose between two languages: Arabic or French. Or you can book our combination course and learn both languages at once! Morocco's capital Rabat will immediately enchant you - here you will experience the fascination of the Orient in a wonderful holiday paradise. Fantastic beaches, a Mediterranean climate, spectacular landscapes and an exciting culture make Rabat a versatile travel destination. If you want to learn French or Arabic and immerse yourself in foreign cultures at the same time, then Morocco's capital is the place for you!
---
Learn Arabic or French in a language course in Rabat
A language course in Rabat will definitely get you ahead! At Sprachcaffe, you will study at your individual language level in small groups of international participants, so that not only our qualified teachers, but also your group will support you in learning French. Through the placement test, which you can take in advance online or on-site in Rabat, we will find the perfect language course for you! The focus of our varied lessons will be mainly on communication, so that you will internalise what you have learned more quickly and reach your goal quickly.
Determine your language level online or on site
6 to 12 international course participants
A diverse and interactive learning process
Certificate of attendance
At the end of the course you will receive a Sprachcaffe certificate.
In the Standard Course you will learn English in 20 lessons of 45 minutes each and a maximum group size of 14 people. The minimum duration of the Standard Course is 1 week.
Mini Group Standard Course
The Mini group standard course consists of 20 lessons of 45 minutes each and can be recognised as educational leave. The group size for the intensive course is a maximum of 14 people and the minimum duration is 1 week.
The intensive course consists of 30 lessons of 45 minutes each and can be recognised as educational leave. The group size for the intensive course is a maximum of 14 people and the minimum duration is 1 week.
The Super Intensive Course consists of 40 lessons of 45 minutes each. The minimum duration is 1 week and it can be recognised as educational leave. The group size is limited to 14 people.
With individual lessons, you can choose the topics relevant to you in 10 or 20 lessons of 45 minutes together with your teacher. The minimum duration is 1 week. Optionally, another person can take part.
Combi Course French + Arabic
The combined course consists of an Arabic and French course, with a choice of 20 lessons of French + 10 lessons of Arabic or 20 lessons of Arabic + 10 lessons of French. Each lesson is 45 minutes long and the maximum group size is 10. The minimum duration for the combined course is 1 week.
Fatima learned Arabic, but also learned a lot about the culture of Morocco and the people who live there, all thanks to the teachers.
Sam enjoyed his stay in Rabat, especially for the chance to meet students like him from all over the world.
Elisabeth comes from Germany and went to Morocco to learn Arabic at Sprachcaffe Rabat. Her experience was excellent.
---
Our language school in Rabat
In the heart of Rabat just a few steps from the beach
Renovated building with 5 bright classrooms and view of the Royal Palace
Student lounge, book corner, coffee corner, balcony with great view
Modern surroundings and Moroccan charm
---
In order to make sure your time in Morocco is as comfortable and pleasant as possible, we offer clean, friendly and convenient accommodation in central Rabat for our students.
We provide a choice of accommodation - you can either stay with a host family, in a comfortable hotel or in a traditional riad guesthouse - all of these options will ensure you have a comfortable yet authentic Moroccan experience during your time with us.
You can move into your accommodation on Sundays and leave on Saturdays.
Get to know real Moroccan life!
In a host family you will learn French or Arabic even more intensively.
Choose your accommodation
Choose between host family, riad or hotel.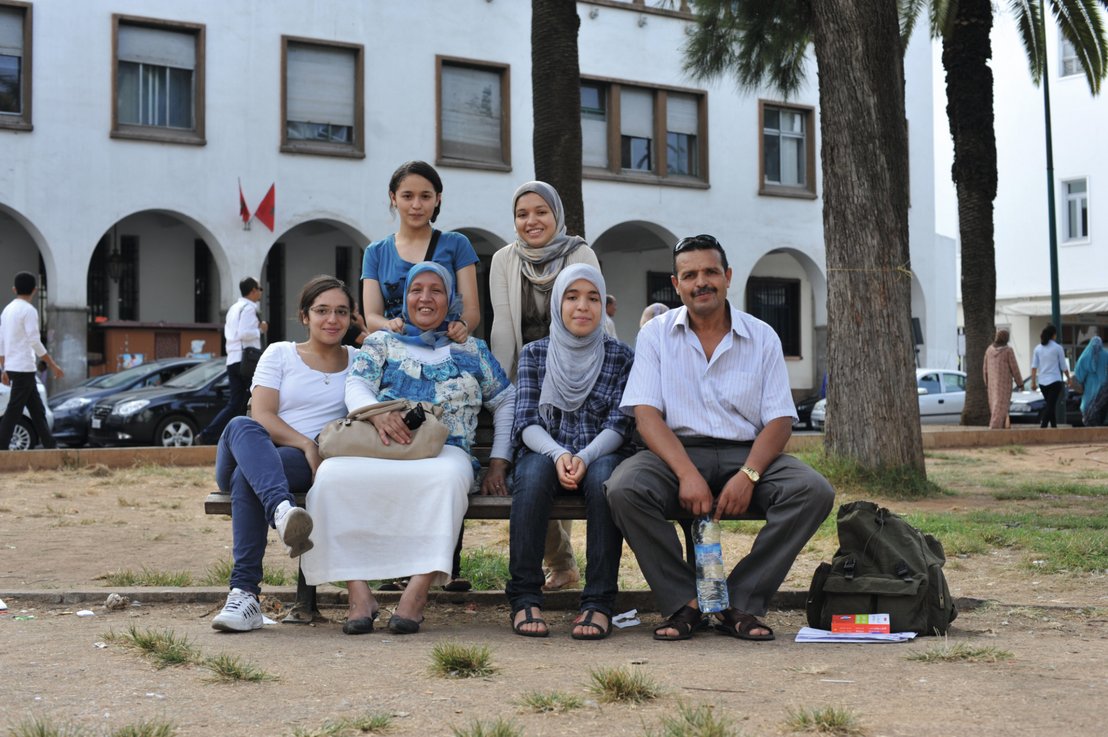 Single room
Half board
Shared bathroom/kitchen
Max 50 minutes from the school
Free WiFi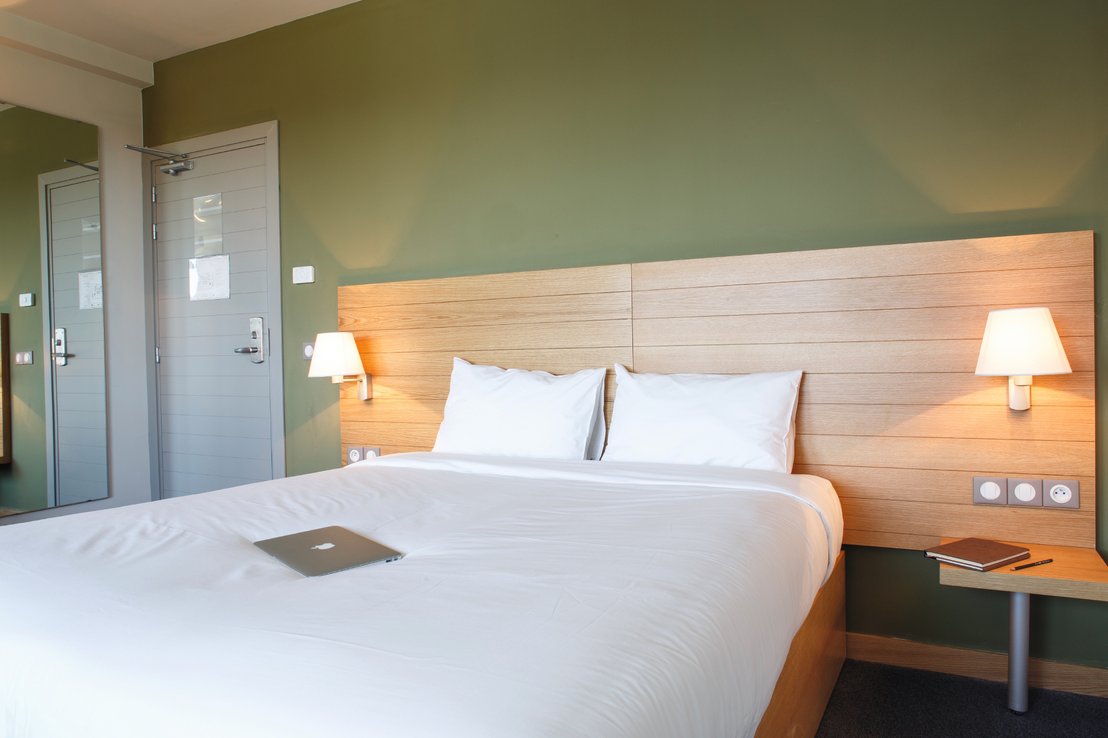 Single or double room (joint bookings only)
Breakfast
En-suite bathroom, TV, fridge, kitchenette, safe, air conditioner
Daily cleaning
Free WiFi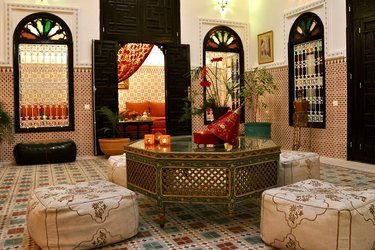 Single or double room (join bookings only)
Cosy courtyard house with en-suite bathroom, air conditioner, TV, common area
Free WiFi
---
Activities during your language study trip to Rabat
The relaxed ambience of Rabat guarantees a tranquil and truly captivating travel experience with a variety of awe-inspiring sights, breathtaking natural wonder and a history that will be sure to amaze and intrigue every visitor. As one of the hidden jewels of Morocco's tourism world, Rabat is a quieter and somewhat quainter version of the bigger cities while still boasting a trendy cosmopolitan vibe that keeps every tourist energised for the duration of their stay.
Royal Palace, Andalusian Gardens, Kasbah Oudaya, Great Mosque, Hassan Tower
Taste specialities, beach, oriental markets, sports activities
Medina, Fes, Casablanca, Khemisset
Our leisure programme at a glance
Morning:
Placement test / First language lessons
Afternoon:
Free time

Evening:
Free time
Morning:
Language course
Afternoon:
Trip ti Medina
Evening:
Free time
Morning:
Language course
Afternoon:
Free time
Evening:
Free time
Morning:
Language course
Afternoon:
Tour of the city
Evening:
Free time
Morning:
Language course
Afternoon:
Free time
Evening:
Free time
Excursion: Chefchaouen (full day)
Free time (all day)
Please note: All leisure activities and activities in the sample week are suggestions for your language study trip. Therefore, the leisure activities and excursions offered on site may vary and incur costs of €10-50.
The most exciting sights in Rabat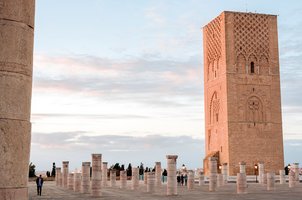 The landmark of Rabat is the 44 m high Hassan Tower. This is a minaret of an unfinished mosque. Since the landmark was half-destroyed by an earthquake, there are now countless columns here. From here you have a great view of the Salé marina and the sea.
Right next to Medina is the Kasbah des Oudaias, one of the most important buildings from the Almohad period. It is a beautiful fortress with small alleys. It also offers a fascinating view of the city of Rabat.
Medina is the old town and the heart of Rabat. The colourful bazaars are the highlight of Medina. During your stay in Rabat, you should definitely visit Medina, because here you can get beautiful and cheap souvenirs such as spices or handicrafts.
Sprachcaffe's exclusive activities
Marrakech is a spellbinding concoction of a thousand sights, sounds and smells that hit you as soon as you set foot in the city, sweeping you off your feet into the mystical and irresistible world of the Orient. This is a city of craftsmen, and whether they are producing traditional products or modern, artistic works of art, the craft tradition is central to Marrakech's prestige. Get lost among the souqs and narrow streets of the Medina, where it's best not to plan your route as you'll stumble upon fascinating stalls, architecture and people around every corner.
You have the chance to join a 2-day trip to this wonderful city with a tour guide, shared hotel room, packed lunch, and transport all included for €200.
Excursion to Oulja and Pottery Workshop
Oulja is an artisan village in Sale, filled with handmade arts and crafts, especially products made with clay. Here you can roam around for hours admiring the different sculptures and earthenware created by the local potters and artists.
Morocco has a wonderful and respected tradition of creating some of the finest pottery in the world, and for just €20 you can join an excursion to Oulja and a pottery workshop to learn to make anything from a flower pot to an ashtray.
---
Prices and services for your language trip to Rabat
With Sprachcaffe, everything you need for a successful language trip is included in the price. Accommodation, language course, placement test, language certificate and of course an unforgettable experience.
During Ramadan the school continues classes as normal, however there may be limited access to food.
We advise students to research the customs of the city prior to their language course, so as to better understand and enjoy the various cultures and traditions of the locals.
Do you have a question or need some advice?
We are always ready to solve any doubts you might have!