Our 2024 Catalogues are out!
Get your free Sprachcaffe 2024 catalogues now and discover what the new travel season has in store for you!
Chinese Courses in Beijing
With our language study trip to Beijing, you can effectively improve your Chinese. Our Chinese course offers you a relaxed learning atmosphere that will help you make progress in no time. Outside of your language course, you can enjoy the sights of Beijing with other course participants.
Our language study trip to Beijing offers you the opportunity to immerse yourself in China's fascinating culture and get to know its people and traditions. The Pekingese speak Mandarin, and are traditionally very warm and communicative.
Here you will meet like-minded people from all over the world who all have a common goal: Learning Chinese.
Location of the language school
Directly in a charming red building near the Royal Palace
In Beijing, the so-called Mandarin (High Chinese) is spoken.
Between tradition and modernity
Beijing represents China perfectly: deeply rooted in history and yet so modern.
Why take one of our Chinese courses in Beijing?
Our study abroad programs in Beijing are great cultural experiences: you have the chance to learn Chinese from qualified, native speakers whilst discovering one of the most exciting, contrasting cities in the world. The courses take place very close to the fascinating Forbidden City, which you can explore in your spare time, as well as the many other fascinating sites that Beijing is famous for. A Chinese course in Beijing is an investment in your future, too, and taking one gives you the opportunity to visit unique places, discover new cultures, and make new friends. Find out for yourself the many benefits of taking one of Sprachcaffe's Chinese courses in Beijing!
Language trips to Beijing for Adults
Language trips in Beijing for Juniors
---
Learn Chinese in a language course in Beijing
Where better to learn Chinese than in the capital of the People's Republic of China and the country's second largest city? Beijing, as one of the most heavily populated cities in the world, is a bustling hive of energy and production. This is the country's main economic, educational, political and cultural hub and offers plenty for the language traveler to experience while on their Chinese course in Beijing. Whether exploring the Forbidden City, admiring the many temples and pagodas, visiting the imperial tombs of the Ming and Qing Dynasties or wandering through the many museums; the opportunity to expand your knowledge of Chinese culture as well as the Chinese language will be at every turn.
The Sprachcaffe Chinese language courses in Beijing are designed to create an encouraging and motivating environment in which students feel confident to speak aloud. Through creative and fun teaching methods such as games, role play and discussions students learn to communicate effectively in the language right from the outset. The qualified, experienced and native teachers are always on hand to tailor the course to meet individual students needs and abilities. They are also there to help outside of the classroom with local sightseeing recommendations and help with your day-to-day experience of the Chinese language.
Determine the intensity of your language course
Courses with 6 to 15 participants
Learn Chinese from qualified teachers
Certificate of attendance
Receive your Sprachcaffe certificate at the end of the course
In the Standard Course you will learn Chinese in 20 lessons of 45 minutes each and a maximum group size of 14 people. The minimum duration of the Standard Course is 1 week.

More info »
Mini Group Standard Course
In the Mini Group Standard Course you will learn Chinese in 20 lessons of 45 minutes each and a maximum group size of 4 people.


The intensive course consists of 30 lessons of 45 minutes each and can be recognised as educational leave. The maximum group size for the intensive course is 14 people and the minimum duration is 1 week.

More info »
The Super Intensive Course consists of 40 lessons of 45 minutes each. The minimum duration is 1 week and it can be recognised as educational leave. The group size is limited to 14 people.

More info »
In the Special Academic Course you will learn Chinese in 20 lessons of 45 minutes each and a maximum group size of 8 people. The minimum duration is 8 weeks. Exam fee is not included.
With individual lessons, you can choose the topics relevant to you in 10 or 20 lessons of 45 minutes together with your teacher. The minimum duration is 1 week. Optionally, another person can take part.

More info »
Pawel traveled from Poland to Beijing to learn Chinese with Sprachcaffe and just loved the city and its people. He made enormous progress in his language skills!
Hitoshi was studying in our school in Beijing because, for him, the Chinese language is very important. He had the opportunity to learn and travel extensively in China.
Kim had an experience that exceeded her expectations of both the city and the people. Sprachcaffe and the team in Beijing were very helpful and she saw some incredible attractions.
---
Our new Beijing language school, furnished in Chinese and European style, is located very close to the Forbidden City and surrounded by centuries-old trees and lovingly landscaped gardens. Tiananmen Square is just a few minutes' walk away, where you will also find the two metro stations of the same name that take you to the hotel. Beijing's most famous shopping street - Wangfujing - is also less than ten minutes away.
The Forbidden City, the heart of Beijing, is without doubt the most beautiful and tranquil place in the capital. It served as the residence of the Ming and Qing emperors in past eras. It is the largest and best-preserved example of ancient architecture in the world. To this day, the area surrounding the Forbidden City, with its magnificent buildings and picturesque footpaths, is a popular spot for Beijingers seeking recreation.
Classes are held in small groups with a maximum of 15 participants. All teaching materials are provided for the duration of the course. The very modern classrooms at our language school in Beijing offer participants enough space to learn the Chinese language effectively. Due to the location of the Sprachcaffe language school in Beijing near a large park, you always have the opportunity to go outside or read in one of the pavilions, for example.
---
Our residence in Beijing is the perfect place to meet young people from all over the world. The contact with other young people has the advantage that your trip will be much more exciting, and on the other hand, you can use your newly learned language skills directly in conversation and thus also learn a lot outside of the Chinese course.
By staying in our residence, your language skills will strengthen by themselves and you will gain a lot of confidence in the foreign language! Our modern residence is centrally located - you can be at school in just 10 minutes! An internet corner, a TV lounge and a restaurant invite you to relax. Breakfast and dinner are served in the residence, a hot lunch is available at the school; on an excursion, students dine at a restaurant near the excursion destination. You can also do your laundry at the residence. A cleaning service for the rooms is included.
Your accommodation in Beijing is located in the heart of the city. Everything you could wish for on your language study trip to Beijing is right there with you.
After an exciting day in Beijing and a good language course, you can end the day with a relaxing bath right in your room.
Our teammates in Beijing are there for you around the clock and are happy to help. They are your first point of contact and organise activities in Beijing.
Our Beijing residence is located in close proximity to popular attractions such as the Forbidden City, Tiananmen Square and Wangfujing.
Double/single room
En-suite bathroom, TV, fridge, safe
Daily cleaning
Free WiFi
Single or double room (joint bookings only)
En-suite bathroom, TV, fridge
Daily cleaning
Free WiFi
---
The Chinese metropolis of Beijing will inspire you with its contrasts between tradition and modernity, its impressive sights and its diverse cuisine. Our language courses offer a unique opportunity to get to know all of this! You will also be impressed by our language school in the Forbidden City.
Leisure programme in Beijing
Morning:
Placement test / First language lessons
Afternoon:
Guided tour of the Forbidden City
Evening:
Free time
Morning:
Chinese language course
Afternoon:
Free time
Evening:
Dinner at Peking Roast Duck Restaurant
Morning:
Chinese language course
Afternoon:
Excursion to Summer Palace
Evening:
Free time
Morning:
Chinese language course
Afternoon:
Free time
Evening:
Excursion to Lashe Tea House
Morning:
Chinese language course
Afternoon:
Gongwangfu Garden / Hutong Tour
Evening:
Free time
Excursion: Biyun Temple, Xiang Shan (full day)
Excursion: Catacombs, Great Wall of China (full day)
Please note that the activities in our sample week are only recommendations for a language study trip. The excursions, times and additional programmes may differ from your language study trip and may incur costs of €10-50 locally.
The most exiting sights in Beijing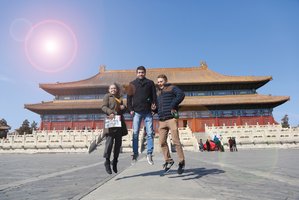 Not far from the Forbidden City is located the Tian'anmen Square, also known as Tiananmen Square. At 400,000 square kilometres, this is one of the largest public squares in the world and there are, among other things, a national museum, monuments and the Great Hall of the People. The highlight of this square is the flag-raising ceremonies that are held here.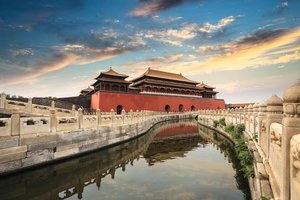 In the centre of Beijing is the Forbidden City. This palace complex is huge, with 890 palaces and over 8000 rooms. Since only emperors and their families lived in the Forbidden City, outsiders were not allowed to enter. Nowadays, both locals and tourists can visit the Forbidden City and learn about the imperial family.
The Great Wall of China is one of the most famous sights of China and is also called the "Great Wall". It has a length of 21,000 km and was already built in the 7th century for the protection of hostile tribes. From Beijing, you can easily reach the wall by public transport.
Beijing has a number of events that are worth a visit. Below you can get an overview of the activities that take place every year. If there is nothing on at the time of your trip, don't worry: this is only a small selection, as Beijing has a wide range of events to offer. If you have any questions or suggestions, please do not hesitate to contact our staff at Sprachcaffe Beijing!
Longqing Gorge Ice and Snow Festival: (January-February) This festival is definitely worth a visit during your visit to Beijing! Here you can expect ice lanterns, giant ice and snow sculptures and entertainment areas. The festival is open from 9am to 10pm, but it's especially worth going after sunset as everything is beautifully lit up in the evening.
The Grand View Garden Fair: (February) During the Spring Festival, the Daguanyuan Garden is also celebrated. The garden was modelled on one of the most famous Chinese novels "A Dream of Red Mansions". During the festival, there are performances and guessing games based on the novel, and visitors can try on traditional garments.
Yuyuantan Cherry Blossom Fair: (March-May) You can see the cherry blossoms not only in Japan, but also in Beijing. The annual Cherry Blossom Fair has been held in Yuyuantan Park since 1989. During this event, you can see more than 20 types of cherry trees in full bloom. Definitely worth a visit, especially to take great photos!
Moon Festival: (September) On the night of the full moon between September and October, the traditional Mid-Autumn or Moon Festival is celebrated, which is the second most important festival in China. It is a joyful harvest and family festival in which lanterns and moon cakes play a central role. It is also a day when people often get married or singles hope to find a partner on the day.
798 Art Zone Festival: (September) This art festival is held in the Dshanzi Art District, also called 798 Art Zone. Contemporary art is exhibited in this military factory in Chaoyang District. Through the festival, the 798 Art Zone has become a world-renowned cultural and creative district. With its cross-border, diverse orientation, it has become a magnet for artists and visitors.

---
Prices and services for your language trip to Beijing
With Sprachcaffe, everything you need for a successful language trip is included in the price. Accommodation, language course, placement test, language certificate and of course an unforgettable experience.
Do you have a question or need some advice?
We are always ready to solve any doubts you might have!