Limited spots available. Book your language study trip for the autumn holidays now!
---
Course Details for your language trip to Calgary
Through our language level assessment tests at Calgary we make sure you are placed in the class that is the right level for you. You will be in a class with students from all over the world with the same learning needs. The English courses in Calgary are held from Monday to Friday at our newly-renovated campus in the heart of downtown Calgary. Our professional native English-speaking teachers work to create a communicative and dynamic learning environment to suit all students' needs. At the end of the course, each student will receive a certificate stating the number of lessons taken and the language level achieved.
Standard courses, Intensive courses and much more
Placement test & certificate included
Qualified native English-speaking teachers
Overview of the courses we offer:
20 lessons of 45 minutes each
Minimum duration 1 week
Group size max. 14
30 lessons of 45 minutes each
Recognised as educational leave
Minimum duration 1 week
Group size max. 14
40 lessons of 45 minutes each
Recognised as educational leave
Minimum duration 1 week
Group size max. 14
10 lessons of 45 minutes each
Minimum duration 1 week
Group size max. 14
10 additional lessons
Choose from different focal points
Minimum duration 1 week
Group size max. 14
IELTS/TOEFL Exam Preparation
TOEFL or IELTS
20 lessons of 45 minutes each
Minimum duration 12 weeks
Group size ø 4 max. 14
10 or 20 lessons of 45 minutes each
You can choose the topics with the teacher
Minimum duration 1 week
Optional 1 or 2 people, the choice is yours
2 lessons per week of 45 minutes each
Minimum duration 1 week
Group size max. 10
free participation
24 lessons of 45 minutes each per week
20 lessons Standard Course + 4 lessons Workshop
Minimum duration 1 week
Group size max. 14
The examination fee is not yet included in the price.
Courses start every Monday (except for beginners). The minimum age for the Calgary English course is 18 years. For students aged 16-17 we will be happy to check the possibility of participation on request.
A student visa may be required for your language course in Calgary. We will be happy to inform you.
You can buy the teaching material at the language school or rent it for a fee.
---
Our language school in Calgary
Our language school is part of a North American network of language schools. Calgary is the "Canada of your Dreams" - a city surrounded by mountains and nature, and full of friendly people. The school is located in downtown Calgary and has been helping students reach their desired English level for more than 10 years. Calgary is conveniently located close to other great cities such as Banff, Edmonton, Whistler, and Vancouver. It is the ideal place for a language, culture, and travel adventure.
Just about all of Calgary's most famous points of interest can be reached on foot or by using public transport from downtown.
located in the heart of Calgary
Fully equipped classrooms
Large variety of leisure opportunities
---
In order to make the most of your English course, you'll need somewhere relaxing and comfortable to stay after each relaxing day. In Calgary we've got just what you need - we have many host families who have been hosting our language students for years and who go out of their way to make Sprachcaffe students comfortable, help them with their English and introduce them to the authentic Canadian way of life.
The Calgary homestay accommodation option offers you many opportunities to communicate with other people – such as the Calgary residents in your homestay or the other students – and thus continue to practise the English you learn during your language lessons. As a result, your learning can continue outside the classroom and you can enjoy your free time with friendly people from around the world.
Single or double room
half or full board
max. 40-60 min by public transport
Typical accommodation
---
Calgary is located in the Grassland region of Alberta, approximately 80 km east of the Rocky Mountains. With around 1.1 million inhabitants, it's the largest city in the state of Alberta. The "oil boom" of the early 1900s significantly increased the city's importance to the world and as a result many people from around the world traveled to Calgary to make it their home.
There is plenty to do while in Calgary, such as winter sports, shopping, visiting markets, museums, exploring, or just simply relaxing.
Sample schedule for your trip to Calgary
In the morning:
Placement test / First language lesson

In the afternoon:
Getting to know the group / Orientations Tour

In the evening:
Welcome party
In the morning:
language course

In the afternoon:
Excursion to Canada Olympic Park

In the evening:
Free time
In the morning:
language course

In the afternoon:
Free time

In the evening:
Games Evening
In the morning:
language course

In the afternoon:
Excursion to the Glenbow Museum

In the evening:
Free time
In the morning:
language course

In the afternoon:
Free time

In the evening:
Night Out in Calgary
Ausflug: Rocky Mountains (ganztägig)
Excursion: Chinook Center (all day)
Please note: The above mentioned activities are only a recommendation for your language travel to Calgary. On site excursions, times and activities may vary and cost 10-50 €.
Optional Activities in Calgary
Downtown Calgary, along Stephen Avenue Walk, you'll find the main shopping district filled with shops, restaurants, cafés and much more…
The Calgary Farmer's Market, located at 4421 Quesnay Wood Drive SW, is the city's most popular market for fresh produce and a wide range of delicious local foods.
If you're looking to shop 'til you drop, here are some of the most popular shopping centers in Calgary: The Core Shopping Centre, the Chinook Centre, the Deerfoot Outlet Mall, Riley & McCormick, Eau Claire Market, Cottage Craft, and, of course, "the Red Mile".
Geography and Climate in Calgary
Calgary is located near the foothills of the Rocky Mountains and gets more than 300 days of clear skies each year, making it the sunniest city in Canada. The city is famous for its friendly locals and beautiful scenery.
Calgary's climate is usually very dry - not surprising, considering it's Canada's sunniest city. The spring months usually provide the most rain. In the winter, the mountains are usually covered in snow, but Calgary itself receives substantially less. Calgary's winters are known for a local phenomenon referred to as a Chinook Wind. This wind can raise temperatures by more than 10 degrees Celsius in a single day! Over the course of a typical winter, Calgary experiences Chinook Winds 3 or 4 times for 3-6 days at a time.
The most exiting sights in Calgary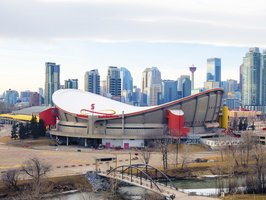 The iconic landmark of the city of Calgary is the Scotiabank Saddledome. It is a multi-purpose arena where you can watch winter sports games. The arena is the largest in the Canadian province of Alberta.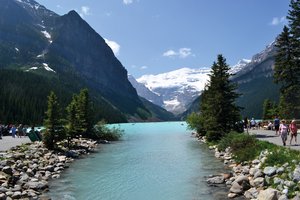 A stone's throw from Calgary is magical Spirit Island. It is a very small island located in Lake Maligne. From there you have a great view of the Canadian Rockies.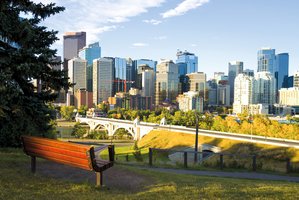 When you come to Calgary, you should definitely take some pictures of the skyline. You can get a good view of the skyline from Scotman's Hill, for example. Especially at sunset you have a fantastic view.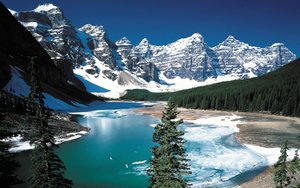 Calgary has a lot of events to offer that are worth a visit. Below you can find an overview of some annual activities. None of these happen during your time there? No problem! This is only a small selection Calgary has a variety of events to offer. If you have any questions or suggestions, please feel free to contact our staff at Sprachcaffe Calgary!
International Festival of Animated Objects: (January) Every year Calgary hosts the International Biennale, which celebrates masks, puppets and animated objects. Artists present their creative and original dolls, figures, backdrops and stories. Visitors can also attend theatre performances and workshops for a week.
Funny Fest Calgary Comedy Festival: (May - June) The Comedy Fest presents stand-up comedians, music comedy and a whole range of other entertaining performances. In addition to the performances, workshops and seminars can be attended to introduce visitors to the secrets of comedy.
Taste of Calgary: (August) The most appetizing festival is called "Taste of Calgary": to taste the culinary specialities of the region, you've come to the right place. For $1 each, you can try a variety of delicacies. The food and drinks are accompanied by a varied programme of great live music.
Calgary International Film Festival: (September - October) Film enthusiasts will get their money's worth at this festival: for 12 days a total of 200 films from 30 different genres will be shown. In addition to the films, there will also be gala events and the opportunity to take a look behind the scenes.
---
In Calgary you will experience Canadian culture and nature up close. Find out more about our special offers and put together your perfect language holiday from a variety of language courses and accommodation options. Our prices already include all important services; however, the teaching material is not included in our package prices. You can rent or buy it at the language school in Calgary for a small fee. Discover our new low prices now and book online!
From Sprachcaffe you get an all-round carefree package. Everything you need for a successful language stay is included in the price. Whether it's: arrival as well as excursions, accommodation, language course, teaching materials, language certificate and of course a priceless memory.
Book your flights with us too!
We look for the cheapest flights with the best connection for you. Simply choose your language travel with flight in our shop and you will receive a complete package consisting of flight, accommodation and optional catering, language course, placement test and certificate.
Do you have a question or need some advice?
We are always ready to solve any doubts you might have!