Limited spots available. Book your language study trip for the autumn holidays now!
---

Inside the English School in Boston
We offer different types of language courses at our school in Boston. The school is furnished with modern and high quality equipment, and offers students access to:
A reception
13 spacious classrooms
A computer room with high-speed internet access
Free WiFi throughout the school
Refrigerator, microwaves & water coolers
Location of the English School in Boston
Our language school is located in a beautiful historic building in Faneuil Hall Market Place, in the heart of the city. There are subway stations and many historical sites within walking distance from the school, such as the Old South Meeting House, King's Chapel, and Boston Harbor. In the school's immediate surroundings there are plenty of restaurants, cafés and stores which students often visit after classes. Last but not least, Downtown Crossing, a popular shopping district, is also only a short walk away.
Students who study with us come from many different countries, including Venezuela, Argentina, Brazil, Korea, Colombia, Germany, France, Italy, Peru, Russia, Spain, Saudi Arabia, Turkey, and many more.
---
At Sprachcaffe we aim to create a natural learning environment that involves creative learning techniques in a relaxed and communicative atmosphere. The classes are led by talented and friendly teachers who use relevant and up-to-date learning materials that are easily adapted to suit the needs of every student. The English language learning experience is further enhanced within the classroom through enjoyable role play sessions, Q & A sessions and a variety of fun listening and reading activities.
Hitomi Saeki had an amazing experience in Boston and hopes to return soon to do another course with Sprachcaffe, further improve her English and continue to make friends from around the world.
Carmen and Ana decided to come to Boston together to learn English at Sprachcaffe. Their language skills improved greatly and they seized the opportunity to meet new people in the U.S.A.
Yumiko Hirano spent a month at the Sprachcaffe language school in Boston. She loved getting to know her host family and enjoyed her courses: her experience was very enriching and eye-opening.
With a variety of courses available we have a course for every individual at Sprachcaffe Boston. Students will be assessed on their language level and placed in the appropriate class with students at the same language proficiency level.
Simply choose the intensity of the course best suited to your needs, the frequency of your classes and the duration of your stay and the Sprachcaffe team will create the perfect course for you.
Here is a breakdown of the courses we offer in Boston:
* 1 Lesson = 45 minutes
** Exam fee not included. Start dates on average every 4 weeks
*** Placement fee = $300
Students must be 18 years or older - students over the age of 16 will be considered upon request
All courses with a duration of 12 weeks or more will require a USA student visa
---
In order to reach your potential and enjoy each lesson as much as possible, you're going to need somewhere comfortable and relaxing to unwind and reflect after each eventful day. Our college in Boston gives students the opportunity to practice their English beyond the classroom and make lifelong friendships.
Residence:
Single or double room
Shared bathroom, kitchen, laundry
Free WiFi
30-35 minutes by public transport from school
---
The legendary metropolis of Boston is simply far too good to sleep in and makes every language traveller in Boston marvel non-stop. Boston is called "the Athens of America" because of its many universities and cultural institutions, as the city impresses above all with its historical and cultural attractions. In addition, there are beautiful landscapes in the surrounding area. Famous sights include Fenway Park, the Freedom Trail, Beacon Hill, Back Bay, Copley Square and the trendy shopping area on Newbury Street. Combined with a language course, all this becomes an exciting adventure with Language Travel Boston!
The leisure programme at a glance
Morning:
Placement test / First language lessons
Afternoon:
Getting to know the group / Orientation tour
Evening:
Welcome party
Morning:
Learn English in the language course
Afternoon:
Excursion to Havard University
Evening:
Free time
Morning:
Learn English in the language course
Afternoon:
Free time
Evening:
Games evening
Morning:
Learn English in the language course
Afternoon:
City tour
Evening:
Free time
Morning:
Language course
Afternoon:
Free time
Evening:
Night Out in Boston
Excursion: Rhode Island (full day)
Excursion: New York (full day)
Please note that the activities in the sample week are only a recommendation for your language study trip in Boston.
The excursions, times and activities of your language study trip may vary on site. Additional costs of €10-50 may also be incurred.
Above all, Boston is renowned for being home to more than 100 colleges and universities, including 2 of the top 5 in the world. Because of this, Boston has earned the nickname "the Athens of America." Of course, Boston has a lot more to offer than just its universities. The city is filled with a rich history and many beautiful sites.
It's hard to narrow down all the exciting and enriching things to see and do in Boston, but we managed it in the end and here are our top picks!:
Fenway Park - Baseball is a true American pastime - something that can't be experienced at the same level and intensity anywhere else in the world. Fenway Park is perhaps the nation's most famous stadium and the fans in Boston are like no other. It is well worth the time and entrance fee to go to a Red Sox game in this illustrious stadium. Even if you're not familiar with the game of baseball, the atmosphere created by the 40,000 passionate fans will make you fall in love with the sport!
Copley Square - This Square has everything visitors of Boston are looking for, from the Boston Public Library to Newbury Street, which has the city's most exciting shopping opportunities. You can even go to the top of the Prudential building to get an unparalleled view over the entire city!
Boston is a unique place in America when it comes to culture. It is commonly known throughout the country that Boston has its own language - Boston English. This is the result of the city being such a popular destination for European immigrants, in particular the Irish. Boston also boasts its own particular cuisine and delicacies, mostly resulting from its location by the sea, such as the world famous New England clam chowder.
The people of Boston are, in every sense of the word, dedicated to sports. They are extremely proud of their professional and college teams, with a loyalty unmatched by any other city in America. People travel across America to see the Boston Red Sox (baseball), the New England Patriots (American football), the Boston Celtics (basketball), the Boston Bruins (ice hockey) and even the New England Revolution (soccer).
If you want a day out shopping in Boston, the most popular area is the Black Bay district. There you'll find everything you need. Other popular shopping areas include the downtown area and the Theatre District.
The most exiting sights in Boston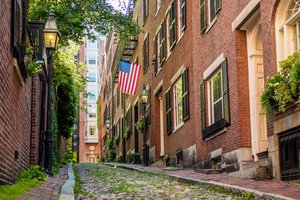 The most photographed street in Boston is Acorn Street, located in the Beacon Hill neighbourhood. No wonder, as it makes visitors reminisce about colonial Boston. The cobblestone street is definitely worth seeing, too.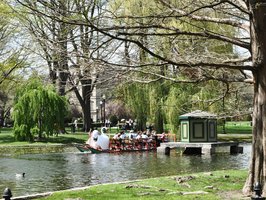 Boston Common has been built since the 17th century, making it the oldest park in the United States. If you feel like relaxing, you should visit this park! Here you can see the Boston skyline or take a ride on a swan boat.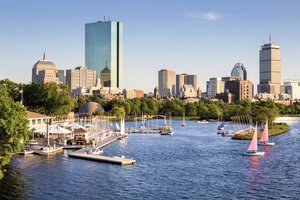 The Charles River runs across the eastern part of Massachusetts to the mouth of the Atlantic Ocean. From this river you have the perfect view of the city. You can also row, paddle or do other activities here at any time of year.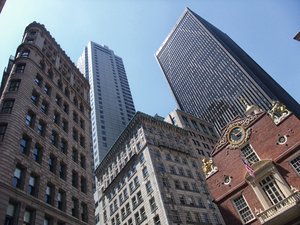 ---
Come and study English in one of the oldest cities in the USA. Our competitively priced English courses in Boston offer a range of inclusive services including accommodation for the duration of your stay.
Choose your preferred course type and duration, along with your chosen accommodation, then use the quick and easy booking system to check availability and book your course!
From Sprachcaffe you get an all-round carefree package. Everything you need for a successful language stay is included in the price. Whether it's: arrival as well as excursions, accommodation, language course, teaching materials, language certificate and of course a priceless memory.
Your English Course in Boston is Just a Few Clicks Away!
Course materials and textbooks can be bought or borrowed from our school for a small price.
Do you have a question or need some advice?
We are always ready to solve any doubts you might have!