Limited spots available. Book your language study trip for the autumn holidays now!
---
Our School in Los Angeles
Inside the English School in Los Angeles
We offer several English courses at our school in Los Angeles. The school is furnished with modern and high quality equipment, and offers students access to:
A reception
11 spacious classrooms
A computer room with high-speed internet access
A kitchenette
Location of the English School in Los Angeles
Our Los Angeles, South Bay language school is located in one of the safest cities in Los Angeles county, Torrance. There are tons of world famous attractions nearby, such as Hermosa Beach.
---
The Sprachcaffe English school in Los Angeles is dedicated to creating a motivating yet relaxed environment to help you achieve your learning goals in your chosen time frame. Through a wide range of teaching methods and material drawing on our many years of teaching experience as well as contemporary issues and topics, we strive to engage students from the first to the last minute of their course and encourage them to lose their inhibitions and express themselves. Our expert teachers use role play and games as well as diverse grammar, vocabulary, reading and listening comprehension exercises to get students speaking like natives in no time!
Seda was worried about coming to LA. However, once there, she found people to be helpful and kind, and was heartened by her relationship with her host family.
Sami really enjoyed talking with people. His understanding of conversation improved greatly during his studies. He enjoyed the mix of people in Los Angeles.
Quynh studied English for university. She made lots of friends from many different countries. She found the teachers to be very friendly and outgoing.
At our school in Los Angeles we offer English courses for all learners, from those who have never spoken English before to advanced linguists, and students who want a short crash course to those who have a whole summer to spare.
The qualified and native teachers at the language school in Los Angeles will help you get to a level where you can head off after each class with confidence to practise your English in an everyday context around LA. Being in a new and exciting environment means students return to class each day with lots to discuss as they describe their experiences, obserbvations and difficulties from their free time spent out and about in LA.
* 1 lesson = 45 minutes
** Exam fee not included. Starting dates on average every 4 weeks
*** Placement fee = $300
The minimum age of participation in this course is 18 years. For 16-17 year olds interested in this course we will look into the possibility of participation upon request.

Please note that a student visa will be required for all courses of 12 weeks and over in the U.S.A.
---
In order to ensure that your English course is as successful as possible, you need somewhere comfortable and relaxing to stay, where you can unwind and recharge you batteries after each eventful day. In LA, we've got just what you need - our amazing residence!
Single or double room
Shared bathroom, kitchen, laundry
Free WiFi
30-35 minutes by public transport from school
---
Activities in Los Angeles
Los Angeles is one of the most exciting cities in the world, offering plenty of sights, restaurants, leisure activities, shopping and, above all, plenty of sunshine all year round. Visit one of the many attractions such as Hollywood, Beverly Hills, Hermosa Beach, Laguna Beach, Rodeo Drive, Disneyland, Santa Monica, Malibu, the Los Angeles Stadium or Universal Studios. The multicultural city is lively and everyone who comes to Los Angeles immediately feels welcome. You too can enjoy the unique lifestyle in Los Angeles!
Overview of your language travel to Los Angeles
Morning:
Placement test / First language lessons
Afternoon:
Getting to know the group / Orientation tour
Evening:
Welcome party
Morning:
Language course
Afternoon:
Excursion to LACMA
Evening:
Free time
Morning:
Language course
Afternoon:
Free time
Evening:
Games evening
Morning:
Language course
Afternoon:
Excursion to Laguna Beach
Evening:
Free time
Morning:
Language course
Afternoon:
Free time
Evening:
Night Out in L.A.
Excursion: Disneyland (full day)
Excursion: Hollywood (full day)
We would like to point out that the activities in the sample week are only a recommendation for your Los Angeles language study trip. The excursions, times and activities of your language study trip may vary on site and may incur costs of €10-50.
The most exiting sights in Los Angeles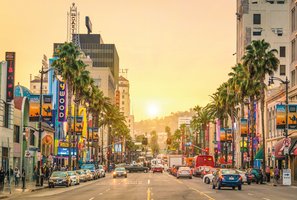 This walkway is one of the most famous in the world. Because on the floor you will find several stars with which celebrities have been honoured. Famous musicians such as Michael Jackson and Christina Aguilera have received a star on this walkway.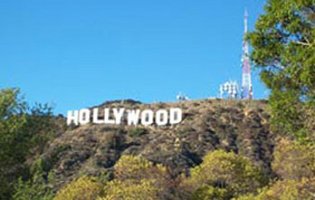 This Hollywood Sign is one of the most famous monuments in the world. It has also been featured in many famous films. Unfortunately, you can't visit the Hollywood Sign directly. But you can take beautiful photos from the Hollywood & Highland Center or the Griffith Observatory.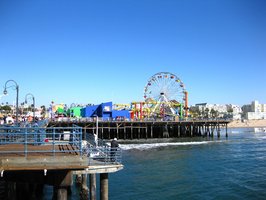 Do you love fairs? Then you should definitely visit the Santa Monica landmark. The Santa Monica Pier is an amusement park with fairground shops and great roller coasters. What's also special here is that this pier is the end point of Route 66.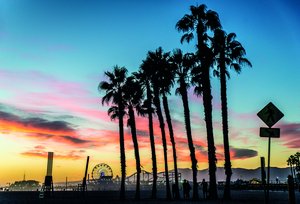 Los Angeles is surrounded by beaches, mountains, desert and world-famous theme parks like Disneyland. Enjoy the nature of the nearby parks or stay in the city for cultural events, concerts, shopping or to catch a professional sports game.
While the list of things to see and do is practically endless for the Los Angeles area, here are a couple of our favorite attractions:
Laguna Beach - One of the most famous beaches in America. Take a day - or more - to enjoy this picture perfect beach. You can spend an entire day there and not get bored, as the beach is surrounded by restaurants, shops and other attractions. Bathe in the warm Californian sun, eat at exquisite restaurants, dance at world famous clubs or browse the shopping centers!
Hollywood - A word that is synonymous with LA and it's world-leading film industry. Anyone who has been to Hollywood will tell you to expec tthe unexpected. Don't be surprised if you see your favorite celebrities shopping in the same shop as you or eating in the same restaurant. Stroll along the star studded streets and see where some of your all-time favorite movies were made!
Sure, Los Angeles is known for its sunshine, movies and celebrities, but the city also offers world class museums, operas, theaters, music and a rich and vibrant arts community. The Getty Center and the LACMA are two of the more popular museums in the city. The Geffen Playhouse and Ahmanson Theaters are renowned for their dramas, comedies and even musicals.
If you're looking for music , Los Angeles is the place to be. With everything from Polka to Hip Hop, the city is filled with many small clubs and concert halls hosting anything from the local up an coming band from the LA suburbs through to world famous singers. The Los Angeles Philharmonic, the Los Angeles Opera and the Hollywood Bowl Orchestra are some of the best in the country - if you can, try to check out at least one of them.
Los Angeles is truly a diverse city with unlimited cultural events to offer on any given day or night!
Being the extravagant city that it is, Los Angeles always offers a contender come the end of the season, regardless of which sport. While in town be sure to check out an LA Dodgers baseball game or see LA Galaxy play in a Major League soccer match. Other popular Los Angeles sports teams include the LA Lakers and LA Clippers in basketball, LA Kings in ice hockey, and UCLA and USC in college American football.
If you're interested in playing sports yourself, there are plenty of opportunities for that in LA too! You can, skate, kayak, fish, golf, bike, surf, swim, hike and much more!
Los Angeles has arguably the most diverse shopping in the entire US! There is everything from humungous shopping malls to corner store boutiques. New shops seem to pop up every day, so whatever you're looking for, you can definitely get it in LA!
It is pretty much impossible to go to Los Angeles and not enter a shopping mall. A few of the best known and most popular include the Hollywood & Highland mall, Grove and the Beverly Center.
---
Come to sunny LA and enjoy one of the most competitively priced foreign language courses around. Our low cost price package includes your choice of courses and accommodation along with all other essential services.
Choose your desired length of stay use the handy booking system to find the corresponding price for your chosen English course in Los Angeles. You won't find a better language course for a better price!
From Sprachcaffe you get an all-round carefree package. Everything you need for a successful language stay is included in the price. Whether it's: arrival as well as excursions, accommodation, language course, teaching materials, language certificate and of course a priceless memory.
Your English Course in LA is Just a Few Clicks Away!
You can buy or rent course materials and textbooks from the school for a small price.
Do you have a question or need some advice?
We are always ready to solve any doubts you might have!