Save up to €400 with the Sprachcaffe Espresso Discount!
Save big on your next language trip! Unwrap our incredible discounts and make your dreams a reality. Don't wait; start saving today!
Long term Spanish language courses
The Spanish language is gaining more and more importance. A Romance language related to Portuguese, French and Italian, Spanish is not only spoken in Spain, but also in large parts of the American continent. Spanish is the official language of many international organizations, therefore making it a global language.
With Sprachcaffe you can learn Spanish not only in Spain, but also in the middle of the Caribbean in beautiful Cuba. Discover the impressive Spanish cities of Barcelona, Madrid and Málaga or the capital of Cuba, Havana. Both countries lend themselves for an experience of a lifetime!
Madrid, Barcelona, Malaga, and Havana. Which ones of these dream destinations are you drawn to?
Experience the unique culture of your chosen destination and meet new friends. The experience of a lifetime awaits you!
With our long term language courses you will learn Spanish with our tried-and-tested methods and practice your skills both inside and outside the classroom!
During our personal consultation we will solve any of your doubts and create an individual offer for you.
Our language schools in Spain
✓ Stunning architecture
✓ From art to food, Barcelona has it all
✓ Practice Spanish on the beach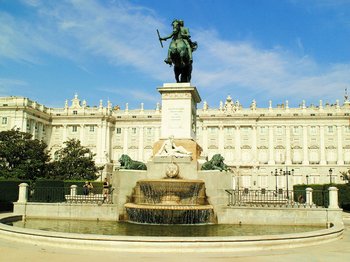 ✓ Historical stronghold
✓ Learn Spanish in the Iberic capital
✓ Perfect blend of modernity and tradition
Learn more
✓ Breathtaking nature
✓ Immerse yourself in Spanish culture
✓ Learn Spanish by the sea
Learn Spanish between Siesta and Fiesta
Spanish is becoming an increasingly popular language, especially on the global market. So if you truly want to learn the language, while also immersing yourself in the culture, take one of our long term Spanish courses. Choose between our language schools in Barcelona, Madrid and Málaga. All three cities are typically Spanish, but each has its own charm.
Madrid, Spain's colorful capital, is located inland, while Barcelona and Málaga are located on the Mediterranean Sea and offer beautiful beaches and palm trees. Find more information about the country in our travel guide Spain.
Our language schools in Cuba
✓ White and dreamy sandy beaches
✓ Great leisure activities program
✓ Learn Spanish in the Caribbean
✓ Useful information at a glance
✓ Tips about the country and its culture
✓ Events, culture, and more
Learn Spanish under palm trees
Why not combine a long-term language course with your vacation and travel to the breathtaking capital of Cuba? Havana offers impressive architecture, a diverse culture and beautiful sandy beaches. From tasty food to a vibrant culture, time spent in Cuba will be unforgettable.
Do you have a question or need some advice?
We are always ready to solve any doubts you might have!