Expatriation is, indeed, the main motivation for many people to learn foreign languages. Spanish, English, French and German are spoken in many different countries and those who master them are equipped with an indispensable prerequisite for smooth integration into the communities where they are spoken and an international professional career. That's why those who know a foreign language often make the exciting decision to live and work abroad.
Preparation - the key to success
Hundreds of thousands of people leave their native countries every year to live and work somewhere else in the world. It's an adventure you undertake on your own, with your partner or with your family, and which starts long before the plane takes off. Sometimes it takes people years to obtain their visa and have everything else prepared before leaving. Getting ready is, in fact, the key to success if you want to live abroad.
To start with, it's worth getting information from relevant institutional organizations, embassies or consulates. Traveling to the country for a few weeks beforehand is also extremely helpful to be sure you are making the right decision. You could also read specialized books or find interesting blogs by and interviews with expats: this will help you learn more about the advantages and challenges of living abroad. Forums for expats are also very useful for asking questions and sharing with people already living where you want to go.
Some websites, set up by seasoned expats, are dedicated to helping other expats by sharing the knowledge they have accumulated through years of experience living abroad. Among these is Expat.com, which provides its members with a large range of free services to help them prepare thoroughly for expatriation. As a true participative platform, Expat.com is a living community thanks to its 1.6 million members who share advice and help each other.
Once abroad: create your own network!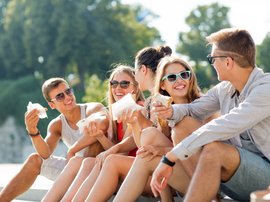 Every single expat will agree: living abroad is an adventure. A personal adventure that allows you to learn more about yourself than ever before. A human adventure where sharing and discovering becomes part of your everyday life.
Once abroad, and after the exciting first weeks, expats are faced with the task of finding their feet in their new community. One of the most common problems expats face is loneliness. Creating and developing your own network of friends will be just as important as finding a place to sleep and a job. To help with this, Expat.com is again at hand offering its members several tools to ease the process of meeting people and finding your place in your new country, with job offers, accommodation suggestions, ads, event listings and more.
Being an expat is a lifestyle choice. To make the best out of this wonderful experience, it is important to move forward with the right people by your side. Friends, family and other expats are essential to the success of your adventure. To be happy, surround yourself with nice people!