Gain Work Experience and Perfect your Language Skills
Eurocultura arranges internships with different companies in the city of Vicenza, Italy, for approximately 250 interns each year. Applicants are matched with companies based on their professional skills and expectations. As well as internships, Eurocultura organises accommodation, cultural programmes and an Italian Language and Culture course for participants, making this the perfect opportunity for anyone looking to improve their Italian skills while working in Italy.
Sprachcaffe can help you organise a work/internship/volunteer placement abroad, beginning with an in-country language course to get your language to the right level before your work begins.
Internship
Work in media, childcare, IT, arts & culture, event management, NGOs, marketing, social work, sports & leisure, tourism, environment, animal welfare or a Sprachcaffe school.
Language course: min. 8 weeks
Destinations: USA, Canada, UK, Europe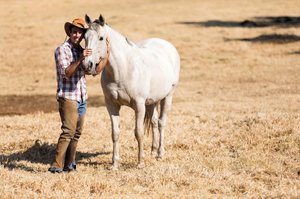 Ranchstay
Awaken the cowboy within you and discover authentic ranch life in the USA or Canada. You'll stay with an extremely welcoming farming family, ensuring your English or French improves tremendously, whether you're on a horse ranch, cattle ranch, alpaca farm, orchard or any other type of ranch.
Language course: min. 8 weeks
Destinations: USA, Canada
Panda Conservation
For the really adventurous, you could even dedicate yourself to panda conservation in China! Everybody loves pandas, and this is your chance to get up close and become an expert in one of the most endangered and lovable animals on Earth. And all while becoming fluent in Chinese!
Language course: min. 8 weeks
Destination: China
Summer Camps, which are prevalent in the USA, Canada and France, are supervised programs for children or teenagers, which usually focus on specialised activities and skills. For example, there are camps for performing arts, music, outdoor activities and sports, children with special needs and many more. Being a summer camp counselor involves leading activities you've highlighted in your application and supervising campers as they move between activities. If you're energetic and love having fun, you'll enjoy being a summer camp counselor as your time will be filled with lively and rewarding experiences.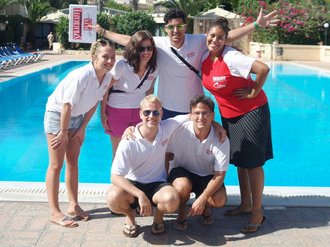 Like a summer camp counsellor, but even better. As a Sprachcaffe Teamer, you get to be a group leader, local guide, best friend, big brother/sister and guardian all at once. What's more, you'll be surrounded by people who are also there to improve their skills in the local language, so you'll get constant practice, whether its English in England or Malta, French in France or German in Germany. Teamers receive €140 per week, and this goes up to €165 for experienced Teamers. On top of that, your travel to and from the destination, your accommodation and your food will all be paid for by Sprachcaffe. You can choose to work for anywhere between 3 weeks and 3 months, any time between March and November each year.
Just as in winter, people also flock to the mountains in summer to go mountain biking, hiking, climbing and much more. If you love entertaining, working as a chalet host for a couple of months could be the perfect experience for you. All you need to do is keep the chalet clean, be welcoming and sociable and in some cases cook. The rest of the time you get to enjoy the beauty of the surrounding nature, while perfecting your French, German or Italian, depending on which part of the Alps you are in.
If you simply can't wait until winter to get back onto the ski slopes, then there is another option. New Zealand and Australia also have great winter sports resorts, fantastic for both ski and snowboard enthusiasts... and since they are in the southern hemisphere, their winter is at the same time as our summer. So why not spend the ski season on the other side of the world, sharing your passion for skiing or snowboarding, hitting the slopes every day and taking your English skills to new heights along the way?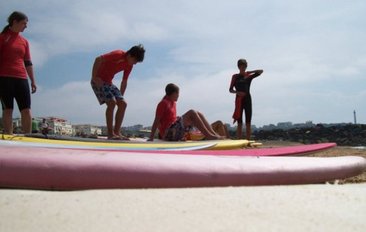 If you're more of a beach bum than a snow rat, and you're particularly well-versed in a specific water sport, whether it be sailing, windsurfing, surfing, waterskiing, wakeboarding or something else, you could land yourself a summer job as an instructor at a seaside holiday resort. The Mediterranean coastlines of Spain, France, Italy and several other countries offer tons of holiday resorts and water sports courses, with great conditions for sailing and waterskiing. For surfing it's better to head to the Atlantic coastlines of the UK, France and Portugal, or venture further afield to Morocco, the USA or one of the many other surfing hotspots the world has to offer.
While people volunteer all over the world, the regions of Central and South America, Africa and South Asia have a particularly large number of volunteering opportunities, often requiring minimal previous experience. Combine service, adventure and education while improving your language skills, particularly if the language you're learning is Spanish, French or English.

From Mexico all the way down to Chile's southern tip, the vast majority of countries have Spanish as their main language. The most popular countries among volunteers include Cuba, Guatemala, Nicaragua, Costa Rica, Colombia, Peru and Bolivia.

For anyone looking to improve their French while volunteering abroad, Africa is the place to be. French is an official language in many African countries and spoken by a large proportion of the population in Madagascar, Cameroon, Ivory Coast, Burkina Faso, Togo, Senegal, Mauritius, Seychelles and Comoros.

Africa also hosts a great many English-speaking volunteers in countries such as Sierra Leone, Liberia, Ghana, Nigeria, Zimbabwe, South Africa and Kenya. Two popular non-African volunteering destinations where English is spoken are Jamaica and India.

Needless to say, most of these destinations also have other local languages that date back long before European languages became so widespread. If you give the local indigenous language a shot, you're sure to impress the locals. Widely spoken languages include Hindi and Punjabi (India), Yoruba and Igbo (Nigeria), Hausa (Nigeria, Ghana, Ivory Coast and Togo) and Swahili (Kenya), among many more.

Here are a few of the most respected volunteering organisations:
Embark on an international internships, gap year experience, volunteer trip or high school/group volunteering programme in Costa Rica, Ghana, Greece, Guatemala, India, Morocco, Peru, Tanzania or Thailand. Internships are available in the areas of global health, social work, and economic development.
GVI arranges volunteer and internship trips in Africa, Europe, Asia, and South America in countries like Mexico, Fiji, South Africa, Seychelles, and Thailand. Internships vary in length from 6 to 24 weeks and are arranged on a case-by-case basis.
This organisation describes itself as the "Intercultural Center of Latin America" and facilitates volunteer and internship placements in Costa Rica, Guatemala, and Perú. Maximo Nivel partners with local hospitals, schools, and other community organisations where interns work for a minimum of 4 weeks.
Tailor-made international internships, volunteer projects, and study abroad opportunities in Barcelona, Buenos Aires, Cape Town, and Shanghai. You can focus on a wide variety of topics, including healthcare, human rights, social work, and much more, depending on your interests and background.
Projects Abroad operates placements in over twenty-five countries in all kinds of specialties, from medicine and healthcare to journalism to advocacy and human rights. Internship timelines vary and can start on any date, depending on the availability of the program, but typically last from four to twelve weeks.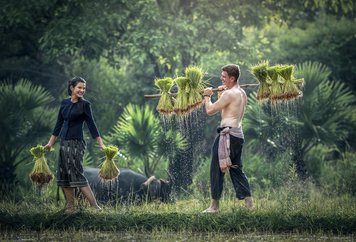 WWOOF offers a very different volunteering experience, with opportunities all over the world, and not just in developing countries. As a volunteer (or WWOOFer as they are known) you live alongside and receive meals from your host and, in return, you help with daily tasks and get to experience life as a farmer.
Opportunities are incredibly diverse, from working on husky farms in Finland, to picking fruit in Australia. With opportunities in every continent except Antarctica, you won't have trouble finding an opportunity to improve whatever language you want to work on.

A similar concept to WWOOF, but also offering opportunities to help out at non-organic farms, homestays, ranches, lodges, B&Bs, backpackers' hostels and even sailing boats. You could end up helping a family decorate their new home in Paris, working at the reception of a lively backpackers' hostel in Argentina or building an eco-lodge in the rainforest of Nicaragua.