Limited spots available. Book your language study trip for the autumn holidays now!
French Course in Nice for Adults
Come and learn French in the famous French Riviera!
Nice is more than just the capital of the Cote d'Azur: it is the fifth largest city in France and a chic coastal resort with an interesting historical and cultural history and impressive architecture. Located on the Mediterranean coast, at the western end of the Riviera, the city proudly presents a plethora of ruins, museums, shops and Venetian-style squares.
The Sprachcaffe school in Nice offers French language courses in a natural, laid-back environment. Our French courses in Nice are diverse and we offer something suitable for everyone, whether it's a 2-week language course during the summer holidays that you're after or a more in-depth exam preparation course.
The seaside resort on the Cote d'Azur offers both cultural diversity and total relaxation. Nice is famous for its beautiful beaches and wonderfully clear Mediterranean waters, and has been a top holiday destination for more than just the rich and beautiful for quite some time.
However, Nice is also a charming old town with a rich history and an amazing arts and culture scene which provides the perfect backdrop for language learning. You can also take advantage of the stunning surrounding areas on excursions in your spare time.
Why take one of our French courses in Nice?
Our exciting study abroad programs in Nice are great cultural experiences: you have the chance to learn French from native speakers whilst discovering one of the trendiest seaside destinations in Europe. In addition, the beach – combined with the Mediterranean climate – is a particularly good place for learning and relaxing. A French language program in Nice is an investment in your future, too, and taking one gives you the opportunity to visit unique places, gain rewarding experiences and create new friendships. In your spare time, you can explore the surrounding areas, including some of the other beautiful places along the Côte d'Azur or the wine regions further inland. Discover for yourself the many benefits of taking one of our French courses in Nice!
---
Inside the French School in Nice
Experience high-quality French lessons at our school in Nice. The pleasant, relaxed atmosphere is ideal for learning. Immerse yourself in the French lifestyle and language and enjoy an unforgettable holiday in Nice.
The French school in Nice is bright and has a comfortable learning atmosphere. It also has:
Spacious and well-equipped classrooms
Air conditioning in each room
A library
Internet access
A lounge with TV, DVD player, pool table etc
We offer different French courses at our school in Nice, and each course has a maximum of 12 students.
Location of the Language School in Nice
Our school is located on the edge of the old town, in a beautiful building from the "Belle Epoque". The stunning Basilica of Notre Dame is located just a few meters away, and bus stops as well as a train station aren't far from the school.
Students can spend their breaks and free time at the nearby beach, which is just a 10 minute walk from our French school. In sunny weather, classes are often held outside.
Nice is an ideal starting point for excursions into the countryside or to surrounding towns, such as Monaco, St. Tropez and Cannes.
---
Nice, the second largest French city on the Mediteranean Coast, is a great location to learn French. This architecturally beautiful capital of the Côte d'Azur provides a chic and quintessentially French backdrop for your language course. Believed to be one of the oldest human settlements in Europe, there is a wealth of culturally and historically rich attractions to see while during one of our French language courses in Nice. Whether you wish to explore the city or relax on the beach, you will have plenty of opportunity to practise your new language skills during your free-time.
Our French language courses in Nice
At the Sprachcaffe Language School in Nice our qualified and experienced teachers take care to create a relaxed and friendly classroom environment. This, we believe, encourages the student to shed their fears and inhibitions around speaking the language.
Through the use of topical teaching materials and creative teaching methods, our French language courses in Nice are designed to encourage discussion in French from the beginning. Debate, role play, games, Q&A sessions, and comprehension exercises are all used to ensure the student reaches their desired language goal.
We offer the following French courses in Nice:
* 1 lesson = 45 minutes
The minimum age of participation in this course is 18 years old. For 16-17 year olds interested in this course we will examine the possibility of participation upon request.
** Exam fee not included
Standard courses have 15 minute breaks in the morning. Intensive courses have a 45 minutes break in the afternoon.
---
Nice is a true tourist's paradise and for students to experience the idyllic nature of the city they need to experience typically French accommodation that is both comfortable and relaxed. Sprachcaffe offers a variety of accommodation options to ensure that every student has an accommodation type that will suit their individual requirements. Having a place to call "home" for the duration of the French course in Nice is essential and will play a huge role in the language acquisition process.
Note: in some cases, 1 person was be placed in a twin room with another student (x2 single beds).
Not only will students be experiencing a holiday in this breathtaking city but they will be absorbing the language naturally and experimenting with their skills constantly. With so many interesting people to meet from all over the world students will continue the learning process long after their classes.
Apartments – The apartments are fully furnished and offer a simplistic yet pleasurable place to call home. The apartments are perfect for students who enjoy a quiet moment to reflect while still experiencing the lively French culture.
Homestays – Our friendly host families welcome students into their homes and their cultures while exposing them to every nuance of the French language as it is used in its natural everyday environment.
Hotel – Our hotel is decorated in a typical French style with added privacy and endless opportunities to explore the city and experience a tranquil holiday in Nice.
Studio - Are you looking for accommodation with more privacy? Then we have the perfect offer for you! Instead of sharing an apartment with other students, you can have a studio apartment all to yourself.
---
Nice is one of the most renowned cities in the world with its enchanting Mediterranean atmosphere, spectacular scenery and fascinating history. The city is said to be the home of the earliest human settlers in Europe and boasts ancient ruins and exquisite architecture dating back centuries. Nice is famous for its luxurious lifestyle, laid-back café culture and a vibrant nightlife. With the variety of attractions in this captivating city, tourists will be enthralled and delighted by Nice's charm.
Leisure programme at a glance
Morning:
Placement test / First language lessons
Afternoon:
Free time
Evening:
Welcome party
Morning:
French language course
Afternoon:
Guided tour of Nice
Evening:
Free time
Morning:
French language course
Afternoon:
Free time
Evening:
Open-air cinema
Morning:
French language course
Afternoon:
Excursion to the Chagal Museum
Evening:
Free time
Morning:
French language course
Afternoon:
Free time
Evening:
School disco evening
Excursion: Monaco (full day)
Excursion: Antibes (full day)
Please note: This sample week for organising your language study trip is only a recommendation. All leisure activities, excursions and times are non-binding and may incur costs of €10-50 locally.
The most exiting sights in Nizza
This villa is located on the Promenade des Anglais and is an architectural jewel. Here you will find an exhibition on the history of art from the end of the 18th century. The villa is also surrounded by an enchanting garden.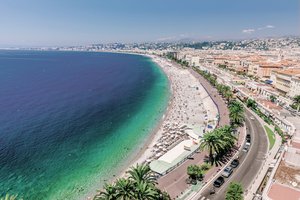 One of the busiest places in Nice is the Promenade des Anglais. There are beautiful parks, casinos, museums, beaches as well as luxury hotels here and is perfect for a stroll. Another plus is that many events such as carnival take place here.
This beautiful neighbourhood is the starting point for discovering the city of Nice. There are also many small cafés and restaurants here. Here you can enjoy a delicious coffee or a French breakfast with a view of the boats.
Tourist Attractions in Nice
Basilica Notre Dame – This Roman Catholic church is the largest church in Nice and offers an extraordinary glimpse into the Catholic religion.
French Pyramids – The pyramids were built during the 18th and 19th centuries and are a fascinating piece of French history.
French Riviera – The exquisite coastlines of the Côte d'Azur aim to intrigue and attract visitors. Explore the diving sites in the area or simply bask in the sun.
Opéra de Nice – As the principal opera venue in Nice, the Opéra de Nice offers operas, ballets and classical concerts. While in Nice one must visit this beautiful opera house.
Musée des Beaux-Arts de Nice – The museum is housed in the former residence of Princess Elisabeth Vassilievna Kotschoubey, the Ukrainian Princess.
Nice offers a delightfully diverse culture with a variety of cultural attractions to delight every tourist. The area has a rich history that is highlighted and showcased by the city's many museums, while the opera houses, art galleries and theatres create a distinctly artistic culture. As with most of France the café culture is foregrounded, while the trendier parts of Nice have a number of cocktail bars and nightclubs.
Fashion here is especially influenced by French and Italian styles and the many boutiques offer the latest trends. For a truly inspired shopping experience one must visit the La Rue Massena. The Nice Etoile and Galeries Lafayette have everything a tourist could want while in Nice.
Eating Out and Nightlife in Nice
Nice is famous for its cuisine with specialties that can only be experienced in Nice, like the delicious vrai pan-bagnat – a sandwich filled with the ingredients of Salade Niçoise, and pissaladière-beef with onions & black olives. Enjoy the mouth-watering ratatouille, porchetta and gnocchi in the many exclusive restaurants and cafés in Nice.
The city also has a vibrant nightlife with a variety of nightclubs and cocktail bars along the coastal boulevards. Enjoy a sunset overlooking the ocean or let your hair down in one of the trendy nightclubs.
---
Where better to learn French than in the stunning coastal city of Nice? Choose your preferred course and accommodation and use the table below to work out your price.
Our prices already include all the essential services you will need to have the best value, highest quality French language course.
From Sprachcaffe you get an all-round carefree package. Everything you need for a successful language stay is included in the price. Whether it's: arrival as well as excursions, accommodation, language course, teaching materials, language certificate and of course a priceless memory.
Your French Course in Nice is Just a Few Clicks Away:
Please note:
Check-in-times: 15:00-20:00.
For hotel bookings: double rooms are only available for two people travelling together.
Do you have a question or need some advice?
We are always ready to solve any doubts you might have!