Limited spots available. Book your language study trip for the autumn holidays now!
Learn Spanish in Malaga for Adults
Malaga is one of the most popular holiday destinations on Spain's Costa del Sol, with its gloriously sunny climate and welcoming atmosphere. On the south of the Iberian Peninsula, the city of Malaga boasts an inviting warm summer all year round with breathtaking scenery and a unique culture. There is no better destination to learn the Spanish language than in this holiday paradise in Spain.

Not only does the city boast awe-inspiring beauty and charm, but it is also home to an abundance of cultural attractions, from the famous white villages to the historic architectural wonders of the city itself. Take an afternoon to explore the city's shop-lined streets or indulge in a local specialty in one of the trendy cafés.
Our Sprachcaffe Languages Plus School in Malaga offers a range of courses to suit every student's language needs. Choose from our standard, intensive, one-to-one or academic courses and learn Spanish in this exquisite laid back environment. While exploring this Mediterranean nirvana, students are encouraged to absorb the culture and the language while practicing their Spanish knowledge with friendly locals and fellow students.
We follow a clear safety concept
This language school in Malaga has been certified as an "ELE Safe School" by FEDELE, the organisation of language schools in Spain. This means that in addition to the Sprachcaffe holiday concept, we follow a clear catalogue of measures to keep the risks as low as possible. There are clear procedures and policies for which all our employees have been trained. You can find more information about certification at Fedele.org.

---
Inside the Spanish School in Malaga
Sprachcaffe Malaga is housed in an original Andalusian villa and is a well-established learning academy. Students are warmly welcomed to our beach club, "La Tortuga", and public transport is reliable for getting around town, with a bus stop right next to the school.
Our school in Malaga offers:
A welcoming reception area
13 air conditioned classrooms
A roof terrace with beautiful views and where lessons are occasionally held
La Tortuga, a small bar offering a glimpse into the nightlife in Malaga
Location of the Spanish School in Malaga
In the bustling coastal district of Pedregalejo, our school is just 2km from the centre of Malaga and a short stroll from the beach. With the coast full of trendy bars and authentic seafood restaurants, guests are bound to find something to suit their tastes in this city famous for its food and hospitality.

One of the city's busiest areas, El Palo, is a short distance from the school. In El Palo, visitors get to experience the unique Malaga nightlife in its various trendy bars and restaurants. The beach promenade also boasts a wide variety of beach cafés and bodegas (wine cellars).
---
Our Spanish Courses in Malaga
The Sprachcaffe school in Malaga offers a variety of courses to suit every student's language needs. Choose from our standard, intensive, one-on-one, academic, active plus, teacher training and combi Spanish courses while absorbing the wonders of Malaga. Whether you want to learn Spanish from scratch or polish up on your existing knowledge, we have the perfect course for you.
Our language assessment tests ensure that learners are placed in classes with students of the same language level. Classes are led by our qualified, talented and friendly language teachers and are tailored to suit each student's unique requirements.
Kim studied for 10 months here and was impressed by the courses, the teachers and the fantastic weather!
Bart loved the food and the weather in Malaga. He found the small school size gave it a welcoming atmosphere.
Romke's Spanish improved greatly because of his course and his host family, who made sure he never had an empty stomach!
Our Spanish Courses for Adults in Malaga
| | Lessons Per Week | Minimum Duration | Group size | More Info |
| --- | --- | --- | --- | --- |
| Standard Course | 20 | 2 weeks | 10 | |
| Intensive Course | 30 | 1 week | 10 | |
| One-to-One Course | 10, 20 or 30 | 1 week | 1 | |
| Active Plus Course | 20 + 10 cultural activities + 3 evening activities | 2 weeks | 10 | |
| Teacher Training Course | 20 | 1 week | 10 | Learn how to teach Spanish as a Foreign Language |
| Combi Course 20+5 | 20 standard + 5 private + 2 Study Club | 2 weeks | 10 | |
| DELE Exam Prep and Academic Term Course | 20-30 | 4 weeks | 10 | |
| *Nacionalidad/Spanish Citizenship | 10 | - | 10 | - |
1 Lesson = 45 Minutes
Our courses are available to students over the age of 18, but students 16 years and older will be considered upon request.
*This is for non-EU citizens wishing to prepare for the Spanish citizenship test. The course consists of 10 lessons per week, which are taken in addition to a part-time or standard course at our school only.
*Estimated examination dates. The exam fee is not included. The courses are offered on request and availability.
---
At Sprachcaffe we aim to create a comfortable environment that you can call home for the duration of your Spanish course in Malaga. We offer a variety of accommodation options to suit every student's needs, while ensuring that every element of your stay in Malaga contributes to an unforgettable language and travel experience.

All of our accommodation options give students the opportunity to practise their Spanish skills and socialize with friendly locals and fellow students.
Accommodation Options for your Language Trip to Malaga:
| Accommodation | Rooms | Board | Facilities | Distance from School | More Info |
| --- | --- | --- | --- | --- | --- |
| Standard Apartment | or | | 2-5 rooms per apartment, shared kitchen & bathroom, washing machine & iron | 5-20 mins walk | |
| Homestay | or | | Typical of destination, shared bathroom | 5-20 mins walk | |
| Studio | or | | Private bathroom & kitchen, balcony, terrace &/or air conditioning, some sea views available | 5-20 mins walk | |
| Residence | or | | | | |
Check-in times:
Apartments- 12:00 - 24:00
Homestays- 08:00 - 24:00
---
Experience the fire of Spain! Málaga is not called the "Andalusian Jewel" for nothing. The cultural sights range from the recently opened Picasso Museum to the Alcazaba Royal Palace, which dates back to the 11th century. The city in the south of the Iberian Peninsula has a lot to offer, such as the famous white villages in the hinterland of Málaga or the impressive historic buildings in the city itself, including the cathedral, which you can visit with our language courses in Málaga.
The leisure programme at a glance
Morning:
Placement test / First language lessons
Afternoon:
Free time
Evening:
Welcome party
Morning:
Spanish language course
Afternoons:
Malaga city tour
Evening:
Free time
Morning:
Spanish language course
Afternoons:
Beach volleyball
Evening:
Tapas tour
Morning:
Spanish language course
Afternoon:
Guided climbing tour
Evening:
Free time
Morning:
Spanish language course
Afternoon:
Free time
Evening:
BBQ on the beach
Excursion: Granada (full day)
Excursion: Seville (full day)
Please note that the activities listed in the sample week are only recommendations for your Spanish language study trip. On-site activities and excursions may vary and cost between €10-50.
The most exiting sights in Málaga
On your trip to Málaga you must visit Gibealfaro Castle. Here you can learn all about the history of the castle, which was built in the 14th century. The highlight here is definitely the view over the whole of Málaga.
Beautiful beaches await you in Málaga. These beaches are often located on promenades. Perfect for combining a swim at the beach with a shopping trip.
If you love art, you should definitely visit the Centre Pompidou Art Museum during your trip to Malaga. Paintings by unique artists such as Picasso, Frida Khalo and Miró await you there!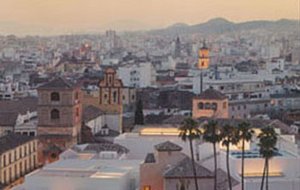 Discover all the highlights of Spain in our travel guide!

To the travel guide Spain »
Malaga is a cosmopolitan city and a Mediterranean seaside paradise. Situated on Spain's Costa del Sol, the city boasts a unique combination of ancient history, rich culture and peaceful coastal surroundings. While in Malaga, tourists flock to the breathtaking beaches and cultural enthusiasts are spoilt for choice when it comes to museums, monuments, beautiful architecture and even a few caves dating back to the Stone Age.
Tourist Attractions in Malaga
Alcazaba of Malaga – The alcazaba was built by the Hammunid dynasty early in the 11th century and is the best preserved alcazaba in all of Spain.
Museo Picasso Malaga – As the birthplace of Pablo Picasso, Malaga has a museum in the Beunavista Palace that showcases over 285 works, all of them donated by the Picasso family.
Tivoli World – The exhilarating amusement park offers a number of rides for the young and old as well as regular performances by the famous Maria Isabel.
La Malagueta Malaga Plaza de Toros – La Malagueta lies in the heart of the city and is one of the oldest bullrings in Spain. Bullfighting in Spain is an ancient sport that enthuses locals and tourists from all over the world.
Malaga Cathedral – this architectural beauty is a Renaissance church and a must see while in southern Spain.
The city is known for its festivals throughout the year, from the Semana Santa to the Feria of Malaga or the Festival de Cine Español. Malaga offers breathtaking Flamenco shows and is the host of one of the most popular MTSummer festivals as well as the famous Tapas Festival.
This Mediterranean paradise has no shortage of shopping destinations, from high-end boutiques to one of a kind craft and souvenir shops. The El Palo/Pedregalejo is the most popular market of the area, offering visitors everything from fresh produce to culinary delights and unique Spanish keepsakes. While shopping in Malaga, do not forget about the relaxed Spanish lifestyle, as most shops close in the afternoon. From Monday to Friday, shops are open from 10:00-13:30 and 17:00-22:00.
---
Our Sprachcaffe school in Malaga offers some of the most cost-effective Spanish courses around while guaranteeing a world-class language and travel experience.

All of our courses are taught by some of the best language teachers in the city in a laid-back and effective learning environment. Decide on the duration of your stay, the type of course you prefer and the ideal accommodation option for you, while we tailor your personalized price package.
From Sprachcaffe you get an all-round carefree package. Everything you need for a successful language stay is included in the price. Whether it's: arrival as well as excursions, accommodation, language course, teaching materials, language certificate and of course a priceless memory.
Choose your Spanish Language Course below:
Textbooks at school ( on loan from EUR 4/ week, EUR 15 deposit) or on sale.
All of our Spanish courses include:
A placement test ensuring students are placed into the appropriate class with students at a similar language proficiency level.
The chosen language course taught by qualified, talented and friendly teachers.
The chosen accommodation type for the duration of the course.
Course certificate upon completion of the language course
Do you have a question or need some advice?
We are always ready to solve any doubts you might have!