Save up to €400 with the Sprachcaffe Espresso Discount!
Save big on your next language trip! Unwrap our incredible discounts and make your dreams a reality. Don't wait; start saving today!
German Courses in Munich for Juniors
Welcome to the unofficial capital of southern Germany, Munich! Discover this "village of a million inhabitants", where German tradition comes alive.
Munich's wealth is visible everywhere you go, from it's beautiful old architecture to the well heeled locals and tourists who grace its streets. But style isn't the only thing this wonderful city has. There are tons of things to see here: BMW World, Bayern Munich and the largest inner city park in Germany are just a few of the things that are sure to impress. The city's beauty is even matched by that of the surrounding countryside, with the Alps nearby and stunning lakes and villages to admire.
Enjoy Munich completely carefree including accommodation, full board, excursions, language course and top tutors.
Improve your language skills in a relaxed atmosphere at our language school in Munich.
We have put together a top leisure programme for Munich. Read on and find out more!
Our experienced team of counsellors is carefully selected, well trained and they are always available for you.
---
Our school is located in two buildings. The main one is an elegant New Baroque style building dating back to 1900. We have more classrooms in another building close by. The school has seven classrooms in total, four of which are located at Franz-Joseph Straße 48, and three at Bauerstraße 2.
Along with the spacious classrooms and laid-back environment, our school keeps group sizes to a minimum, ensuring personalized and effective learning for every student.
Our language school in Munich is equipped with designer furniture and offers:
Subway station, busses and trams in the vicinity
Trendy cafés and restaurants within walking distance
Refurbished, modern and well-lit classrooms
German courses
7 classrooms, located in two buildings within walking distance of each other
Common room for students
Free Wi-Fi
Location of the German Language School in Munich
The school is located near downtown Munich in the district of Schwabing-West - a lively neighborhood with dozens of restaurants and cinemas within walking distance. The Englischer Garten, the biggest inner city park in Germany, is just a 15 minute walk away, while a walk into Munich Old Town only takes 20 minutes.

Local U-Bahn and tram connections:
U-Bahn: U3 – U6 (Stop : Hohenzollernplatz)
Straßenbahn: 27 -28 (Stop : Kurfürstenplatz)
A walk through the lively university district will take you right into the town center where you can get started with a city tour. Many sights can be easily reached on foot.
Accredited by the Organisation of German Language Travel Operators: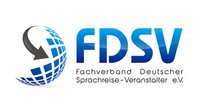 ---
A German course with Sprachcaffe is your best chance to improve your language level quickly and effectively while having fun!
The Sprachcaffe language school in Munich aims to create an open and communicative learning environment, encouraging students to converse from day one. Qualified, experienced, native German teachers use topical material and creative teaching methods such as role play, games and discussions so you quickly become confident expressing yourself in German.
Teaching always takes place between Monday and Friday.
20 lessons per week
Minimum duration: 1 week
Maximum 12 students

More info »
30 lessons (22.5 hours per week)
Minimum duration: 1 week
Maximum 12 students
---
For your language study trip in Munich, you will receive wonderful accommodation in our residence. The central location of our Munich residence offers you the ideal conditions for excursions and any activities that you would like to experience in Munich. You can expect full board and our helpful team members are always there to help you around the clock.
In our Munich residence, you have the choice between a single room and a triple room. The triple room in particular has an excellent youth hostel feel and you will quickly make friends. However, if you prefer to have your peace and quiet, the single room is just right for you. In our residence in Munich, you also receive full board with a packed lunch. You can reach our language school from the residence in just under 50 minutes by public transport.
---
Activities on your Munich language study trip
Get ready for a real adventure in Munich, German style! Just a few minutes from our language school is the English Garden, one of the largest city parks in the world. It is an oasis for sun worshippers and sports fans - with a small lake and the famous "Haus der Kunst".
Munich is a centre for sports fans. The Olympic Park, where the 1972 Olympic Games were held, is worth a visit, as is the famous Allianz Arena, home of the Bayern Munich football club. To get to know Munich's culture and history, a visit to Nymphenburg Palace is a must. In Schwabing, there are restaurants serving international specialities as well as a number of traditional Bavarian eateries where you can sample local cuisine, including roast pork with dumplings and coleslaw.
We organise activities especially for our young students, which are included in the course price. The following overview shows a typical example week on a language study trip in Munich, but may deviate from the ideal typical course depending on availability. Our on-site teamers do their best to ensure that our language students in Munich have an unforgettable holiday and experience.
Morning:
Placement test & lessons

Afternoon:
Orientation tour

Evening:
Welcome party
Morning:
Lessons

Afternoon:
BMW World: take a look at the newest cars exhibited

Evening:
Free evening
Morning:
Lessons

Afternoon:
Free afternoon

Evening:
Free evening
Morning:
Lessons
Afternoon:
Allianz Arena Football Museum: visit the home of German football
Evening:
Free evening
Morning:
Lessons

Afternoon:
Sports in the park

Evening:
Picnic with traditional Gerrman dishes
Full-day trip to Neuschwanstein castle
or Departure
For stays of 2 weeks or more, a full-day excursion is included!
The activities in our sample week are only recommendations for a language study trip. The excursions, times and activities may differ from your language study trip and may result in additional costs on site.
Even more fun with the Intensive Leisure Fun Pack!
With the ultimate Intensive Leisure Fun Package, you have the opportunity to take part in more excursions and activities. This package is offered at an additional cost of only € 100 per week.
---
Learn German in one of Europe's most prosperous cities. Our perfectly designed language study trip includes tuition by highly qualified, native German teachers, accommodation with a local family and organised visits to some of the city's most impressive sights. What more could you want?
Just choose the type of course you want and the ideal duration and we'll do the rest for you. These highly regarded German courses offer great value for money and a range of inclusive services.
With Sprachcaffe, everything you need for a successful language trip is included in the price. Accommodation, supervision, language course, placement test, language certificate and of course an unforgettable experience.
Transfers: Please try to arrange to arrive at Munich Franz Joseph Strauss Airport (MUC) between 10am and 7pm and to depart between 8am and 5pm in order to ensure transfer from/to the airport. Transfer is available from/to Munich main train station at all times.
Accompanied flights: Unaccompanied Minor Service is offered only if required by airline.


Do you have a question or need some advice?
We are always ready to solve any doubts you might have!