German Courses in Frankfurt for Juniors
With a fascinating blend of historic districts and modern areas scattered with imposing skyscrapers, the city of Frankfurt can hardly fail to impress its visitors. The city on the river Main is an important economic center in Europe and is consequently a highly international city, with relatively easy access to many other European cities thanks to its large airport and train station. However, as well as being a business hub, the city has retained many of its old buildings which have been restored to their original glory.
The city also boasts a "Museum Mile" - a stretch along the south bank of the Main which, in addition to containing many museums, is home to several charming garden restaurants. The Alte Sachsenhausen area, just a stone's throw away from the school, is an essential area for young people seeking thriving nightlife. Known as the 'apple wine district', there are over 20 bars and restaurants clustered together in a small area made up of beautiful, quaint old German houses.
Other magnificent buildings include Frankfurt's Old Opera House, which functions as a concert hall, and the Main Tower, which you can ascend for a stunning view of the city. In addition, Frankfurt boasts a glorious botanical garden and a large zoo, as well as countless restaurants and a diverse array of shops.
Why learn German in Frankfurt?
Our teenage language programs in Frankfurt are particularly memorable cultural experiences as young people from all over world come together to improve their German while experienceing Germany and its culture first hand. You can learn German from native speakers while discovering one of the most modern and exciting cities in Germany. A language course for young people is a significant future investment for any teenager, opening up a world of new opportunities for your future. Frankfurt offers a wealth of attractions to visit and our activity program will also be sure to keep you entertained.
---
Forget about learning German in a dull and dreary classroom and get ready to experience language learning with a difference. In the beautiful area of Sachsenhausen you will find Sprachcaffe's global headquarters as well as our German school for young students. Our school is fully equipped with a stylish German inspired interior that creates the perfect learning environment. Embrace the language in our relaxed and comfortable classrooms, and enjoy a refreshment at our coffee bar while you practise your German skills and meet interesting people from all over the world.
Our School in Frankfurt is fully equipped with:
A dynamic and welcoming reception area
Comfortable and stylish classrooms
A study area
A coffee bar
A lounge area
Our school provides a relaxed, fun and effective classroom environment to ensure that you feel at home in this breathtaking city and confident to engage in class discussions. With the help of our qualified and talented German teachers, you will have the opportunity to lay the foundation for a language skill that will prove to be an extremely worthwhile asset.
Our relaxed, open-minded and creative approach to language learning is guaranteed to make you feel inspired and confident enough to take your learning beyond the classroom walls. Discover the many hidden gems of the city and make the most of your time abroad. With the trendiest attractions nearby and the beauty of the river Main within walking distance, you will have ample opportunity to create incredible memories while you learn German almost effortlessly.
Accreddited by the Organisation of German Language Travel Operators: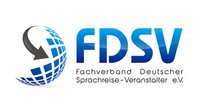 ---
With the help of our incredible language team, you will find yourself meeting your language goals in no time. Whether you plan to build on your already gained German skills or simply want to learn the language from scratch, our German courses will prove truly worthwhile, effective and enjoyable.
20 lessons per week
Minimum duration: 2 weeks
Maximum 12 students

More info »
30 lessons (22.5 hours per week)
Minimum duration: 1 week
Maximum 12 students
With every lesson taught by qualified, experienced and talented German teachers, you will be exposed to the language in its natural form while you enjoy the variety of fun and engaging activities we have planned. Learn how to read, write and speak the language in class and then experiment with your newly-acquired skills while you explore the streets of Frankfurt.
Our friendly teachers embrace Sprachcaffe's dynamic and creative learning methods and create lessons that meet the needs of every individual student, making sure that you enjoy a personalized and enlightening learning experience. Through fun and relaxed lessons, students are encouraged and given the support they need to gain confidence and learn how to voice their views openly.
---
While the vibrant International buzz found along the streets of Frankfurt will keep you truly enthralled, we know that having a comfortable place to retreat to at the end of an eventful day will ensure the perfect ending to each day's adventures.
Whether you want to experience a truly German way of life or would rather spend your evenings in the company of your fellow students, we have the perfect accommodation option for you. No matter what accommodation option you choose you can rest assured that every moment of your stay in Frankfurt will offer you ample opportunity to learn the German language, meet new people and create memories that will last a lifetime.
Homestay – Our host families welcome you into their homes and their cultures while you absorb the language naturally and experience a typical German home. You will find yourself creating wonderful memories with your host family and they'll play a fundamental role in your language journey.
School Residence – If you enjoy socializing with your fellow students while you learn all about the cultures of the world and enjoy the freedom that every young adult craves, then our school residence is perfect for you. Live in the center of the Sachsenhausen district, a mere stone's throw away from our language school, and enjoy the many amenities the residence offers.
Hotel – Our hotel guarantees a true holiday feel as you embark on an incredible language and travel adventure in Frankfurt. Meet new people from all over the world and enjoy the comfort of the hotel while you indulge in the mouth-watering German cuisine.
---
In Frankfurt, your time is all set to be an unforgettable adventure with a whole variety of exciting social activities planned to ensure you enjoy a true European vacation. We know that most of your memories will be made while you explore the bustling streets of Frankfurt's city center, so we aim to ensure that you have ample opportunity to discover and experience everything this vibrant city has to offer, while creating opportunities for you to practise your new German skills.
From the Frankfurt Cathedral to the awe-inspiring Old Opera House, the beauty of this incredible city provides the perfect backdrop for an enlightening and fun-filled language and travel experience.
Here's what the average week in Frankfurt has in store for you:
Morning:
Placement test & lessons

Afternoon:
Orientation tour

Evening:
Welcome party
Morning:
Lessons

Afternoon:
Goethe museum

Evening:
Laser Tag*
Morning:
Lessons

Afternoon:
Main Tower*: one of the tallest buildings of the city

Evening:
Free evening
Morning:
Lessons
Afternoon:
Senckenberg Museum: one of Germany's largest Nature museums
Evening:
Movie Night*
Morning:
Lessons

Afternoon:
Boat trip on the Main river*

Evening:
Farewell party
Full-day trip to Heidelberg
or Departure
* Even more fun with the Intensive Leisure Fun Pack!
With the ultimate Intensive Leisure Fun Pack you have the opportunity to take part in more excursions and activities. This package is offered at an additional cost of only 90 EUR per week.
It doesn't matter if you are a sports enthusiast or a shopping fanatic – Frankfurt has it all and with the help of our trained teamers, you will get to experience the diverse range of fantastic things to do and see. Enjoy a friendly game of football in the nearby park or put your general knowledge to the test in a competitive and fun quiz night. You're going to want to take something back home with you to remind you of the traditions you'll discover during your tiem here, adn with the many treasures to be found in local boutiques and souvenir shops that won't be a problem.
At Sprachcaffe, we guarantee that your days will be action packed with a load of fun excursions and activities. Visit the surrounding cities or experience the serenity of the river Main during a pleasant boat trip; adventure is waiting around every corner, so be prepared.
But don't worry, we don't think the fun should end when the sun goes down, so we have arranged everything from parties to karaoke evenings and more! Let your hair down with your new friends and embrace the opportunity to absorb the German language while you make memories that will last a lifetime.
---
Take your first step into young adulthood and get a taste of independence as you embrace a new culture and acquire skills that will open up hundreds of doors for you in the future. German is the most spoken first language in the European Union and thousands of foreigners move to Germany every year to make the most of the country's high standard of living, abundance of job opportunities, and rich and welcoming culture!
From Sprachcaffe you get an all-round carefree package. Everything you need for a successful language stay is included in the price. Whether it's: arrival as well as excursions, accommodation, language course, teaching materials, language certificate and of course a priceless memory.
Check Course Availability and Prices
Transfers: Please organize arrival at Frankfurt International Airport (FRA) from 10:00-19:00 and departure from 08:00-17:00. Transfer from Frankfurt main station is possible at any time.
Accompanied flights: Unaccompanied Minor Service is offered only if required by airline.


Do you have a question or need some advice?
We are always ready to solve any doubts you might have!