Our 2024 Catalogues are out!
Get your free Sprachcaffe 2024 catalogues now and discover what the new travel season has in store for you!
German Courses in Frankfurt for Adults
With everything from exquisite natural beauty to a rich culture and historic wonder, Frankfurt is a city that has it all. Frankfurt boasts the true German culture with a dynamic community, artistic flare and breathtaking scenery. With every element of Frankfurt displaying its wealth of history and culture, it is the ideal place to learn German.
Allow the architectural charm and inviting atmosphere to captivate you as you find yourself immersed in every aspect of the German culture. Experience Frankfurt's charisma first hand as you embrace the locals, the language and the lively culture.
Learn German together with international participants
Modern technology, outdoor area and WLAN - an ideal learning atmosphere.
Our trained language teachers use the latest and most motivating teaching methods
The skyline, a beautiful old town and the fascinating banking district
Why are language courses in Frankfurt worth it?
A language study trip to Frankfurt is a very special experience: learn German from qualified native speakers and discover one of Europe's most exciting cities at the same time. Enjoy apple wine, "Handkäs mit Musik" (cheese with music) and a varied leisure programme. A language study trip to Frankfurt is an investment in your future and at the same time provides you with many unique experiences, useful lessons and new friendships. Stroll through Frankfurt Zoo or discover exotic plants in the Palmengarten. See for yourself the many opportunities that a language study trip to Frankfurt offers!
Language courses in Frankfurt for adults
Language courses in Frankfurt for Juniors
---
Learn German in a language course in Frankfurt
We invite you to learn effectively and have fun at our language school in the heart of Frankfurt! Your learning success is our focus, which is why only highly qualified, native-speaking teachers teach here. Participants from all over the world communicate with each other in class. To ensure that you are neither over- nor under-challenged, you will first take a language test in Frankfurt to determine your language level. We offer German courses for all learning goals and requirements. Classes are always held from Monday to Friday. In addition to the German course, you can also improve your English in our English course Frankfurt.
Choose between different course models in Frankfurt
The teachers help you to achieve your goal
Highly qualified teachers
Learn German from native speakers
Placement test and language certificate
Enjoy the high language course quality
Course types for Frankfurt
In the Standard Course you will learn English in 20 lessons of 45 minutes each and a maximum group size of 14 people. The minimum duration of the Standard Course is 1 week.
The Study Club consists of 2 lessons per week of 45 minutes each. The minimum duration is 1 week. A maximum of 10 people can participate in the Study Club at the same time. Participation is free of charge.
The intensive course consists of 30 lessons of 45 minutes each and can be recognised as educational leave. The maximum group size for the intensive course is 14 people and the minimum duration is 1 week.
With individual lessons, you can choose the topics relevant to you in 10 or 20 lessons of 45 minutes together with your teacher. The minimum duration is 1 week. Optionally, another person can take part.
TestDAF Preparation Courses
In the TestDAF preparation course you can prepare in 20 lessons of 45 minutes each with a maximum group size of 12 other students. The minimum duration of the course is 8 weeks.
At the beginning, Eri was worried about coming to Sprachcaffe, but realised that she learnt quickly using German a lot!
Onur Öztürk liked the teachers' professionalism and believes you can learn fast with Sprachcaffe. He also liked the free time activities.
Hyo Jung Lee liked the small class sizes which gave her more time to learn! She also liked the teachers and other students.
---
Our language school in Frankfurt is located in the trendy Sachsenhausen district, close to the banks of the River Main. In the surrounding area, numerous cosy cafés and restaurants invite you to linger.
Outdoor area for dining and relaxing
In the middle of the beautiful nightlife district
Restaurants, cafés and bars nearby
5 min. to the waterfront with skyline view
Renovated, modern and bright classrooms
Accreddited by the Organisation of German Language Travel Operators: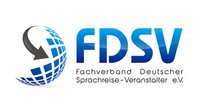 ---
Accommodation during your language study trip in Frankfurt
We offer a range of accommodation options to make your stay in Frankfurt as comfortable as possible, both before and after your language course. Because if you feel comfortable all around, this will also increase your learning success. In Frankfurt, you can choose between a flat, a host family and a hotel.
Choose your accommodation
Choose between host family, flat or hotel
Good transport connections
Underground station nearby
The day of arrival is Sunday, the day of departure is Saturday.
Also get to know the culture and German life.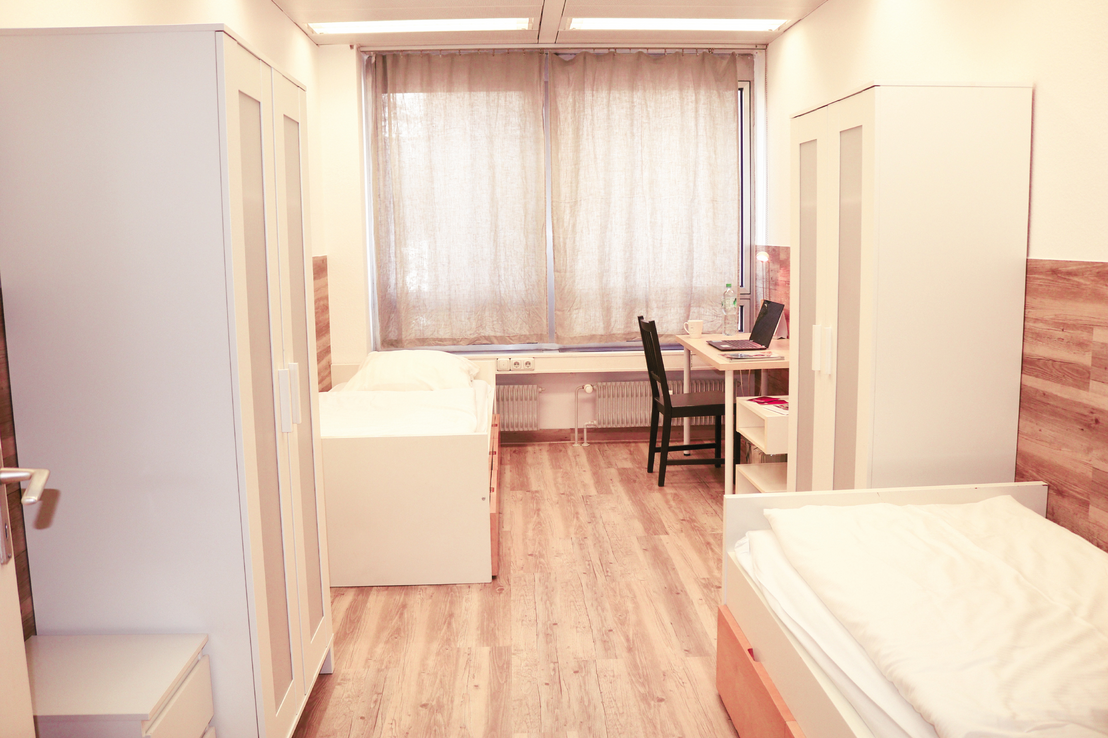 Single or double
International flatmates share kitchen/bathroom
Weekly cleaning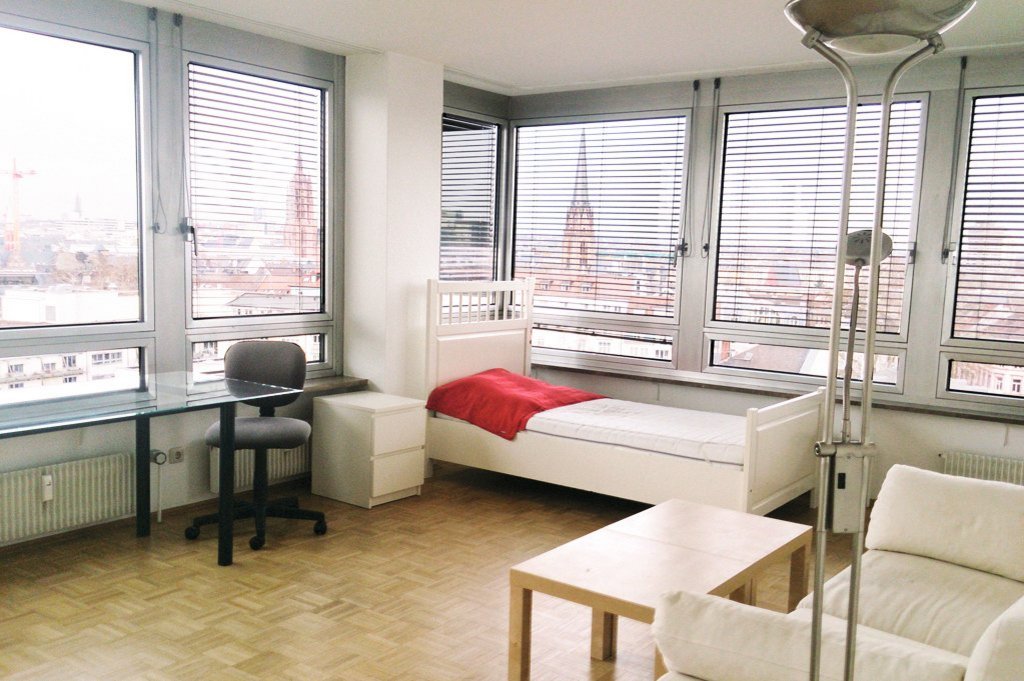 Single and double room
Higher standard
International flatmates share kitchen/bathroom
Weekly cleaning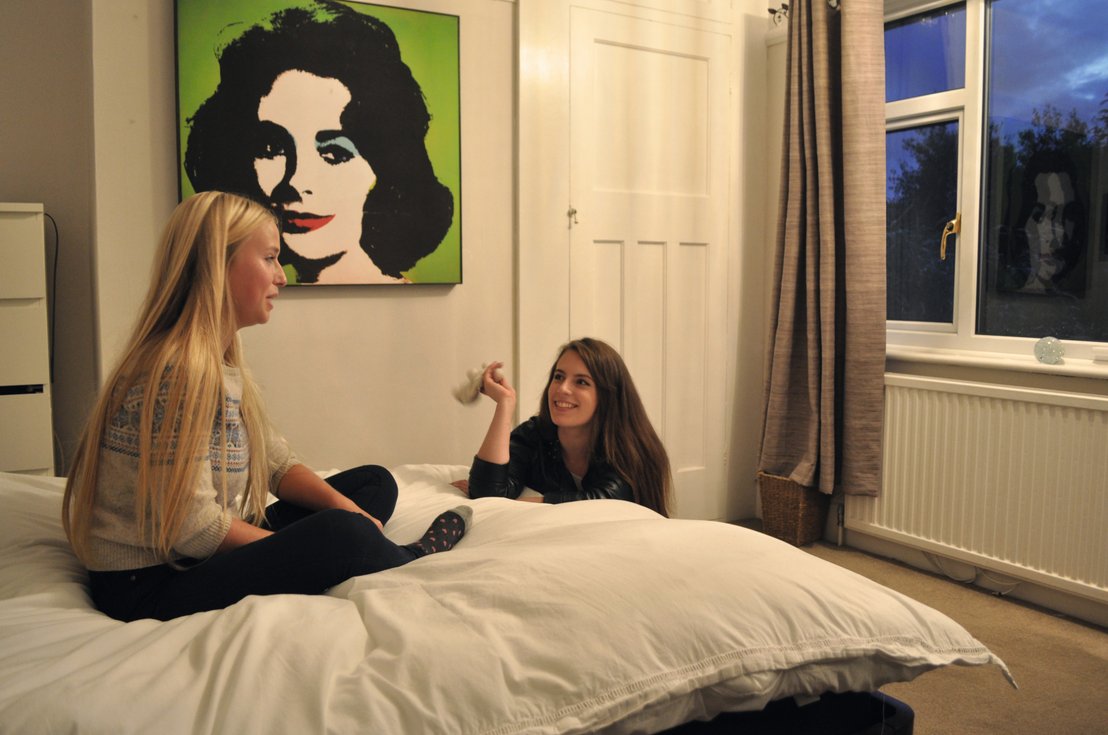 Single and double room
Half board
Shared bathroom/kitchen
Max 40 minutes from the school
Free WiFi
---
Frankfurt am Main is a cosmopolitan city that will enchant you with the charm of its historic old town and the impressive skyline of the banking district. The numerous museums on the banks of the Main, the remains of ancient Roman settlements and the cosy cider pubs in the trendy district of Alt-Sachsenhausen provide variety in your free time. Our language study trips are the most effective way to quickly acquire good German language skills.
Skyline, Eiserner Steeg, Römerberg, Main Tower, Palmengarten, Alte Oper
Museums, zoo, shopping on the Zeil, cider pubs, Kleinmarkthalle
Mainz, Wiesbaden, Heidelberg, Taunus, Karlsruhe, Darmstadt
The leisure programme at a glance
In the morning:
Placement test / First language lessons
Afternoon:
Getting to know the group
Evening:
Free time
In the morning:
Learn German in the language course
Afternoon:
Free time
Evening:
Cinema evening
In the morning:
Learn German in the language course
Afternoon:
Excursion to the Goethe House
Evening:
Free time
In the morning:
Learn German in the language course
Afternoons:
Sports: football, volleyball etc.
Evening:
Free time
In the morning:
Learn German in the language course
Afternoons:
Free time
Evening:
Visit to a cider restaurant
Excursion: Cologne (full day)
Excursion: Cologne (full day)
Please note that the activities in our sample week are only recommendations for a language study trip. Of course, you can organise your free time according to your personal interests. The excursions and activities mentioned may incur costs of €10-50.
The most exciting sights in Frankfurt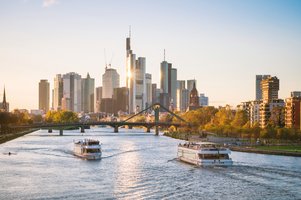 Did you know that only Frankfurt has a skyline in the whole of Germany? Reason enough to take a closer look at the skyline and take some nice pictures of it. The best place to do this is from the Eiserner Steg or the Alte Brücke. But you also have an incredible view over the whole of Frankfurt from the Main Tower.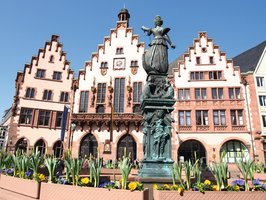 The beautiful town hall of the city of Frankfurt is today's Römer building. Today it is an important landmark of Frankfurt. You can find it in the old town of Frankfurt, on Römerberg and opposite St. Nicholas Church. In the Middle Ages, German emperors were even elected here. It is definitely worth a visit!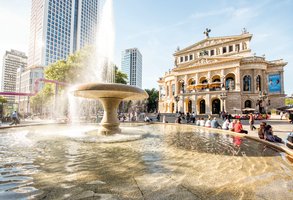 Since the old opera house in Frankfurt was badly damaged during the war, it had to be reconstructed. Since 1981, events, performances and concerts have been held there again. During your visit, you will certainly be impressed by the historic building. Various events such as galas, balls, concerts and much more await you here.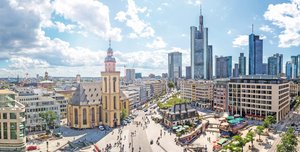 We would like to present you with a small selection of annual events in Frankfurt. These activities, as well as many other events taking place in Frankfurt, are well worth a visit! If you have any questions or suggestions, please do not hesitate to contact our staff at Sprachcaffe Frankfurt.
Musikmesse Festival: (April) The Frankfurt Music Fair is of great importance to the international music industry. In addition to the fair itself, there is also an associated festival, which is spread across the city and offers a variety of different concerts.
Osthafenfestival: (July) Every year in July, a large art, culture and music festival takes place in Frankfurt's Osthafen. There are 5 live stages with a lot of different artists. The best thing about it: the entire festival is free!
Sommerwerft: (July - August)The Sommerwerft is an international theatre festival with a variety of different artists. It offers a wide range of theatre, dance, music, performance and poetry and the whole thing is free!
Mainfest: (August) The Mainfest is one of the oldest public festivals held in Frankfurt to date. This event is all about celebrating the Main as a lifeline. It takes place in a large summer garden right next to the Main. The highlight of this event is the fireworks display.
Museumsuferfest: (August) Every last weekend in August, Frankfurt hosts one of Europe's largest art and culture festivals, the Museumsuferfest. Many museums on the banks of the Main are open until late at night, and there are also a variety of stages with lots of live music.
---
Prices and services for your language trip to Frankfurt
With Sprachcaffe, everything you need for a successful language trip is included in the price. Accommodation, language course, placement test, language certificate and of course an unforgettable experience.
Do you have a question or need some advice?
We are always ready to solve any doubts you might have!