Save up to €400 with the Sprachcaffe Espresso Discount!
Save big on your next language trip! Unwrap our incredible discounts and make your dreams a reality. Don't wait; start saving today!
German Courses in Munich for Adults
Welcome to Munich for your German language trip to Germany! Take German courses and discover the Bavarian capital, the "village with a million inhabitants".
The Bavarian metropolis inspires visitors with its modern museums, sunny beer gardens, cinemas, its association with BMW and cool music clubs. And with sport: surfing the "Eisbach" river in the English Garden, ice skating nights with 20,000 participants or mountain biking in the alps- you can do just about anything here! How would you like to see the world class FC Bayern Munich in the incredible Allianz Arena? Or take part in the Oktoberfest, the biggest public festival on earth? Beer, Lederhosen and Dirndls are a cult in Munich! And our language courses are the most effective way to improve your knowledge of German as quickly as possible, whilst getting involved in the German culture.
Learn German together with international participants
Location of the language school
The language school is located directly in Munich's cosy nightlife district Schwabing
At our language school in Munich we offer a wide range of language courses
Various attractions of an impressive city await you
What makes a language study trip to Munich so special?
A language course in Munich is a significant event. Learn German from qualified native speakers and get to know one of Europe's most beautiful cities at the same time. Enjoy mild evenings in traditional beer gardens, eat traditional roast pork with dumplings, and enjoy an exciting free time programme. A language course in Munich broadens your horizons and gives you an impression of the Bavarian way of life. Make new friends in the peaceful English Garden and modern clubs - enjoy swimming trips to picturesque lakes nearby, or guarantee the perfect weekend with a trip to the alps. Rest assured: a language course in Munich offers unlimited opportunities!
Language trips to Munich for adults
Germany language trips for Juniors
---
Learn German in a language course in Munich
A German course with Sprachcaffe is your best chance to improve your language level quickly and effectively, while having fun!
The Sprachcaffe language school in Munich aims to create an open and communicative learning environment, encouraging students to converse from day one. Qualified, experienced, native German teachers use topical material and creative teaching methods such as role play, games and discussions so you quickly become confident in expressing yourself in German.
Participants from all over the world communicate with each other in classes. To make sure you are in the right level you will take a test at the start of your course.
We offer German courses for everyone- whatever your goals or your requirements. Teaching always takes place between Monday and Friday.
Learn German together with international participants
The language school is located directly in Munich's cosy nightlife district Schwabing
At our language school in Munich we offer a wide range of language courses
Various attractions of an impressive city await you
In the Standard Course you will learn English in 20 lessons of 45 minutes each and a maximum group size of 14 people. The minimum duration of the Standard Course is 1 week.
The intensive course consists of 30 lessons of 45 minutes each and can be recognised as educational leave. The maximum group size for the intensive course is 14 people and the minimum duration is 1 week.
With individual lessons, you can choose the topics relevant to you in 10 or 20 lessons of 45 minutes together with your teacher. The minimum duration is 1 week. Optionally, another person can take part.
In the TELC exam preparation course you can prepare inTELC 30 lessons per week: 20 lessons of Standard Course + 10 lessons exam preparation, max. 10 students per class / exam fee not included / minimum 4 weeks
---
Our school is housed in two buildings. The main building is an elegant neo-baroque style building dating from 1900. Additional classrooms are located in another building nearby. The school has a total of seven classrooms, four of which are located at Franz-Joseph Straße 48 and three at Bauerstraße 2. In addition to the spacious classrooms and relaxed environment, our school keeps group sizes to a minimum to ensure individual and effective learning for each student.
Modern classrooms
Restaurants and cafés within walking distance
Relax after your language lessons
Students of different origins
Location of our language school in Munich
The school is located near Munich's city centre in the Schwabing-West district - a lively neighbourhood with dozens of restaurants and cinemas within walking distance. The English Garden, the largest inner-city park in Germany, is just a 15-minute walk away, while a stroll into Munich's Old Town takes just 20 minutes.
Local underground and tram connections:
Underground: U3 - U6 (stop: Hohenzollernplatz).
Tram: 27 -28 (stop: Kurfürstenplatz)
A walk through the lively university quarter leads you directly to the city centre, where you can start with a city tour. Many sights are within easy walking distance.
Accreddited by the Organisation of German Language Travel Operators: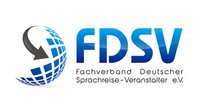 ---
Accommodation for your language course in Munich
Come live a unique experience in Munich and book a room in one of our families!
At Sprachcaffe we know that a comfortable place to call home for the duration of your stay is essential for the overall enjoyment of your travel and language experience in Munich. We offer homestay accommodation to ensure that every student has the perfect "home away from home" to enjoy before and after their German language courses.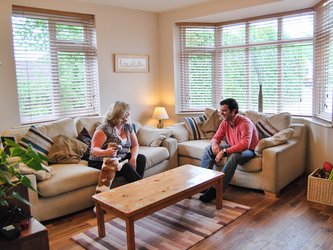 Single room
Half or full board
Shared bathroom/kitchen
Max 45 minutes from the school
Free WiFi
---
The Bavarian metropolis will delight you with modern museums, sunny beer gardens, cinemas, BMW and cool music clubs. And with sports: Eisbach surfers in the English Garden, skate nights with 20,000 participants or mountain biking in the Alps - there's simply everything here! How about a visit to the football stars of FC Bayern? Or at the "Oktoberfest", the largest folk festival in the world? Beer, lederhosen and dirndls are simply cult in Munich! And our language study trips are the most effective way to quickly develop good German skills.
The most exciting sights in Munich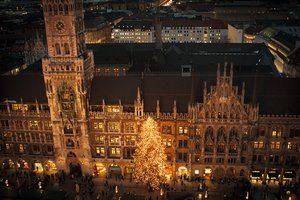 The world-famous centre of Munich is definitely Marienplatz. Marienplatz is located in the centre of Munich and is home to both the old and new city halls. In the tower of the new city hall you have a fabulous view over Munich.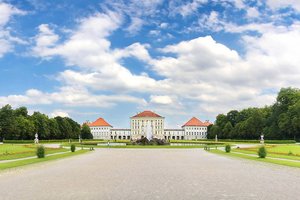 This royal park should definitely be on your to-do list. Lakes, animals, gondola rides and a small castle await you here. A perfect way to relax after your language lessons. This palace park is also one of the most important examples of garden art in Germany.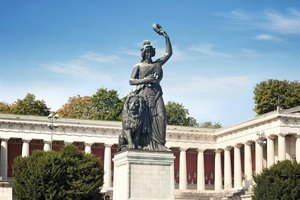 This statue is located within the Maximilian complex. The monument once holds a palladion in its left hand, which is supposed to stand for wisdom and struggle. In its right hand it holds an olive branch, symbolising freedom. When you visit, there is a terrace below the statue from where you can take great pictures.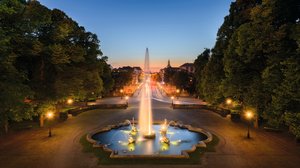 Munich, a city of tradition and innovation, hosts a variety of notable events. The world-famous Oktoberfest celebrates Bavarian culture, while the Munich Film Festival and Munich Opera Festival offer top-class cinema and opera experiences. The city's Christmas markets, Starkbierfest, and events like Tollwood Winter Festival provide diverse cultural experiences for both locals and visitors. Munich's calendar is a fusion of rich traditions and modern arts.
Oktoberfest (Late September to Early October):
Oktoberfest is the world's most famous beer festival, attracting millions of visitors from around the globe. Held in Munich, it's a celebration of Bavarian culture and traditions. Visitors can enjoy a wide variety of beer from Munich's breweries, traditional German food, lively music, and colorful parades.
Munich Film Festival (June/July):
The Munich Film Festival, known as "Filmfest München," is one of Germany's largest film festivals. It features a diverse selection of international and German films, including premieres and special screenings. The festival offers a platform for filmmakers, actors, and cinephiles to appreciate the art of cinema.
Munich Opera Festival (July):
The Munich Opera Festival, or "Münchner Opernfestspiele," is one of the most renowned opera festivals in the world. It features world-class opera and ballet performances at the Bavarian State Opera, showcasing the talents of international and local artists.
Christmas Markets (Late November to December):
Munich's Christmas markets are a cherished tradition. Visitors can experience the magic of the holiday season at various markets throughout the city, offering handcrafted gifts, festive decorations, delicious treats, and warm mulled wine.
Starkbierfest (March):
Starkbierfest, or "Strong Beer Festival," is a traditional Bavarian event where locals and visitors gather to enjoy strong, dark beer. The festival features music, food, and the festive atmosphere of Munich's beer halls.
Tollwood Winter Festival (November/December):
The Tollwood Winter Festival is a multicultural event held on the Theresienwiese, offering a blend of live music, theater, art exhibitions, and a vibrant market with a focus on sustainability and diversity.
Munich Biennale:
The Munich Biennale is an international festival for contemporary music theater. It features innovative and experimental performances that push the boundaries of traditional music and theater, making it a unique cultural experience.
These events offer a diverse range of cultural, culinary, and artistic experiences, making Munich a city that thrives on tradition and innovation, with something for everyone to enjoy throughout the year.
---
Prices and services for your language trip to Munich
With Sprachcaffe, everything you need for a successful language trip is included in the price. Accommodation, language course, placement test, language certificate and of course an unforgettable experience.
Do you have a question or need some advice?
We are always ready to solve any doubts you might have!