Save up to €400 with the Sprachcaffe Espresso Discount!
Save big on your next language trip! Unwrap our incredible discounts and make your dreams a reality. Don't wait; start saving today!
German Courses in Frankfurt for Juniors
With a fascinating blend of historic districts and modern areas scattered with imposing skyscrapers, the city of Frankfurt can hardly fail to impress its visitors. The city on the river Main is an important economic center in Europe and is consequently a highly international city, with relatively easy access to many other European cities thanks to its large airport and train station. However, as well as being a business hub, the city has retained many of its old buildings which have been restored to their original glory.
The city also boasts a "Museum Mile" - a stretch along the south bank of the Main which, in addition to containing many museums, is home to several charming garden restaurants. The Alte Sachsenhausen area, just a stone's throw away from the school, is an essential area for young people seeking thriving nightlife. Known as the 'apple wine district', there are over 20 bars and restaurants clustered together in a small area made up of beautiful, quaint old German houses.
Enjoy a carefree holiday including accommodation, full board, excursions, language course and a top tutor.
Learn English in Frankfurt with experienced language teachers. The lesson content is based on the German curriculum.
Discover Frankfurt and the surrounding area on numerous excursions with our team of tutors.
Our experienced team of coaches is carefully selected, highly trained and always available for you.
With an English course in Frankfurt am Main, you not only learn the language, but also have access to a large cultural programme. You'll also meet language students from all over the world and spend your free time with them.
For participants aged 13 to 17, we offer a supervised programme with many activities. Participants aged 18 to 21 receive a flexible programme with activities that can be taken part in according to individual interests. Participants of full age can also explore the city on their own.
Why learn German in Frankfurt?
Our teenage language programs in Frankfurt are particularly memorable cultural experiences as young people from all over world come together to improve their German while experienceing Germany and its culture first hand. You can learn German from native speakers while discovering one of the most modern and exciting cities in Germany. A language course for young people is a significant future investment for any teenager, opening up a world of new opportunities for your future. Frankfurt offers a wealth of attractions to visit and our activity program will also be sure to keep you entertained.
---
Our Sprachcaffe language school offers comfortable double or single rooms. Best of all, the language school is located in the same building as your accommodation. This means you don't have to take public transport to class in the morning. During busy periods, especially in the summer months, we also have additional accommodation just a 10-minute walk from our Frankfurt language school.
There are many beautiful parks in the vicinity of our Frankfurt language school that invite you to relax and do sports. The Main promenade is also just a 5-minute walk away. From Sachsenhausen, you can also see the impressive Frankfurt skyline.
The language school is located not far from the city centre. Only 10 minutes to the Zeil.
We offer modern teaching methods and learning materials for effective learning.
For 40 years we have been organising language study trips for seven languages around the world.
Our participants come from all over the world and want to learn languages.
Accreddited by the Organisation of German Language Travel Operators: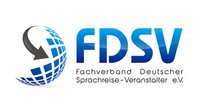 Frankfurt language school in beautiful Sachsenhausen
Around our language school in Frankfurt am Main, you will find plenty of everything you need for a successful stay in Frankfurt. You will find numerous cafés, restaurants, grocery shops and boutiques. You'll also have easy access to Frankfurt's public transport system. The Main promenade is just 5 minutes away. There you can relax in good weather, take a walk and marvel at the impressive view of the Frankfurt skyline.
---
You can also learn English effectively in Germany: language courses for students are the ideal way to improve your English skills quickly and sustainably. Here in Frankfurt, we offer standard English courses that are geared towards language beginners. These are not the familiar, dry lessons you know from school - on the contrary! Our English teachers try to introduce you to the language in a playful way.
The English course for students in Frankfurt consists of four to six lessons per day, i.e. 20 or 30 lessons per week. Grammar and text work will be part of the language lessons, but more important is the free speaking, because only by really using the language will you achieve security and self-confidence in the use of the English language.
Our modern classrooms provide the perfect atmosphere for effective learning.
Our well-trained teachers teach with fun and motivate you to learn.
Learn German, English and Maths with us in Frankfurt and improve your grades.
We are proud that our language school in Frankfurt am Main is recognised by the FDSV.
Choose your language course in Frankfurt
In the Standard Course you will learn German in 20 lessons of 45 minutes each and a maximum group size of 14 people. The minimum duration of the Standard Course is 1 week.
The intensive course consists of 30 lessons of 45 minutes each and can be recognised as educational leave. The maximum group size for the intensive course is 14 people and the minimum duration is 1 week.
A-level preparation course
The Baccalaureate preparation course takes place in 30 lessons per week and is suitable for all levels. There are 6 lessons daily from 09:00-14:30. The minimum duration of the course is 2 weeks.
Language test and certificate
To ensure that your language course in Frankfurt is effective right from the start, you can take our online language test at home before your trip begins. This helps us to select the right language course for you. At the end of the course, you will receive a certificate from us confirming your successful participation in the English course in Frankfurt.
---
Since you will also need a place to stay during your language study trip, we offer you three accommodation options in Frankfurt am Main. You can choose between a selected host family, our residence (summer only) and a hotel.
In the host family, you will be accommodated in a double room with full board. Lunch is provided in the form of a packed lunch. You will share your accommodation with other students. To ensure the quality of our host families, some of the accommodation is not located directly in the city centre. However, the school and city centre can be reached in no more than 30 minutes by public transport.
Our residence is just a few minutes' walk from the language school. Here you will be accommodated in a shared room with other young language students from all over the world. The hotel in Frankfurt am Main is also close to the language school. Here you will stay in a twin room with private bathroom and will also be provided with a packed lunch at the language school.
There are three options for your accommodation in Frankfurt. Host family, hotel and residence.
In any of our accommodations you can relax after your day in Frankfurt and prepare for the next day.
Language school proximity
All three accommodation options are in close proximity to the language school. That means no stress in the morning!
No matter where you stay on your language study trip, our team of tutors is always available and happy to help!
Multi bed / Double bed room
Full board
Hot lunch
5 minutes walk
Shared ensuite bathroom
Single or shared room
Wifi
5 minutes walk
Hot lunch
Shared ensuite bathroom
Things to know about accommodation in Frankfurt
Please note the time frame for departure, which takes place between 08:00 and 17:00. In our residence, you will sleep in simple 4-bedded rooms and will be able to try out your new English skills with the other international participants and make new friends. Our residence in Frankfurt am Main welcomes international students from all over the world during the summer and also has a restaurant, café and lounge.
With our full board, we make sure you always feel at home. Breakfast and dinner are served in the residence and a delicious packed lunch is provided for lunch on the go. The language school is just a 10-minute walk from the residence. There are also regular underground and bus services nearby. You are therefore fully mobile and have the best conditions for exciting discovery tours through Frankfurt!
---
In Frankfurt, your time is all set to be an unforgettable adventure with a whole variety of exciting social activities planned to ensure you enjoy a true European vacation. We know that most of your memories will be made while you explore the bustling streets of Frankfurt's city center, so we aim to ensure that you have ample opportunity to discover and experience everything this vibrant city has to offer, while creating opportunities for you to practise your new German skills.
From the Frankfurt Cathedral to the awe-inspiring Old Opera House, the beauty of this incredible city provides the perfect backdrop for an enlightening and fun-filled language and travel experience.
Here's what the average week in Frankfurt has in store for you:
Morning:
Placement test & lessons

Afternoon:
Orientation tour

Evening:
Welcome party
Morning:
Lessons

Afternoon:
Goethe museum

Evening:
Laser Tag*
Morning:
Lessons

Afternoon:
Main Tower*: one of the tallest buildings of the city

Evening:
Free evening
Morning:
Lessons
Afternoon:
Senckenberg Museum: one of Germany's largest Nature museums
Evening:
Movie Night*
Morning:
Lessons

Afternoon:
Boat trip on the Main river*

Evening:
Farewell party
Full-day trip to Heidelberg
or Departure
For stays of 2 weeks or more, a full-day excursion is included!
The activities in our sample week are only recommendations for a language study trip. The excursions, times and activities may differ from your language study trip and may result in additional costs on site.
Even more fun: Intensive Leisure Fun Pack
With the ultimate Instensive Leasure Fun Pack, you have the opportunity to participate in twice as many excursions and activities, such as a visit to the Main Tower or a Main Cruise. This package is offered at an additional cost of only 130 euros.
---
Prices and services for language trip to Frankfurt
Would you like to learn German with us in Frankfurt? Then you've come to the right place, because on this page we'll inform you about our prices, dates and services for language courses for students in Frankfurt am Main. We organise the language course, accommodation and leisure programme for you, so that you can relax and enjoy your holiday. In Frankfurt, you will meet international students from all over the world during your language study trip. It's guaranteed that you'll never be bored and you'll get to know lots of different cultures.
If you are between the ages of 12 and 18, you can sign up for our language camp programme for students and experience an adventure in Frankfurt with a language course! Are you already 18 or older? Then you can also take part in our adult language courses!
With Sprachcaffe, everything you need for a successful language trip is included in the price. Accommodation, supervision, language course, placement test, language certificate and of course an unforgettable experience.
Do you have a question or need some advice?
We are always ready to solve any doubts you might have!