Save up to €400 with the Sprachcaffe Espresso Discount!
Save big on your next language trip! Unwrap our incredible discounts and make your dreams a reality. Don't wait; start saving today!
English Courses in St. Julian's for Juniors
Escape the unpleasant weather at home and enjoy an immersive English course at our St. Julian's campus in sunny Malta - the number one location for English courses on the Mediterranean. A magnificent climate, relaxed mentality, and English as the island's official language – what more could anyone desire? There are very few other places in the world that will allow you to learn and grow in such a relaxed and diverse environment.
The picturesque coastal town of St. Julian's lies on the east coast of the island. Once a fishing village, it is now a lively town and a great place for young people to learn English and make lasting friendships. Characterised by a wonderful climate and a charming landscape, St. Julian's is unlike no other.
With more than 300 days of sunshine, St. Julian's has the best Mediterranean climate! What better way to learn English than doing it a few steps away from the beach?
International environment
Through constant contact with locals and international travellers, you will learn the language in a faster and more effective way.
Diverse recreational programme
Supervised recreational activities for 14-17 year olds as well as more flexible ones for 18+: a langugae trip that they will never forget!
Flight chaperone available
We are happy to accompany you on your flight for an additional charge and ensure a safe and pleasant journey.
Learn English in the most picturesque location
Once a small fishing village on the east coast of Malta, St. Julian's is now a picturesque coastal town that has retained the charm of the past despite its incredibly lively everyday life. The Sprachcaffe school is located in the middle of this picture-postcard idyll, location that has become a favorite of many of our past and present language students. St. Julian' has truly something for everyone, from those that prefer taking a stroll in its history-filled streets to those that simply want to relax in one of the town's many restaurants and cafés.
When students are not busy with their English lessons, they can be found cooling off in the crystal clear Mediterranean waters, playing beach volleyball, or exploring the variety of small boutiques and the popular nearby shopping center. In the evening, the local area transforms into a vibrant meeting place for young people, with the buzzing nightlife hub of Paceville within walking distance. With its wonderful weather and wealth of activities available, it's easy to understand why St. Julian's is such a popular destination for teenagers from around the world!
If you are over 18 years old, we also offer language courses in Malta for adults - we have something for everyone in Malta!
Meals, soft drinks and snacks right on campus
Relax and take a swim in our amazing pool!
Challenge your friends in a friendly beach volleyball tournament.
Surf not only the sea, but also the internet as much as you like.
Why sign up for one of our English courses in St. Julian's?
Taking an English course for teenagers in Malta is a unique experience, not least because of the incredible location: you get to learn English from qualified, native teachers, while relaxing in a Mediterranean holiday resort, what more could you desire!. Enjoy Malta's endless summer, make friends with other teenagers from all over the world, and improve your English at the same time. Our students can choose from a wide range of courses: from beginner to A-level preparation. Being able to confidently communicate in English has become fundamental nowadays, so taking an English course is truly an investment in your future. But Sprachcaffe' language trips are more than just learning a language: they are an invaluable opportunity to make lasting friendships and take your first independent steps in a safe and relaxed environment. So what are you waiting for, sign up and discover the many benefits of taking an English course in St. Julian's!
---
Our School in St. Julian's
Our English school in St. Julian's is located in the exclusive Club Village, Sprachcaffe's privately-owned learning environment. Not only does the large facility include several fully-equipped classrooms, there are also a variety of carefully designed apartments for students to stay in.
And that's not all... On the grounds of the English school, we are also lucky enough to have a restaurant and a bar where parties are held in the evening. And the list of facilities doesn't stop there... A beach volleyball court, large shaded garden and huge swimming pool can be found outside, offering everyone an opportunity to unwind, have fun and cool off without even leaving our premises. For those who just want to lounge around and cool off indoors, we have a TV room with satellite channels as well as a selection of DVDs, as well as a games room with a pool table.
For the adventurous, we also work with a scuba diving center, which offers taster courses for beginners as well as sessions for more advanced divers.
The language school is located directly on the amazing Sprachcaffe campus.
The campus includes residence, restaurants, bar, pool, beach volleyball court, garden and much more!
WiFi is free of charge on campus.
Teaching materials are provided at no extra charge.
The quality of the language school is regularly checked and confirmed by FELTOM (Federation of English Language Teaching Organisations Malta) according to strict criteria. The accreditation system ensures that academic excellence is achieved and maintained. We strive, together with FELTOM, to set quality standards in all aspects related to the student's stay in Malta, including safety, welfare, accommodation, and leisure requirements.
Cambridge Preparation Centre
Sprachcaffe Malta is a Cambridge Preparation Centre. With us, you can prepare for a specific English certificate and then take the Cambridge exam of your choice. You can find more information about language courses to prepare for English certificates in the section about language courses in Malta.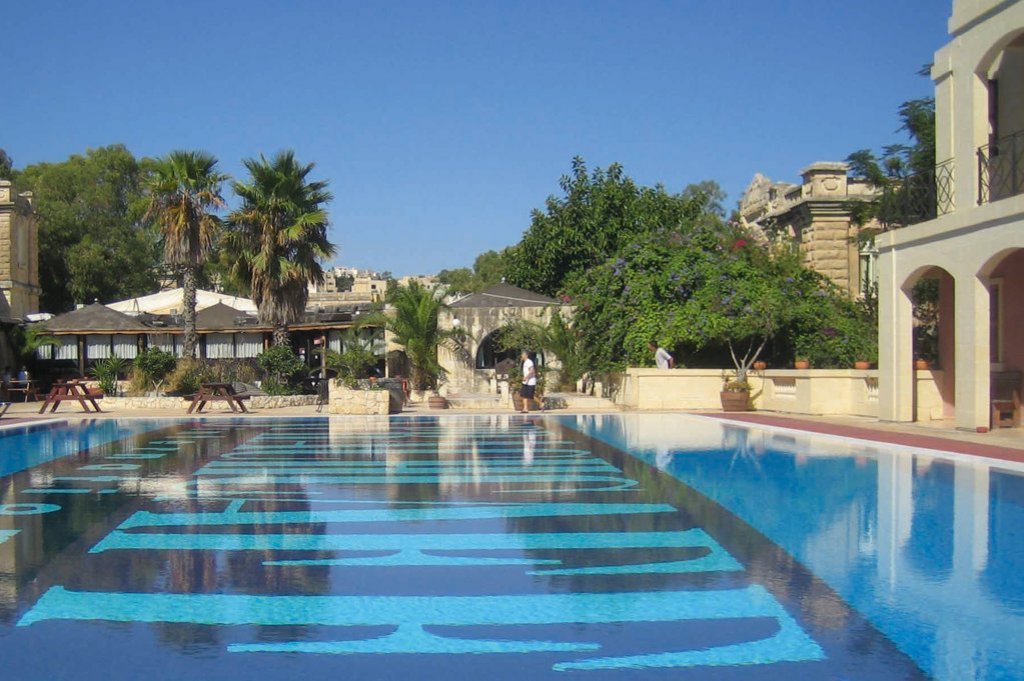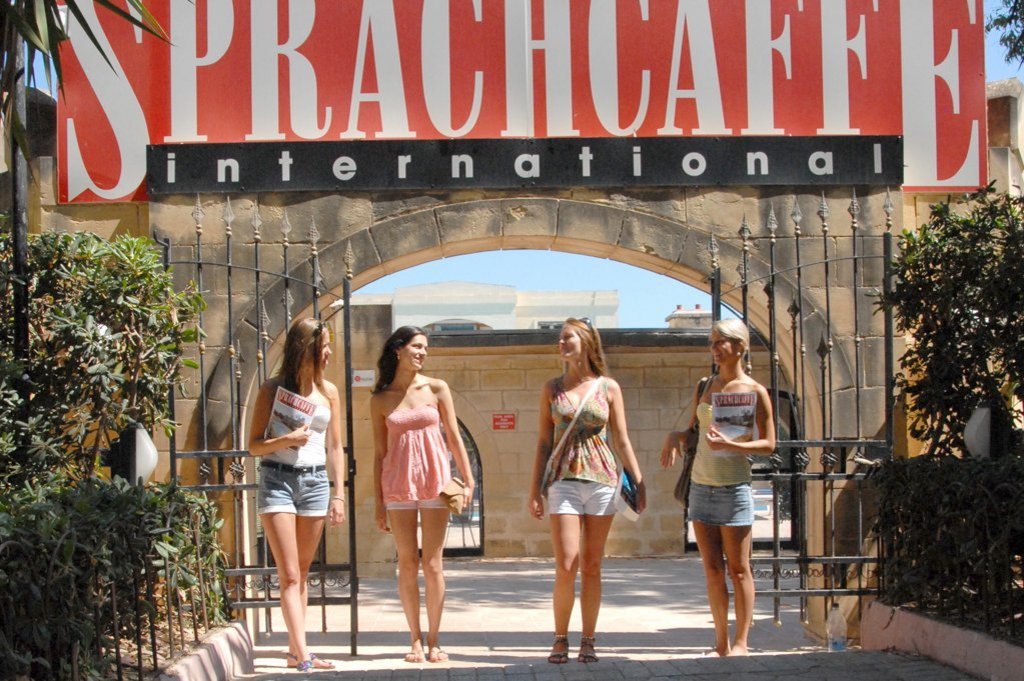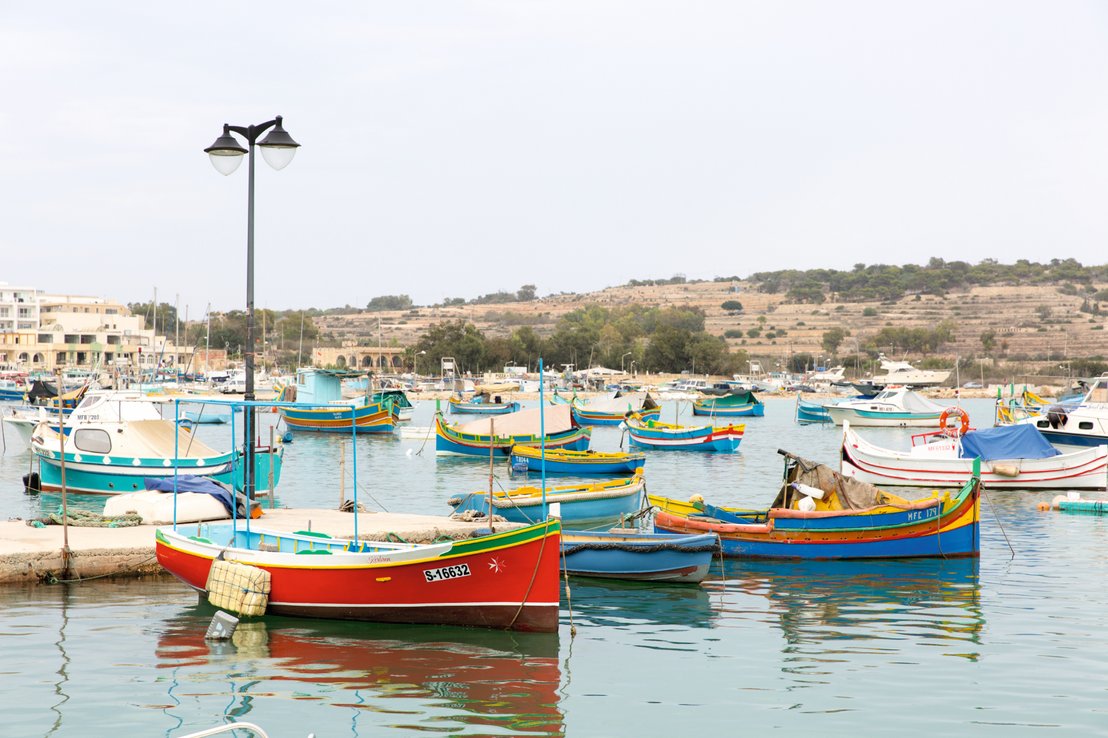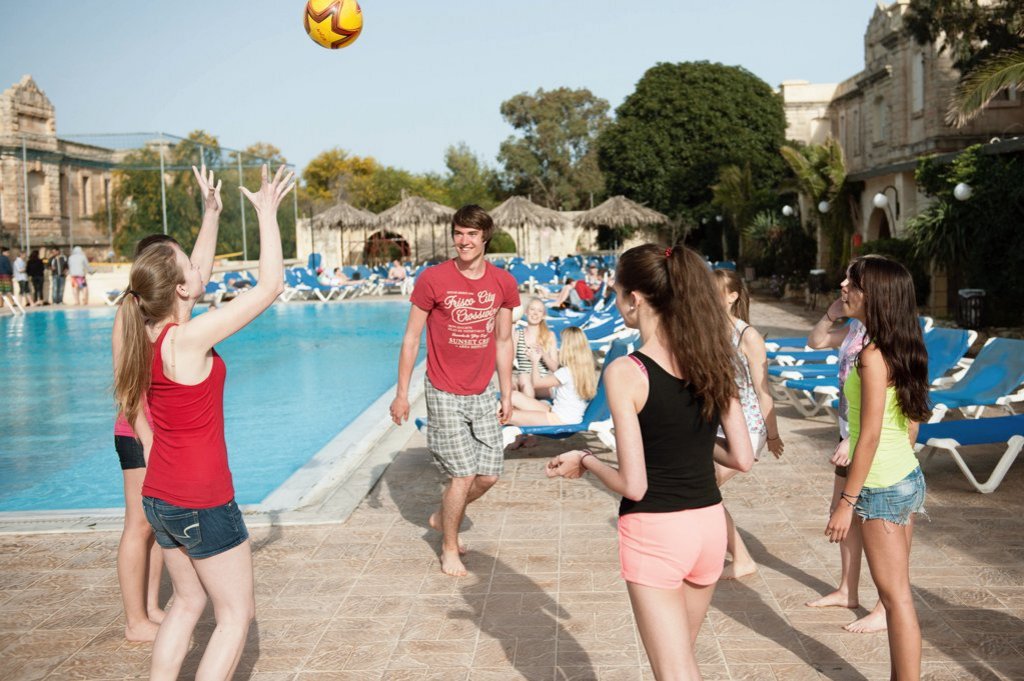 ---
At our language school in Malta, we offer English courses for students at every language level. From absolute beginners to advanced learners, every student will find the perfect language course with us. Advanced courses are also available for those who have lost sight of learning English for some time and would now like to start again. So that we can place you in the ideal learning group according to your level, we first carry out a placement test. By determining your language level before the student language course, we can therefore prevent you from being under- or over-challenged in an unsuitable English course.
An effective language course for students naturally requires competent teachers. Our language teachers are all highly qualified educators who are fun and enthusiastic and all speak English at a native level. This means that you always have competent support at your side during the English course if you are ever unsure about the use of the language.
For students between 14 and 21 years old
Our standard or intensive courses are waiting for you in Malta. We also offer numerous workshops, such as Business English.
For better learning, we make sure that the course size in Malta is not too large.
Certificate of attendance at the end of the course
Detailed information about our English courses
In the Standard Course you will learn English in 20 lessons of 45 minutes each and a maximum group size of 14 people. The minimum duration of the Standard Course is 1 week.
The intensive course consists of 30 lessons of 45 minutes each and can be recognised as educational leave. The maximum group size for the intensive course is 14 people and the minimum duration is 1 week.
The electives consist of 10 lessons. Choose from a variety of focus areas for your English course. The minimum duration is 1 week and the maximum group size is 14 students.
At St. Julian's we offer four types of English courses: standard, intensive, A-levels, and additional specialised skills or topics (electives). Which course you should choose really depends on your current ability and how fast you want to improve. If you want to spend more time in the classroom and less time by the pool, then go for an intensive course. If you want to learn at a more relaxed pace, then the standard course will suit you better.
Anna had the adventure of a lifetime in St. Julian's and improved her English significantly while meeting new people.
For Alessandro, the fun and friendly environment in St. Julian's was essential for improving his English.
Lukas was never bored in his lessons and made the most of the large choice of free-time activities offered in St. Julian's.
You control the course of your English course in Malta
In our language courses in Malta, you can influence the structure of the lessons yourself and suggest topics. Our English teachers are happy to listen to your suggestions and adapt their lesson plans accordingly. In order to provide variety in learning, the one or other lesson is sometimes moved to the pool. To ensure that no time is lost, we will send you the link to our online test before your trip begins. Then you can start your lessons right away on Monday. Once you have successfully completed your language course for students, you will receive a Sprachcaffe certificate confirming your participation in the language course for students in Malta.
---
Your accommodation for your language trip in Malta St. Julian's
In addition to the language course, a successful language study trip also includes accommodation where you will feel at home. In St. Julian's, you have a choice of three different types of accommodation. In addition to the Club Village on the Sprachcaffe campus, you can choose between the Beach Club Residence and a host family. Find out in detail here what to expect in the different types of accommodation!
Club Village
The Sprachcaffe Campus
There is a huge pool on campus.
Everything in one place: school, accommodation, bistro, pool
Share an apartment with your friends.
Around the clock care and leisure activities on site.
Our Club Village on the Sprachcaffe campus in Malta offers you the perfect starting point for your language study trip. Here you will find well-equipped classrooms and a dedicated team of "teammates" who are there for you around the clock.
The campus also offers a large pool, a bar-restaurant and a beach volleyball court to relax and have fun after your language course. There is also a laundry room where you can do your laundry for a small fee. Not far from the residence there are numerous shopping facilities.
Choose Club Village to be in the middle of the action during your entire stay in Malta and have an unforgettable time. We look forward to welcoming you to our Malta language school!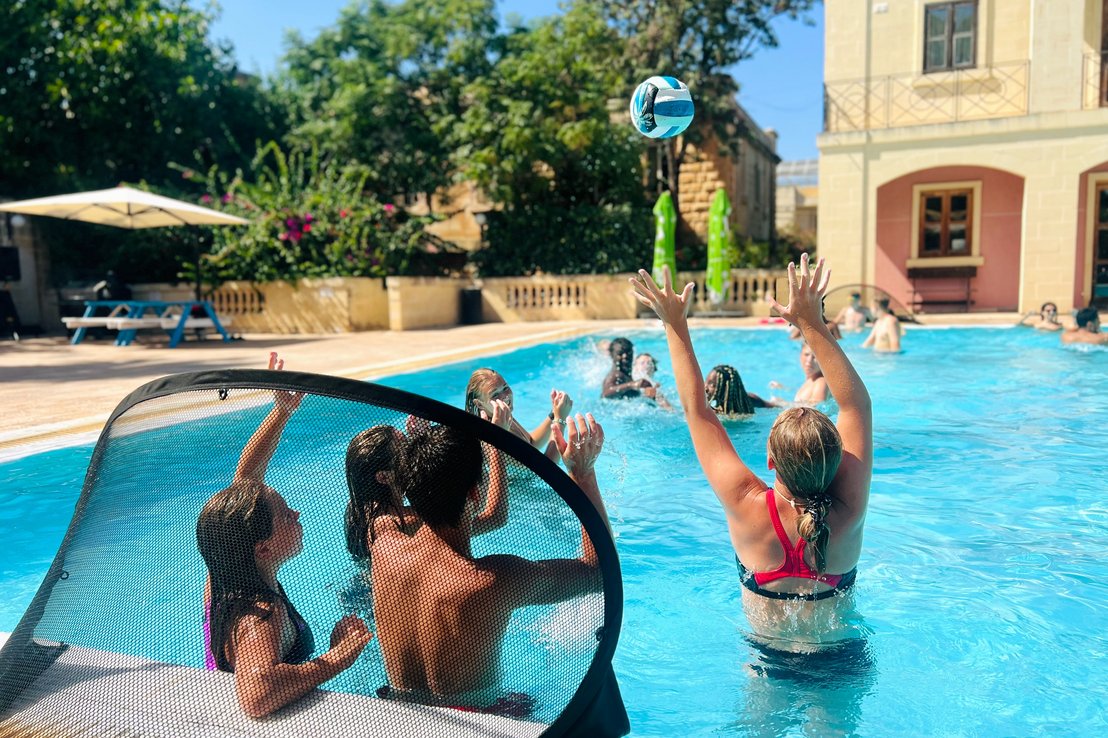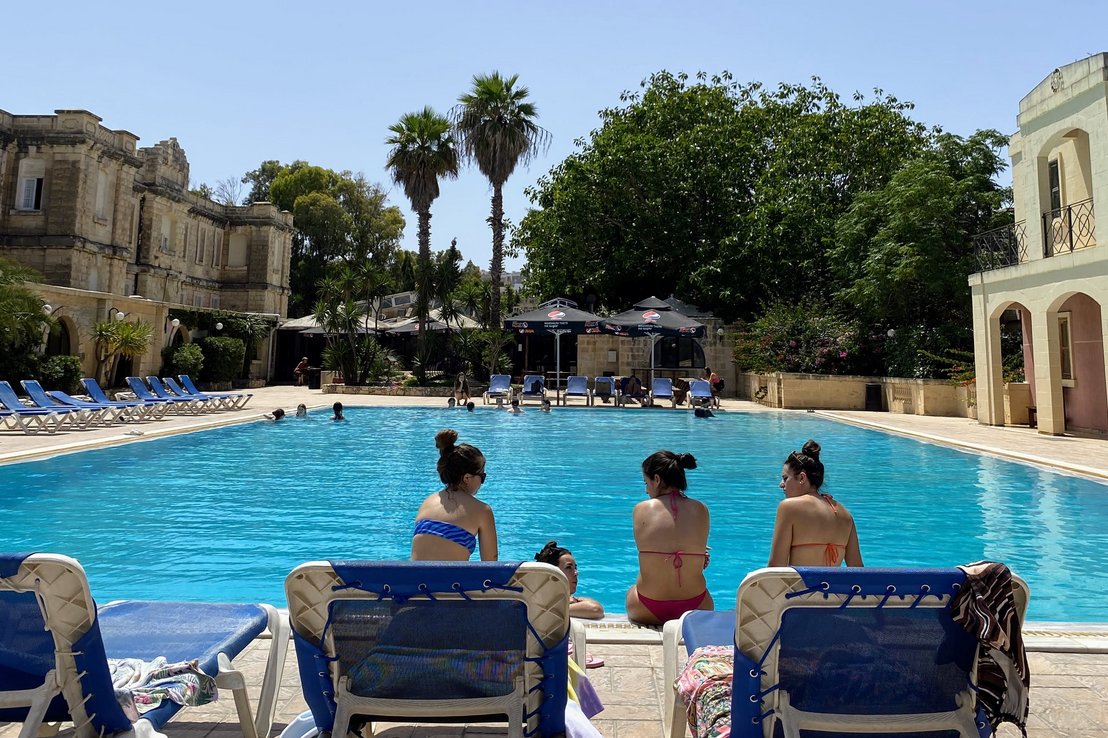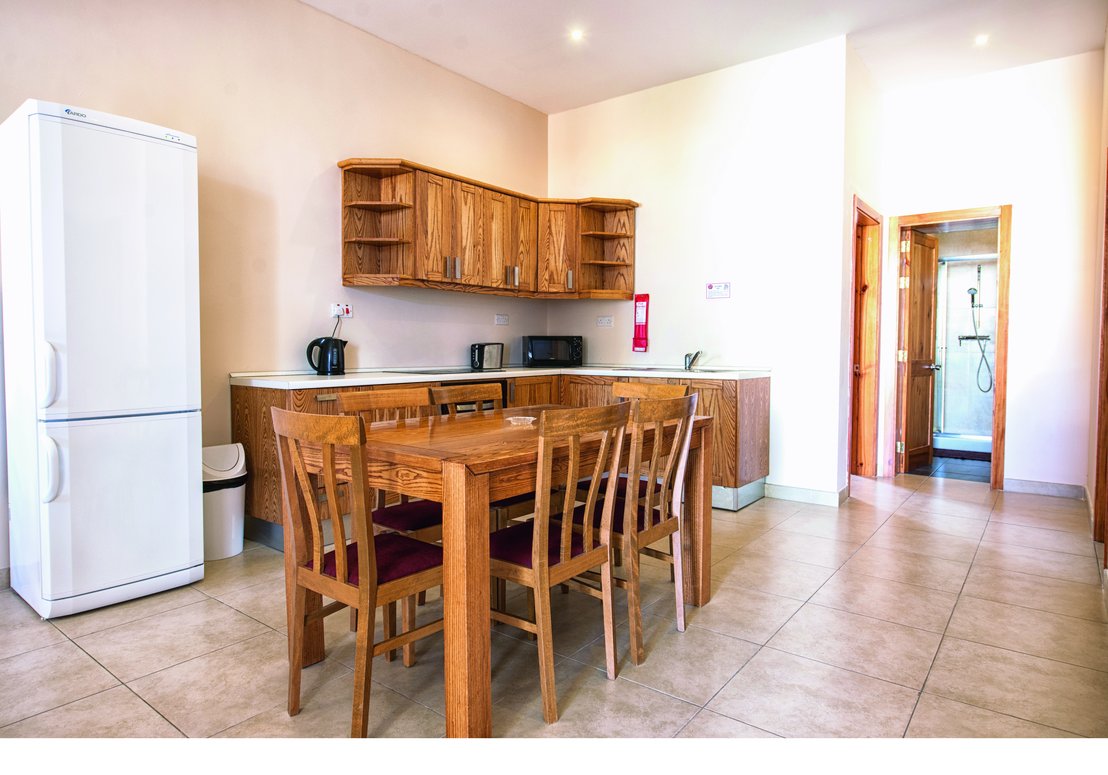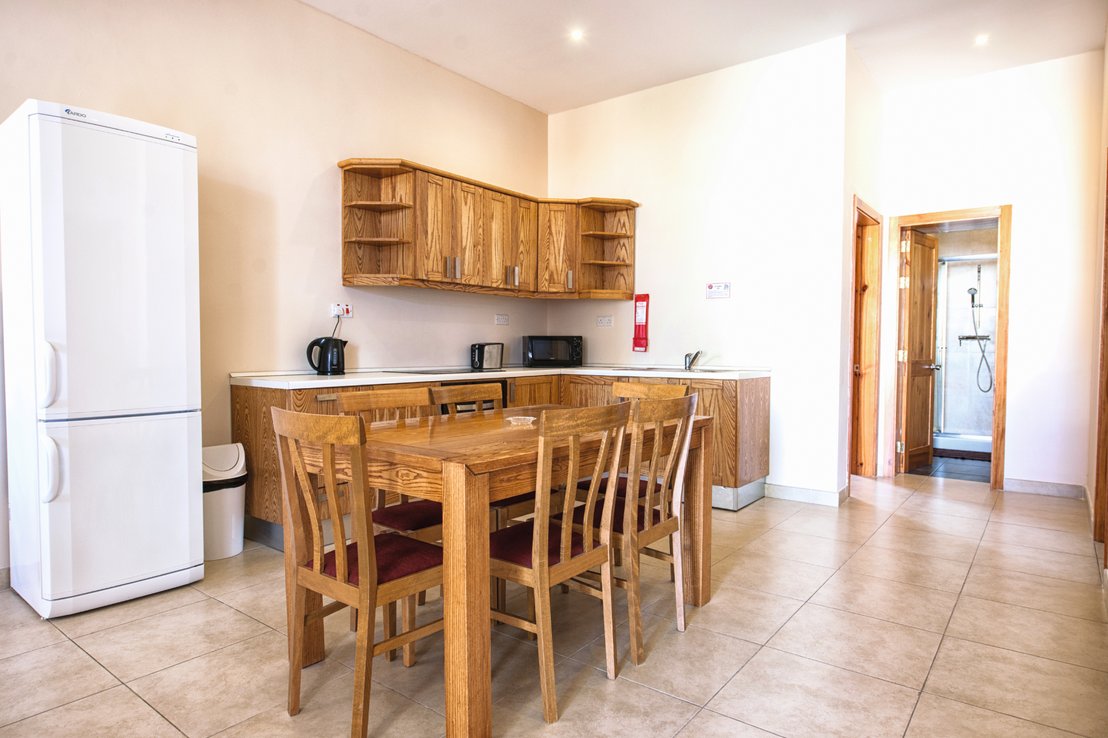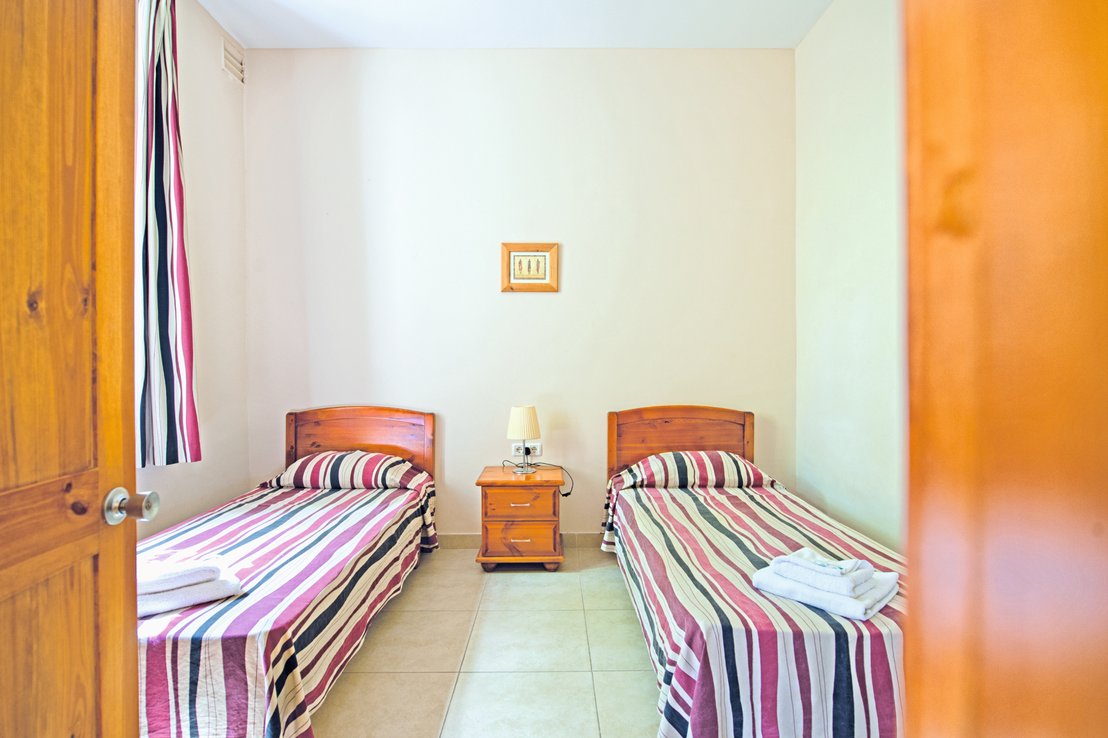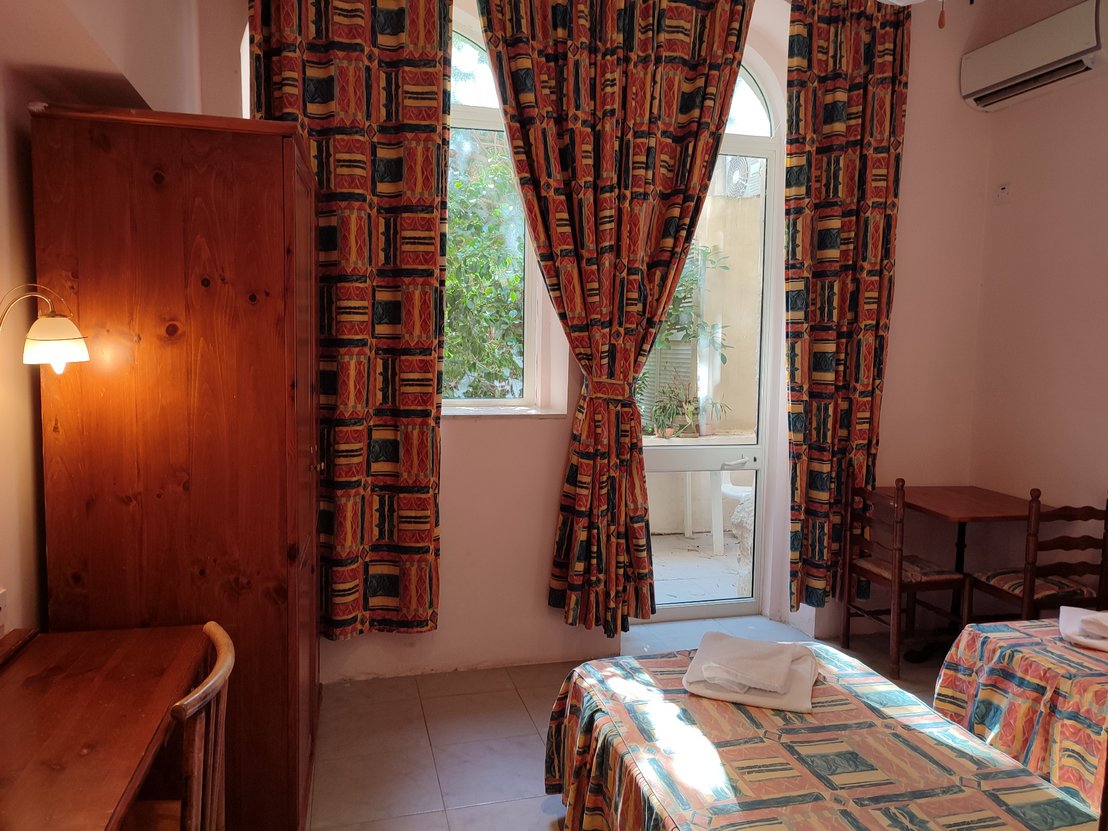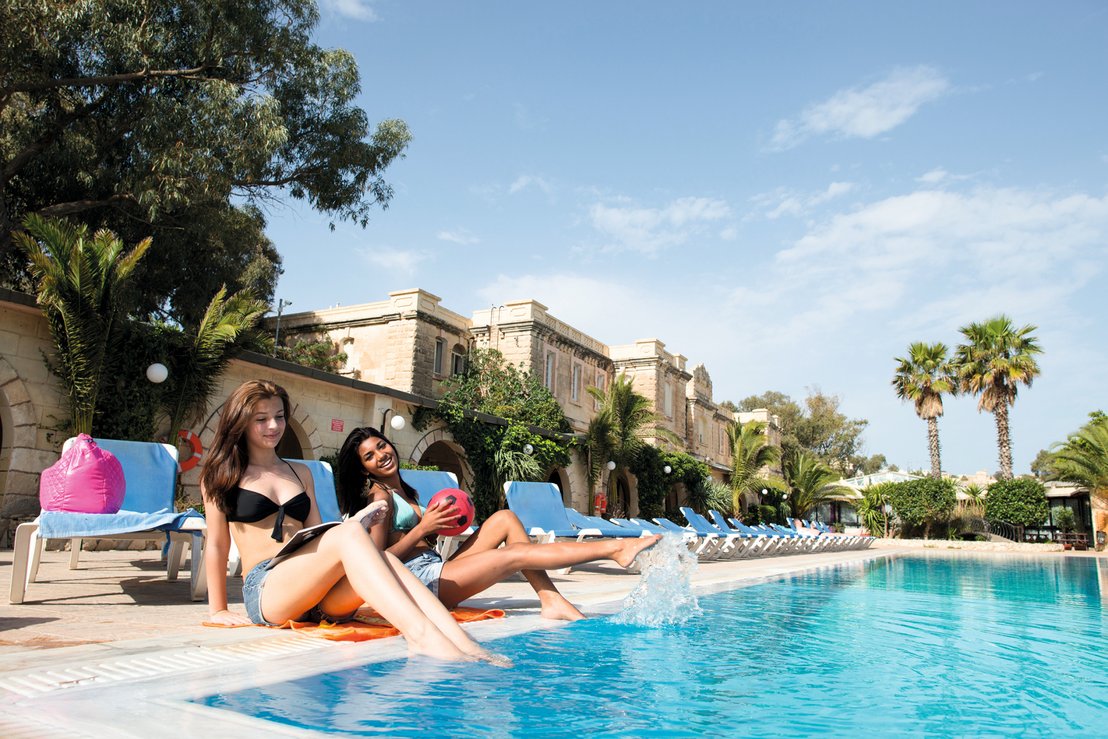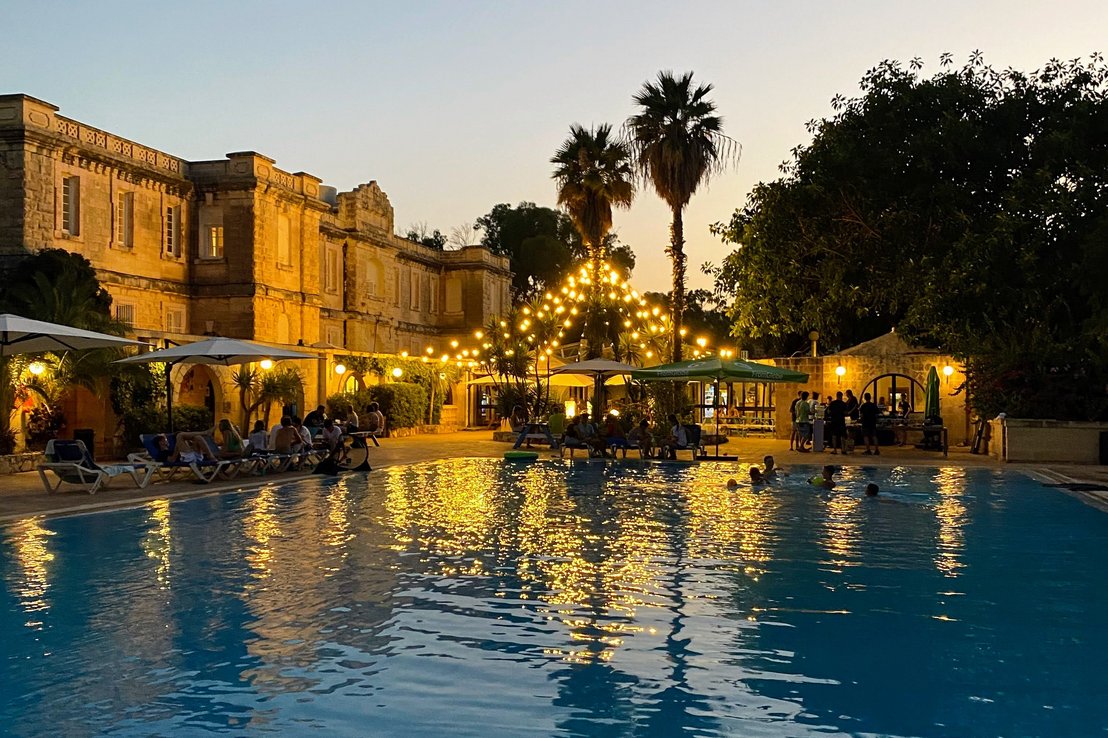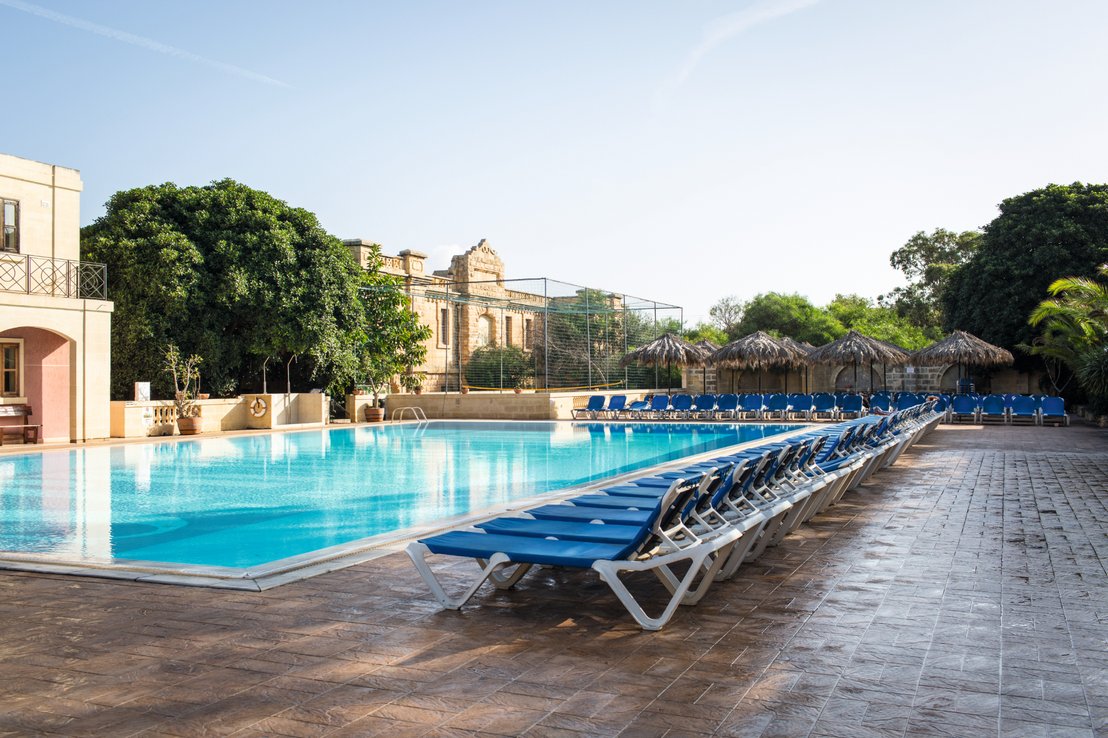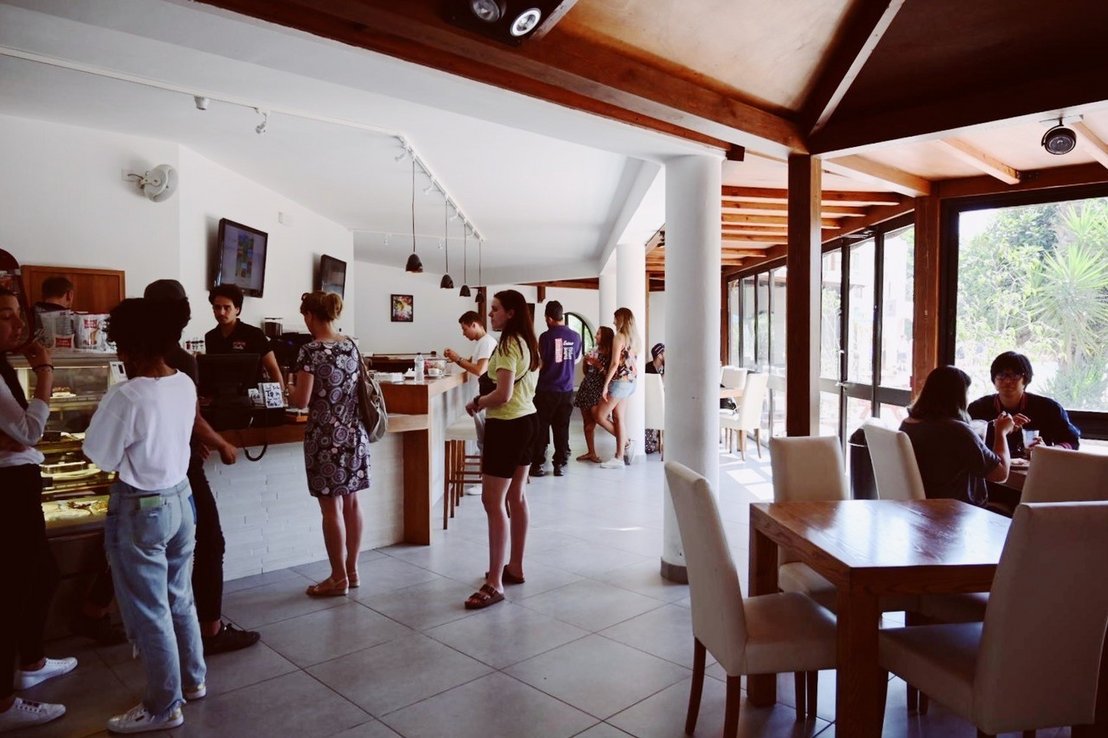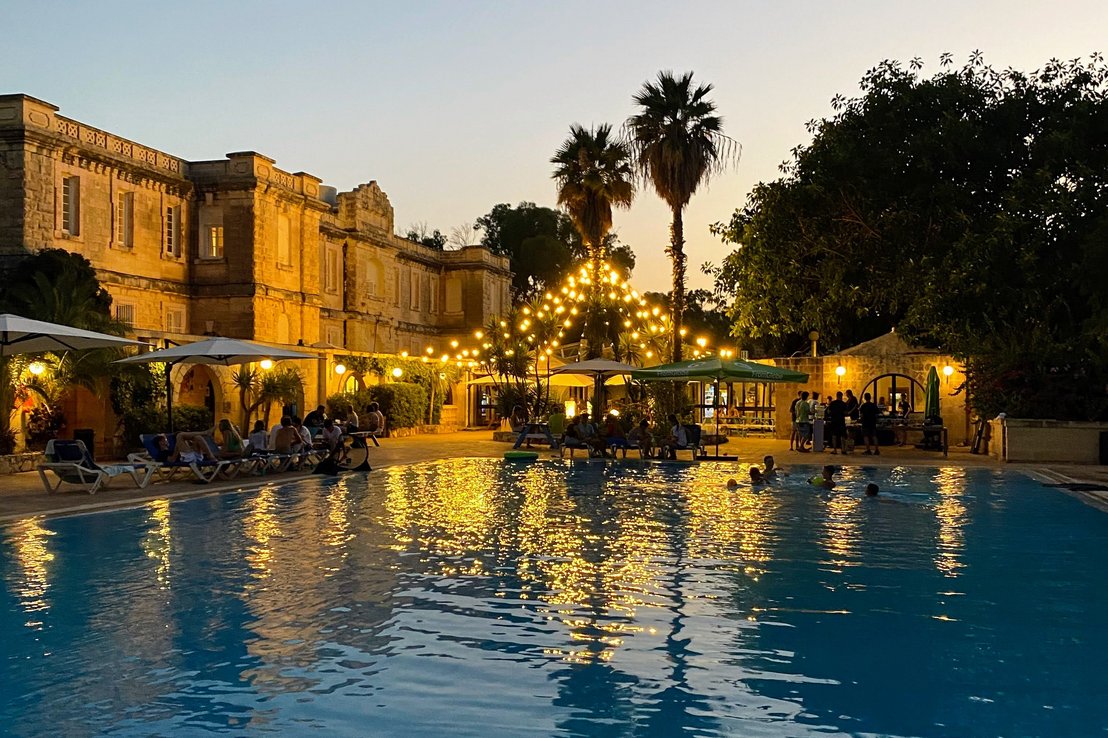 Your accommodation is right on the beach.
Be in the centre of the action, in the middle of Paceville.
Private bathroom in your room.
Morning and evening accompaniment to and from the residence.
In the Beach Club Residence you are right on the beach and the Sprachcaffe campus is only a few minutes away. Our team members will accompany you to and from the Club Beach Residence every morning and evening. Your comfortable room with a view of the paradisiacal Mediterranean offers you the best conditions for a successful day at the language school. It is available for students only above 16+ of age.
It is only a stone's throw to the center of St. Julians, where you will find numerous shopping opportunities and a picturesque, typically Maltese fishing port.
After class, relax by the pool, on the beach or in the residence's manicured gardens. You live centrally in Paceville, one of the most popular districts in Malta. This makes the residence the perfect starting point for an exciting language holiday in Malta. Choose the Beach Club Residence and experience a luxurious language holiday in Malta!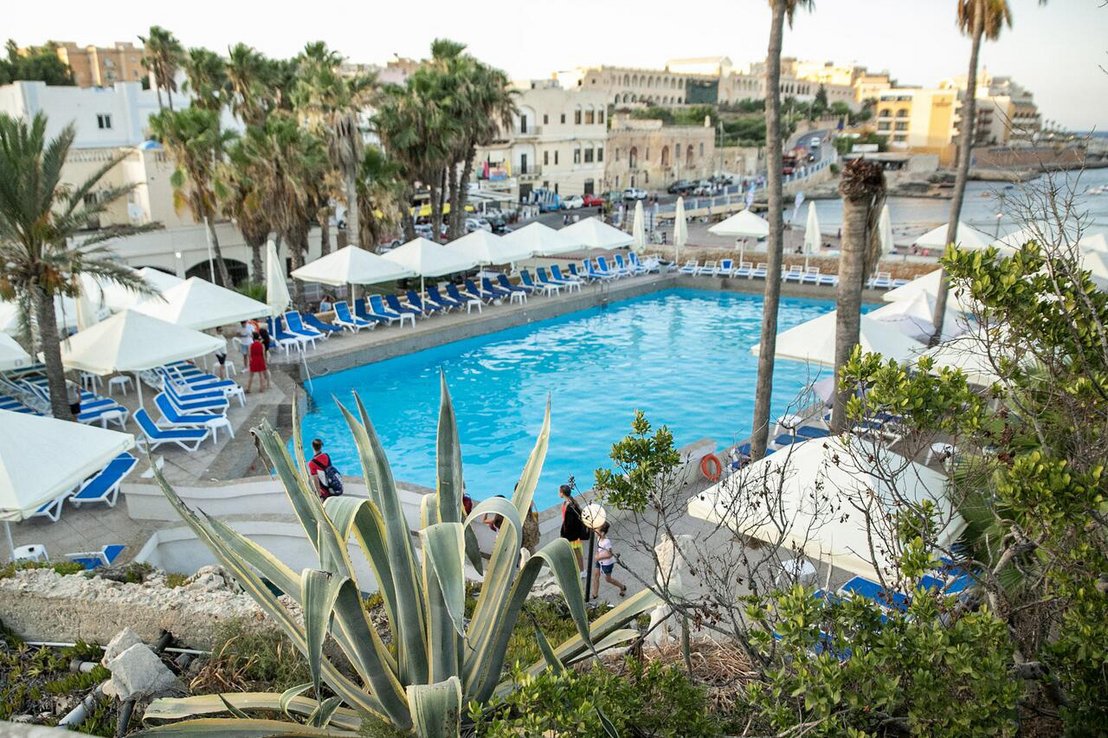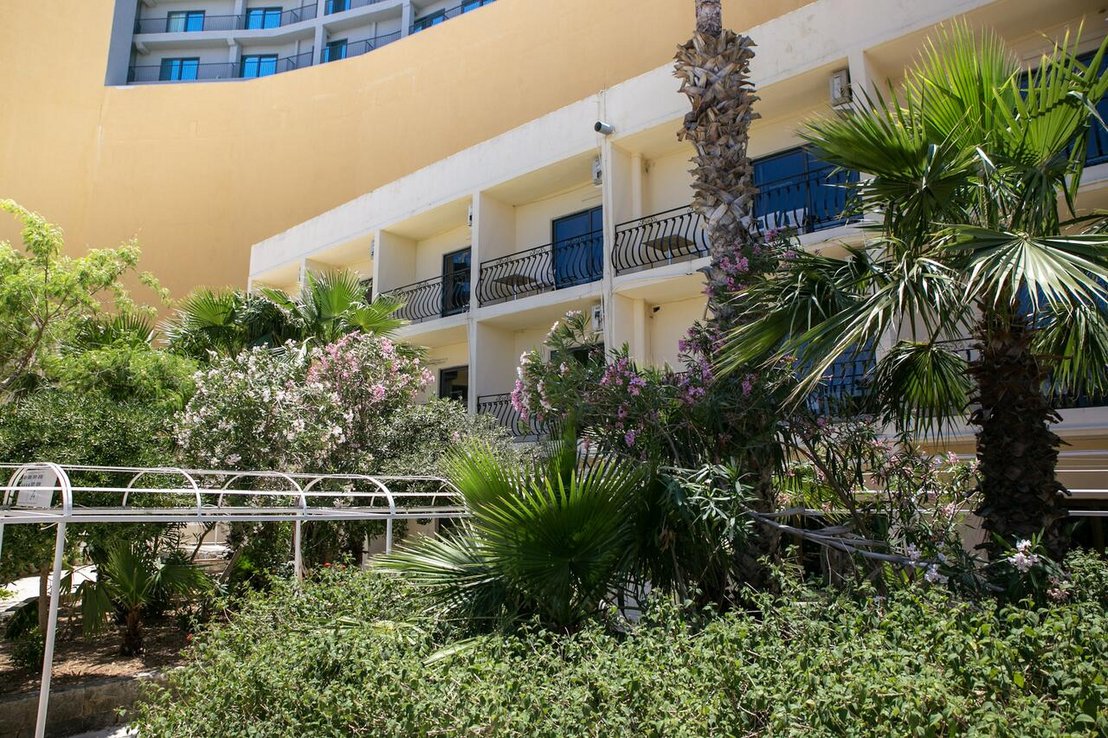 Do you want to experience the hospitality of Malta, its way of life and traditions in your accommodation? Then a homestay in Malta is just what you need! Here you can not only practice your English skills, but also live with other students your age. This allows you to share your daily routine and make new friends quickly. If you have any special requests regarding food, your room, or accommodation with a friend, don't worry - we'll be happy to accommodate your preferences!

Host family at a glance:
Single, double or shared room
Full board
15 minutes from the Sprachcaffe campus
Typical room furnishings (they may vary)
Insight into everyday life in Malta
---
A language trip shouldn't be just about studying the language. It should also be about immersing yourself in the culture, people, and traditions of the country. This is why our educational trip in Malta includes a varied programme of activities outside the classroom such as horse riding, go-karting, bowling and shopping in the popular destination of Sliema.
Every week, we also offer excursions where you can explore the vibrant capital Valletta, the Blue Lagoon of the neighbouring island Comino or the whole island with our famous 'Malta Tour'.
★★★★★
The following excursions are already included in our language courses for students in Malta:
for a 2-week stay: 2 half-day and 1 full-day excursion
for a 3-week stay: 3 half-day and 2 full-day excursions
The evening programme leaves nothing to be desired. Experience beach and boat parties, karaoke or comedy nights. At our legendary student parties, you will have the best time with your new international friends. The older ones among you are sure to discover the vibrant nightlife on Malta's most popular disco mile, Paceville, just a few minutes' walk from the Sprachcaffe campus.
The table below shows some of the activities we offer our students. Different ones are offered in two or three-week rotations, so the students that choose our longer programs don't run the risk of getting bored. Our team in St. Julian's will update you every day on the activities you can take part in.
Morning:
Placement test & lessons

Afternoon:
Orientation tour

Evening:
Volleyball tournament & welcome party
Morning:
Lessons

Afternoon:
Malta Experience*: discover the most beautiful corners of Malta

Evening:
Football & Karaoke
Morning:
Lessons

Afternoon:
National Aquarium*

Evening:
Movie night (at the cinema*)
Morning:
Lessons
Afternoon:
Excursion to Golden Bay Beach*
Evening:
Theme night (for example "Pimp my Teamer")
Morning:
Lessons

Afternoon:
Scavenger hunt in St.Julian's: find hidden treasures

Evening:
Farewell party
Best of Malta tour
For stays of 2 weeks or more, a full-day excursion is included
Heart of Malta Island Tour
Evening:
Games night
The activities in our sample week are only recommendations for a language study trip. The excursions, times and activities may differ from your language study trip and may result in additional costs on site.
Even more fun with the Intensive Leisure Fun Pack!
With the ultimate Intensive Leisure Fun Pack you have the opportunity to take part in more excursions and activities. This package is offered at an additional cost of 70 EUR per week.
---
Prices and dates for your language study trip to St. Julian's
If you want to experience something special during your language holidays, then book a language study trip to St. Julian's! We at Sprachcaffe have put together a great U20 programme for children and teenagers, where you can not only improve your English skills on the sunny Mediterranean island, but also see and experience a lot!
You'll learn in a relaxed environment and improve your English vocabulary, grammar and pronunciation. After class, you'll have plenty of things to do - we've prepared an exciting activity programme! You can also choose from various types of accommodation with full board where you would like to live during your language study trip. Sign up for our language study trip to Malta and experience an exciting holiday!
Are you already of age? Then you can also take part in our adult language courses!
With Sprachcaffe, everything you need for a successful language trip is included in the price. Accommodation, supervision, language course, placement test, language certificate and of course an unforgettable experience.
Please note that space is limited on the dates listed.
A public transport ticket can be purchased for 15-35€.
Transfers:
Arrival/departure at Malta's airport (MLA) is possible at any time on regular arrival/departure date.
Accompanied flights:
Unaccompanied minor service offered only if required by airline.
Do you have a question or need some advice?
We are always ready to solve any doubts you might have!